Navigation:
May 06, 2005
May 13, 2005
May 20, 2005
May 27, 2005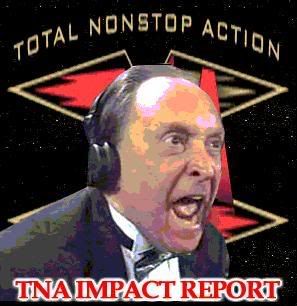 Whatcha gonna do when the lightnin' flash
And your bridges burn and ya start to crash
And a pill won't take that pain away
But it makes you feel good in a different way
Who ya gonna blame when the man calls time
And the clock runs down and your soul is mine
And how ya gonna pray when ya hands are tied
And you look in my face…I LIED!!
--"Locked & Loaded" from Jackyl's 1997 release, "Cut The Crap"
FINAL DEATHWATCH UPDATE:
That's a wrap, folks. Today was the final Impact on FSN, as their contract expired. Oh, TNA is still around, but the question is exactly when and where they'll wind up next. TSN wanted another six-month commitment, but TNA chose to seek their fortune elsewhere and cancelled the scheduled 5/31/05 TV taping in Olrando. The biggest immediate concern is that this leaves TNA without TV for three weeks before their next PPV…maybe. It seems to be a lock that TNA will soon wind up on WGN, but the official announcement has yet to be made.
If you're just now joining us for the first time…eh, don't bother. Thanks for the click, but really, what's the point? Do you truly want to get emotionally invested in these characters and storylines only to have your heart ripped out, leaving you crying in your cappuccino at a table with Matt Hardy and Simon Diamond? Okay, fine, it's your life. Just don't come bitching to me next Friday when you tune in to find a documentary on surfing, or whatever stupid crap FSN tends to run on afternoons.
If you haven't already, go probe my Hard Justice over HERE. You heard me.
FINAL NWA TNA IMPACT ON FSN (5/27/05)
Final Impact opened with a recap of last week's malarkey as Jeff Jarrett, who has been the face of the company for their entire existence, fell into the black hole slam of Abyss. Ironic, no? I just now noticed that there's a clip of Sabu in the open of the show. When was the last time he wrestled for TNA, anyway?
1) B.G. James & Ron Killings beat AMW at . Killings snatched the mic away from BG during his intro, and instantly became my favorite wrestler ever. Truth said, "Oh, NOW you wanna talk," and tossed away the mic. Very nice. The Kru bickered throughout the match, and announcers also emphasized that AMW had words with each other after last week's loss to Team Canada. Not much to the match. Nothing was wrong with it, but nothing stood out, either. Finish saw James Storm pass a chair in the ring to Chris Harris, but Harris hesitated to use it, which allowed Killings to axe-kick him into said chair (right in front of the referee) for the pin. AMW argued while Killings seemingly left BG to celebrate alone. Killings then took the mic and put BG on the spot, but before BG could answer, he shoved Killings aside and took the bullet from an Outlaw run-in clothesline. Outlaw got the better of Killings until Konnan made the save in his return. Konnan immediately did his "shoe-throw" spot, which Don West excitedly howled was, "the ultimate sign of disrespect!" Be that as it may, if the crowd digs it, the shoe thing is fine for a comedy spot, but not for a returning babyface who wants to destroy the heel who put him on the shelf. Fans threw a couple shoes in the ring for the Kru. It's official, I hate this spot. Killings shoed BG (which the cameras missed), so West brayed that BG was just "coldcocked" with a shoe. BG then made West look like a moron by immediately recovering and walking over to the Kru who were stomping Outlaw. That's another thing about that spot. Now Konnan is stomping Outlaw with his sock. Now do you believe me? Anyhoo, Konnan and Killings shoved BG down and bailed on him. Nice metaphoric visual as the Kru left down one aisle while Outlaw left down the other, with a confused BG in the middle of it all. (Mike)
A commercial for Slammiversary aired, explaining the rules for the King Of The Mountain main event. Basically, if one wrestler scores a fall on another, the fall-ee must go to a penalty box for two minutes, while the fall-er has two minutes to try and climb a ladder and hang the belt on a hook dangling above the ring. Like a reverse ladder match, I guess.
Backstage, Terry Taylor interviewed AMW who were yelling at each other. The Red Rooster chided the lads for their "slump." Those who live in glass henhouses, Terry. Chris Harris poo-poo'ed Terry, but Storm said they needed to change. Storm vowed to "start" with a rematch against 3LK at the PPV. As the interview ended, AMW went off in different directions, which is always a nice, subtle sign of an impending turn/swerve.

2) Zach Gowen pinned Romeo at . How appropriate is it that the one-legged wrestler is on the final Impact, a show that no one thought would have ANY legs? Romeo bullied Zach until he came back with a tornado DDT and a leg lariat off the second rope. Don West helpfully suggested that Romeo should "take it like (Zach) is a man with two legs and just go at it!" Great plan, but what happens if Romeo goes for a figure-four? Finish saw stumpy knock Romeo off the ropes and hit his moonsault for the pin. Good "freakshow" pop for the Zachster. West said the 'sault reminded him of Trinity at Lockdown, while Mike Tenay called it a "picture-perfect moonsault." I beg to differ, Professor. If it was a perfect picture, the guy would have two legs. Just saying. Also, I thought it was funny that the lads talked up Zach's "Impact debut," seeing as how this was the last Impact. (David)

The Rooster interviewed Chris Sabin, who said, "I should've known better than to trust (Traci). It's my fault – no one else's – but I won't make the same mistake twice." That was Trinity's cue to interrupt Sabin, and ask him to make the same mistake twice. At the Rooster's crow, they rolled the footage from last week of Michael Shane and Traci talking smack about Sabin and Trin. After thinking it over for two seconds, Sabin said okay, but just business and "nothing more." Meaning what? No anal? Trin said they'd shake on it, and proceeded to shake her whatnots at him. I don't know if I'll ever again have the chance to say this, but I LOVE TRINITY~! Seriously though, out of all the Stephanie angles where a woman betrays/humiliates a man, this was the best babyface retort I've seen yet. He learned from his mistake and now there's hell to pay. Maybe. But still, compare that to a guy crying in the locker room, or emo-whining on his website about his FGF, FCF, GHB, or whatever.
Coach Scott D'Amore joined the announce table. In a totally unrelated story, D'Amore is the head of the new booking committee. Lance Hoyt vs. Bobby Roode is officially on for Slammiversary.

3) Lance Hoyt pinned Bruno Sassi (w/ Big Tilly) at . From now on, when a guy is over for no apparent reason, I'm going to say they have "Hoyt charisma." At least he was in there with the better worker of Phi Delta Slam. I almost made it through that sentence with a straight face. Bruno took over with a low blow behind the referee's back, prompting D'Amore to make the shoot comment, "If (Hoyt) is struggling with Bruno, how is he gonna have a chance against Bobby Roode?" Speaking of Phi Delta Suck, it turns out that the reason they were brought back to Hard Justice was that DDP was upset about doing the job in his match, so they let him diamond-cut three guys (PDS and Outlaw) before falling to the asspounce. Hoyt came back with a shoulderblock, then polished off Bruno with an impressive moonsault. Wasn't that the finish of the last match, too? After the match, D'Amore distracted Hoyt, allowing Roode to attack Hoyt with a hockey stick while D'Amore taunted him. (Chris)
Time for the final second half of the final FSN Impact. They showed stills from the Raven angle last week. I understand they do that for PPVs because they want to sell the replays. But for a free TV show? The hell? Anyway, they showed "unseen footage" from last week, where Raven was leaving the building in an SUV. Dude, SUVs are NOT a good fit for Raven's character. "I ONLY GET SIX MILES TO THE GALLON! QUOTE THE RAVEN, NEVERMORE!!" He should have a broken-down jalopy that his father used to beat him against or something. Anyway, Rave almost mowed down Camera Man (I guess that's his name because it's what Raven kept calling him), then cut a promo into the camera while Camera Man was still laying on the ground. Raven vowed revenge on Dusty, pointing out that since he quit, he has "no allegiance to anything." Sooooooo…it's just like before except he's not getting a paycheck anymore? I kid, but I liked this. It was original and even at his hokiest, Raven can still out-promo 90% of the industry.

The Rooster interviewed NWA Tag champs The Naturals. The Nats are officially babyfaces now. I can safely say that because I know they can't contradict me next week. The Nats cut a promo on Team Canada (their PPV challengers), and promised, "He sat us down and went over a game plan," referring to their new mystery advisor. Thank god Russo isn't around anymore, because then the payoff would be Jim Neidhart under a yellow mask as "He." The best payoff this angle could have is if their new guru turns out to be someone closely associated with Candido in the eyes of fans, like Shane Douglas or Tom Prichard. But since they referred to mystery Yoda as "he," I guess Tammy's out.

4) NWA World Tag champions The Naturals beat David Young & Lex Lovett in a non-title match at . Granted, Young Love isn't the best measuring stick, but my first instinct is that the Nats make better weasel punk heels than noble lion babyfaces, but hey, life is what happens while you're making other plans. Chase Stevens pinned Lovett after a Natural Disaster. Petey Williams & Eric Young ran-in for yet another post-match-pre-PPV brawl. The Nats held their own until A1 ran-in to give the Cannucks a three-on-two advantage. A1 jackhammered Andy Douglas, and Petey gave Chase one final FSN Canadian Destroyer for old time's sake. Petey had his hair done up like Yoshi Kwan for some reason. (Mike)


Another backstage Taylor interview, this time with Jeff Jarrett and Monty Brown. They should call these things "The Rooster Coop" or something. Jarrett vowed to regain his title at the PPV and blasted Abyss for not drinking his kool-aid. In a nice little show of heel condescension, Jarrett said that Monty knew which side was the right one and concluded, "Let's go, Monty," before Monty got a chance to speak. JJ left, but rather than follow along, Monty cut a brief promo saying there was only one Alpha Male. Rooster should have replied that he was the Alpha Cock. Okay, that's the last Rooster joke, I promise.

5) NWA World champion A.J. Styles & Sean Waltman beat Jeff Jarrett & Monty Brown at . Waltman came out with a towel, then clumsily dropped it, and threw it to the crowd. Douche. Fans were chating "A.J." before the intros were over. One last FSN commercial break for the road. I am SO not going to miss that goddamn Blue Hippo commercial that offers to approve me for a "brand name" computer for "only $35 a week." That's $1,820 a year, tools. The Js started, with Jeff quickly tagging Monty after eating a nice dropkick. Jeff and Monty have a nice chemistry together, as the sneak hiding behind the powerhouse. Monty powered out of a Waltman pin and leveled him with a clothesline. Abyss watched from the aisle, so Orlando fans did their "Abyss" chant. Embarrassingly bad spot saw Monty try to block Waltman's bronco buster by catching him low with a boot, but Waltman leapt completely over his leg, then sold it anyway. Heat on Surreal Sean until he suplexed out of Jarrett's sleeper. AJ got the hot tag and cleaned house, culminating with a springboard double-clothesline. Jarrett lowbridged Styles, leading to another Sean-Monty blown spot. Between this match and their Lockdown finish, these two should probably just be kept as far away from each other as possible in the future. But at least this time, the improvisation worked. Monty was supposed to catch Waltman's crossbody for a fallaway slam. (You know the same move Waltman's buddy Scott Hall once broke his neck with.) Monty lost his grip on the greasy little critter, but used his legit superhuman strength to complete the move anyway. The final result actually looked like a nice fallaway fisherman's slam. While Monty did his "bad posture" pose to the camera, Jarrett covered for two, effectively trying to steal Monty's pin. Monty called for the pounce, but Jarrett grabbed his guitar so Monty aborted said pounce and held Waltman for the impending kabong. JJ got into a tug-of-war with the ref, allowing Waltman to low-blow Monty and pull off the old switcheroo behind JJ's back. Of course, JJ won the tug-of-war and spun around to accidentally kabong Monty. The crowd popped huge for the clever spot. Waltman clamped down on Jarrett so Styles could give Monty the spiral tap for the pin. I think the story here was that Monty was on the right track, but Jarrett snatched defeat from the jaws of victory. The announcers didn't really play it up as they should have. As the show closed, Waltman coveted his partner's championship belt before forking it over. Waltman-Monty spotlexia aside, this was a solid match with a great finish. The intrigue between everyone made for a great build to Slammiversary, to boot. (Kerry)

Overall over-analysis: It's hard to get sentimental about a show that never really had one of those unforgettable moments (Hall invades, Austin stuns McMahon), but still, this is more of a buzzkill than a relief for me. I enjoyed recapping the show more often than not, and I'm sad to see it go. If/when TNA returns to broadcast cable, we'll have coverage of it right here. So as is the current battle cry for TNA fans, stay tuned.
As for today's show, the new booking committee delivered once again with a strong, focused show that was all about selling the PPV. Well, and having a one-legged guy squash a talented guy who deserves better. But if nothing else, the main event alone ended the TNA/FSN relationship with a bang.
This Observer's Thumb…………………is up.
-HDS-
Slammiversary PPV lineup (6/19/05):
King of the Mountain match for the NWA World Title:
A.J. Styles vs. Jeff Jarrett vs. Monty Brown vs. Abyss vs. ? (rumored to be Sean Waltman)


XD Title: Christopher Daniels vs. Chris Sabin (w/ Trinity) vs. Michael Shane (w/ Traci)

NWA World Tag Title: The Naturals (w/ He?) vs. Petey Williams & Eric Young (w/ D'Amore)
AMW vs. Konnan & B.G. James
Ron Killings vs. Outlaw


Lance Hoyt vs. Bobby Roode (w/ D'Amore)
Harry Simon is a trivia-fueled wisenheimer who has been writing about pro wrestling off and on for 16 years and counting. Harry has written trivia pieces for both the Wrestling Observer and Live Audio Wrestling websites, and contributed a ton of research to his fellow Las Vegan Mike Tenay in preparation for the first NWA TNA PPV in 2002. Harry has also done play-by-play, color commentary, and ring announcing for indy promotions. Harry invented the Von Erich Match Rating System, which you can learn about HERE.
---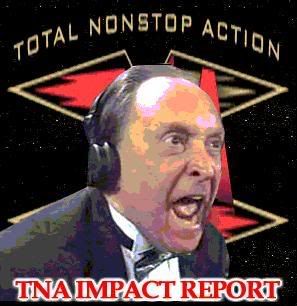 NWA TNA IMPACT ON FSN (5/20/05)
My full, long, throbbing Hard Justice review goes up this Friday. For now, here are the quickie results:
A) Shark Boy b David Young to win a slot in the PPV Gauntlet match (pre-game countdown show)
1) Petey Williams & Eric Young b Aportion & Sucky Siucki
2) Michael Shane & Trinity b Chris Sabin & Traci as Shane and Traci turned against their respective partners and reunited
3) Raven b Sean Waltman (replacing Jeff Hardy, who legit no-showed) in the "House Of Fun" match
4) Monty Brown & Outlaw b DDP & Ron Killings (replacing B.G. James, who ditched the match as part of the ongoing Outlaw-3LK storyline)
5) The Naturals b AMW to keep the NWA World Tag Title
6) Christopher Daniels b Shocker to keep the XD Title
7) Abyss won the #1C 20-man Gauntlet For The Gold
8) A.J. Styles b Jeff Jarrett to win the NWA World Title
*
DEATHWATCH UPDATE:
A major fear was squashed this past week when both A.J. Styles and Christopher Daniels signed three-year contracts with TNA.
I hope Kid Kash and Dustin Rhodes cleaned up the TNA doghouse after their stays, because Jeff Hardy will be living in it for the foreseeable future. After rescheduling flights from his home to Orlando about eight times, he missed the PPV altogether, so they brought in Sean Waltman was a last-minute sub. This is hardly the first such offense from the "Charismatic Enema." They kinda have to keep him around so they can reunite the Hardy Boyz when Matt is free to come in this July, but if that falls through, it may be curtains for Jeff.
In a follow-up from last week, apparently Lex Lovett has only retired from winning matches. He can still be a job guy for TNA. Okay, who started the "Save Lovett" petition?? I know it was one of you dongs.
NWA TNA IMPACT ON FSN (5/20/05)
Show opened with PPV stills that recapped the mixed tag match, the Gauntlet, and the main event.
1) Monty Brown pounced Scuky Siucki in 53 seconds. Total squash. Best use of Siucki yet. Um, that's about it, really. (Waldo)

Terry Taylor briefly interviewed a grope-happy Michael Shane & Traci backstage. They took shots at both Chris Sabin and Trinity. Traci asked her new sugar daddy to win the XD Title for her.
A feature aired hyping their next PPV, Slammiversary (6/19/05). Guys, I swear I'm not slacking this week. Things have been coming and going this fast. We're like six minutes into the show at this point.

Mike Tenay brought out A.J. Styles to the ring. Standing O for the new NWA World champion, followed by a monster "AJ" chant when his music died down. No sooner did AJ start putting over the belt, than Jarrett interrupted him and complained about getting screwed by Tito Ortiz at the PPV. Dude, you're the one who invited him into your dressing room. I'm not saying that you deserved it, but you've gotta use a little common sense in such situations. As AJ prepared for Jarrett, Monty ran-in and attacked him. AJ held off both for a moment until Brown caught him in an Alpha bomb (bodyslam lift into a powerbomb). Abyss came out and teased making the save, but instead gave AJ the black hole slam. AMW and Sean Waltman finally made the real save.
Backstage, Jarrett and his new cronies were all up in Dusty's bidness. Dusty defiantly yelled that the main event for Slammiversary would be the second "King Of The Mountain" match, with AJ defending against Jarrett, Abyss, Brown, and a "wild card" entrant to be named later. That's telling 'em, Dream! You wanna sneak-attack our World champion and stomp him into the mat? Well, maybe a main event World Title shot at the next PPV will fix your wagons!

Mike Tenay and Don West welcomed championship committee member Larry Zbyszko to the announce table. Before Larry could even begin to put himself over, Raven interrupted them and cut a great angry promo on Larry. Raven pointed out that he beat Sean Waltman in the "House Of Fun" match at Hard Justice, and thus, deserved to be the wild card for the KOTM match. Larry kayfabed him, so Raven angrily retorted that the only things holding Larry's broken-down ass together were "chewing gum, paper clips, and the fact that (he) sold out Shea Stadium and laid out Bruno (Sammartino) in 1980." Raven went upside Larry's head and threatened to give Tenay and West some, too. Larry grabbed Raven and they briefly brawled. There was actually a funny blown spot when Raven threw a chair at Larry, who deflected it with his arm, then decided to sell it anyway. Raven recovered his mic and vowed, "If I can't be the savior of this company, I'll be it's destr—" (He pitched the mic, so I missed the last word. I think I get the gist, though). Raven laid out Larry in the ring with two "Raven effect" DDTs. Time to put that MorphoFlex to the test, Mr. Z.
Dusty did a waddle-in and confronted Raven, saying, "HOW DARE YOU CRACK WIND WITH ME?!" Or maybe he said "whip." That would make more sense, actually. Damn Duthty accthent. Dusty suspended Raven, which made the crowd boo like crazy. I love it when fans hijack angles. Raven replied, "You can't suspend me; I QUIT!" That's probably the only non-screwjob "I quit" exclamation we're going to get this weekend. Don't believe me? Go read Sean's Judgment Day review. Anyway, this is EASILY the best they've used Raven in the year I've been watching TNA. If this is a sign of the new booking committee in effect, me likey.

As The Kru Turns: Ron Killings was grilling B.G. James backstage, peeved that he bailed on his tag match at the PPV. BG backed off in the "mea culpa" role as Killings screamed himself hoarse. This was such an impactful part of Impact, the announcers were still talking about the Raven incident once we returned to the Zone.

2) XD champion "Fallen Angel" Christopher Daniels pinned Cassidy Riley in a non-title match at 3:18. On his way to the ring, Shane & Traci interrupted Daniels and demanded a title shot. Apparently, Traci is wearing the strap-on in the relationship this time around. Daniels controlled Cass early, using an innovative gut-wrench gutbuster. Cass came back with the butt-bounce moonsault and a fisherman's buster, but caught a couple sets of knees after going to the proverbial well once too proverbially often. Daniels looked into the camera and asked Michael Shane if he wanted "some of this" before delivering Angel Wings for the pin. Shane attacked Daniels after the match as Traci screeched, "That's my belt!" Chris Sabin ran-in and accidentally springboard-dropkicked Daniels. A three-way pull-apart ensued. This sets up a three-way XD Title match for the PPV. Good match; very good angle. (David)

A beat-up AJ walked into Dusty's office complaining about today's show. Dude, do you see me launching springboard-forearms and growing sideburns? Well, then don't you start horning in on my gig. Dusty booked next week's TV main event of Jeff Jarrett & Monty Brown vs. AJ & "Anyone You Wan'". Later in the show, they confirmed that it would be Waltman.

3) Petey Williams & Eric Young (w/ Coach Scott D'Amore & "A1" Alistair Ralphs) beat AMW ("Wildcat" Chris Harris & "Tennessee Cowboy" James Storm) in a #1C match at 8:08, even though the match had a special 30-minute time limit for some reason. I just now realize that I've been spelling "Alistair" wrong for months. I know I have thousands of readers across the world(wideweb), yet for some reason, nobody noticed. Anyway, it was great to see Petey back with guys who can go after his recent misfortune of having stinkers with Shocker and Aportion/Siucki, respectively. AMW launched Petey into Eric as they went to a commercial break two minutes into the match. Ordinarily, I'd kvetch, but if it means missing the already-stale AMW brawl around ringside, then I'm all for it. Back from break, the hosers got heat on Harris. The more they talk about the KOTM match, the less I want to see it. Penalty box? The pinner gets to climb with the belt? Whatthehellever. Storm got the hot tag and cleaned house with an "Eye of the Storm" (helicopter) slam on Petey. A1 tripped Harris as AMW attempted a Hart Attack. Petey then slapped a sharpshooter on Storm, with Eric dropping an elbow for two. Petey went for the Canadian Destroyer on Harris, who turned it into an Alabama slam. Storm superkicked Eric, and AMW went for XXX's old powerplex finisher on Petey. A1 hit the ring, so Harris bailed on the move and speared him. Petey trapped Storm with a hurracanrana rollup while holding the ropes for the pin. Good match. So it's TC vs. The Nats in Slammiversary's World Tag Title match. They're pushing that AMW is getting frustrated with their current losing streak. Man, losing streak angles are great! Just look what it did for David Young's caree—Um, nevermind. (David)
Jarrett and Brown joined the announce table for today's TV main event. Jarrett called both Brown and Abyss, "my main man." Hey, only one "main man" to a customer, you slut.

4) Abyss pinned Chris Sabin at 7:40. Fans did their Abyss chant off and on throughout this. No one hailed Sabin this week, though. In an awkward spot, Abyss yanked Sabin off the mat by his arm and dropped him quite rudely. Highlight saw Sabin leapfrog over a ringpost into a hurracanrana on the floor. Sabin went for another, but Abyss blocked it and swung Sabin into the ring steps. It looked kinda like that goof from Spring Stampede 99 when Rey Misterio Jr. headscissored Billy Kidman on the floor and accidentally knocked himself loopy on the steps in the process. Sabin continued to bump great for Abyss, but when he came back with a contrived DDT, Jarrett amusingly chastised Abyss with, "This is no way to represent the King Of The Mountain!" Abyss wedgie-chokeslammed Sabin for a nearfall. Sabin hit a nice springboard dropkick and actually lifted Abyss up for a cradle shock (which the announcers failed to put over), but Traci ran down to distract the ref so Shane could run-in and hit sweet cover music on Sabin. Abyss pinned Sabin after a rackbreaker. Jarrett and Brown left the table to congratulate Abyss. Abyss shook Jarrett's hand, but wound up short-arming him into a black hole slam. Huge crowd pop for that. Abyss and Brown faced off as the show ended. Good bully vs. flyer match. (David)

Overall over-analysis: Best overall Impact in a long time. They finally turned Raven loose, they finally got behind AJ as their top guy, they finally established Daniels as their number-two guy, they finally buried Siucki. If this keeps up, I may actually have to rename the "Deathwatch" update.
This Observer's Thumb…………………is up.
-HDS-
Slammiversary PPV lineup (6/19/05):
King of the Mountain match for the NWA World Title:
A.J. Styles vs. Jeff Jarrett vs. Monty Brown vs. Abyss vs. ?

NWA World Tag Title: The Naturals vs. Petey Williams & Eric Young
XD Title: Christopher Daniels vs. Chris Sabin vs. Michael Shane (?)
Harry Simon is a trivia-fueled wisenheimer who has been writing about pro wrestling off and on for 16 years and counting. Harry has written trivia pieces for both the Wrestling Observer and Live Audio Wrestling websites, and contributed a ton of research to his fellow Las Vegan Mike Tenay in preparation for the first NWA TNA PPV in 2002. Harry has also done play-by-play, color commentary, and ring announcing for indy promotions. Harry invented the Von Erich Match Rating System, which you can learn about HERE.
---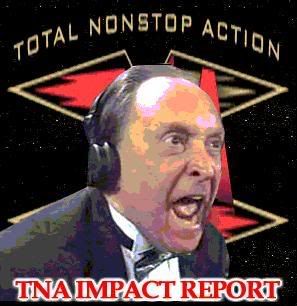 NWA TNA IMPACT ON FSN (5/13/05)
First and foremost, if you haven't already done so, go read my monster review of the
Lockdown PPV
over yonder.
SPECIAL ANNOUNCEMENT: Rejoice! I will indeed be ordering the Hard Justice PPV this Sunday. It will get Recapitated this week over in the 'Shmazz.
DEATHWATCH UPDATE:
Not a good week for former-NWA-legends-turned-booker. First, Jim Cornette gets a time-out from OVW, but the big news is that Dusty Rhodes has been removed as TNA booker. Big Dust will remain with the company in his on-air "Director Of Authority" role, but the booking duties will now be handled by committee. Remember last week when I said the Carters were the coolest people in the world? This is Exhibit D.
TNA has lost that Lovett feeling. Jobber to the stars Lex Lovett announced his retirement recently. Courage, my friends. We'll get through this.
NWA TNA IMPACT ON FSN (5/13/05)
Show opened with announcers Mike Tenay and Don West plugging the hell out of the PPV.
1) A non-title four-way elimination match with XD champion Christopher Daniels vs. Elix Skipper vs. Jeff Hardy vs. Eric Young (w/ Coach Scott D'Amore) was ruled a TLD at 10:00. Fast start with everybody jumping around like the Jumping Jews Of Jerusalem (God bless anyone who gets that reference). At about two minutes into the match, Raven came out and attacked Jeff Hardy. They brawled to the back, causing Hardy to get counted out. Back from break, they ran a clever angle where Daniels kept zapping his opponents off the apron as they tried to reenter the ring, so he was effectively – WHAT THE HOLY HELLY IS ALL THAT SHIT ON ERIC YOUNG'S BACK??!! It looks like a combination of backne and a chemical burn. Dude needs to start wrestling in a t-shirt, pronto. Okay, sorry, I got distracted for a moment. Anyway, Daniels was effectively running the ring until Primetime got back in the ring and started his comeback. PT did the rope-walk hurracanrana to give Daniels a break. Young came in and danced with PT, doing several tombstone reversal rolls until PT caught him with sudden death (Kryptonite krunch, a.k.a. emerald frosien) for the pin. No sooner was Young pinned than Daniels ran right into a PT small package for a three-count right as the clock hit zero. I think the original finish was supposed to be PT pinning Daniels right before the buzzer (a la Scorpio-Benoit from SuperBrawl III), but they blew the timing and the higher-ups decided to go with a TLD decision. The action was fine, but the blown finish takes it down a notch. And hey, what ever happened to Impact's "a judge will decide the winner if there's a draw" rule? (Mike)
A nice feature aired hyping the Daniels-Shocker XD Title match at Hard Justice.
After the break, they showed a replay of the previous match and "clarified" that it was indeed a TLD (the ref raised PT's hand, and the announcers picked up on it at first). Great, so not only did the XD champ get pinned two days before a PPV, but Skipper looks weak too, because he didn't get the job done. How did this help anybody?
Next up was the highlight of the show and one of the best things TNA ever produced. It was a profile on A.J. Styles, showing him training along with clips of his various highspots and comments from other TNA talent singing his praises, VH1-style. It put over his efforts in the Ironman match (against Daniels at Against All Odds) and his cage match (against Abyss at Lockdown). It sure looks like they're gonna put the strap on A.J. and it's about damn time. Excellent feature that made "The Phenomenal One" deservedly look like a million bucks.
Another nice feature aired, running down the on-again-off-again feud between The Naturals and AMW that has been going on for a full year now. The Nats were put over as "the only team with a winning record over AMW" (cough*XXX*cough). Nice clips aired from some of their legendary matches. A rematch for the straps is officially on for the PPV.
Up next was a taped interview from Tito Ortiz. Tito said that his favorite wrestlers growing up were Jimmy Snuka and Tito Santana. He did a great job putting over TNA as the future, and even got off a funny line about how Ken Shamrock was lucky that he wasn't around to "beat his ass" for the NWA World Title when Shamrock held it in 2002. He further put over both AJ and JJ in talking about the Hard Justice main event. Very nice segment. This sold me on Ortiz as someone who is not only a fan, but someone who is plugged into the current wrestling scene, as opposed to 99% of other "celebrity" angles, where nobody knows anything.
The Raven-Hardy feud was recapped. They're on for a "House Of Fun" rematch at the PPV. Basically, that means garbage, garbage, and more garbage.
"'Total Nonstop Action,' My Ass" Stopwatch: 43 minutes into the show, there have been 10 minutes of wrestling, and that was chopped up by a commercial break. The features this week have been good-to-great, but still…I wanna see wrestling on a wrestling show, dammit.
2) Abyss won a 10-man gauntlet match to earn the #20 slot in another 20-man gauntlet match at the PPV in 15:31. The last time I saw that many "20"s, David Schultz was slapping John Stossel. Also, I'd point out the inherent absurdity of doing one gauntlet match on free TV two days before expecting people to pay for another gauntlet match on PPV, but really, what's the point?
Order of entry:
1. Michael Shane (w/ Trinity)
2. Chris Sabin (w/ Traci)
3. Bobby Roode
4. Petey Williams
5. David Young
6. Trytan (Fuck, I thought he was history)
7. "A1" Alistair Ralphs
8. Lance Hoyt
9. Abyss
10. Aportion
Shane and Sabin picked up from where they left off last week. Sabin's head was taped up to sell the multiple superkicks, but it looked goofy, like he had a toothache. The tape went flying soon enough, though. Traci chased off Trinity, so they didn't get nearly as much screen time as I would have liked. Hey, remember last week when they ended with the cliffhanger where Shane was about to superkick Traci? What the hell happened?
No D'Amore for the Team Canada guys, as he was apparently still selling the low blow Daniels gave him in the four-way opener. TC beat down both Shane and Sabin until Sabin hit an enziguiri that knocked Roode to the floor, despite Petey's attempt to save his fellow hoser. Because he was the first man eliminated, Roode's punishment is to be the first man IN the Gauntlet match at HJ. Trytan was designated Diesel. He pitched both Young and Shane, then chokeslammed Petey onto their carcasses, eliminating three guys in a span of 20 seconds. Sabin hit a springboard hurracanrana on Trytan. Hoyt came out for the "pick on someone your own size" face-off with Trytan. Hoyt ejected Shitean with a big boot. The place popped HUGE for Hoyt. Dowhutnow? Abyss clotheslined A1 over and out. Final four were Abyss, Aportion, Hoyt, and Sabin.
Aportion superkicked 'Byss, gave Hoyt a neckbreaker, and slammed Sabin. This made me happy because under current battle royal etiquette, if a guy is made to look that strong, it means he's the next one out. Commercial break. Yup, sure enough, Abyss backdropped a charge by Aportion, ending his night. Both giants tried to toss Sabin, but he skinned more cats than a Chinese food take-out place. Sabin hit a springboard split-leg dropkick, flooring both monsters. Fans promptly lit it up with a "Hail Sabin" chant. Sabin tried to tornado-DDT Hoyt, kicking off Abyss in the process. Hoyt countered by setting him down on the apron, and Abyss forearmed him to the floor, leaving Abyss vs. Hoyt.
When a TNA Gauntlet match comes down to the final two, the over-the-top eliminations are history and it's one fall to a finish. To explain this, they did a spot where Abyss threw Hoyt over and celebrated before a ref informed him of the cock block. Abyss caught Hoyt off the top in a chokeslam for a nearfall. Fans kept chanting "Hoyt, Hoyt, Hoyt." Hoyt hit a big boot, a second-rope clothesline, and an impressive moonsault for a nearfall. Don West really needs to stop calling that move a "backwards moonsault." The Naturals ran-in and attacked Hoyt. Hoyt ran them off easily enough, but the distraction allowed Abyss to catch Hoyt in a black hole slam for the pin. Looks like Abyss is the favorite to win the PPV Gauntlet, which works for me. Not only did he work this match two days after separating his shoulder at the last PPV, but he was half of that MOTY main event at Lockdown, you know. Everyone (including me) gave A.J. the bulk of the praise, which unintentionally slighted Abyss, who is easily the best big man in the country right now. Good match. (David)
Show ended as Abyss celebrated.
Overall over-analysis: At the tapings for this show, the Nats (w/ Candido) beat Lovett & Buck Quartermain in a non-title match. The match didn't air for obvious reasons, though many of Candido's friends said that he would have wanted it to air. I can't really blame them for pulling it. As for today, it was an hour-long commercial for the PPV, but there's nothing wrong with that. Like I said, all the features were good, and the gauntlet was decent. The four-way opener was fine until the finish, too. Today's highlights were the A.J. profile and the Nats-AMW piece. Those made me want to buy the PPV, so they did their job and did it quite well.
This Observer's Thumb…………………is up.
-HDS-
Hard Justice PPV lineup (5/15/05):
NWA World Title (Tito Ortiz as special referee): Jeff Jarrett vs. A.J. Styles
XD Title: Christopher Daniels vs. Shocker
NWA World Tag Title: Naturals vs. AMW
"House Of Fun" match: Raven vs. Jeff Hardy
Chris Sabin & Traci vs. Michael Shane & Trinity
Monty Inc. (Sopp & Brown) vs. B.G. James & Ron Killings (?)
20-man #1C "Gauntlet For The Gold" match (Bobby Roode is #1 entrant; Abyss is #20)
Harry Simon is a trivia-fueled wisenheimer who has been writing about pro wrestling off and on for 16 years and counting. Harry has written trivia pieces for both the Wrestling Observer and Live Audio Wrestling websites, and contributed a ton of research to his fellow Las Vegan Mike Tenay in preparation for the first NWA TNA PPV in 2002. Harry has also done play-by-play, color commentary, and ring announcing for indy promotions. Harry invented the Von Erich Match Rating System, which you can learn about HERE.
---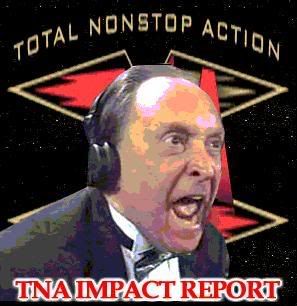 NWA TNA IMPACT ON FSN (5/6/05)
First and foremost, if you haven't already done so, go read my monster review of the Lockdown PPV over yonder.
A major thank-you to my pal R.D. Reynolds for giving me a shout this week. I know that we all already know the link, but one good turn deserves another, so go to www.wrestlecrap.com to bask in his hysterical Mother's Day update! Also, congrats to R.D. and my other pal Bryan Alvarez on the announcement that their opus, "The Death Of WCW" just went into a third printing!
DEATHWATCH UPDATE:
Their contract with FSN expires soon, and they want to jump to Spike, but WGN is giving the best offer. Great, now I'll have to memorize another cable channel that I never watch.
Monty Brown is being kept off TV until he re-ups. His contract expires in a few months.
The Carters are the coolest people on earth this week. Behold:
* At Chris Candido's wake, they draped one of the tag belts over the casket and told his family that they could bury him with the belt since he loved wrestling so much. Candido was cremated instead.
* They're not buying any of the usual wrestling excuses for the Dustin Rhodes DV arrest, and The Artist Formerly Known As The Artist Formerly Known As Goldust looks like he's history.
* They realize that TNA has thus far been a vanity vehicle for Jeff Jarrett and they want to refocus the company on A.J. Styles as their top star.
Any way you look at it, the next few months should be verrrrrrrrrrrry interesting.
NWA TNA IMPACT ON FSN (5/6/05)
Show opened with a recap of last week's announcements, that Tito Ortiz would referee the Hard Justice main event, and that Jeff Jarrett did another self-felating promo explaining why he was the most bestest wrestler ever, respectively.
1) Abyss killed Cassidy Riley at 2:04. If you're scratching your head about the booking of Mr. Riley, join the club. One week, he's Dustin's protégé/partner, then he's back to being Jobbercules. I think they missed the boat during the Dustin-Raven feud by not having him turn against Dustin and become Raven's lackey. Anyway, this was a quick snuff match that began with Riley running from 'Byss, ended with a black hole slam, and it didn't really have a middle. The premise was that Abyss was a-pyssed that he lost the Lockdown main event. He'll be in HJ's Gauntlet For The Gold, though. (Waldo)
A sharply-dressed XD champion Christopher Daniels joined the announce table for the next match. He gloated about successfully defending against Elix Skipper at Lockdown. I think they should have Daniels arrogantly insist that he's a better wrestler/announcer than Bruno Sammartino ever was, if only because it would amuse me. Hey, I'm one of their best customers.
2) Shocker pinned Sonjay Dutt at 8:08. Daniels said that he never wrestled Shocker before, but he was the best "first-match wrestler" in the business, citing his first matches against A.J. Styles and Skipper. Shock and Sonjay danced, with Shocker getting a two off a spinning drop. Sonjay hit a nice flip dive to the floor, getting a "TNA" chant. Commercial break. The lads traded nearfalls, prompting Daniels to suggest that if Shock is having trouble with Sonjay, Shock would have no chance against him at HJ. He's got a point. I'm all for competitive matches, but a #1C should be booked a lot stronger than this heading into a PPV. Sonjay hit a nice hurracanrana off the second rope, but Shock turned an encore attempt into a NICE powerbomb for the pin. Good match, better than Shock's disappointing showing against Petey Williams last week. Daniels on color was a big plus. That guy's talent has talent. (David)
Backstage, Raven cut a promo. He compared Jeff Hardy to his "heroes" like Keith Richards and Jake Roberts. Now what on earth could Raven, Jeff, Jake, and Keith possibly have in common? Raven quoted Napoleon. Hey, how come La Resistance never thought of that? Raven called himself a "human cancer." Great now HHH is gonna sue him for trademark infringement. Raven and Jeff are back on for HJ.
3) Konnan NC Outlaw in 33 seconds. Konnan did the shoe-put spot. Fans in the Zone held up their shoes in tribute. Konnan even used one to pound Coleslaw at ringside. This is the strangest over gimmick since Al Snow and Head in ECW. As they made their way to the announce table, Outlaw picked up a chair and waylaid K-Dawg. The announcers were aghast, but Christ, if a guy was assaulting me with an arsenal of footwear, you'd better believe I'd pick up the nearest object and defend myself. B.G. James and Ron Killings chased off Outie and helped Konnan to the back. I know that it's not a good thing when the bout you advertised last week as your TV main event for this week is a 33-second non-match, but considering the guys involved, I'm not exactly filling out a complaint card. (Waldo)
Hours before the fans were let in, Mike Tenay conducted an in-ring sitdown interview with both NWA World champion Jeff Jarrett and World Title #1C A.J. Styles. Jeff did his "Hunter Junior" speech, putting himself over by listing his bodycount. JJ said A.J.'s not ready, and complained about Dusty's conspiracy against him. A.J. talked about his goal of winning the strap. Everyone ignored the fact that he already held it for several months. Jarrett kept interrupting Styles until they had an unconvincing pull-apart. This whole thing was weaker than the springs in Lita's mattress.
4) Chris Sabin (w/ Traci) pinned Michael Shane (w/ Trinity) at 15:06. Tenay called this today's main event, completely ignoring the fact that last week, they made a big to-do about Konnan-Outlaw. Can't blame him, really. West briefly put over the history between these two. Sabin and Traci kissed as they came out. Still no explanation on how Traci and Shane split, Shane and Trinity hooked up, Sabin scored Traci on the rebound, or why neither T is apparently Dusty's assistant anymore. These guys had a match every bit as good as you'd expect from them, featuring a creative spot where Sabin was hanging outside the ring by his boots, setting up a guillotine-like dive from Shane. Shane dominated until Sabin came back by catching him with a released German suplex. Frenzied back-and-forth led up to the finish, where Shane went for sweet cover music, but Sabin tangled him up in a side-roll for the pin. After the bell, a frustrated Shane zapped Sabin with three helpings of SCM, with Trinity's aid. Traci finally entered the ring and threw Trinity down. Jeez, take your time whydoncha, woman. This isn't a bad time for you, is it? The show closed with the cliffhanger tease that Shane was measuring Traci for SCM. Very good match, very good angle. (Kerry)
Overall over-analysis: A good show with clear focus that smartly built to the PPV for the most part. Throw in their second great TV main event in as many weeks, and it's a winner.
This Observer's Thumb…………………is up.
-HDS-
Hard Justice PPV lineup (5/15/05):
NWA World Title (Tito Ortiz as special referee): Jeff Jarrett vs. A.J. Styles

XD Title: Christopher Daniels vs. Shocker
NWA World Tag Title: Naturals vs. AMW (?)
"House Of Fun" match: Raven vs. Jeff Hardy
Chris Sabin & Traci vs. Michael Shane & Trinity
20-man #1C "Gauntlet For The Gold" match
Harry Simon is a trivia-fueled wisenheimer who has been writing about pro wrestling off and on for 16 years and counting. Harry has written trivia pieces for both the Wrestling Observer and Live Audio Wrestling websites, and contributed a ton of research to his fellow Las Vegan Mike Tenay in preparation for the first NWA TNA PPV in 2002. Harry has also done play-by-play, color commentary, and ring announcing for indy promotions. Harry invented the Von Erich Match Rating System, which you can learn about HERE.