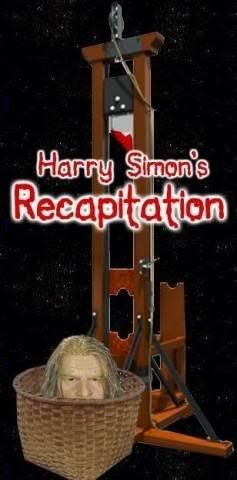 RECAPITATION: MONDAY NIGHT WAR
Welcome to the Recapitation! We're gonna do things a little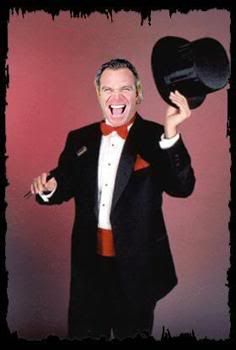 differently today. Before we properly grease up the blade and lay odds as to where the appendages fall, I'd like to talk about one of the underlying themes of this DVD. As each company tried to get a leg up on the other one, they both threw all sorts of gimmicks against the wall. Coupling that with the fact that we need an impartial observer to help ascertain who's on the up and up, I need to make a hot tag.

Ladies and Gentlemen, please welcome the 'Shmazz's new in-house integrity expert: Cred-A-Billy! Say hello to the folks, CB!



"Well, howdy y'all! I'm Cred-A-Billy! I sure am excited to be the official mascot of a smartass internet column that gets updated maybe every three weeks!"

Hey! Watch it, Chucksucker. Piss me off and it's back to the floor of the airport men's room where I found you. Okay, now it's time to drop the ol' sever lever on the Monday Night War!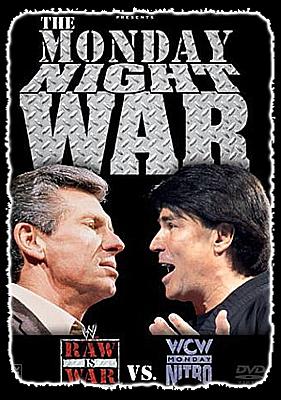 RECAPITATION:

MONDAY NIGHT WAR
WWE Home Video DVD
Released 2003

"History will be kind to me, for I intend to write it." –Winston Churchill

The main feature was an amazing 95–minute piece of revisionist history presenting how the Monday Night War happened in the mind of Vince McMahon. It broke down into the following brain-flossing chapters:

Early Days of WCW and WWE
RAW arrives, Talent leaves
Birth of Nitro
The War begins…
WCW takes the lead
The nWo
WCW and Austin
WWE Evolves
Mr. McMahon and Austin
WWE wins a round
WWE takes the lead
Ric Flair
WCW struggles
Talent goes to WWE
More Changes at WCW
The Last Chapter

I think they could have put just a little more effort into naming that last one. Anyway, one thing I did find interesting was how it was kayfabe that launched Nitro into the stratosphere. Bruce Prichard and Bischoff talked about how fans thought "that part was real" (meaning, the nWo invasion).

As for the guys in charge? Well, Bischoff told the "story" about how Nitro came to be, saying Ted Turner gave him "two hours of prime time." Then at the 32-minute mark, Vince explained his business theory is "Help yourself; not hurt the other guy." Whaddaya think, CB?



"Vince McMahon is a lying cocksucker! He ran more guys outta business than the Sopranos! I hope his untalented kids both get testicular cancer! As for Bischoff, even a sexually confused hick like me knows that Nitro was a one-hour program for its first several months! These fellas really screwed the pooch! I'm talking DVDA, y'all!"

Um, yeah. Now onto the talent. Mick Foley eloquently talked about how Bischoff and Tony Schiavone ruined his special night (when he won his first WWF World Title) by mocking him on Nitro. To his credit, Foley also criticized the "Billionaire Ted" skits and said that he felt even Vince truly believed that Bret didn't really screw Bret. Elsewhen, it was Shawn Michaels, of all people, put the ratings thing into perspective by talking about how the boys never worried about the ratings before; they just wanted to put together their matches. Well, and going to the bathroom in each other's gym bags. He must have forgot about that part. Michaels would later go on to say that, "To discount what WCW and Bischoff did would be grossly unfair to him." Go get 'em, CB!



"Well, dip me in shit and stick me in Tammy Sytch's salad! That Shawna chick is as insightful as she is hot! And ya can always trust an Irish feller who's so honest, that he even calls hisself 'Mick!'"

All righty, then. Things started to turn around for the WWF when Austin caught fire and they brought in a convicted rapist as part of the build for Austin's first WWF World Title win at WM14. As WWF picked up steam, Jim Ross pointed out that the only new guy that ever got a break in WCW was Bill Goldberg. They correctly pointed out that the real difference between the companies was when it came to talent influxes. Whereas WCW brought in the older guys (Hogan, Savage, Piper, Nash, Hall), the WWF brought in younger guys who couldn't have bought a break in WCW (Big Show, Jericho,
Benoit, Eddie).

The feature ended with the surprisingly upbeat message that the real winners in the war were the millions of fans who kept coming back week after week to support their favorites. Hey, when you're right, you're right.

So what did I learn from this thing? As much as Vince and Eric love patting themselves on the back, the people tuned in and turned out to see the in-ring talent. And ironically, as kayfabe breathed its last breath, the biggest stars of the 90s were the Rocks, Austins, and Outsiders, who turned their real-life personalities into on-air characters. So at the end of the day, gimmicks never last, but home video is forever.

MATCHES:

1) Steve Austin & Shawn Michaels beat Owen Hart & Davey Boy Smith to win the WWF Tag Title [Raw, 5/26/97]. 10:26 was shown, as there was one commercial break during the match when it initially aired. Owen & Bulldog had been solid heel tag champs for eight months, while SCSA & HBK were pulling off a fun "odd couple" routine. As usually happens when bookers have nothing to do with two top singles stars, the whole is greater than the sum of its parts, so they put the gold on the babyfaces. Austin pinned DBS after Michaels hit the superkick. Afterwards, the new champs argued with each other backstage. 1997 was the best year to be a wrestling fan. Trivbit: Austin & Michaels defended against LOD the following week. During one spot in that match to further the dissention between the Texans, HBK was supposed to accidentally hit Austin with a slidekick. Unfortunately, Shawn legit coldcocked Stone Cold with the move, which was the beginning of Austin's serious neck problems. Doctors warned him that the kick left him susceptible to future neck injuries. A few months later, Owen dropped him on his head and Austin was never the same again. (Kerry)


2) The Legion Of Doom beat WWF World/European champion Michaels & HHH (w/ Chyna) by DQ [Raw, 12/15/97]. 7:41 aired (again, there had been one break). The best thing about this match was the commentary from the Jims: Ross and Cornette. They were one hell of a great announce team. The Roadies were still over, as there was a big chant of "LOD" rocking the house. However, one sign that correctly pointed out "You can't spell OLD without L-O-D." The Cliqueheads did a decent enough job of bumping for the LOD until Chyna low-blowed Animal for the DQ. After the break, The New Age Outlaws ran-in and blinded Hawk so they could shave off his trademark reverse-mohawk. This led to an inspired game of can-you-top-this between the NAO and HHHBK. All four quadruple-powerbombed Animal through a table, then took turns dropping stuff on Hawk from the top rope. The four heels were impressed with each other, which, naturally, planted the seeds for NAO joining DX three months later. Okay match, great angle. (David)


3) Chris Benoit beat Booker T by tapout at 8:19 to go up 3-1 in their Best-Of-Seven series to determine #1C to the WCW TV Title [Nitro, 6/1/98]. I guess this match was on here because they wanted two current WWE guys having a Nitro match. I can't argue with this pick, really. TV champion Fit Finlay watched the match from the aisle. Benoit uncharacteristically showed light on a stomp at one point. The crowd was doing that "raise the roof" thing, getting behind Book. This series totally made Booker as a singles star. Very nice competitive match, so the assbastard announcers talked about the Chicago Bulls vs. the Utah Jazz. Finish saw Benoit turn a suplex attempt into the crossface for the tap. And just in case you were wondering, Booker would go on to win the series and defeat Finlay for the strap in two different matches at the Great American Bash 1998. (David)


4) WCW U.S. champion Bill Goldberg pinned Hulk Hogan to win the WCW World Title at 8:13 [Nitro, 7/6/98]. This Georgia Dome classic is best remembered as both the match that made Goldberg and the time WCW gave away a PPV main event that could have generated millions on free TV. Would you like a little match with your heat? I dunno, it's weird. The crowd was so unbelievably rabid for everything about this match, it was just plain spellbinding. The finish was ironically similar to Hogan's matches in the 80s; Goldberg kicked out of the ledgrop, popped up, speared HH, and hit the jackhammer for the pin. (Kerry)


OTHER EXTRAS: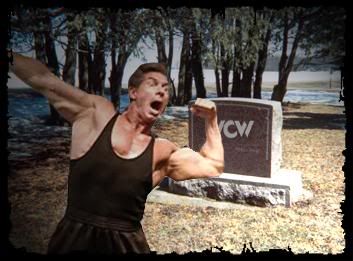 Austin stuns McMahon [Raw, 9/22/97]. Ah, you always remember your first time with your partner.

Cornette commentary [Raw, 10/27/97]. James E. talked about how his trademark ranting got over big on an edition of the WWF's internet show "Byte This." It lead to this, the first in a series of spirited tirades from "The Louisville Lip." Great fun, though you've gotta take it with a grain of salt, and several alcoholic beverages wouldn't be a bad idea, either.

"Bret Screwed Bret" [Raw, 11/17/97]. The infamous little bit of spin-doctoring after the Montreal screwjob. While it's more than appropriate considering the theme of this DVD, I hated it then, and I hate it now.

DX invades WCW [98]. The ballsy angle that saw HHH, X-Pac, Chyna, Billy Gunn, and Road Dogg launch a worked shoot assault on a WCW event.

The Last Nitro [3/26/01]. A retrospective on Nitro's swan song. Kinda sad in some ways, but let's face it; by that time, WCW was a diseased animal, limping around leaving its waste all over the place. After two solid years of some of the worst angles and booking this industry has ever seen, WCW deserved to be put out of its misery.

nWo in the production truck [Nitro, 7/22/96]. A fun, innovative angle that saw The Outsiders run amok behind the scenes WCW. Angles imitating life…

Bischoff challenges McMahon [Nitro, 5/11/98]. This was just plain silly. For the first time during the war, Bischoff showed signs of desperation. I have to wonder if he was so deluded, he really truly thought Vince would accept his offer and show up at Slamboree 98. When this DVD came out, they played this bit on Raw, and turned it into an angle with Vince and Bisch.

Ric Flair returns [Nitro, 9/14/98]. This was the single greatest angle in Monday Night history, easily. For some reason, they didn't show this angle in its entirety, as Arn Anderson waxed nostalgic with J.J. Dillon before bringing out the Horsemen one by one. On the plus side, they didn't bleep Flair calling Bischoff an "asshole" and a "sonuvabitch." This is a must-see angle anyway, though.

Rick Rude appears on both Nitro and Raw [11/17/98]. I'm sure it was unintentional, but I loved the irony that the last thing on this disc was the moment of the late, great Ravishing One, who was one of the few guys to put the screws to Vince…and get away with it.

Overall over-analysis: Hey, did you know that Nova (aka Simon Dean) used to use an inverted swinging neckbreaker called the "spin doctor?" It was a sweet move, but it has nothing on the spin-doctoring on this DVD. Me, I was disappointed that this wasn't a 2-disc or even 3-disc set. It was light on extras, and out of the four matches they picked, only one was really historically significant when it came to Monday Night history (Hogan-Goldberg). This was one of the first releases that incorporated Vince's sickeningly massive videotape library, and they did improve in future releases (Benoit, Eddie). To be fair, I was expecting a lot worse. This was far more accurate than I thought it would turn out to be. And let's face it, had Bischoff won the war, how do you think HIS version of the "Monday Night War" would have turned out? The bottom line is they could have done a LOT better with this thing, but chose not to.

This Observer's Thumb…………is slightly down.

-HDS-

THE CLUSTER-PLUGGER:

I warned you, but you didn't listen. This is the week I get us all caught up with TNA Impact reviews. As in, six full freakin' weeks worth. As the clock ticks away to TNA's first three-hour PPV, shots get hotter and Jarretts get desperate. Fun for the whole family, provided your family likes to huddle around a computer and read me complaining about Jeff Hardy. Enjoy.
Harry Simon is a trivia-fueled wisenheimer who has been writing about pro wrestling off and on for 16 years and counting. Harry has written trivia pieces for both the Wrestling Observer and Live Audio Wrestling websites, and contributed a ton of research to his fellow Las Vegan Mike Tenay in preparation for the first NWA TNA PPV in 2002. Harry has also done play-by-play, color commentary, and ring announcing for indy promotions. Harry invented the Von Erich Match Rating System, which you can learn about HERE.