CLUSTERSHMAZZ
"CLOSE THE DAMN WINDOW! I'M FEELING THE DRAFT!"
Last year, the highly-rated 3/22/04 edition of Raw featured a "draft lottery" with the stars of both Raw and Smackdown in attendance. Vince McMahon proudly vowed that the draft would shake things up, causing new match-ups and renewed interest from the fans. Sounds great, right? Well, it should have been. Before they try it again in 2005, here's a look back at the big draft of 2004 to see who was drafted, who was traded, and whether or not anyone was better off for it in the long run.
Draftee: Rene Dupree, from Raw to Smackdown.
The old place: One-third of La Resistance, snoozerrific fallback World Tag champs. Touted as a can't-miss prospect, Rene was billed as the youngest man to ever win a WWWFE championship.
The new place: His Piper's Pit ripoff, "Café De Rene" flopped. Ditto a feud with John Cena over the U.S. Title. Rene ended up with Kenzo Suzuki, enjoying a run as the most boring WWE Tag champs in history. On the plus side, though, he managed to get Bob Holly slapped with a warrant by absconding off with his rental car.
In the long run…without Rob Conway to carry the match, Rene was exposed as 500-lbs of suck crammed into a 200-lb frame. Given the fact that Raw had better babyface workers, it's doubtful that Rene would have been exposed as badly as he was on SD. Sure, the switch hurt him, but given Rene's level of suck, it was only a matter of time before fans (and management) gave up on him. The only good thing about the switch was that Tazz singing "I'm a French guy" was often the best thing on Smackdown.
Draftee: Shelton Benjamin, from Smackdown to Raw.
The old place: Partnered with his real-life best friend Charlie Haas, Shelton was one-half of Bacardi & Cola, the best tag team to hit the company in years.
The new place: Pinned HHH on Raw (!), got injured, won "Taboo Tuesday" vote to challenge (and win) Chris Jericho's IC Title, still IC champ as of this writing.
In the long run…Shelton benefited from the draft more than anybody. A great worker, a good talker, and most importantly, he gave both HHH and HBK their best matches in recent memory. His star continues to rise, as Jim Ross sings his praises as "the best pure athlete" in town. Granted, JR also used to say that about Billy Gunn.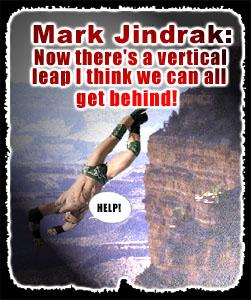 Draftee: Mark Jindrak, from Raw to Smackdown.
The old place: Tag-teamed with Garrison Cade. Indifference gripped the nation.
The new place: Put with Teddy Long as the "Reflection Of Perfection" (didn't work), put with Luther Reigns and Kurt Angle as the new Team Angle (didn't work), turned babyface with the old Ronnie Garvin "hands of stone" gimmick (didn't work), turned back heel as something of a lackey for Angle again (won't work).
In the long run…it doesn't really matter which color the ropes are for whichever ring he's stinking up on a given night. Jincrap is one of those guys who will get push after push after push because management likes his looks. The guy brought nothing to the table on Raw, and stayed consistent on SD.
Draftee: Nidia, from Smackdown to Raw.
The old place: Entertaining as hell doing the "trailer trash" gimmick with Jamie Noble.
The new place: Lost among the endless parade of boobs that was the Diva Search, Nidia was ultimately released into the wild.
In the long run…sadly, the writing was on the wall when they broke up her act with Noble. I can see where they wanted to inject some new silicone into the Women's championship picture. In theory, Nidia working with Trish, Molly, and Victoria would have made her a better worker and given the division a badly -needed fresh face. (After all, a fresh face that looks like a horse is still a fresh face.) Given the SD divas at the time, Nidia was probably the best choice over Torrie and Dawn. It's a shame, because Nidia really was great in her role as the "Trailer Park Tomato." But apparently in today's WWE, if you sit down to pee and your name isn't "Trish Stratus," you're an endangered species.
Draftee: HHH, from Raw to Smackdown.
The old place: The main attraction of Raw and the #1 guy in the company…and he'll never let you forget it.
The new place: Sucker! It was all just a big swerve to stroke HHHis ego. Then again, what ISN'T?
In the long run…after a match against Eddie Guerrero the night of the draft, they ran an angle on the following Smackdown where SD's new GM, Kurt Angle, bragged about pulling off a 3-for-1 trade, swapping HHH for Booker T and The Dudley Boyz. Due to HHHis fragile ego, they couldn't even really push the fact that SD gained the former five-time WCW World champ AND the most decorated tag team in the history of the business. No, the focus was on how HHH was worth three guys who have won a total of like 55 different championships between the three of them over the years. At the end of the draft week, HHH was the same as he ever was; an insecure, overpushed, undertalented waste of life who is sucking the life right out of the business.
Draftee: Rhyno, from Smackdown to Raw.
The old place: A feud against former partner Chris Benoit went nowhere, and the Manbeast was stuck in limbo ever since.
The new place: Tagged with Tajiri for a run against La Rez that went nowhere, and the Manbeast was back in the Phantom Zone until he was released for causing a ruckus in front of everybody this past April.
In the long run…many think that Rhyno had already gored his own career when he complained about a SD match at a house show. He was wrestling Tajiri when Vince McMahon walked out as a surprise to everybody (including the wrestlers), stopped the "boring" match, and brought out the Divas for a T&A bit. While Rhyno was understandably upset, you just can't criticize anything or anyone related to Vince if you want a WWE career. But the final whisker in Vince's chin-cleft was when Rhyno had a domestic dispute with his ex-wife at the post-WM21 party. Rhyno took his frustrations out on a nearby potted plant (not RVD, mind you, but an actual plant in a pot), then after Tommy Dreamer helped him to his room, he returned to the scene to cause more mayhem. Ironically, after the draft, Rhyno gave an interview saying that he wanted to "blow his brains out" from frustration with the SD writers, so he was ecstatic to be on Raw. Why being forgotten on Raw is better than being forgotten on SD is anybody's guess. Maybe he just liked having his Thursdays free.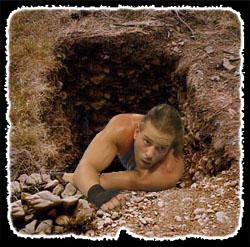 Draftee: Rob Van Dam, from Raw to Smackdown.
The old place: Over as hell despite constant burials. Forgettable run with Tag Title.
The new place: Over as hell despite constant burials. Forgettable run with Tag Title.
In the long run…same company, same rut. The only real difference was that this time, announcers called him "Mr. Thursday Night."
Draftee: Tajiri, from Smackdown to Raw.
The old place: Head of a Japanese faction that was supposed to resemble the Yakuza. In fact, the WWE wanted to CALL THEM the Yakuza before Tajiri pointed out that screwing with the real Yakuza was very, very, VERY bad idea. Oh yeah, and he blinded Nidia, but the focus from that angle shifted to Nidia vs. Noble, with Tajiri left out in the cold.
The new place: Feuded with Coach, tagged with Rhyno, eventually won World Tag Title with William Regal in Japan.
In the long run…the "hometown" pop Tajiri received for the World Tag Title win was a career highlight, but then again, SD ran a Japan show that week, too. Tajiri's 2003 series with Rey Mysterio over the CW Title produced some of his best matches in years, but the CW belt is still the kiss of death in the eyes of many powers-that-be. Really, he's no better or worse off for the switch.
Draftee: Theodore Long, from Raw to Smackdown.
The old place: Criminally underutilized as a race-baiting manager for stiffs like Rodney Mack and Mark Henry.
The new place: SD's fourth (and best) General Manager, a role that FINALLY takes advantage of the playa's natural charisma and delivery.
In the long run…it's hard to believe that Teddy was relegated to a referee for years before someone finally gave him a microphone. Teddy's interaction with Carlito was a big boost in building the mop-topped one, and Teddy continues to deliver the goods, making everything he's a part of that much more fun to watch.
Draftee: Edge (who was on the injured list), from Smackdown to Raw.
The old place: SD's popular top-of-the-bottom-bottom-of-the-top guy. He had many classic matches, both in tags against Kurt Angle and in singles against Kurt Angle.
The new place: He entered as a hot babyface, but when his hometown fans booed him at SummerSlam, a heel turn was inevitable. Oh yeah, and I think he banged some dude's girlfriend, too. Maybe you heard a little about it.
In the long run…on one hand, the lack of top-shelf babyfaces on SD seemed to have cleared the way for Edge to become their #1 face before his injury. But what happened instead with his move to Raw was that by year's end, Edge was cutting the best "bitter heel" promos since Bret Hart's notable stint in 1997. Edge has only gotten bigger since his return, and the "money in the bank" push combined with Vince wanting to spite the "We Want Matt"/"You Screwed Matt" people pretty much guarantees that he'll snake his way into a World Title reign before 2006.
Draftee: Spike Dudley, from Raw to Smackdown.
The old place: Raw's designated beating-bitch, who existed to make normal-sized wrestlers look like monsters, and monsters look like killers.
The new place: Napoleon-esque "boss" of the Dudley family, CW Title run.
In the long run…going to SD was better for Spike while it lasted, but when Paul Heyman fell out of power backstage (again), Spike was buried (again).
Draftee: Paul Heyman, from Smackdown to Raw.
The old place: Even handcuffed by the falsely-named "WWE creative," Paul was aces as SD's psychotic, obsessive GM.
The new place: Sure looks a lot like the old place. Except this time, they're wasting his talent by having him do things like being an accessory to the kidnapping and murder Paul Bearer. Undertaker swore revenge on Paul, who in turn hid behind Heidenreich. After being Heidenreich's mouthpiece (which mostly consisted of him yelling "Heidenreich" over and over), Paul was written off TV when UT tombstoned him in a handicap match.
In the long run…it was another swerve. Rather than become Bischoff's lickspittle, Heyman "quit" on the spot. He returned to SD weeks later and lit the fuse on a Dudley Boyz heel turn. Like so many others on this list, it didn't really matter which show Heyman was on; the bottom line was that neither would have used him right.
Tradee: HHH, from Smackdown back to Raw.
The old place: See above. What a doucHHHe.
The new place: The old place.
In the long run…the WWE is doomed.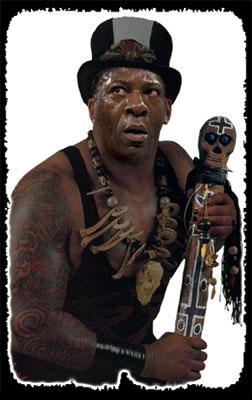 Tradee: Booker T, from Raw to Smackdown.
The old place: Mid-card purgatory.
The new place: Book came in on fire, claiming that moving to SD was a demotion to the "minor leagues." He had a spirited pull-apart with then-WWE champion Eddie Guerrero, and just when it seemed like the alumni of
www.thesmokinggun.com
were set for a main-event feud, JBL got the push while Booker learned voodoo. From there, Booker had the unenviable task of wrestling John Cena in a best-of-five series for the U.S. Title. (Most guys were only forced to have ONE awful match with Cena.) A babyface turned followed and he was fed to JBL a couple times to close out the year.
In the long run…SD needed Booker more than Booker needed SD. Ironically, that was the storyline premise of his heel promo. Book was pretty underappreciated despite being someone who could always be counted on to get the best work out of the worst workers. And even Ric Flair in his prime would have a tough time with the Cenas and Heidenreichs of the world.
Tradee: Bubba & D-Von Dudley, from Raw to Smackdown.
The old place: Wrestling's last great tag team. The fans love them and all their spots are over. Still though, they've been stale for at least three years.
The new place: Make it four.
In the long run…the Duds are as dependable as Stephanie is fat. And that's "extremely." Whether they're playing the misogynistic bullies or babyface, um, bullies, Bubba and D-Von rule your bitch ass. The Duds were entertaining as goons with Spike pulling the strings, but before they could get any sort of momentum going, the Duds were given a much-needed vacation. I'd say that they're better off on SD, especially since SD seems to be the brand refocusing on the tag team division with MNM, Bashams, etc.
Tradee: Rico, from Raw to Smackdown.
The old place: Comedy guy, mostly used on Heat and in those Raw quarter-hours that aren't terribly important.
The new place: Stole the show when he teamed with Charlie Haas as "The World's Gayest Tag Team." Released as part of Vince's kill-crazy housecleaning of late-2004.
In the long run…it's the damndest thing. He was easily a bigger star on SD and never failed to bring the funny, so they go and cut him loose altogether.
Tradee: Jackie Gayda, from Raw to Smackdown.
The old place: Yet another T&A attraction, best known for having the worst match in Raw history back in 2002. Rico's valet.
The new place: After the Ricoectomy, they made an angle out of her real-life engagement to Charlie Haas. Dawn Marie played the homewrecker, ending up with the revelation that yes indeed, Chuck was dipping his biscuits in Dawn's gravy bowl. Chuck broke off his engagement to Jackie (storyline only), and called Dawn a "slut." For some reason, this wasn't a heel turn for Chuck. Anyway, ever since then, Jackie has been window dressing when they do group shots.
In the long run…hell, it was probably two more angles than she would have had on Raw.
Tradee: Chuck Palumbo, from Smackdown to Raw.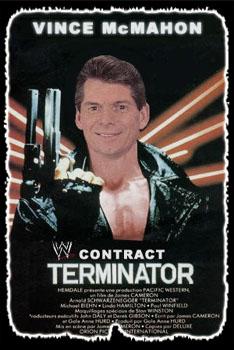 The old place: After his "gay for pay" angle with Billy Gunn, Palumbo reaffirmed his heterosexuality by hanging out with a couple Italian guys who wore leather pants and no shirts. The hell? Anyway, in the months leading up to the draft, Palumbo was the least over, least talented one-third of the FBI faction.
The new place: Repacked as "Cool Chucky P," his lousy Velocity matches became lousy Heat matches. CCP accidentally broke Hurricane's nose at one point, and was ultimately broomed as part of the bodycount of late-2004. Did he ever even wrestle on Raw?
In the long run…like so many other survivors of the Monday Night War, Palumbo had the right look in the right place at the right time. He was as over on Raw as he was Smackdown, Nitro, and Thunder. That's not a compliment. It's telling that Palumbo was the no-brainer "gotta go" when the FBI was repacked as a tag team, consisting of Nunzio & Johnny Stamboli. Mind you, Stamboli eventually got canned too, but that's another story.
Tradee: A-Train, from Smackdown to Raw.
The old place: One of SD's most enduring thug/goon/henchman characters. Always got heat, as fans enjoyed chanting "shave your back" at him.
The new place: Massive back hair and "Heat" are never a good mix. At least, unlike Palumbo, he actually got to wrestle once on Raw. He was fed to Chris Jericho to point out that if Jericho could put the walls on Train, he could put the walls on Tyson Tomko. Yes, seriously.
In the long run…call me crazy, but I dug A-Train. How can you not? The man is a walking straight line. Chewbacca, fuzzy wuzzy, Herman The Fur-Man…the stuff writes itself. When the traded guys wound up on the B-shows, it was a sign that nobody had any ideas for them. Add in the fact that the company shelled out $1,250,000 to the winners of the Diva Search and Tough Enough, respectively, and it was painfully obvious that the extra scratch had to come from somewhere.
FINAL NUMBERS:
Number of people traded/drafted = 19
Of those, number of people who have since been fired/released = 5
Number of people who were elevated by the switch = 3 (Benjamin, Edge, Long)
Number of people who gained absolutely nothing by the switch = 15
Number of company-killing egomaniacs who had to stick his Frankenschnozz into the draft just because he wanted people talking about him = 1
So what did we learn? If done correctly, a yearly draft could be a great tool for reinvigorating characters and recharging fan interest in both brands. But alas, the only "great tools" in the WWE nowadays are the writing teams who are tripping over themselves to kiss Big Steph's ever-widening ass. The talent is there. The demand is there. But ironically enough, the supply is perennially languishing, eternally stuck on the drafting board.
-HDS-