As instituted in 2005, we crown TWO Writer of the Year Awards. The first of which was voted upon by YOU, the readers of The Wrestling Fan.com during our two week poll; and the second being a very special Award voted upon by the WRITERS themselves, then presented to that individual (only candidates who submitted work in the 2007 year were eligible) who best exemplified TWF, and who had set a standard of consistent quality and hard work throughout the calendar year. That and administering sexual favors to buy votes and maintain popularity.
These are your winners. Here we go!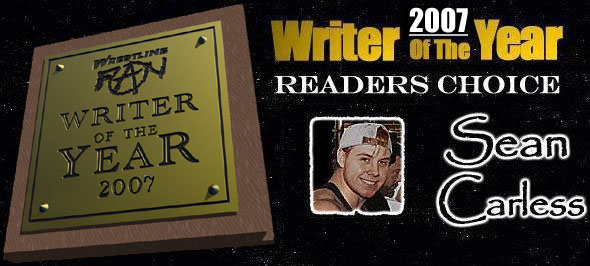 -POLL RESULTS -
Winner: Sean Carless: 42.1% of the Vote.
1st Runner Up: Catherine Perez 26.8% of the Vote.
2nd Runner Up: Derek Burgan: 16.2% of the Vote.
3rd Runner Up: Canadian Bacon 4.8% of the Vote.
Others: 10.1% of the Vote.
Total Votes counted: 74,602 (~!)
Ok, this is turning into an exercise in futility. Not to sound ungrateful or anything, but you're all hurting everyone else's feelings. This whole Award is starting to feel like Undertaker's Wrestlemania streak. I keep conquering douchebags and fat guys with limited talent? Umm, maybe not that much like Taker's streak. But ya, it sure feels that way. Except you know, people actually like Undertaker and want to see him keep winning...
That said, thanks for the votes, all 33,000+ of you... whom the first 30,000 may or may not just be me clearing my cookies for 7 days straight. But ya, I really do appreciate the support and admiration and umm, tolerance. Hell, I only received only 2 hate emails this year, and one I'm still not sure was hate-mail because dear god it was confusing (seriously). Something about how I should feel guilty for making photoshops of wrestlers her boyfriend likes or something. It pretty much stopped making sense after the "dear Sean Carless" part.
Anyway, I know for a fact that there's a few people on Staff here righteously pissed that like HHH, I refuse to pass that fucking torch, but you know what? I pay the bills, motherfuckers. I edit and spell-check things that'd baffle the dudes who deciphered the fucking Dead Sea Scrolls. I make sense out Canadian Bacon's work. I accept Bullfrog's bizarre British slang and never question how the fuck "Cos" is easier to write than "because". IT'S JUST A FEW MORE LETTERS, DAMN IT. I make 18 consecutive pictures for Sixth Child's Movie parodies when I'm kinda sure we could get way with like 4. I have to sum up fucking RAW, ECW, TNA, PPVs and Smackdown's into witty little update bylines like EVERY FUCKING DAY. Hell, some of the staff even insist on sending me their columns in little annoying condensed email paragraphs, thus making me have to reformat them before I even format them. But do I complain? Actually, I guess I do. But you know what? I have lived and breathed this site for like 5 years straight, with almost zero reward. Unless you count all the free stuff potential advertisers give me, and all the hundreds of dollars worth of gifts that Derek and RD Reynolds keep sending me. And the money Harry gives me. And the 15 free video games I got from THQ. Or the free WWE CD's I got for just reviewing a 15 year old fucking HBK theme. It's hard work, but someone has to do it....
So, ya, hats off to me. Your 2007 TWF Writer of the Year~! I was really thinking of just giving the Award to Bacon to shut him up once and for all, but then I realized how much more amusing it is that he keeps losing. He's the Susan Lucci of TWF, baby. Only people felt bad for Lucci when she kept losing at the Emmy's.
Special thanks go out to the following people this year:
Derek Burgan
; My good friend and current tag team partner in all things Satire. Derek doesn't get the full credit he deserves for being an innovator in this Genre of writing, but he should. Derek IS Wrestling Satire.
The entire
TWF Staff
. Everyone worked incredibly hard this year, and produced some truly memorable work. The talent here seems to keep getting greater and greater every year. And not just because I secretly write most of the columns. Or not.
Thanks to
Harry Simon
, one of my best friends, and one of the most talented and creative minds I know. Hopefully, Vince McMahon can somehow light a fire under Harry's ass and bring him out of retirement to make fun of WWE again. There's so much potential. Come back, Harry! We all miss you.
Thanks to
James
,
Joe
,
Catherine
&
Anvil
specifically for commandeering the PPV Rants at various times this past year. You all know how fussy I am when it comes to that particular recap, so job well done.
Thanks to
Justin Shapiro
as well. My personal favorite Recapper ever. Justin has a hilarious way of making the most humdrum uninteresting WWE segments become more entertaining than they have any right to be.
Thanks as well to the great
Cameron Burge
. 4 years or hard work and like no thanks. He's our own personal version of Milton from Office Space. He just keeps showing up to work, yet he has no idea that I actually fired him in 2004. Or that everyone else is getting paid....
Thanks to
Gersh
for being the only writer in TWF history to write something EVERY SINGLE WEEK for over a year straight. If he missed ECW, he always wrote RAW instead. The guy was a dynamo.
Thanks to all the
TWF newcomers
as well, and for pretty much 'getting' what it is we do here from the get go. Thanks as well to all the non-annoying forumers at
TWF Forums
. There's a reason why I never encourage new people to join. I'm happy with it remaining a small Utopia for non-moronic people, unlike some
other
Forums that shalt remain anonymous...
Also, I'd be remiss if I didn't Thank Scott Keith, who's plugged a virtual cornucopia of my work in the last two years on his Blog, which can be read right
HERE
.
And of course,
Stephen Randle
and
JD Dunn
from 411 Mania, who I've been in Interweby contact with on and off for the last few years. Hat's off to both. As in my opinion, they are the two most talented people there. Although, granted, I'd have to hold an *OFFICIAL* Talent Contest~! to conclusively decide once and for all if that is indeed fact. And you know what? Maybe I will. It might be worth it, if only to see Csonka parade around in a Woman's bathingsuit.
And in closing, thanks to my pal's
RD Reynolds
and
Blade Braxton
over at Wrestlecrap for multiple, countless, unlimited, and other clichés for "lots" of reasons. And
BUY THEIR BOOK
. ( And not just because I'm mentioned in it. Oh, and a Sean Carless Review is forthcoming~! Stay tuned!).
So, once again, thanks everyone for the love, and remember DON'T VOTE FOR ME in 2008. And ya, don't vote Bacon either. It's way funnier when he loses...
But first here's some nice things some of my Writing brethren had to say about me!
Blade Braxton: Congratulations, Sean, on your winning of the coveted TWF Writer of the Year Award. Due to your tireless work on the site in 2007, the impeccable rapist's wit and your incredible Picasso with a PC-style Photoshops, there is no question in my mind that "Visiting thewrestlingfan.com" will dethrone "Spending quality alone time with your Fragile X offspring" in Atlanta Life and Leisure magazine's top ten recreational pastimes list in 2008. See you in next January for the continuation of the Carless Fanny Awards dynasty.
Derek Burgan: Sean Carless' incredible use of photoshop and the written word have transformed what people expect from columns. Great work throughout the year.
Justin Shapiro: You know how Vince McMahon was named the Greatest Raw Superstar of All-Time? Well, I believe Sean Carless gets to announce this award. What I'm saying is that Sean Carless embraces lowest common denominator crassness, exploits people's deaths, cheats on his wife, and all his employees are on drugs.
James Walker: You know what? I know Sean doesn't want us voting for him, but fuck it, I am. Why? No one gives even the slightest fraction of effort in to this site as Sean Carless. While his columns aren't as frequent, he's still coordinating columns, making photoshops, and coming up with the ridiculously under-appreciated column teasers. Sean ahs given everything to this site, and this year, like every other year, no one has done more for the site than him.
Catherine Perez: Another year of consistently awesome updates for Sean Carless in the bag~! With hilarious updates like Live From Punjab, a leaked WrestleMania 24 card, and the greatest update of the year (in my opinion, of course) in TWF Hell, why shouldn't Sean be rewarded with bragging rights? So... can I get my year's supply of Reese's Cups now? Hehe, I kid.
Michael Melchor: I can honestly claim I'm not sucking up because I'm technically no longer here, but Sean "DA MAN" Carless gets my vote here. The rest of the staff has come a long way this past year and they've ALL done some dynamite work, but it's Sean's consistency that keeps me coming back here like a bettered wife.
Anthony Dean: Sean Carless, for the single reason of referring to Triple H as Captain Trips. Jeanyus.
Canadian Bacon: I HATE YOU SEAN CARLESS. YOUR FACE MIGHT BE BEAUTIFUL BUT YOU SOUL IS ROTTEN. I LOATHE YOU.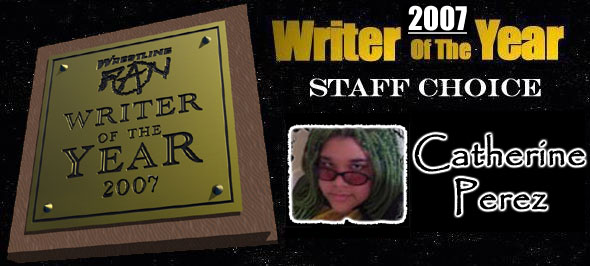 -STAFF POLL RESULTS-
Winner: TIE: Catherine Perez
35.3% of the Staff Vote.
Sean Carless
35.3% of the Staff Vote.
Others: 29.4%
Total Votes counted: 17
Well, here's the story here. I knew well in advance that I was winning the latter Award, so in all honesty, this one was SUPPOSED to go the Staff member who best deserved the honors for a combination of reasons; from talent, to quality, to dependability to loyalty, etc., but JOE MERRICK WENT AND FUCKED IT ALL UP. It's true. You see, I always insist every year that no one vote for me for this category because it was designed to reward non-Sean Carless people, because quite frankly, who wants to see the same motherfucker win every year? Besides me? Ahem. So, ya, some people insisted on voting for me anyway, which is flattering, whilst the same exact amount of people voted for Catherine, as well. So, the fate of Catherine's DECISIVE VICTORY was in Joe's strangely one-black gloved hand. And what does he do? Well, I'll show you. Here's the Official Merrick Ballot:
Joe Merrick: Very, very difficult as to who to vote for here. A few people have dropped the ball, many have picked it up and ran with it. Few have failed, many have triumphed. In all areas there were winners and losers, which made for a lively competition between the writers.

However, there is one man (Sorry Catherine) who, when given said ball, he ran with it, no matter how exhausted, beaten and bruised he was. Even after he graciously retired he came back time and time again to pick up the FUCKING HEAVY SLAG. I am talking of course, about Joe Merrick.

But seeing as you assholes won't vote for me, I'll uh, I dunno, give to, erm, Bacon I guess. Hip hip hoo-fucking-ray.
So, ya, with one mighty vote, Joe changes the course of TWF history, and now Catherine and I have to share this Honor like Bret Hart & Lex Luger 1994. And in a few weeks, we'll flip a coin, and Catherine will go onto to fight a morbidly obese Samoan whilst I beat the shit out of my younger brother, who'll eventually team with said Samoan, and they'll BOTH be dead 6 years later. I don't make the rules.
So, that said, regardless of my
co-ownership
of said Award, Catherine gets to carry this non-existent plaque, because DAMN IT, SHE'S EARNED IT. If we've learned anything this year, it's that apparently I'm not even needed anymore. We got someone else who makes photoshops, does PPV Recaps and makes fun of wrestling news. And she does it more than once a year. Cue the sad Hulk music for me.
That said, Catherine, much like James in 2005, and Joe in 2006, had a GREAT Debut year and stood above many in the pack delivering quality and hilarity on weekly basis. And much like the aforementioned Joe and James, Catherine helped me out in many a bind by Recapping consecutive WWE Pay-per-views this year. So, to those hoping to acquire this honor NEXT YEAR, the trick is SIMPLE. HELP SEAN CARLESS. That's really all there is to it. ;)
So, in closing, congratulations to Catherine. Normally, as reward for your prestigious non-existent plaque, I'd insist you hook me up with some of your college-aged girlfriends, just because, but I'm sure by now, they've either read the slew of perversions in my columns and are now sickened, or you just filled them in. Oh well. What can a guy do? Date women his own age and accept his own fledgling mortality? Maybe. What I will do, though, is AWARD you with a second honor, created by James last year:
THE OFFICIAL TWF SEAL OF APPROVAL: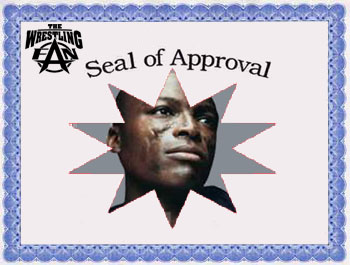 But that's not all, here's what other TWF Staffers had to say about Catherine. Your 2007 TWF STAFF CHOICE WRITER OF THE YEAR~!:
Gershon Levy: I'd usually vote for myself especially since I called it quits this year, but because the Fan got a much needed dose of estrogen not seen since the departure of Nay, I'm giving my vote to the one and only Catherine Perez. Seems every year Sean finds someone who just exemplifies what this site is all about and Catherine took it to a new level, even giving Sean a run for his money with Photoshops.
Sixth Child: Catherine Perez. Not since Carless' regular "BLFK" have I laughed as much in front of a computer screen as I have for "Deadface Walking". Her weekly dismantling of wrestling's biggest stories are great and her "Hey Man, Nice Shoot" segments are hilarious. She certainly stands out among the staff here at TWF, mostly due to her lack of a penis. Congrats Cath.
Neil Cathan: While the single article I most enjoyed belongs to someone else, and Derek Burgan was in the running (Then he insulted Jerry Lynn, and I lost the good opinion of him that I had...), for me, this award has to go to someone who has this year, written a hilarious weekly column, juggled it with Smackdown duties very briefly, and then stepped up to do great Pay-Per-View recaps. Thank you Catherine Perez for bringing weekly doses of hilarity to my computer screen. I look forward to laughing even more next year.
Charley Martin: Everybody is here for a reason, and everybody here is good at what they do, but I think there are only two choices. Cameron Burge and Catherine Perez. Cameron should get a lifetime achievement award one of these years for timely and consistently great work. Hopefully it will happen someday. But Catherine Perez, for lack of a better word, put my ass in this seat. Her work is what ultimately made me a fan of this website, and kept me coming back for more, which got me to start attempting episode recaps in the style of TWF in a wrestling group on Myspace, which gave me experience so that when the time came I was able to put forth a solid showing and get a job here. So thank you Catherine Perez. You are my choice for writer of the year, and the reason I am even here at all to have a vote.
Yeah, that's what I thought.
Matt Folger: Catherine Perez. I pick her not just because I love reading Deadface, and not just because she was the person who told me to send my work into Sean Carless, but mainly because this vote could one day get me laid.
Canadian Bacon: NOOOOOOOOOOOO!!!!1111 My 2nd chance at bigtime vindication thwarted by a woman! I will never forgive you for this Catherine Perez. Next time I see your father, exciting Puerto Rican wrestling standout Miguel Perez, You better believe I'm gonna shave his back and say, how are you gonna market yourself now all smooth and shiny and not furry and such, and he'll then say " Prolly a whole lot better, thanks!", and then I'll wonder why I ever did it. I guess what I'm trying to say is I think I hate you. And I, like those buildings that got flown into those planes, WILL NEVER FORGET. NEVER. I think.
Click HERE to send Feedback, opinions, ideas, or nude photos of your wives and/or girlfriends.
CLICK HERE TO RETURN TO THE 2007 TWF FANNY AWARDS!
_____________________________________________________________________________________________