As instituted last year, we crown TWO Writer of the Year Awards. The first of which was voted upon by YOU, the readers of The Wrestling Fan.com during our two week poll; and the second being a very special Award voted upon by the WRITERS themselves, then presented to that individual (only candidates who submitted work in the 2006 year were eligible) who best exemplified TWF, and who had set a standard of consistent quality and hard work throughout the calendar year. These are your winners. Here we go!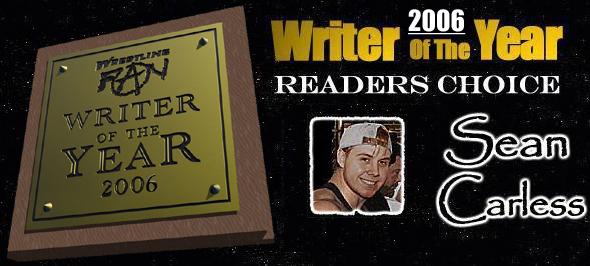 -POLL RESULTS-
Winner: Sean Carless: 39.0% of the Vote.
1st Runner Up: Canadian Bacon(?!): 23.6 of the Vote.
2nd Runner Up: Joe Merrick: 13.5% of the Vote.
3rd Runner Up: James Walker 6.7% of the Vote.
Others: 17.2% of the Vote.
Total Votes counted: 29,267
Dr. Gonzo: Well seeing as I made the deadline by contributing something last month, I choose me! Just kidding. Seriously, I go with the man, the myth, the legend, Sean Carless, every year and this year is no different. A man who keeps this website up and constantly writes hilarious and thoughtful pieces, on a consistent basis, deserves this award. Sean, this is for you.
James Walker: Well would you look at that – Sean Carless, Owner, Operator, and Webmaster of The Wrestling Fan won the fans vote for the 3rd year in a row. Surely this had nothing to do with his second-to-none satires, hilarious radio work, and all-round awesomeness, oh no. See, I believe that this voting is RIGGED! YES, CLEARLY JOSH LEEMAN GOT SCREWED.

Seriously though, Sean, congrats. While we all have contributed to it, no one has put nearly as much time, effort, and semen into the site than you. TWF has been growing ridiculous amounts, and your dedication to it rubs off on the rest of us. (Just don't try rubbing off on us, you sick fuck.) So, you might call this another Fanny Award to put on your mantle, but I'm officially renaming it the Sean Carless Memorial Award of Tedious Predictability. I'm going to go ahead and order another 20 years worth of these trophies, all with your name scribed on them. I'd order more, but all that masturbation will eventually turn you blind, and then you won't be able to write columns. Maybe then, Josh Leeman will get his due.
Canadian Bacon: Nooooooooooooooooooooooooo! Damn yous, Sean Carless with your sweet talk and faggoty mop of hair! You're a TRICKSTER like Satan or worse yet the devil! Retribution is coming! We all know what happens to the devil at the end of that story! He gets thrown in a pit! I just hope it's Piper's so he can smash coconuts on your head for Eternity!!!1111 (Vote Bacon in 2007)
-STAFF POLL RESULTS-
Winner: Joe Merrick: 38.5% of the Staff Vote.
Others: 61.5%
Total Votes counted: 13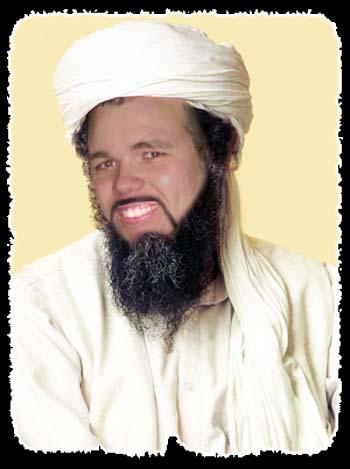 What's left that can be said about the great Joe Merrick that hasn't been repeated ad-nauseam by prosecutors and police testimonials alike? Originally, Joe came to us by virtue of our fledgling "Satire Search", where the lure of a non-existent DVD was too much for him to pass up, and eventually he won the competition defeating literally
millions
thousands
hundreds
DOZENS of hopefuls to gain full time employment. Joe grasped what we did here instantly and grew as a writer (I understand he's some 17 feet tall now) peaking this year while taking over the SmackDown reports. Over time the "LowDown on SmackDown" became one of our most popular features, breaking all previous hits records under other authors, including yours truly. In fact, Joe became SO GOOD, that I'm convinced Smackdown head writer Michael Hayes cleaned up his fucking act and starting putting on a show that quite frankly didn't suck just to spite him. (although the mass Final Destination-style exodus of turds like Great Khali and Mark Henry certainly didn't hurt).
Whether Joe's writing parodies, recaps, adopting strange new ethnicities and religions, or having nonsensical conversations with Saliva's Josie Scott, Joe is always at the forefront of quality here at TWF, and has fast became a completely irreplaceable part of the site in my eyes. And that's what makes the following news so sad. For the immediate future anyway, Joe has to step down from TWF for personal reasons. This news is devastating to all of us who appreciate Joe the writer, and more so Joe the man; A guy I consider not only a colleague, but a good friend as well. The door will ALWAYS be open for a return, my friend. After all, TWF really is the Hotel California. You can check out but you can never leave. (Unless you're fired. Or quit. Or Remy impulsively bans you in the forum....).
So, thanks Joe Merrick for all your hard work. Many don't know this, but much like James Walker, Joe is my right hand here on the site (and lucky for you I jerk off with my left!) and has frequently helped me out in a bind; most notably being finding two fantastic new writers (British Bullfrog & Anvil) to assume full-time positions when we desperately needed new blood. Joe also played a completely pivotal role in TWF Radio, our surprise hit this past Spring. Joe was the producing genius behind the show, who tirelessly looped my babbling bullshit into something coherent, and produced, edited and formatted the show from the skits, to the theme songs to the parodies. It was all Joe, Baby. I was simply the puppet. (Hey, kind of like George Bush!)
So here's to you, Joe Merrick, my favorite black, Arab, Terrorist British writer on God's (or mine according to Jewel Shepard) green Earth. Come back soon you magnificent bastard!
If you want to send Joe well wishes and congratulatory hugs on a great job, please send mail here. (Would it kill you?)
Here's what other people had to say about Joe!
James Walker: Despite the fact that he changes ethnicities quicker than I change my clothes when I hear police sirens, Joe Merrick gets my vote. This man has done it all this year: Satires, Weekly Show Reviews, TWF Radio, and maybe even touched a boobie. I know how hard it is to write a weekly column, and still keep it funny – that's why I don't do it anymore. However, Joe Merrick has persevered through adversity, much like America persevered after the attacks on September 11th. (And much like how Joe's father persevered when the government came at him with a federal indictment, as well.) GOD BLESS AMERRICKA!

Oh, also, on top of your Fanny Award, I present you with something even MORE valuable… this will get you 8 cigarettes in prison:
British Bullfrog: Joe Merrick, nobody has contributed as frequently and is as consistently funny.
Remy: He's been consistent in quality and quantity. The site would not have been nearly as good this past year without him, whereas it was just fine without me. Kudos to Joe on some hilarious gimmicks as well. He's remained innovative even when producing a weekly piece.
Anvil's Swagbag: Right, it's gonna have to be Joe. I have a lot of respect for a guy who has to write week in, week out and can consistantly make you laugh, so props to Cameron and Gersh too. But Joe's Sour 25 was absolutely hilarious. Plus, the guy is as consistantly funny to talk to away from the site too. I'll let him off for bitching me out because the guy brings the funny. He helps with the radio stuff, he even gave me a chance to recap for a while!...So I vote Mr Merrick, even if he is a lazy fuck. Wanna stick up for yourself Joe?
Joe:-....
Yeah, thats what I thought.
Canadian Bacon: Since Jim Merrick is leaving, I think this means he should pass this bigtime gauntlet down to the Baconman. Like Vince McMahon says, You have do the right thing for the business that made you! Don't make me screw you Joe Merrick (Not with my dink. But if that means I get my RIGHTFUL award I'll think about it.). Vote Bacon for true real life legit Writer of the Year!
On that note, we'll see you next year!
Click HERE to send Feedback, opinions, ideas, or nude photos of your wives and/or girlfriends.
CLICK HERE TO RETURN TO THE 2006 TWF FANNY AWARDS!
____________________________________________________________________________________