2005 WRITER OF THE YEAR
This year, we decided to change things up somewhat and present two Writer of the Year Awards. The first of which was voted upon by YOU, the readers of The Wrestling Fan.com; and the second being a very special Award voted upon by the WRITERS themselves, then presented to that individual who best personified TWF (Choice had to be someone who has written a column during the 2005 calendar year) and who has set a standard of consistent quality through out the Calendar year. Here we go!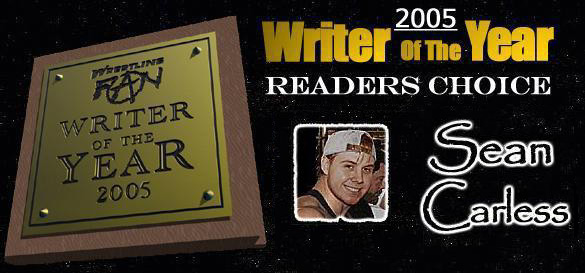 -POLL RESULTS-
Winner: Sean Carless: 29.5% of the Vote.
1st Runner Up: Canadian Bacon(?!): 22.7% of the Vote.
2nd Runner Up: Harry Simon: 15.9% of the Vote.
3rd Runner Up: James Walker 12.1% of the Vote.
Others: 19.8% of the Vote.
Total Votes counted: 13102
Hey! Look who rigged the voting again this year! All kidding aside, I'd like to thank those of you who voted for me again this year...despite me insisting that you don't. I'd also like to thank my Mom for having the patience to vote some 3000 times to make sure my little feelings weren't hurt.
With that said, it's cool to know your hard work goes appreciated, even when you cut you work load in half with a convoluted plan to hire as many writers as possible to lighten your load... if only to actually go outside more, and I don't know, make love to a flesh and blood woman. Or something like that. Anyway, I'll treasure this non-existent trophy always and cherish it on my pretend mantle with all the other fake trophies I don't have.
Now, with that said, I'd like to take my hat off to my wonderful staff and Canadian Bacon for their hard work, and great effort, and for remembering that I like to have my balls played with before copulation. This has been a year of extraordinary growth for us as a website, and I owe it all to me. But you've been good too. Sometimes. Whether it be Cameron Burge who has never once complained about penning what has turned into the Best Damn RAW Rant period (Hey! That's also what it's called! Neat!); to Dr. Gonzo for churning out SmackDown recaps despite the fact that reviewing that show these days is like volunteering for the gas chamber; to James Walker, who immediately grasped what it is we do here from the first column he wrote; to everyone
else who has struggled and improved to find the awesome niche they currently have.
And finally, I'd like to thank my good friend Harry Simon, who produced the single most popular and greatest single "columnary" (Is that a word?) effort ever, with the "50 Dumbest Real-Life Wrestler Moments EVER"....and all despite the fact that he's become disenchanted with the sport. Kudos to you brother, man. Kudos to Harry also for continuously sending me links to varying huge breasted Oriental porn sites that are worth the viruses if only for the fact that they prevent me from getting them in real life, if you know what I mean.....
Anyhoo, Here's to 2006. A Year that I'm sad to say doesn't resemble anything like the "2006" from the Transformers cartoon of my youth. And I so wanted an exoskeleton suit that could transform my ravaged, crippled body into any quasi-vehicle of my choice. Oh, well. Maybe next year.
Hey, but there's more. Look what people had to say about me!
James Walker: There's no use in Sean Carless acting humble, but the guy still tries. Sean deserves every non-existent atom of this award; even from what the average reader sees, Sean is a damn fine specimen of man with his PPV rants and the occasional BLFK (which will always be my favourite column on the net). However, after working for the guy this year, I've appreciated the guy so much more; all the photoshops, html formatting, website layout, staff management, forums, and a slew of other things that are never recognized are part of his daily duties. However, the amazing part in all of this, is that he manages to be one hell of a cool guy. I really have a hard time describing him to you all, but basically, take Ron Burgandy, Die-Hard Bruce Willis, and Russel Crowe in A Beautiful Mind (minus all the 'crazy' stuff), and you've got an idea of how awesome his hair is. I cannot even begin to think of all the late night conversations we've had, as he tediously conforms the site to firefox standards that he hates so much, with us being able to jump from WWE-Wendy's parallisms to deep conversations about the applications of religion, all while probably receiving oral pleasure from a slew of large breasted women. If I had to sum up Sean Carless in one word, it would be "One-really-fucking-cool-cat-bruther." It was pointed out last year, but Sean really IS the Paul Heyman of the IWC, except he's a hell of a lot handsomer.

But seriously, Sean, you're one hell of a writer. And even though it seems impossible, you're an even better person.
Justin Shapiro: I'm sorry, but I refuse to accept your insistence to not vote for you.
Richard Waters: This is gonna sound like ass kissing, but Carless is the man. Not only does he put up with this crap... but he makes with the funny. Hell the questions sent to each writer is probably 10x as funny as the Fannys. Happy New Year dude!