PRECAP: WRESTLEMANIA 21
The match: HHH vs. Batista
The stakes: HHH's World Title
The hype: The single best-built feud in I-don't-know-how-long culminates on the big stage for the big prize. Batista plays off HHH better than anyone (because he's allowed to), and the tremendous build slow-burned until Dave The Barbarian finally got the chance to usurp his ex-Evolution captain. Why is this match so anticipated by fans? For starters, unlike every other one of HHH's opponents over the years, Dave hasn't been portrayed as a complete moron.
The hope: Batista is the NEXT "Next Big Thing."
The hell?: HHH's first promo building to the match was a forced bit of nonsense where he claimed to be Dave's "father." Ten years ago, Shawn Michaels cut the "you're gonna meet your maker" promo on Diesel, only he did it much, much better.
Best-case scenario: Dave tears through HHH decisively. This match CANNOT go too long and Dave CANNOT spend too much time selling on the defensive. I think they ought to just rip the script from the HHH-Warrior match at WM12, myself. Pedigree, no-sell, finisher, pin.
Worst-case scenario: The match goes 20 minutes or longer, and Dave has to sell way too much. Oh yeah, and HHH pulls a last-minute power play before beating Dave clean with the pedigree using one of his bullshit excuses.
"This is just the first chapter of the story."
"He hasn't connected with the fans yet."
"I'll do the job at Backlash, I promise."
So do I wanna see it? Nope. Not only am I sick of HHH, but Big Dave is unproven. Most of all, those who do not learn from HHHistory are doomed to relive it. Over and over and over again.
The match: JBL vs. John Cena
The stakes: JBL's WWE Title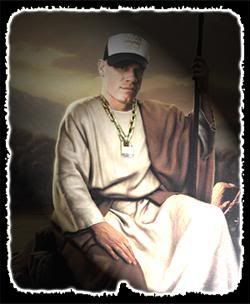 The hype: To earn the shot, Cena won an 8-man #1C tournament, besting Booker T, Orlando Jordan, and Kurt Angle respectively. As the conservative millionaire vs. the street-smart rapper, it's another "class war" angle. To be fair, the promos have been decent enough, but not the level anything should be for a WM21 WWE Title bout.
The hope: Cena is their next breakout mainstream star, tapping into the youth of the nation (whom the WWE supposedly doesn't market to).
The hell?: Four weeks before WM21, Cena lost his U.S. Title to JBL's chief flunky Orlando on SD. Rick Rude-Ultimate Warrior this wasn't, kids. Also, by doing the tournament, Cena has already knocked off his three most obvious challengers even if he does win the belt.
Best-case scenario: A hot brawl ends with Cena pinning JBL clean to capture the gold. SD fans then accept Cena as their new personal Jesus.
Worst-case scenario: It's just like every other PPV match for either one of these guys over the last year that didn't involve Kurt Angle.
So do I wanna see it? Hell, no. I don't like either of these guys to begin with; throwing them together would be like a dogshit sandwich with extra pus.
The match: Shawn Michaels vs. Kurt Angle
The stakes: Two guys fighting over the right to be called "the greatest wrestler of our generation." This is already a winner.
The hype: Michaels pitched Angle from the Royal Rumble, prompting Angle to do the "sore loser" bit and slap the ankle lock on Michaels at ringside after donging him with the steps. From there, the build has been balls-to-the-wall, between Angle leaving Michaels lying in a bloodbath, to HBK's surprise receipt on SD, to Angle's best promo in years (where he vowed to top all of HBK's accomplishments in the weeks leading up to WM21). Great, great stuff.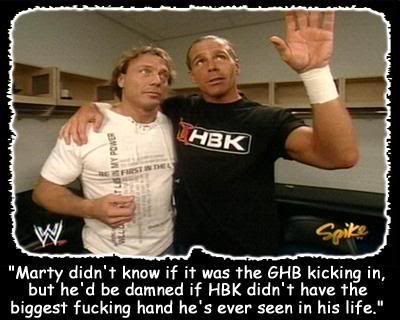 The hope: A five-star classic fans will remember for years.
The hell?: As part of the "This Is Shawn's Life" build, Marty Jannetty returned to the WWE for a cup of coffee (laced with GHB, no doubt). MJ wrestled on both Raw and SD in the same week. And the GMs approved this? No wonder no one takes the brand split seriously! Guys can just come back and run around willy-nilly wrestling wherever they please! Bah!
Best-case scenario: A true WM dream match that exceeds its high expectations, like only these two can deliver. If it happens, that would make it three classic WM dream matches in a row for both guys. (HBK-Y2J, HBK-HHH-Benoit; Angle-Lesnar, Angle-Eddie.)
Worst-case scenario: Angle breaks his neck lacing his boots before the match. Michaels loses his smile along with his luggage at LAX. But seriously, folks, even if this match falls below expectations, it should still be WELL worth watching.
So do I wanna see it? Absolutely! I can't remember the last time the company built a match this well. Then there's the fact that when it comes to match quality, these guys have produced more stars than Ron Jeremy's casting couch.
The match: Undertaker vs. Randy Orton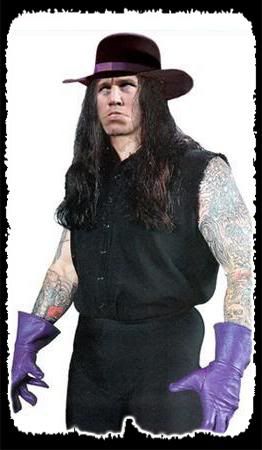 The stakes: Undie's unblemished WM win streak.
The hype: UT keeps breaking his own record, as Big Evil is undefeated at WM over the years. The Deadman's precious 12-0-0 is on the line against Orton, who wishes to return to his roots as the WWE's resident "Legend Killer." And also, "over." In 13 years, this is the first time UT's streak is portrayed as truly being in jeopardy. (NOTE: I get into the ramapercussions of the streak itself a little later.)
The hope: Win, lose, or draw, Orton recaptures the magic he once wielded as the red-hot cocky legend-killing heel of yesteryear.
The hell?: It seems like a heel turn is on tap for young Randall, yet in the angle where he made the challenge, he RKO'ed Eric Bischoff, which was the most babyface thing he possibly could have done. And given Orton's recent behind-the-scenes antics, is Jake Roberts really the right guy for him to be hanging around with right now?
Best-case scenario: It's anywhere near as good as UT's two other WM matches against members of Evolution.
Worst-case scenario: It's like any of UT's ten OTHER WM matches.
So do I wanna see it? No thanks. I'm interested in what the result is, but I have no desire to watch UT plod through a match with an injured Orton. I'll be perfectly happy to read the result on the internet minutes after it happens, thank you very much.
The match: IC champion Shelton Benjamin vs. Chris Benoit vs. Chris Jericho vs. Christian vs. Edge vs. Kane ("Money In The Bank" 6-way ladder match)
The stakes: Winner gets a World Title shot "any time over the next 12 months."
The hype: Possibilities abound. I fully expect the winner to get drafted to SD only to use the title shot as a loophole later on to shake things up. It's just too convoluted for them NOT to do it.
The hope: Fans chant "ECW" and/or "Holy shit" for the spots.
The hell?: 12 months is a long time. What if one of them needs the dreaded neck surgery? Benoit did. So did Edge. Also, the burial of the IC Title continues. More on that later.
Best-case scenario: A well-booked spotfest where every guy has a moment to shine, but no one hogs the match.
Worst-case scenario: I don't have a problem with any one of the six winning, but my biggest fear for this match is…well, what's the title of my column again?
So do I wanna see it? Sure, I like all six of these guys, and I'm sure they'll show us something new. With the three Chrisses in one match, you can't go wrong.
The match: WWE Tag champion Eddie Guerrero vs. WWE Tag champion Rey Mysterio Jr.
The stakes: The honor of the Guerrero family.
The hype: Rey pinned Eddie clean on two consecutive SDs a few months back. They're doing the "Rey has Eddie's number" bit. Chavo Jr. got in his uncle's ear and told him that in order to save face, he had to challenge Rey-Rey at WM21. Oh yeah, and they happen to be WWE Tag champs together, too.
The hope: That they're telling the truth when they go around telling people they can TOP their five-star classic from Halloween Havoc 97.
The hell?: Rumors abound that the lads will do their split, followed by Eddie's heel turn. Not only is Eddie the most popular wrestler of either brand, but to turn Eddie here is impossible. A Los Angeles crowd is just not going to boo Eddie Guerrero.
Best-case scenario: If they get anywhere NEAR the Havoc match in terms of quality, I'll be one happy gringo.
Worst-case scenario: A non-finish, a run-in (cough*Chavito*cough), or just a screwjob in general. Like with HBK-Angle, it would almost take an act of God to ruin this match, especially in front of what is sure to be a white-hot LA crowd with a large number of Hispanic fans cheering on the two greatest Hispanic wrestlers to ever live. And I'm not being sarcastic in the least.
So do I wanna see it? Absolutely. Their TV match on 1/6/05 was tremendous and I fully expect this to exceed it. Great workers + Best friends = Bullseye.