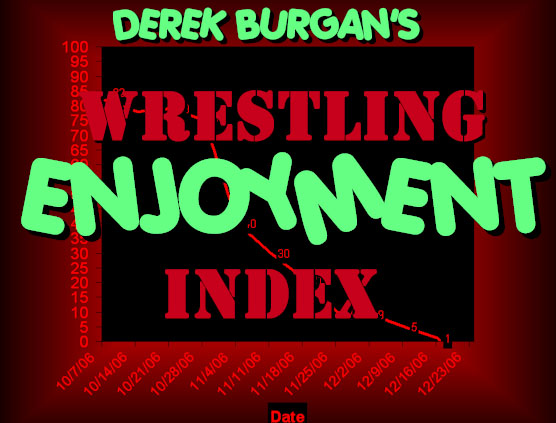 For the week of March 9, 2008
To read last week's edition of WEI, Click HERE !
Remember, all links in WEI open up in a new browser window. So feel free to check stuff out, we'll be here when you get back!
I stand by my apology and once again apologize if you were offended. Our goal in ROH is not to be controversial or offensive like some promotions. Our goal is to give you an enjoyable wrestling product. I still maintain that you will not see anything like this from ROH again."
***I just found out on Friday morning that TNA had a PPV this Sunday. And I'm someone that watches Impact every week. That can't be a good sign.
2. No relation to Verne or Greg.
3. Wrestling merchandise currently in my work area include (and all of these were gifts, mind you): a framed photo of Ricky Steamboat and Hulk Hogan posing at a mid-'80s Boston Garden show, a Chris Benoit action figure (oops), and not one but two Iron Sheik figures: one of him as Col Mustafa, the other one being the classic huge rubber LJN figure (you know what I'm talking about, the big ones you could brain your friends with and give them a concussion). Despite these facts, I not only have a paying job but am engaged to be married.
4. Speaking of the Sheik, he scared the crap out of me as a kid. Hard to believe, given his recent, um, internet fame. I was at a SmackDown house show a few years back with a friend and his young son, who was petrified of Linda "Shaniqua" Miles. This young man also theorized that it was a good thing wrestlers didn't have guns, otherwise they 0could take over the world. To be fair, he may not be wrong.
5. Wrestling dreams (as in sleep, not aspirations, thank God) I've had include being arrested by the police while Cryme Tyme walked by, and the duo ignoring my pleas for help. Jerks. I'm glad they got canned! Also, I was at a party with Larry Sweeney when Vin Gerard showed up and hit Larry with a chair. I've little idea what these could mean, other than I think about wrestling too much.
COMICS~! With a new Hulk movie coming out this year (June 13th, with the first teaser coming this Wednesday at 9:56PM on seven stations, including VH1, MTV and Spike TV), it is time to recommend a recent tale featuring the green goliath. Planet Hulk is hands down my favorite non-Peter David Hulk story that led directly into one of this past year's great events, World War Hulk. Planet Hulk tells the story of Hulk being jettisoned into space by the Illuminati (Reed Richards, Iron Man, Dr. Strange, Black Bolt, and Namor) to ostensibly keep him out of trouble. Hulk was being sent to a peaceful planet, where he could live out the rest of his life without trouble. Unfortunately, Hulk's ship went off course and crash landed on the planet of Sakaar, where he is enslaved and forced to battle, Gladiator-style, for the evil Emperor of the planet. Yeah, yeah, it certainly sounds like a lame rip-off of Russell Crowe's Gladiator movie, and in a lesser hands, it would have been, but Greg Pak hits a huge homerun and makes the Hulk a player again. The ending leads fantastically in World War Hulk and you get the feeling that the SHIT IS GONNA GO DOWN, YO! There is people you can piss off, but the Hulk ain't one of them. A great read.
DVD~! This past year both Robot Chicken and Family Guy offered up a Star Wars parody episode. I'm a huge fan of Robot Chicken and a so-so fan of Family Guy (I'm sure I'd love it more if I watched it more), so you can imagine my surprise when I realized that Family Guy's parody BLEW THE DOORS OFF of Robot Chicken's entry. So much that I picked up the BLUE HARVEST Special Edition DVD, which comes with a t-shirt, trading cards (based on the old Star Wars cards I used to collect) and whole second disc full of goodies. Blue Harvest is filled with great Star Wars bits, including muzak in the Death Star elevator and a brilliant use of the John Williams orchestra, that can now be watched over and over. Personally I found the small bit with Han Solo taking a discarded couch out of the trash compactor to one of the funniest moments of anything I had seen in 2007. I just couldn't stop laughing. Officially approved by George Lucas (in fact the bonus disc has an interview with him), Blue Harvest has everything you could ask for, including all the famous music from the movie.
DID YOU SEE THIS?! This is a wonderful little video of a kid going batshit insane over his MySpace account. Just a brutal watch, but you have to last to the very end for a picture-perfect ending. Seriously, it's worth the wait.
Last week's Wrestling Enjoyment Index: 71
This week's net change: - 20
Current enjoyment level: 51

PERMA-LINKS:
* Orlando Attractions Magazine - If you are a theme park NUT like me, you owe it to yourself to sign up for this fantastic magazine that spotlights all the great stuff down here in Florida. Disney World. Universal. Sea World, and just a ton of other stuff. Top notch articles and brilliant photographs make this one of my favorite things to read. It also helps to have several wrestling tie-ins, since several wrestlers (Scotty 2 Hotty, Mick Foley among others) are theme park fanatics as well!
* Scarface: The Devil in Disguise TPB - A collection of the superb four issue series from IDW publishing. Written by a wrestling fan and featuring the backstory of one of Hollywood's most charismatic, not to mention controversial, characters: Tony Montana! If you enjoyed the movie, you'll enjoy this.
* The Full Pint's website - If you are a fan of beer, like me, than this is your one stop destination for all things beer. Reviews, news, and a ton of entertaining stuff will be found here. Check it out!

Billionaire philanthropist Derek Burgan, who fights crime when not writing DVD reviews, has been watching wrestling since he was ten years old. He even has a MySpace page . If you have any questions, corrections, feedback, or goofy ideas, Derek can be reached at: derek@gumgod.com.