For the week of February 10, 2008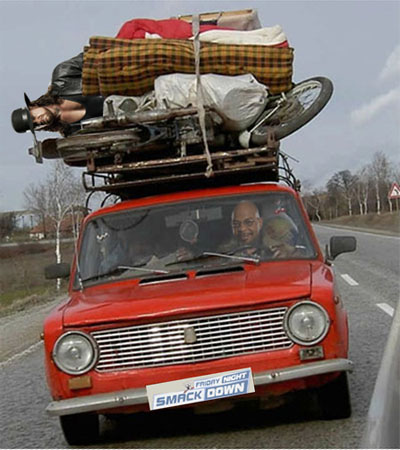 The WEI is a weekly look at the events that have made an impact, both positive and negative, on the world of oiled up, hairless men that pretend to hit each other that we all so love to watch. The range goes from 0-100 with 0 being a world in which every PPV is like
Heroes of Wrestling
while a perfect score of 100 would be wrestling nirvana.
Remember, all links in WEI open up in a new browser window. So feel free to check stuff out, we'll be here when you get back!
WWE leaving the CW: In a move I don't think many saw coming, the WWE sent out a press release with the details of SmackDown leaving the CW network as of September. It could be interesting to see which channel and what day SmackDown ends up on. I can certainly see CW's viewpoint in that WWE viewers help the channel almost as much as TNA iMPACT's viewers help PPV buys. Wrestling viewers watch RAW, ECW and SmackDown and then change the channel, only coming back the next time the show is on. CW needs shows like VH1 has, where you watch Celebrity Rehab and then realize you want to watch Scott Baio is 46, Best Week Ever, or Rock of Love. I can't believe that now I'm going to have to set my DVR to find SmackDown later this year. It already drove me crazy this week trying to find MyNetwork so that I could tape Paradise Hotel 2! Phooey to that. WEI Score: - 5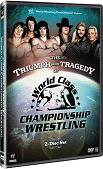 The Triumph and Tragedy of World Class DVD : In the past I have reviewed the incredible Heroes of World Class DVD and Big Vision's Heroes Director's Cut DVD. Both couldn't get a bigger thumbs up, in no doubt helped by the fact that I just can't get enough World Class. Growing up in the North East, I remember rushing home to watch World Class on ESPN and marking out big time. Only in the last couple of years am I finding out that most of the stuff I saw on ESPN was pure shit compared to the red hot stuff that went on down in Dallas at the time.
Like all WWE DVDs that cover other companies, the disc has its good points and bad. Because they own just about all wrestling under the sun, we are able to get footage of everything talked about, which is just awesome. The down side is you only get to see the side of the story they want you to see. One big part of that story is Michael Hayes. In fact, this DVD almost could have been called How Michael Hayes Made World Class and How it Died After He Left. I'm in no way saying Michael Hayes wasn't a very important part of the mix, but man, after listening to this guy talk you'd think he really believed that he was solely responsible for one of the hottest companies in wrestling for a time. I know that, personally, I enjoyed the Freebirds/Von Erich feud, but it certainly isn't something I would say was THE reason why I couldn't wait to watch. The cutting edge production and the Von Erich's were the big reason for me, no doubt just like John Cena is for many of WWE's viewers today.
The deaths of all the Von Erichs are covered, as is the death of Gino Hernandez (with another heartbreaking story from Gary Hart), but all the other tragedies are pretty much skipped over. In a way I can see WWE's viewpoint, in that they don't want people to associate wrestling with early deaths, but in the end of it all, it is what is. If anything, the Chris Benoit tragedy showed that many wrestling fans aren't going to be turned off to wrestling no matter what you tell them. Overall, a very good DVD, but do yourself a favor and get one of the two Heroes of World Class discs to compliment the story and give you a better idea of what really was going on down there. WEI Score: + 2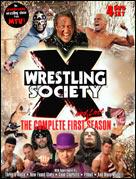 Wrestling Society X: The Complete First and Last Season: Hands down this is the most loaded DVD set that any wrestling company has ever put out. Big Vision, who already deserve mad props for their Ultimate Insiders series and re-releasing G.L.O.W. DVDs, have put out a FOUR DISC set for WSX. Containing the unaired last episode of WSX (that features an exploding ring match with Teddy Hart and a PIHRANA DEATH MATCH), the DVDs also feature commentary features for every single episode, "deleted scenes," a hilarious Matt Classic movie trailer, a Lacey bikini video that has to be seen to be believed, WSX scripts~!, and a hell of a lot more. Just an incredible set and the best bang-for-your-buck you will ever see in the wrestling world. Seriously, this is like the Criterion Collection for pro-wrestling. Also included is the most unwatchable feature on any DVD, so bad that it probably has to be seen. The feature I'm talking about is the seemingly two hour rant by WSX ring announcer Fabien Kaelin that comes across as part theatre of the absurd, part psychotic mental breakdown and about as entertaining as a hostage video.
If you don't have this set by now, then what are you waiting for?! WEI Score: + 7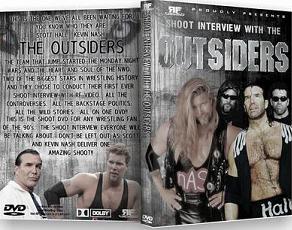 The Outsiders Shoot Interview DVD: RF Video had a decent run recently when they released a Kevin Nash shoot interview followed by a Scott Hall shoot. Longtime readers know how much I enjoy Hall and Nash, going so far as to track down Nash to sign my copy of The Death of WCW book. As usual, the Nash shoot was entertaining as he is just one guy who knows how to tell a story. After watching, you can easily see how Nash could have sweet talked his way into so many great contracts. Nash just has the "it factor" and is impossible to hate, even when telling a story you just know he's full of shit on. The Scott Hall shoot was also great, in no large part because Hall is completely lucid the entire time. Hall has an uncanny memory for every thing he has no problem saying when he has been a dick in the past. Together, Hall and Nash together as The Outsiders gave a solid shoot, only marred by the fact that Hall repeated several stories that he gave in his solo interview. I love hearing stories about what was going on backstage during the Monday Night Wars, and these two guys were right in the middle of everything. Fantastic shoots that don't slow down for a second. WEI Score: + 2
Paul Heyman: "Why I Left WWE" article:
The Sun, which has some of the biggest wrestling stories at times (where do they get this kind of access?!), recently posted an
interview with Paul Heyman
that was a great read. I loved the part where Heyman talked about the December to Dismember PPV and what his original idea was. Just an overall fascinating look at the backstage scene in WWE and eye opening when Heyman talked about his relationship with Stephanie McMahon. Must read material.
WEI Score: + 2
AOL Sports has article on wrestling personality Mark Madden: A lot of people remember Madden from his run in WCW as part of the announcing team (while trying to forget his awful "match" against Gene Okerlund that hilariously had Madden trying to get his Hawaiian shirt to cover his stomach) or his even better run as one of wrestling's all time best writers when he was part of the Pro Wrestling Torch. Madden is currently a radio host in Pittsburgh and this recent article just lit into him, calling Madden a message board troll among other things. I used to have Madden's show subscribed on iTunes, but had to give up after a while as he just has one of the most annoying ways of talking this side of Jar Jar Binks. I love that he scathingly attacks a lot of sports' sacred cows, but his speech pattern is something more torturous that water boarding. I can only describe it as someone who has 30 minutes of material and an hour of time to fill. Instead of getting another 30 minutes of material, Madden just takes awkward pauses during each sentence to stretch everything out. It's like an audio version of a kid who has to write a three page essay and resorts to using large font sizes and triple spacing to pad out his work. A polarizing figure, Madden has large groups of people who both love him or hate him. Give him a chance one day on your iPod and make that decision for yourself WEI Score: - 3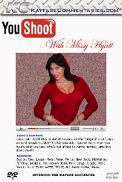 Missy Hyatt YouShoot DVD!: Last year I reviewed the incredible YouShoot with Honky Tonk Man DVD from KayfabeCommentaries.com and went out of my mind. An idea that could have been disastrous ended up being one of the coolest concepts I've seen in a while. The host will read an email to the guest, or a video file will pop up with some goof asking a question, and it is a whole new twist to the shoot interview model. There is no truth to the rumors that Wade Keller is adopting this format for his next Torch Talk. Anywawy, after an excellent debut with Honky, next up on the list is the heat magnet herself, Missy Hyatt, and here is preview video of her YouShoot. If only the boys at KC can find the rock Tom Zenk has been hiding under or get someone like Jim Cornette for one of these dealies, I'd buy five copies each.
While you on KC's website, check out their DVD commentaries section. It's a place where, for just a few bucks, you can download guys such as Iron Shiek, Harley Race, and the Honky Tonk Man, doing commentaries on some of their most famous matches. A wrestling version of RiffTrax if you will. WEI Score: + 1
Warrior loses mind…again: I know, we're all shocked. Warrior recently transcended the mere written word has begun making videocasts. God help us all. In his premier video, Warrior discusses the fall out from his much talked about blog post "long dead before 28," which was written after Heath Ledger died. This just in, Warrior is still insane. WEI Score: - 5
WWE Celebrates Black History Month: Over at WWE.com they have put up a touching tribute to black history which continues such great gimmicks as Kamala and Virgil. Thankfully Sean Carless already has his own version up, which also pays respect to WWE's first black world champion, John Cena. WEI Score: - 5 (WWE) + 3 (TWF version) – 2 Overall
WWE ceases relationship with Ohio Valley Wrestling: Is there any other form of entertainment, or sport, that puts less emphasis on their developmental system than wrestling? How can anyone be so short sighted? From the writers/bookers to the talent, there's nothing going on right now that leads me to believe wrestling is going to have its "cyclical nature" of having a big period soon. This is a move that, in a nutshell, explains the mentality of those running pro wrestilng now and that is, stop worrying, everything is fine and everything is roses up ahead. Not that WWE is losing money or anything, but man, I don't see how anyone could have their stock on the "buy" list right now. WEI Score: - 2
Reviews of note:
The History of TNA: Year One DVD
Jerry Jarrett's book on The History of TNA: Year One
The Condemned DVD
Roddy Piper's Hell Comes to Frogtown DVD
Guest Booker with Gabe Sapolsky DVD

HAVE YOU SEEN THIS? Maria, Santino, and Ashley "After the Bell" - Wonderful segment.

COMICS~! It's going to be a great year for movies, and one I'm really looking forward to is Watchmen, based on one of the most popular graphic novels of all time. Written by comics' greatest writer, Alan Moore, Watchmen is a mindblowing story that seamlessly travels back and forward through time featuring a group called the Crimebusters. In the present, several Crimebusters are being killed off and the remaining members get together to try and get to the bottom of what is going on. This is the type of comic for people that hate comics as the depth of story is amazing and each chapter includes "non comic stuff" that also adds to the story, such as chapters from a Crimebuster autobiography or a seemingly innocent interview. It is almost impossible to get across how incredible work this is and to compare it to an average comic would be like comparing ECW on Sci-Fi to the original ECW. I'm including a link to the Watchmen: Absolute Edition, which is an oversized collection that includes a ton of bonuses, including Alan Moore's original pitch for the series. GET THIS NOW.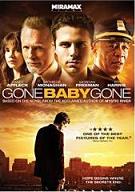 DVD~! Gone Baby, Gone: Coming out this Tuesday, Gone Baby Gone is such a great movie that you will find it impossible to believe it was directed by Ben Affleck and stars his brother Casey. If you liked the movie Mystic River, than you'll like this, probably because they are both based on books written by Dennis Lehane. Taking place in Boston, Gone Baby Gone starts with the disappearance of a four year old girl. The police are out looking for her, but the girl's family hire private investigator Casey Affleck because he's the type of guy who can get to people who won't talk to the cops. With strong and believable twists, Gone Baby Gone is a refreshingly honest look at how the world isn't always fair and how even the good guys aren't always good. The stellar cast also includes Ed Harris and Morgan Freeman. Like The Lookout, this is one film that should have found a bigger audience in the theaters. It's that good. While the DVD doesn't come with many bonus features, something that usually makes me want to scream and avoid at all costs, this is one of the rare times I have to recommend it whole heartedly. Who knew Ben Affleck had this in him?!
Special thanks to Nathan, "Sensational" Scott Paris, "The Chosen One" Sean Carless (speaking of Carless, if you enjoyed this edition of WEI, check out this brilliant video satire over at thewrestlingfan.com on The Haunting 2, playing off the recent story that Owen Hart is haunting the Kemper Arena. Go on, you'll love it!).
Last week's Wrestling Enjoyment Index: 50 This week's net change: + 7 Current enjoyment level: 57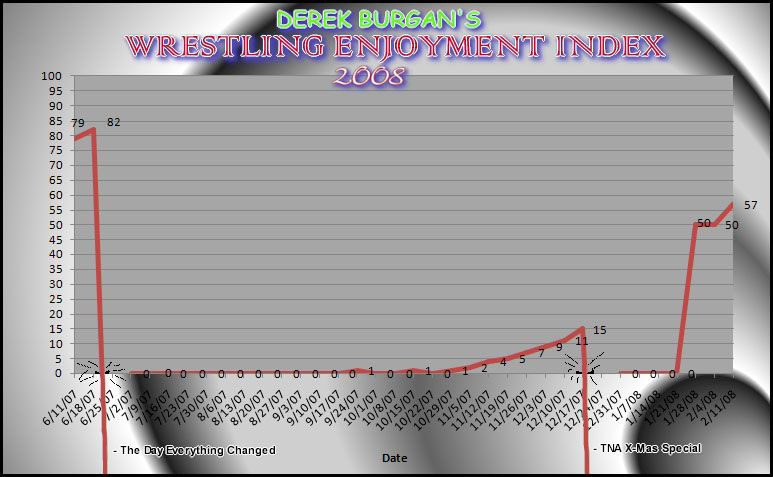 Billionaire philanthropist Derek Burgan, who fights crime when not writing DVD reviews, has been watching wrestling since he was ten years old. He even has a MySpace page. If you have any questions, corrections, feedback, or goofy ideas, Derek can be reached at: derek@gumgod.com.