SATIRE:
VOTE WARRIOR IN 2008!
The Following is paid for by the Friends and Supporters of Warrior:
[Originally written in April 2005]
The last four years have been a test of our national leadership, and only one person has passed that test: WARRIOR. It's time for a change, folks, and WARRIOR MAN is the person to reunite this One Warrior Nation, and make a big splash(~!) in the political ring, like only he can.
Warrior is clearly the sane choice for a new conservative regime, with ideas that we'll assume are groundbreaking…if only we understood what he was saying. See, many can make promises, but only WARRIOR can deliver the goods, with strength of character that can only come through pressing some 3000 people over his head.
Warrior is a man of principles. Warrior is man of great beliefs. A BELIEF that the children are our future. A BELIEF that together WE can bring this great country back to prominence. And a BELIEF that pants are highly overrated. You see, WARRIOR is a man of the people, but not afraid to admit that he puts on his tiny Speedos one leg at a time, just like you and me.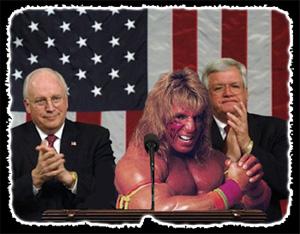 Warrior recently threw his hat (actually it was frilly boots) into the ring for PRESIDENT of these United States; shocking the world, and promising to bring this country back to the responsible conservative ideals of his own home world.
See, folks, WARRIOR has a PLAN. And that plan involves legally changing his name to "MR. PRESIDENT."
See, this ploy paid dividends for Warrior-man back in the early 90's in a dispute with the WWF over the ownership of his identity; and much like it did then, surely, with legal ownership of the moniker of "Mr. President", the government will have NO CHOICE but to accept him as our new leader. It's this type of free thinking that makes WARRIOR the only logical choice for the highest office.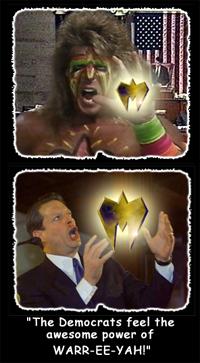 With WARRIOR (and VP candidate and O.W.N. Disciple, Brutus Beefcake) making waves, the Democrats are running scared, forcing frontrunner Al Gore to choose wrestler RHYNO as his potential running-mate, in a fleeting attempt to match the Intensity of WARRIOR. However, we're not buying it. This is but a ploy by those "Stinky liberals", and WARRIOR thus far hasn't shown the slightest bit of fear in the GORE/Gore! camp.
Well, now that you know his intentions, let us take a closer look at his politics:
Warrior on President Bush:
When asked to give his opinion on "Bush", Warrior responded with this: "A Warrior has no such time for sexual improprieties, when there are so many liberals, turncoats, and voodoo priests corrupting the minds of my little warriors! However, if you must know, for hygiene reasons, Warriah prefers a neatly trimmed pubic area, and not a full thatch."
Upon learning that we actually meant "President Bush", WARRIOR went on to tell a humorous story of how one time while waiting to make a surprise entrance from beneath the stage at the Republican National convention, current VP and general prankster, Dick Cheney shit in a pail and placed it beneath Warrior's "hiding spot." "Man, I haven't puked that much since the time Papa Shango stole my tassle armbands and saddled me with an ancient Voodoo curse!" said WARRIOR. Warrior then went on to declare how much he loves, and can't seem to get enough Dick. (Cheney)
Warrior's VP: Brutus Beefcake: The one time "Disciple" of Hulk Hogan was thankfully liberated from the oppressive clutches of the Hulkster, and was then inducted as the SOLE member of One Warrior Nation. From there, his career breathed new life! So much so, in fact, that his push disappeared completely and he was never heard of again! Thank you Warrior for setting Brother Bruti down the right path! The Path of Destrucity!
Brutus, a definite humanitarian, who's given years of charity ( free haircuts for some 18 years) recently did his part in the "war on terror" when he retrieved a duffle bag filled with what was believed to be Anthrax, and selflessly destroyed it... by consuming all the contents. You just can't get that type of dedication in other politicians!
Warrior on the Foreign Affairs: WARRIOR is man who has seen it all. He bore witness firsthand to the final fall of Soviet Communism (at Wrestlemania 6 at the hands of the Hart Foundation) and knows all too well the horrors of the struggles in the Gulf. See, it was WARRIOR himself who was victimized by the HEARTLESS Saddam Hussein regime when the former Iraqi dictator plotted to steal his WWF Title in 1991; a plot that actually came to fruition one cold January night some 14 years ago. This TRAGEDY hardened the Warrior's resolve however, and now the face-painted ruffian has vowed to do whatever it takes to stop tyranny, including our next potential great enemy: MEXICO.
Warrior on Homosexuality! – WARRIOR is a staunch believer that "Queering don't make the world work"... but agrees that it's pretty much what makes some people's pushes to the top of the card a reality.
WARRIOR however has had some success in CONVERTING stray homosexuals back to the side of Heterosexuality. In 1996, he vowed to "make a man out of Goldust" and proceeded to batter the golden one until all thoughts of ass-play were abolished from his mind. Some six months later, Goldust would finally renounce his homosexuality, and go on to have a completely meaningless quasi-midcard run. Thanks Warrior!
See, WARRIOR knows that it's hard to suppress your burgeoning homosexual emotions; however, WARRIOR has come up with the Ultimate Solution to your problems! The WARRIOR WORKOUT! See, you'll hardly have time to think unclean thoughts anymore when you're immersed in the completely heterosexual world of professional body building! You'll find out the hard way, that it's all but impossible to think gay thoughts with all those oily musclemen squatting and lifting around you! Consider it the WARRIOR CHALLENGE!
Warrior on Abortions: - WARRIOR has seen the horrors of abortion firsthand. Particularly in his feud with Andre The Giant in 1989, where there was seemingly an abortion happening on a nightly basis. Although some feel it's a wrestler's right to choose (to have a horrendous match) WARRIOR passionately feels that it's immoral. And with WARRIOR's help, we'll put an end to ALL slow moving, plodding matches for good.
WARRIOR on the Economy: WARRIOR has no opinion. He has no concept of selling of any kind.
Warrior on the Patriot Act: Although he's never met The Patriot, he feels that Del Wilkes did an admirable job with his character. Although, he knocks him for his limited moveset, and constant reliance of the clothesline…
Warrior on immigration : – Immigrants illegally entering our fair land has long been a sore spot for WARRIOR. And when elected, WARRIOR has GUARANTEED to do something about it! WARRIOR will introduce "Proposition Warrior" to congress that will see WARRIOR himself patrol the borders and press slam any and all trespassers back into their own country. Many in WARRIOR's campaign have suggested putting up a wall dividing the border, but WARRIOR would only compromise with ropes. And WHO I ask would be FOOLISH enough to mess with WARRIOR that close to ROPES?.... which as we all know is the source of his power.
So, in closing, if you want four more years of hollow promises, high deficits, and fully funded social programs, by all means vote the "competition." But if you want a Politician who'll get RESULTS, by all means choose WARRIOR. It's your ULTIMATE responsibility. And remember, Queering may not make the world work, but Warrior will work for YOU. (Unless you're gay, Mexican, a woman, a liberal, or any combination of the four.).
VOTE WARRIOR IN 2008!
Sean Carless is a man of many hats. And he wears those hats to cover an ever-increasing bald spot. Sean's various scribblings have been read at Live Audio Wrestling, 411 Mania, Wrestlecrap, Honky Tonk Man.com, The Toronto Star.com, and Lethal Wrestling. He has also cured AIDS.