Welcome to the Wrestling Fan.com ShopZone! A place where tastelessness knows no bounds, and money is no object (seriously.)
Feel free to browse our collection of "products" below... and accept the fact that you're probably going to Hell for doing so...
INTRODUCING: GOLDBERG BRAND "HE-BREW"!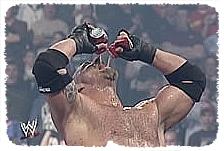 FEAR THE SPEAR BEER!
In 2003, Goldberg got a taste for the frosty ale after a much celebrated "Beer Bash" with Stone Cold. And not wanting to be the only baldheaded guy in the company to not partake in the joys of massively dangerous Alcohol intake, Goldberg fashioned HIS VERY OWN BEVERAGE, that is both pleasing to Jehovah and packs the same impact of an errant career-ending mule kick!

Introducing Goldberg's Brand "He-Brew"; an alcohol alternative for Orthodox Jews and unstoppable Monsters with Unorthadox styles everywhere!
And the best part? With Goldberg Brand "He-BREW", the bottle is UNBREAKABLE, so you won't get injured if the urge to plunge your fist through the glass emerges!
Order Now!
Warning: Beer may completely fizzle out after one year.
* Not to be taken with meat on the Sabbath.
INTRODUCING: THE ROB FEINSTEIN CHILDREN'S GROWTH CHART!
With Christmas fast approaching, Jolly St. Nick isn't the only one looking to leave children's rooms with an empty sack! Introducing, the Rob Feinstein "Growth Chart", for ages 14 (I'll pretend you said 18 lol) and under!
Just how does your little tyke measure up against the Fun Athletic Guy? And more important, how is he at keeping secrets? (Code of Honor!)
Order NOW, and Rob just may make the trip to YOUR suburban town house for a personal delivery!*
*Teenagers sold separately.
INTRODUCING: PAUL HEYMAN'S "HAVE LESS MONEY NOW!"
Have you ever wanted to run a successful, profitable wrestling company with years of longevity, through smart spending, careful planning and financial integrity? Well, maybe there's another book out there for you.
Introducing: Paul Heyman's "Have Less Money Now!" A practical guide to making money on a grand scale, so long as you do the complete opposite as the book entails!
Step by step, Paul takes you through the motions, shattering all stereotypes that the Jews are good with their money, as he takes you through his time tested unsuccessful, successful formula of taking less and turning it into "way less".
It's all here, from Chapter 1: "Money Is No object! (seriously. I mean it. There's no money.)" to Chapter 10: "Hey, what if we put the Title on Aldo Montoya?" to the heartbreaking Final Chapter: "Hmm, I could pay Rob Van Dam....or... I could make Rollerball!"
In fact, if you're not significantly poorer after reading this book, there's obviously something right with you!
Order now! (Or you could save time and just light your wallet on fire).
INTRODUCING: THE SONNY SIAKI "LEGEND KILLER" T-SHIRT!
One confirmed kill, but suspected in others! Don't just draft a dead pool, honor the man who fills it! The "Sonny Siaki: Legend Killer" shirt is great for relaxing around the house, errant dropkicking people to an ultimate demise or just paying your respects at funerals for wrestlers killed by Sonny Siaki himself!
However, if for whatever reason, you or a loved one is not 100% satisfied with your purchase, send us your mailing address and we'll send Sonny Siaki himself to your house to dropkick you. We have a feeling you won't complain again! (seriously.).
Order now!
HULKAMANIA ORANGE JUICE!
It was only a matter of time beforeFlorida's two greatest exports joined forces! And now, we at the Wrestling Fan are glad to present "Hulkamania Orange Juice!"
Finally, The Hulkster came up with his own *exclusive* citrus drink; because let's be honest, who knows more about juicing than the Hulkster? You see, every Hulkamania Orange has been organically grown, packed with preservatives to create an unnatural orange hue, and injected with a variety of growth hormones, to create that superior drinking experience. In fact, many of our satisfied customers have claimed that after ingesting this breakfast phenomenon, they were able to run faster, jump higher, and pick up things they strangely had no chance of doing so before tasting the rich bold taste of Hulkamania Juice! Let's see Sunny D. do that!
So next time you're looking for a pick me up in the morning, or just need a charge to help you nonsensically pick up fat people for no reason and by god, slam them, take a slug off of the juice packed with "Python Power!"*
* HGH.
-Surgeon General warns: Prolonged use of product may lead to balding, bone degeneration, and shrunken testicles. But no worries about the latter,: because as the Hulk says "Small potatoes make the steak look bigger, bruther!"
ADAM COPELAND ON EDGE ON LITA.
"You think you know them? You've read *both* their books, but there's one last chapter in the stories of Adam Copeland and Amy Dumas! In this TWF Shopzone *exclusive*, this double-sequel reveals that Lita's REAL ' Road less traveled' went up the Hershey Highway!
*Bonus offer! If you act NOW, we'll reserve you a copy of Edge's brand new Eddie Guerrero inspired T-shirt! "He Lies on either people's girlfriends! He Cheats on his wife! He steals umm, other people's girlfriends!" (It's still a work in progress...)
So, go over the EDGE today! (or under, if you're someone
else's woman!) Order now and we'll throw in complimentary BOTTLED TEARS OF MATT HARDY!
PAT PATTERSON'S "MANWICH" MEAL!
Introducing: the Newest product from our fledgling TWF Food line, (the same people who brought you Steve Austin's Black-Eyed Peas) comes: Pat's Manwich Meal!
Are you hungry for a man-sized meal? Well crack open a can of Pat's Manwich! You see, Patterson has over 20 Years experience stuffing his meat into buns! And not any old buns will do, you see, Pat hand-picks the freshest, newest buns around, and fills the can personally with his own tender, love and care!
So, next time you have a man's appetite, let Pat fill you up. Because when you think of meat in the can...you gotta think Pat Patterson!
Also, Coming Soon! Pat's Ballpark Franks! You won't regret it when you put Patterson's wiener in your mouth!
PAUL HEYMAN BRAND KOOL-AID!
Introducing: HEYMAN KOOL-AID! The only flavored drink in the world that makes excuses for why you should keep drinking it, even though it provides you with little to nothing!! That's right. One glass of Heyman flavored Kool-aid and suddenly you'll have the urge to work for 3 years without having ever been paid, and only realize how truly screwed you were long after the fact. Let's see Tang provide that sort of false sense of security.
Heyman Kool-Aid is also the *number one* drink of unpaid manual labor and SWEAT SHOPS around the world!; so whether you're sweating in said shop designing shoes for in-ring gags featuring John Cena, or just sweating as to how you're going to explain to your wife and children why a Repo Man just took your car and the bank foreclosed on your house, cool down with a tall glass (may appear significantly smaller in New York and Stamford) of Heyman Kool-Aid, ignore your worries, and just hope that next time your boss actually signs the fucking checks!
Remember, that's Heyman brand Kool-aid, the
BEST drink you've ever had*, or NO money back! Serve Heyman Kool-aid at your table today! And then smash yourself through it!
*Euphoria experienced by drinking Heyman Kool-Aid only temporary. Prolonged exposure may cause irritability, bankruptcy, and angry 90 minute RF shoot videos.
LITA BRAND CONDOMS!
Do you have a night of sex on the horizon that's just 2Xtreme?
You see, whether it's sharing yourself with an entire locker room south of the border, or just bartering your boyfriend's life for a night of copulation with a brooding undead psycho, FINALLY, there's a contraceptive for you!
Introducing *NEW* Lita brand condoms! Guaranteed to catch about 50% of your lover's bounty… or your money back! (Dignity not so much).
You see, Lita brand condoms are now AERATED for his pleasure! As we at Lita Co. have FINALLY done away with that pesky reservoir tip that always seems to get in the way! In fact, your man will think he's not even wearing the condom….because 9/10 times, he won't be!
And most importantly, your Lita brand condom is guaranteed to exceed temperatures of 100 degrees Fahrenheit, in those cases you bed a man with pyromanical super natural powers! (You won't find THAT with Trojan or Sheik!).
So, whether you're looking at an evening of lust with a seven foot demon, or just staying at home cuddling with your boyfriend's best friend around the fireplace, choose the brand Lita swears by!
Lita Brand Condoms. For those times you blow more than spots!
*BRAND NEW* "RANDY PROOF" WWE DIVA GYM BAG!
When breaking into the wrestling business, it's advised that you know your shit, but never has that been more true.
With that in mind, we're proud to introduce the latest in Gym Bag security, that GUARANTEES that the only feces you'll being seeing backstage is Edge (Well, at least according to Matt Hardy.).
See, our "Randy Proof" Gym Bags weigh in excess of one hundred fifty pounds, are constructed out of government tested steel, and contain a computerized lock system that not even Jim and Ellie Neidhart can crack!
So, rest easy! Your days of coming backstage after an exhausting bikini contest and finding some unwanted "RKOdors" emanating from your carryall are finally over! Get your "Randy Proof" Gym Bag today! And remember, just because you stink in the ring doesn't mean you have to everywhere else! Order now!

INTRODUCING: X-PAC BEER GOGGLES!
Hey, we know times are tough these days in the Lovin' department, and sometimes, chopping your crotch, and running groin first into other people's faces isn't enough to win you the love of a good woman. And unfortunately, often, you'll find yourself picking up someone that while sober you'd sooner use your "educated feet" to get away from as fast as you can. We've all been there. But finally, there's a solution! (well, besides having standards.) You see, our scientists at the TWF laboratories have fashioned a device that will solve ALL your problems!
Introducing the "X-Pac Beer Goggles", guaranteed to make your partner go from "Bow" to "Wow" in seconds! (Coupled with copious amounts of alcohol.) Thanks to our incredible ocular breakthrough, (and plenty of liquid courage) soon, petty things like her outweighing you by 50 pounds or having a penis won't even seem to matter! Get your "X-Pac Beer Goggles" today!
Order now and we'll throw in a completely free "X-Pac all-purpose spoon." Perfect for scooping up your best friend's sloppy seconds, or just heating up a "treat" for the road! ...Order now!
ULTIMODIUM!
Like many others, The Ultimate Warrior used to think Mexico was responsible for the world's largest share of diarrhea. Unfortunately, as many at the University of Connecticut can now tell you, Diarrhea can strike ANYWHERE, at ANY TIME, and even from ANY PLACE. (in this case a non-stop flow from the mouth.)

Introducing ULTIMODIUM. RELIEF for extensive Verbal Diarrhea! Whether you're running to the ring, or just running to the shithouse, Ultimodium gets the job done, and in no time helps you get back to your hate mongering with
a renewed vigor!

Ultimodium. Ultimate relief for non stop shit flowing from the mouth. That's Ultimodium. Helps you deliver a "big splash" where it matters... the toilet.
INTRODUCING: THE ULTIMATE VISCERA COLLECTION!
From the people who brought you DVDs like "HHH: That Damn Good... and even better than Flair. And Hogan, too. Oh, ya and also Bret Hart, Bruno Sammartino and umm, anyone else you got." comes a true collectors item: THE ULTIMATE VISCERA COLLECTION!
In this special edition, Two-disc set , we'll chronicle the legendary Big Vis's evolution, from sloppy, morbidly obese grappler in a purple pantsuit, to a ...sloppy, morbidly obese grappler in a black pantsuit.
Disc 1: The ENTIRE King of the Ring 1995 coronation speech featuring Sir Mo. Approx running time= 6 hours 22 minutes.
Disc 2: The VERY BEST matches of Viscera! Approx. running time: Zero minutes, zero seconds.
Act now and we'll throw in Sir Mo, completely FREE! (He really has nothing better to do.).
Order now!