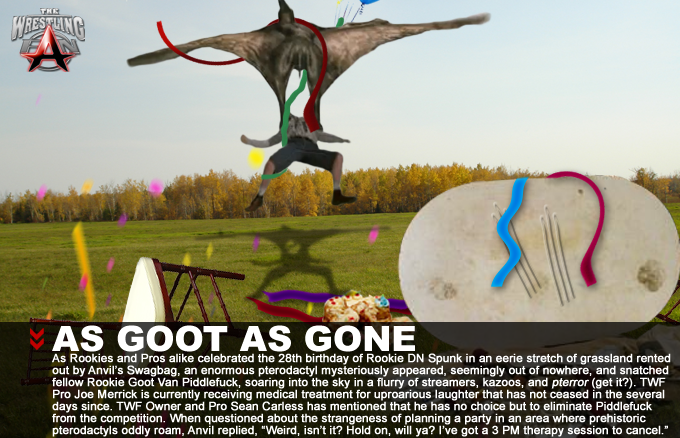 Welcome to the debut of TWF LTR, where eight of our highest touted writers of the past and present have re-assembled, coming together a la WWE as "Pros", to find our next breakout star! Unless "next breakout star" is copywritten by the WWE. Then we're looking for our next big-time Staffer.

The rules are simple: the Rookies are going to compete in a series of challenges (which will be announced below), and their progress will be voted upon by their eight Pros who represent 50% of the vote, while TWF's readers-- YES, YOU~!-- will represent the other 50%, voting in a poll on this very page that will seal our Rookies' fates. The Rookies who rank the lowest after each voting session will be eliminated from the competition and/or disposed of in an unsavory fashion, while the others will remain and repeat the process until only one is left standing victorious over the stinking heaps of embarrassing defeat that are the other seven Rookies. They'll probably just band together to systematically destroy TWF after a few weeks anyway.

BUT WAIT, THERE'S MORE. Not only will our winner receive a swanky writing gig here at TheWrestlingFan.com, he'll also receive a Blu-Ray DVD of a WWE release, AND a copy of the upcoming WWE Smackdown vs. RAW 2011 video game on the console of their choosing. YES, EVEN ATARI 2600, except not really!

So, without further ado: THE ROOKIES: Paul G. Parry (w/ The Low Blow's Joe Merrick); Jeff Knott (w/ the Best Damn RAW Rant, Period's Cameron Burge); Goot Van Piddlefuck (w/ The Dungeon's Anvil's Swagbag); Riggs Murtagh (w/ The Rocktagon's James Swift); Ernie Brannigan (w/ White Vans and Candy's James Walker); Zach Morrison (w/ Bringing Home the Bacon's Canadian Bacon); DN Spunk (w/ TWF owner and The Backleg Frontkick's Sean Carless); and Josh Kennedy (with Deadface Walking's Catherine Perez)~! They're wilder! They're younger! They make the rain fall harder! Their bios can be found on your right. Get to know them, and remember to vote for your favorite when the time comes!

And, hey, while you're still here, take a look at LTR's intro video and theme song sitting below the roster!

THIS WEEK'S CHALLENGE~!
We started with 8. We forgot about the competition for a week because we're lazy and unmotivated completely. And now, 2 weeks in, we have 7. You read that correctly. TWF LTR Rookie, GOOT VAN PIDDLEFUCK has already unceremoniously (who'd hold a ceremony for it?) TAKEN HIS BALL AND WENT HOME. And not in the cool "Steve Austin" way that leads to you beating your wife Debra, and then being chased in your pick-up truck intoxicated by local county police while we cart the Rock out as a smokescreen and have him promise never to disappoint us, only to like come back maybe 2 more times, leave and never return, and Jesus, you get the picture.
That (so tediously) said, with the auspicious early elimination of Goot (although not by firing squad, as suggested by the perpetually furious Anvil himself), this now leaves 7 Rookies to battle it out, as only men hiding behind computers and exerting no physical energy whatsoever can. And that BATTLE this week? CAPTIONS. Now, I'd explain what is fully entailed here, but holy shit. THEY WRITE CAPTIONS UNDER PICTURES WE PROVIDE. Hilariously random pictures. 8 of them. Some photoshops, some candid's pilfered from WWE.com after figuring out how to save them from their god awful flash system there.
Now this is where you, the TWF Crab Nebula, come in. You can read the following Captions, and then give your vote for the winner in the poll provided. Who made you laugh the most overall? Whose captions best reflected what we do here? (Not write for 2 weeks, stop, and then never go back.). THE CHOICE IS IN YOUR HANDS - Hands you do filthy, filthy things with online. Isn't it time you make up for all that sin? VOTE NOW. (please?).
CLICK HERE TO SEE THIS WEEK'S CHALLENGE~!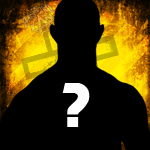 Here, the winner of each week's challenge will earn his place in this spotlight section, where you, the reader, will learn a bit more about him. In the meantime, enjoy this AWESOME placeholder silhouette, featuring WWE's favorite silhouette guy.