"Fucking Florida Seagulls!"
-Sean Carless
"Carlito reacts to what Johnny Ace has informed him is the only way he's keeping his job."
-Hypocrite
"Fuck! I left the oven on!"
-Chester B. Bailybottom
"Moments later, Super Crazy realized that the hand signal Johnny Ace was flashing to him did NOT mean that he was to be inducted into the Horsemen-- but rather that he had exactly four minutes to clear out his locker."
-Sean Carless
"Super Crazy: YOU CAN'T SEE ME!
WWE CREATIVE: You're right. Get your ass back to HEAT."
-Chester B. Bailybottom
"I am SUPER! I am CRAZY! I am BOOKED COMPLETELY IRRATIONALLY!!"
-The Frozen One
"Despite their best intentions, Matt Hardy & Trevor Murdoch's tribute to Karate Kid just ended up being awkward for everybody."
-Sean Carless
"The tryout for Dancing With the Stars is not going as well as planned."
-Route 70
"Trevor Murdoch never did fully grasp the concept of Dance, Dance Revolution."
-Chester B. Bailybottom
"Only one more win until my transformation into a completely stereotypical 1920's villain is complete! Now someone get me some rope, train tracks and Torrie Wilson! Muwahahaha."
-Sean Carless
"This photograph supports evidence that Chavo Sr actually lost his son's soul to the devil in a Tijuana card game, circa 1978."
-Harry Simon.
"Rejected Mario villain".
-Cameron Burge
"Lashley: Once I absorb you, I will become MORE BLACK THAN EVER BEFORE!"
-Joe Merrick
"This would be the last time Shelton Benjamin asked for Bobby Lashley's help to change a light bulb."
-Chester B. Bailybottom
"Bobby Lashley, displaying his newest move: The Torture Rack of Ribs"
-James Walker
Regal: "See, I drew a picture of your Charisma!"
Lashley: "Where? All I see is a blank page."
Regal: "EXACTLY."
Lashley: "Oh."
-Sean Carless
Regal: "Thanks for signing my petition for Keeping Unintelligible Hosses Out Of The Main Event, Bobby".
Lashley: "No problem. Wait, what?"
-James Walker
"Mmmmyes, this financial retirement fund does seem like a good plan, but tell me, does it include 401k matching and profit sharing...bathturd?"
-Route70
"With one last agonizing push, Batista finally shits out the remainder of his workrate."
-Sean Carless
"Figures. The one time Batista tries to replicate a good wrestler, it's Mr. Perfect."
-James Walker
"Moments later, Batista found that - despite the initial discomfort - he was actually beginning to enjoy working with Pat Patterson."
-Hypocrite
"No matter how hard Batista willed it, his balls remained the same size."
-Chester B. Bailybottom
"Truth be told, this was actually the closest John Cena had ever came to an actual black person."
-Sean Carless
"John Cena celebrating with fans on the beginning of his current title run, taken circa 1954."
-Route 70
"Because he was bringing in so much money, no one had the heart to tell John Cena about the disturbing midget growing out of his back."
-Chester B. Bailybottom
"As he distracts his fans with spinning shiny objects, John summons Todd Grisham to sell them each $25 Foam Knux"
-James Walker
"Jubilation turned to horror quickly for Referee Jack Doan after it sunk in that perhaps his surprise post-match gynecological exam of Candice Michelle could possibly hold some terrible ramifications..."
-Sean Carless
"*Sob* KEVIN USED TO LOVE BIG GOLD BELTS."
-British Bullfrog
Turns out Candice wasn't as big a fan of "pull my finger" as you'd expect.
-Chester B. Bailybottom
"Tommy Dreamer has a flashback to 1996 as Nitro shits in the face of ECW"
-Harry Simon
"Jesus Christ, what the hell did Nitro eat that made him SHAT OUT TOMMY DREAMER."
-Joe Merrick
"EXTREME DUTCH OVEN."
-Chester B. Bailybottom
" What? You'll have to excuse me, I can't hear you over the sound of how shitty I've been booked."
-Sean Carless
"Oh my God I can scratch my brain!....Shit, now I don't know math..."
-Cameron Burge
"Considering the look on his face,I'm thinking the shirt is fucking lying."
-youforgotpoland
"If you look closely at Mark Henry's chest, you can the see the hands of the individual he just consumed, desperately trying to break his way free from the spandex..."
-Sean Carless
"The only thing that could escape Mark's newly found "black hole" status would be talent."
-James Walker
"You, get me a sandwich THIS BIG!"
-Chester B. Bailybottom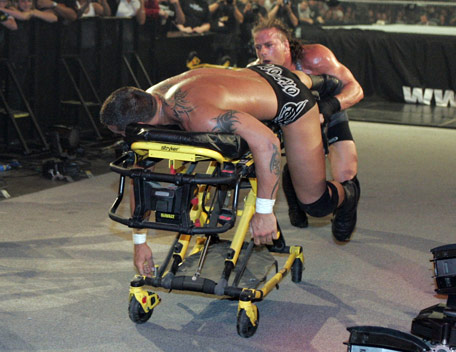 "Just as Randy had requested, RVD sent the Legend Killer back to his hotel suite in the same condition he found him."
-Sean Carless
"Rob's found it's a lot easier to get laid, now that he's started using the methods Shawn Michaels recommended."
-Hypocrite
"Randy, I told you not to look in the suspicious bag!!!
-thesmallerkhali