TNA IMPACT ARCHIVE: APRIL 2005
Navigation:
April 01, 2005
April 08, 2005
April 15, 2005
April 22, 2005
April 29, 2005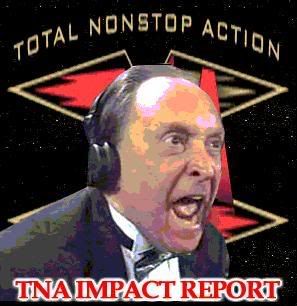 NWA TNA IMPACT ON FSN (4/29/05)
This match was a "second coming" for Candido, who impressed everyone with his good attitude. Even though he's past his prime physically, CC can still teach a lot to the youngsters as far as psychology, facial expressions, promos, etc. Candido was a can't-miss prospect in the 90s until the ever-popular personal problems wrecked everything. He's been going around telling people that he's clean now, and I truly hope for his sake that it's the truth. Candido would be a welcome addition to TNA, easy. Just like that, we have our first nominee for "Comeback Of The Year."

I wrote the above when I reviewed the 1/7/05 edition of Impact. The show opened with a good match pitting A.J. Styles against Chris Candido, who was making his long-overdue return to the limelight. Candido's performance at that taping did indeed earn him a job with the company. As you no doubt know by now, Candido passed away this past Thursday,
4/28/05. The picture below, right, greets visitors of TNA's official site,
www.tnawrestling.com
. It also opened the 4/29/05 edition of Impact. Early rumor has it that Candido contracted blood clots from the surgery he just underwent after breaking his leg at Sunday's Lockdown PPV. If you haven't already done so, go read my monster review of the Lockdown PPV over in the Shmazz.

I briefly met Candido back in 1996, the night of Wrestlemania 12. That was the show when Candido and Tom Prichard (as The Bodydonnas) won the WWF Tag Title. He was on the run, so I just managed to get out, "Mr. Candido, congratulations on your success. It's well deserved." He thanked me, we shook hands, and that was that. I remember that we shook with our left hands, because he was carrying his bag in his right hand at the time.

RIP, Chris. Thanks for the memories.
DEATHWATCH UPDATE:

The biggest news is that Matt Hardy would be free and clear to compete days before TNA's July PPV. Just two problems with that. 1) There may not be a TNA by July. 2) Most seriously, I can really see Jarrett using this as an excuse to further stretch out his title reign, using the "Double-JBL Defense" that even if a heel champ is a complete flop, he should hold his title for as long as humanly possible to maximize the impact when he finally drops it. We'll find out in three Sundays.

Speaking of which, last Tuesday (4/26/05) saw TNA tape all three TV shows before their next PPV, Hard Justice (5/15/05). Abyss worked the tapings despite suffering a legit separated shoulder two nights earlier at the PPV in his MOTY with A.J. Styles.

Dustin Rhodes, however, missed the tapings because he was arrested for a domestic violence incident with his girlfriend. His future would be in jeopardy if not for…well, you know.
NWA TNA IMPACT ON FSN (4/29/05)

1) Shocker pinned Petey Williams (w/ Coach Scott D'Amore) at 3:50. [Mike]

Announcers Mike Tenay and Don West announced that Shocker's PPV win gave him #1C status, and thusly, he'll challenge Christopher Daniels at Hard Justice. West astutely pointed out that this match pitted one of the best from Mexico against one of the best from Canada. These three words have been two and a half years in the making: TESTIFY, MR. WEST. This was a competitive match, if a little choppy in spots. Crowd was into both guys big time. Fans were even mirroring Petey's "reel 'em in" spot. The sharpshooter is officially one of Petey's trademark spots now. A fitting move for the captain of Team Canada, but seeing as how he has the hottest finisher in the country, there's not the slightest iota of suspense that someone will tap to his sharpshooter. As Petey went for a second shooter, Shock punched his way out and pulled him into an awkward sunset flip for the finish out of nowhere. Disappointing, given the talent involved.

After the match, Tenay interviewed Shock in the ring. He cut a decent promo, vowing to prove himself to America by bringing home the XD Title at HJ. Shocker DID kinda sound like El Dorado from "Superfriends," though.

At the table, Tenay and West talked up Lockdown and pushed the replay. From there, they showed slo-mo replays of Candido's injury from the PPV. As the next match started, they said that despite the broken leg, Candido would be in the Naturals' corner for today's TV main event.

2) Sonjay Dutt pinned Buck Quartermain at 4:11. [David]

Speaking of Superfriends, West actually said that Dutt had abilities beyond those of mortal men. Fans chanted "Let's go Sonjay" as the match was the classic high-flyer vs. bully. Sonjay sold and bumped well for Buck. Finish was Sonjay using the top rope to flip himself from the apron into a hurracanrana rollup in the ring for the pin. Fans are rightly into Sonjay as a rising star.

Clips aired from Lockdown, with the rave review quotes. TNA is better at pushing their replays than any other wrestling company in history. In fact, there have been months where over half their PPV revenue has come from replays. Why WWE doesn't take note of this is beyond me.

3) Outlaw squashed Mikey Batts at 2:52. [David]

Oh, for the love of God, Outlaw's TNA music is a bad ripoff of his "I'm An Ass Man" song. Two things don't work about this gimmick. One, the World champion's badass bodyguard/enforcer/henchman should under no circumstances wrestle in neon green hot pants. Two, it's Billy fucking Gunn. Fans briefly chanted "Batts," as Outlaw has "go away" heat. Na-na-na-na-na-na-na-na-Battsman got in more offense than I expected, including his bullbarrow (bulldog off a wheelbarrow attempt), but Outie soon caught him in a nice tilt-a-whirl powerslam. Outie beat on Batts before finishing him off with a high slam out of a cobra clutch. This was actually good thanks to Batts. I can't give Batts enough credit for making Outlaw look like a killer.

After the match, the 3 Live Kru came out and confronted Outlaw. Konnan took the mic from B.G. James in mid-promo and challenged Coleslaw to a match next week. BGJ and Outlaw had another staredown. Um, excuse me, wrestling industry? These two already did the split/feud in 1999. And it sucked. Hard.

Dusty made a statement from his new office, which was a dark, featureless room except for a long table and a Hard Justice poster behind the Dream. I know that the higher-ups wanted his pickup truck "office" gone to try and look more, I dunno, better or something, but that damn truck was perfect for Dusty's character. Anyway, Splotchy McBotchalot announced that HJ would feature a 20-man "Gauntlet For The Gold" match, with the winner being named new #1C. Dusty further announced that UFC legend Tito Ortiz would be the special guest referee for the Jarrett-Styles main event. Dusty sounded like he was reading from a script, as opposed to his legendary all-over-the-place stream of consciousness. For the purpose of this announcement, the script worked better.

The announcers were marking out for Dusty's announcement, so NWA World champion Jeff Jarrett came out and manhandled Mike Tenay. ANGRY MIKE TENAY FACIAL~! Jarrett stood on the table, manhandled the "other" mic, and cut a quick promo about the HJ main event, mostly – surprise! – putting himself over. He wasn't out there long enough for the "drop the title" chants to pick up steam, so this was passable.

4) The Naturals (w/ Chris Candido) beat AMW to win the NWA World Tag Title at 17:46. [Kerry]

This is just surreal. Candido limped out to the ring on crutches, obviously in serious legit pain. Fans held up "GET WELL, CANDIDO" signs for him. Candido took the mic before the match and demanded that fans show an injured man some respect. Candido said that TNA kept exploiting his injury by showing the replay over and over, but he was standing there with "nine titanium screws and three sheets of metal" in his ankle because NOTHING was going to keep him from this day. His boys were going to take the championship, and NOTHING IN THE WORLD was going to make him miss this. (Yup, he said it twice.) He told the Nats that he loved them, and they hugged him. This wasn't quite the level of seeing the angle where HHH sledgehammered a casket just moments after Jim Ross told us that Owen Hart died, but it was still pretty damn bizarre.

James Storm started with Chase Stevens, but it soon broke down into a four-way brawl outside the ring before the match could officially get going. That seems to be AMW's newest trademark spot. Chris Harris and Andy Douglas went into the crowd while Storm whipped Stevens into both the rail and a chair at ringside. Candido hilariously fanned Stevens with his towel. They did the old ECW spot where a fan held up a chair so Storm could throw Stevens into it. Candido was great in cheering on the Nats' offense and selling when they were on defense, Bobby Heenan style. ("Wrestle like a manager; manage like a wrestler.") It was all AMW as they went to a break.

Back from the break, Candido was using his towel to choke Storm, allowing Douglas to take over briefly, until Harris got the hot tag and cleaned house. Harris hit a nice flying bodypress on Douglas, but Stevens saved. Stevens managed to zap Harris on a rebound, setting up Douglas' flying kneelift. Heat on Harris as fans chanted "AMW." Douglas used Candido's crutch on Harris outside the ring while the ref was distracted. Stevens made the cover, but Harris got his shoulder up. The Nats kept pounding on Harris up until their final commercial break.

The "fourth quarter" saw Douglas accidentally crotch himself on Harris' knee (an old Rick Rude spot). Storm finally got the hot tag, skinned the cat, and gave Stevens a tilt-a-whirl headscissors (which West called a "hurracanrana"). Candido grabbed the referee's arm to stop the count. AMW set up Douglas for a Hart Attack (which Tenay wrongly claimed was supposed to be a death sentence), but Stevens cut off Harris with a nice leaping superkick. Timing on the finishing sequence was outstanding. Storm got a nearfall with an enziguiri on Stevens. Douglas tried to bring in one of the belts, but the ref confiscated it. Storm superkicked Douglas, but Stevens walloped Storm with a chairshot while the ref was re-folding the belt outside the ring (or something). Harris speared Stevens, but while the ref was clearing them out of the ring, Candido crawled in the ring and placed Douglas on top of Storm for the pin. Candido hopped around with the belts, then dropped into a sitting position at ringside. Candido was ecstatic, despite still selling the pain from his leg. West speculated that AMW defended too soon after Lockdown. Tenay countered out that AMW were fighting champions. Candido kissed the gold and laughed his ass off. Angry Mike Tenay confronted Candido, who bragged about their win, despite the now "97 screws" in his leg. Angry Mike Tenay angrily demanded that the Nats give AMW a rematch. Douglas crowed that they won it for the Gipper (Candido). In a truly hilarious moment, Tenay asked Stevens for a comment. Stevens was still selling his beating, and numbly asked, "Uhh..who won?" Douglas told his partner, "Naturally, we did!" The Nats celebrated as Angry Mike Tenay plugged next week's Impact. Nice old school ending to a wrestling show. What aired was a great match, though it was probably even better in its full version.

The final shot of the show was a still from moments ago, featuring a thrilled Candido clutching the titles. Just plain perfect. As a "legacy" for Candido, today's program was more than fitting. Candido's brother had issued a statement suggesting fans be thankful that Candido went out on a high note, doing what he loved. Amen.

Overall over-analysis: How am I supposed to rank and file this like it was just another show? It wasn't. The main event is a must-see for every reason you could think of and some you just can't fully appreciate until you watch it.

This Observer's Thumb…………………is up.

-HDS-

Hard Justice PPV lineup (5/15/05):

NWA World Title (Tito Ortiz as special referee): Jeff Jarrett vs. A.J. Styles

XD Title: Christopher Daniels vs. Shocker

20-man #1C "Gauntlet For The Gold" match
---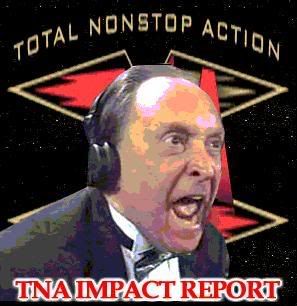 We interrupt this week's Deathwatch Update with a special announcement. Due to a combination of boredom and masochism, I will actually be watching Lockdown live on PPV this Sunday. Look for the Recapitation to hit the 'Shmazz this Friday.

NWA TNA IMPACT ON FSN (4/22/05)

1) 3 Live Kru beat Buck Quartermain & Lex Lovett & David Young at 5:01. Oil Of Olay! I know 3LK is one of the most over acts in the company, but I can't stand the "I Love The 90s" mic shtick from B.G. James and Konnan. Nothing match went way too long. Ron Killings finally got the hot tag and pinned Young after an axe kick. (Chris)

From there, they started a countdown piece called "The Top Five Steel Cage Match Moments In TNA History." Moment #5 was Chase Stevens moonsaulting off the top (Naturals vs. AMW, 7/21/04).

They're selling a "Best Of Raven" DVD on their site. That's just false advertising. The best match of Raven's career was he and Stevie Richards vs. The Pitbulls at the 9/16/95 ECW Gangsta's Paradise show. His second best match was against Perry Saturn three years later at WCW Fall Brawl 98. His TNA matches haven't exactly been "stop the presses" quality, plus there's the fact that fans gave up on him after he was put in the Lex Luger role of being built up for a big title match…then not bringing home the goods. They should have just done a shoot interview with the guy. Now THAT would be worth picking up.

A clip aired with Jeremy Borash at an IWA show in Puerto Rico. The IWA show in front of thousands of fans in a baseball stadium was an impressive sight. Borash talked about how Jarrett, Abyss, AMW, and Team Canada were all hot commodities in PR. This was a badly needed injection of showing that TNA superstars are also superstars outside of TNA.

Steel Cage Moment #4 was the "tower of doom" four-story suplex (AMW vs. XXX, 12/5/04). This segued nicely into a package that chronicled the history of Christopher Daniels and Elix Skipper.

Steel Cage Moment #3 was AMW giving Christopher Daniels a death sentence with Chris Harris leaping off the top of the cage (AMW vs. XXX, 6/25/03).

Dustin Rhodes joined the announce table, but before he could give his take on the Warrior's recent insane antics, Bobby Roode attacked him with a chair and laid him out.

2) The Naturals (w/ Chris Candido & William Daggett) beat NWA World Tag champions AMW in a non-title match at 7:32. Candido is still doing the wheelchair gimmick, as Kevin Nash mauled him a couple Impacts ago. The announcers called it a scam. AMW beat the hairspray out of the Nats outside the ring for the first three minutes. Back from the break, the Nats got heat on James Storm until Chris Harris got the hot tag and cleaned house on both Nats. Surprising lack of heat considering it was an AMW match and there was nothing wrong with the match. That's a three-week TV taping for you. The WWF quit doing those things for a reason, ya know. Chase Stevens floored Harris with a leaping kick (that the camera largely missed), then danced with Storm until he ate a superkick. As Harris set Stevens up for the Catatonic slam, Candido jumped out of his wheelchair and Orton'ed Harris with his cast, giving Stevens the pin. I seriously enjoyed the old school logic where the babyface announcers were one step ahead of the conniving heels (for all the good it did the babyface wrestlers). If this were the WWE, that would give away that AMW would retain at the PPV, with the Nats set up as the new #1C, but that's not a staple of Dusty's booking. Who knows anymore? Good match, nevertheless. (David)

Steel Cage Moment #2 was Jeff Hardy missing a swanton from the top of the cage (Jarrett vs. Hardy, 11/?/04). This match aired as part of the gawdawful "Best Damn Wrestling Event Period" from last November.

Announcers Mike Tenay & Don West previewed the Lockdown card (see below), with an emphasis on the six-man "lethal lockdown" main event. A feature aired, recapping the history between the competitors. Kevin Nash isn't doing the PPV on Sunday, and I'm still waiting to see if they share that little fact with the viewing audience today. (Answer = Nope.) Nash is claiming to have a staph infection of the knee. Whatthehellever. I'm not looking a gift horse in the mouth. The only good Nash is a no-showing Nash.

Steel Cage Moment #1 was, of course, Elix Skipper walking the cage at Turning Point (AMW vs. XXX, 12/5/04).

3) A.J. Styles & Jeff Hardy beat Abyss & Raven by DQ (I think) at 11:29. Special 30-minute time limit for today's main event. Styles sold for most of the match, so this was pretty good. Hardy finally got the hot tag and hit the twist of fate on Raven after Abyss accidentally avalanched his partner. Abyss broke up the pin, and caught Hardy with a black hole slam for another nearfall, which Styles broke up with a springboard dive. A.J. went for the Styles clash on Abyss, but Raven broke THAT up. Haven't we read about enough Hardy breakups this month? Rave held Jeff so Abyss could hit him with his pet chain, but Styles "took the bullet" for his partner, causing the ref to call for the bell. Tenay said it was a DDQ or a no-contest. Why? What did the babyfaces do that would warrant a DQ? Raven threw Hardy out of the ring through a nearby table. The heels set up a chair between the top and middle turnbuckle, then they used the chain to "leash" Styles, and Abyss yanked him into the chair. Cool spot. Medics put Styles on a stretcher, so Abyss went after him again. The final shot of the show was Styles doing the lionheart bit, punching at Abyss from the stretcher. Abyss & Raven should be kept together as a team. They're going nowhere as singles, and they could have great chemistry as the manipulator and the monster. Tag matches would also afford the chance to hide both of their various weaknesses. (David)

Overall over-analysis: The Steel Cage Moment countdown would have gone down a lot smoother had it been spread out over the last five weeks. By showing one isolated highspot after another, not only does put an absurd amount of pressure on the guys working the PPV, but it desensitizes the audience and worse, conditions them to think that it's not a worthwhile cage match if someone isn't jumping off the top of the damn thing. The reason the AMW-XXX match from Turning Point is rightly hailed as a modern-day classic is that they had an honest-to-God MATCH that built to the highspots, so the spots meant something when they happened. As for today's offering, I don't think they did a particularly fabulous job of selling the PPV, but when said PPV is the dumbest idea since Taboo Tuesday, there's really not much more they COULD have done at this point. Still though, for a three-match show, two of the matches were good, and that's good enough for me.

This Observer's Thumb…………………is up.

-HDS-

Lockdown PPV lineup; all matches will be "six sides of steel" cage matches (4/24/05):

"Lethal Lockdown" match (War Games ripoff): Jeff Jarrett & Outlaw & Monty Brown vs. DDP & Sean Waltman & Mystery Partner (replacing Kevin Nash)

#1C match: A.J. Styles vs. Abyss

XD Title: Christopher Daniels vs. Elix Skipper

"Capture-The-Flag" match for NWA World Tag Title: AMW vs. Petey Williams & Eric Young

"Prince Of Darkness" match (a.k.a. blindfold match): Dustin Rhodes vs. Bobby Roode

Tables match: Raven vs. Jeff Hardy

Four-way XD "X-scape" match (first guy out wins): Chris Sabin vs. Michael Shane vs. Shocker vs. Sonjay Dutt (replacing Kid Kash)

Aportion vs. Lance Hoyt
---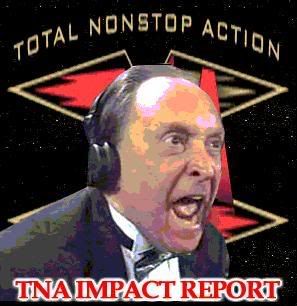 NWA TNA IMPACT ON FSN (4/15/05)


DEATHWATCH UPDATE:

Pretty much everyone under the sun has lost all faith in Dusty as a booker. Dutch Mantell may eventually replace him if the company doesn't fold altogether in a few months.

If you've been following the WWE's spring cleaning, you know that Matt Hardy, Rhyno, and Molly Holly were all released over the last couple of weeks. Still though, they have 90-day no-compete clauses in effect, so they wouldn't be able to sign with TNA until July…at which point, there may not even be a TNA anymore. I've gotta think Matt would be a lock, if only for a Hardy Boyz reunion.

This just in: Kash withdrawl! After his 473rd mainstream interview ripping the company and saying how he doesn't want to work there and won't give 100% anymore, TNA finally released Kid Kash, so he won't even make the PPV. I love the "Notorious Kay-Eye-Dee," but you can't keep ripping on your employer without repercussions.

NWA TNA IMPACT ON FSN (4/15/05)

1) Michael Shane & Kid Kash & Lance Hoyt beat Chris Sabin & Sonny Siaki & Aportion at 8:29. Shane and Sabin started, with Kash coming in so they could get all the bumps in the match out of the way first. Heat on Siaki until Hoyt missed an impressive moonsault and hot-tagged Aportion. Aportion lived up to the name I gave him last week by totally botching a spot with Hoyt. Finish saw Hoyt powerbomb Aportion, setting up Kash's frog splash for the pin. This was Kash's final TNA match. (Mike)

At the announce table, generic attorney character William Daggett showed up with a wheelchair-bound Chris Candido. The gimmick is that since Nash crippled Candido last week, Candido lawyered up and got a restraining order. How 1997 of them. But seriously, no way can I buy that Nash put a hurting on Candido. Any man who can get under the mountain of flesh that is Tammy Sytch is just about indestructible.

Backstage, Trinity was putting the moves on Michael Shane. Traci interrupted and told her that she was supposed to be handing out free copies of Dusty's new book. Why Dusty thought THAT would be a good idea to promote his book is a mystery to me. Back in the Impact Zone, Mike Tenay shrewdly plugged said book by saying Don West couldn't put it down. Remember when Jim Ross "plugged" Chyna's book by saying, "My wife liked it"? Yeah, it was just like that.

2) B.G. James & Ron Killings beat Petey Williams & Alistair Ralphs (w/ Coach Scott D'Amore) at 4:49. B.G. worked the mic by getting the crowd to chant "up in here, up in here." You remember, that was a DMX hit from 1999, which also happened to be the last year the former Road Dogg was actually over. Finish saw Mr. 1999 pin Ralphs after lifting him for Killing's leaping axe-kick. Killings looked good, but Petey's timing was a bit off. The other two are hopeless. (Mike)

Elix Skipper joined Tenay & West & Dusty Book at the announce table.

3) XD champion Christopher Daniels pinned Mikey Batts at 3:47. A clever sign suggested "Fallen Angel For Pope." Decent match up until the bizarre finish. The ref bumped, followed by Batts hitting his finisher, a stunner variation they called the "Batts beater" (?!). Batts covered Daniels and Skipper jumped in the ring to make a three-count. Batts celebrated, but it wasn't the official fall. The Fox Box didn't fall for it, so why did he? Schmuck. Anyway, Daniels quickly recovered and hit Angel wings for the pin. I can appreciate them trying to play the "mindgames" card, but this came off like a train wreck. Possibly worse. (Chris)

Backstage, the 3LK had their weekly meeting where they share their feelings. B.G. said Konnan was right about Outlaw, but Konnan still wouldn't let B.G. accompany him to ringside for his matches. Hey, let the punishment fit the crime.

4) Konnan pinned Eric Young (w/ D'Amore) at 3:39. Decent TV match, thanks to Young. Konnan won by Alabama-slamming him out of the corner, then hitting a high-angle powerbomb for the pin. (David)

Mean Shane interviewed A.J. Styles and Jeff Hardy. A.J. says that fear is a poison he digests well. Jeff warned that "the old Jeff Hardy" came back at Destination X. Insert cheapshot here. Next week's TV main event was announced as Styles & Hardy vs. Abyss & Raven. The interview concluded when Raven donged Hardy with a garbage can.

Jarrett joined the announce table. Kevin Trash tried to attack Jarrett, but security held him off. I guess the restraining order applies to the building itself.

5) Monty Brown & Outlaw beat DDP & Sean Waltman at 9:23. On color commentary, Jarrett alternated between calling both Monty and Outlaw, "my main man." Clue? Angle? Lack of creativity? Only the Splotched One knows for sure. As they went to break, Monty tied up with Waltman, and Waltman took a huge bump over the top rope to the floor. Waltman did the same spot in carrying Ahmed Johnson to the best match of his career on WWF Superstars, back in 1996. Back from break, Outlaw was giving DDP the old Davey Boy Smith delayed suplex. DDP and Monty did the old Harley Race comedy spot with DDP forward-falling into a headbutt to Monty's groin. The announcers totally missed it, but that's okay, because so did DDP. Nice sequence saw Waltman hit the Finisher Formerly Known As The X-Factor, but Monty broke up the pin. DDP then gave Monty the diamond cutter, allowing Outlaw to hit DDP with the Finisher Formerly Known As The Fameasser. Waltman caught Outlaw with a kick and gave him the bronco buster. Christ, is this Impact or VH1's I Love The 90s? I'm about ready to invest in a dot-com venture while watching the O.J. trial. Anyway, Jarrett ran-in and kabonged Waltman, setting up Outlaw's pin. Fans hated that finish. (Mike)

DDP, Jarrett, and Monty brawled back to the parking lot, where Nash finally broke free from security, then awkwardly stumbled into the fray as the show ended.

Overall over-analysis: I guess the show did a decent job in pushing Lockdown, but the Lockdown concept is such a loser, all the hype does is remind you that this company is stupid enough to do an all-cage-match PPV.

This Observer's Thumb…………………is down.

-HDS-

Lockdown PPV lineup; all matches will be "six sides of steel" cage matches (4/24/05):

"Lethal Lockdown" match (War Games ripoff): Jeff Jarrett & Outlaw & Monty Brown vs. DDP & Sean Waltman & Kevin Nash

#1C match: A.J. Styles vs. Abyss

XD Title: Christopher Daniels vs. Elix Skipper

"Capture-The-Flag" match for NWA World Tag Title: AMW vs. Petey Williams & Eric Young

"Prince Of Darkness" match (a.k.a. blindfold match): Dustin Rhodes vs. Bobby Roode

Tables match: Raven vs. Jeff Hardy

Four-way XD "X-scape" match (first guy out wins): Chris Sabin vs. Michael Shane vs. Shocker vs. ???

Aportion vs. Lance Hoyt
---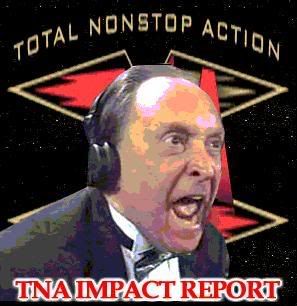 NWA TNA IMPACT ON FSN (4/8/05)

TNA DEATHWATCH UPDATE:

I warned you about the screwpounce. Not only did Monty's turn make zero sense for business, but Dusty kept it from all the boys until it happened. This, combined with the Abyss thing from months back, has caused even Dusty's defenders to turn against him as a booker. Working the boys is never good for business, especially when business isn't good to begin with. As the ultimate punishment, the higher-ups have repossessed Dusty's truck. Seriously, they told him to ditch the pickup and that they want Traci and Trinity out of their Daisy Dukes (YES!!) and into more contemporary "hip hop gear." (Crap.)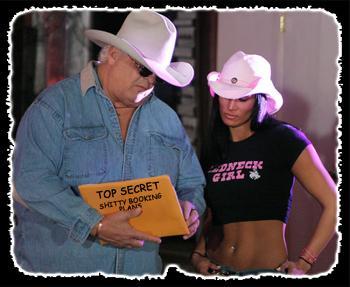 Speaking of country music songs, he lost his partner, he lost his girl, and he's lost most of his matches this year, but dammit, he's keeping his name! Michael Shane is still Michael Shane. After a week of going by his real name (Matt Bentley), the guy actually checked on the claim that Mike Shane of the Shane Twins trademarked the name "Mike Shane" for wrestling. Turned out his "trademark" wasn't valid, so the original MS is back in business. This is so inspirational. It's the exact same thing as the story of Tina Turner in "What's Love Got To Do With It."

Bye, Delta Slam! Brother Bruno & Big Tilly are history. Nobody likes or respects them, they blow up in five minutes, and the only reason they were brought into TNA in the first place was because they were Dusty's chauffeurs/lackeys around the Florida area.

As this week's final note on Deathsplotch '05, Trytan is all done, too. From the Nikita/Goldberg killer push to oblivion in a few weeks. The way Dusty "booked" the Trytan-Monty mess on the last PPV caused just about everyone (including the Carters) to lose faith in the Dream.

Also, Kevin Trash recently gave an interview to the Torch, grousing about the fact that he's winless on PPV. See, I just grouse about the fact that this douche is still ON PPV in the first place.

Apparently, the May PPV will be called "Hard Justice," so the name "Slamiversary" was either scrapped, or saved until the summer.

NWA TNA IMPACT ON FSN (4/8/05)

Show opened with clips from last week's main event where Skipper won a four-way XD match and thus, earned a title shot at Lockdown. Announcers Mike Tenay and Don West vowed that Dusty has a big announcement later in the show.

1) Chris Sabin pinned Michael Shane at 5:50 in the battle of guys who were pinned by Elix Skipper last week. Good action, as you'd expect from these two. Highlight was Sabin tilt-a-whirling himself into a schoolboy for a nearfall. Shane took over with a unique series of holding short-arm clotheslines, but Sabin tumbled out of the last one and flipped them both into a rollup cradle for the pin. Shane snapped and cut Sabin's celebration short with sweet cover music, then did the evil smirk. You know, just like Edge-Benoit on Monday. Except Shane never banged Lita. Um, I think. (Kerry)

Dusty came out with my girls. Traci looks hotter this week. Dusty set up all the stips for the Lockdown matches (see below). But the big bomb announcement (not "bombshell," mind you, but just the big BOMB) was that EVERY SINGLE MATCH on Lockdown will be a "six sides of steel" cage match. This company is guiltier of overkill than Fritz Von Erich. Dusty segued into this announcement by talking about his admiration of a bull's testicles and said, "only me can pull this off." Also, at the PPV, Dusty promised that the whole building will be "locked down." I guess that's a good idea. That way, fans can't run away during Dustin's match. The main event will have "lethal lottery" stips, meaning they'll be doing a knockoff of Dusty's old War Games one-man-advantage rules. Before the show ended, the main event was called a "Lethal Lockdown" match.

2) A.J. Styles pinned Chase Stevens (w/ Andy Douglas & Chris Candido) at 8:37. Not as good as you'd expect as Styles spent way too long selling while Stevens spent way too much time panhandling for heat. The crowd was into Styles' comeback, but Douglas distracted the ref when Styles had Stevens pinned with a vertical neckbreaker. Stevens hit a nice Alabama slam for a nearfall, but Styles flipped out of an attempted powerbomb and hit the Styles clash for the pin. After the match, Abyss entered the ring with a chair, but security held Styles back. (David)

AMW joined the announce table. Chris Harris was happy that they finally got the Cannucks in a cage come Lockdown. James Storm was unhappy because he couldn't wear a headset and his cowboy hat at the same time.

3) Dustin Rhodes & Cassidy Reilly beat Lex Lovett & David Young at 2:30. AMW talked up Dustin, pointing out that they'd wrestled with him and hung out with him for the past few weeks. But the fact that he's the booker's son had absolutely nothing to do with it. Honest. Young tripped Riley's attempted quebrada to take over. By the way, they totally dropped the ball on Riley already. During the Dustin-Raven feud, they should have had Riley turn on Dustin and become a disciple of Raven. Anyway, Dustin got the lukewarm tag, but finish saw Riley pin Lovett after a horrible hurracanrana-style rollup. (Chris)

Tenay interviewed NWA World champion Jeff Jarrett. The "drop the title" chant hit before Tenay could even finish his first setup question. Jarrett and Tenay went face-to-face. I really think they should end the company with Tenay beating Jarrett for the title. Hey, Tenay is their hardest worker and their most-over babyface, so why not? DDP ran-in and attacked Jarrett, then ran away when Outlaw made the save. Um, that's not a very noble act for a babyface.

A stripped-down version aired of last week's Daniels/Skipper promo piece. After the break, Skipper was hitting on a guy from the production crew. I'm serious. Skipper was demanding to take the guy out in a limo after the show. Fortunately for the guy, Daniels walked in to interrupt. COCK BLOCK~! Daniels buddied up his ex-XXX partner. Hmmm…maybe that "cock block" was premature. Daniels pointed out that Skipper hit the hurracanrana off the cage at the famous Turning Point match, but Skipper also got pinned to lose the match. Skipper had a thick skin and laughed him off. Daniels challenged him to go on the spot, but Skipper said that rather than beat him up where no one could see them (he must be following Impact's ratings lately), he'd wait until PPV. This segment was well done.

4) Apolo beat Kid Kash (w/ Lance Hoyt) via DQ at 9:57. Fan sign = "AREN'T YOU GLAD YOU USE DIAL? DON'T YOU WISH KID KASH DID?" Clever, but dated. Kash tore it up, so it must have been planted. Did I just expose the business? Sorry 'bout that. Speaking of exposing the business, the guys totally blew a press slam spot, as Kash clearly landed feet-first, then took a bump. It appeared to be Apolo's fault, unsurprisingly. West talked up the upcoming XD "X-scape" match at Lockdown (Kash vs. Shocker vs. Sabin vs. Shane; first man to escape the cage wins). West said, "All these years, it's always been about STAYING IN the cage!" I guess he's never watched at WWF cage match ever. Kash took over with Hoyt's help. Kash threw a chair into Apolo's face hard. Somewhere in here, Dusty magically appeared at the announce table. Either had editing, or I wasn't paying attention. Or both. Apolo hit a horrible sitout powerbomb, but Hoyt pulled the ref out of the ring for the DQ, three minutes before the time limit. Maybe that was their shout-out to the Bonnar-Swick match on last week's "The Ultimate Fighter." Somebody in this company was watching Spike TV on Monday, that's for sure. Sucky Siaki ran out to even the odds for a four-man brawl. Dusty loved it. Kash worked enough for three wrestlers, but unfortunately, Apolo sucked enough for ten wrestlers. Let it be known that from this day forward, Apolo shall be known as "Aportion." So it is written, so it shall come to pass. Match was WAAAAAY too long, too. (Chris)

To close the show, we were subjected to a scene backstage, with Kevin Nash beating the morale out of Chris Candido and The Naturals for no apparent reason. Whatthehellever.

Overall over-analysis: A couple good bits here and there (Sabin-Shane, XXX confrontation), but mostly, it was just a boring show full of filler.

This Observer's Thumb……………………is down.

Lockdown PPV lineup, all "six sides of steel" cage matches (4/24/05):

"Lethal Lockdown" match (War Games ripoff): Jeff Jarrett & Outlaw & Monty Brown vs. DDP & Sean Waltman & Kevin Nash

#1C match: A.J. Styles vs. Abyss

XD Title: Christopher Daniels vs. Elix Skipper

"Capture-The-Flag" match for NWA World Tag Title: AMW vs. Petey Williams & Eric Young

"Prince Of Darkness" match (a.k.a. blindfold match): Dustin Rhodes vs. Bobby Roode

Tables match: Raven vs. Jeff Hardy

Four-way XD "X-scape" match (first guy out wins): Chris Sabin vs. Michael Shane vs. Kid Kash vs. Shocker
---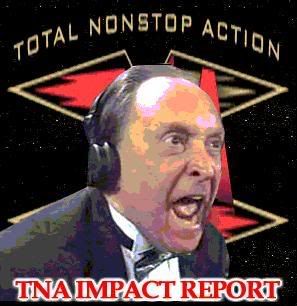 NWA TNA DEATHWATCH UPDATE:

Tick…tick…tick…

NWA TNA IMPACT ON FSN (4/1/05)

Mike Tenay and Don West opened the show by putting over today's main event, a four-way XD match with the winner challenging Christopher Daniels for the XD Title at Lockdown. West excitedly announced that Styles-Abyss was official for Lockdown in a "six sides of steel" cage match, with the winner becoming #1C to Jeff Jarrett's NWA World Title. The hell? I thought Abyss already won a title match contract in the ladder match against Jeff Hardy at the last PPV. Dusty's brainsplotch is totally out of control lately. A.J. Styles joined the announce table for the first match.

1) Abyss killed Cassidy Riley at 1:28. Styles pointed out that Lockdown would be his first SSOS match. The intrigue of seeing what Styles will come up with in the hexacage is strong selling point for the PPV. Abyss hit the rackbreaker, which they finally named the "shock treatment." One black hole slam later, the match was over. (Waldo)


After the bell, 'Byss spotted Styles and retrieved his bag o' tacks from under the ring, but Hardy ran-in and hit the twist of fate. Then Raven attacked Hardy while Styles showed his anger by unconvincingly saying "Aw, come on." Styles followed up this battle cry by hitting the ring and helping Hardy to run off the heels.

Back from commercial, the announcers further hyped today's TV main event. What followed was a kick-ass historical package on Christopher Daniels and Elix Skipper. From their days as XXX to a recap of the recent events that sparked their feud. I was about to joke that this vignette should have had a "spoiler" warning, but then it closed by outright SAYING THAT DANIELS WOULD DEFEND AGAINST SKIPPER AT LOCKDOWN!!

Tenay had a sitdown interview with Monty Brown, trying to solve the mystery of the screwpounce. Monty basically said that he was tired of waiting to get "pushed," so he decided to "screw up their PPV." Yet another guy in wrestling trying to take credit for the Dream's accomplishments. Monty closed the interview by – and I swear to Ronnie James Dio that I'm not making this up – vowing that come Lockdown, himself, Jeff Jarrett, and Outlaw "will be like Pee Wee Herman in a movie theater; WE WILL HOLD OUR OWN!!"

An avant garde vignette aired, featuring all the talent. Text ghosted in, saying "It is not the critic that counts … The credit belongs to the man who is actually in the arena … Whose face is marred by sweat and blood … Who strives valiantly … Who errs and comes up short again and again … Because there is not effort without error and shortcoming … But who does actually strive to do the deeds … Who knows the great enthusiasms … The great devotions … Who at best knows the triumph of high achievements … And who at worst, if he fails, fails while daring greatly … So his place will never be with those timid souls … Who know neither victory nor defeat." Guys, if you want me to stop making fun of you, just ask. You don't have to embarrass yourselves thusly.

Intros started for the main event. Tenay asked West to tell the folks what the winner of this match would earn. It's a new carrrrrrrrrrrrrrrrrrrrr!! Daniels was back at the announce table to put some hair on the sac of today's show.

"Total Nonstop Action, My Ass" Stopwatch: 36 minutes into the show, we've had 88 seconds worth of wrestling.

2) The prophetic vignette came to pass when Elix Skipper won a four-way XD "shootout" elimination match over Chris Sabin, Michael Shane and Petey Williams (w/ Coach Scott D'Amore) to earn the XD title shot on PPV at 21:21. Primetime and Sabin started fast with numerous nearfalls. Crowd stayed hot and appreciative throughout the match. Double-tag saw Shane face off with Petey. They traded chops, followed by Petey's "O Canada" spot. Daniels pointed out that Petey never gave him a title shot when Petey was XD champ. PT got tagged in, and sent Shane out with the Cactus clothesline. Petey then hit a hurracanrana on PT at ringside, and the can-you-top-this game concluded with a breathtaking Asai moonsault from Sabin. Commercial break.

Oh, hell. Larry The Fucking Cable Guy is still sponsoring the replays, so now we have to listen to Don West yelling Larry's "Git-R-Done" catchphrase for the rest of time. Granted, TNA's "rest of time" is maybe another month, but still. Petey went for the Canadian Destroyer, but Shane hit sweet cover music, allowing Sabin to eliminate Petey with a rollup at 6:36. Why the hell would Shane save Sabin in an every-man-for-himself match? Daniels hilariously feigned disappointment because he "wanted to face Petey" at Lockdown. Once Sabin crotched Shane, PT walked the ropes and hit his hurracanrana for a nearfall. PT started yelling at Daniels, allowing Shane to recover (way too quickly) and get the drop on PT. Daniels said "Elix has a focus problem" because he's too focused on Daniels, and not the match at hand. After escaping each other's finishers (sweet cover music and play-of-the-day respectively), Skipper caught Shane with "sudden death" (a.k.a. Nova's kryptonite krunch) and dispatched him at 11:28. Sabin rejoined the match with a nice springboard dropkick on PT as they went to their final commercial break.

The fresh Sabin was all over PT, featuring an awesome sequence where he hit a SWEET powerslam into a handspring into a senton. Skipper had a hope spot with a spinkick (that missed), but Sabin cut him off with a stiff clothesline. At this point, Daniels was talking a mile a minute, as if the match had even his adrenaline buzzing. Very nice touch. Sabin hit the tornado DDT for a nail-biting nearfall. Big chant of "Hail Sabin" from the crowd. More hope spots from PT, more blocks from Sabin, including a running sit-out powerbomb for another dramatic nearfall. Sabin was outmaneuvering PT at every turn, but couldn't put him away. Sabin gave PT a European uppercut to snag him in a reverse tree of woe for a unique visual. Sabin went for a superplex, but PT threw him off and hit a spinkick off the second rope. Tenay pointed out that these guys had been going balls to the wall for over 20 minutes. Unfortunately, he didn't use those exact words. Dueling chants in full effect. Sabin caught PT out of the corner and went for the cradle shock, but PT escaped. Sabin tilt-a-whirled himself around PT, but PT stopped him in mid-move and stuck him with sudden death for the win. Huge well-deserved standing O from the fans. Even exhausted, PT was still trash-talking Daniels, who was struck speechless. Outstanding match from four of TNA's best, and Daniels only added to the fun. Other than the missed kick and the Kwik-E-Mart selling from Shane, it was easily one of the five best matches in Impact history. (Kerry)

Overall over-analysis: This week, they laid the groundwork for A.J. Styles to become new #1C to wind up facing (and hopefully beating) Jeff Jarrett for the World Title at the Slamiversary PPV in May. But is it too late to say they're sorry? And what the hell was up with that 21:21 time for the main event? Subliminal advertising for WM21 this Sunday? Does Vince own them already? Anyway, today's Impact was a one-match show, but what a match it was.

This Observer's Thumb…………………is up.

-HDS-

Lockdown PPV lineup (4/24/05):

"Six Sides Of Steel" cage match: Jeff Jarrett & Outlaw & Masturbating Monty Brown vs. DDP & Sean Waltman & Kevin Nash

"Six Sides Of Steel" cage match: A.J. Styles vs. Abyss

XD Title: Christopher Daniels vs. Elix Skipper

NWA World Tag Title: AMW vs. Two members of Team Canada

Dustin Rhodes vs. Bobby Roode

Raven vs. Jeff Hardy (?)