Navigation:
March 05, 2005
March 11, 2005
March 18, 2005
March 25, 2005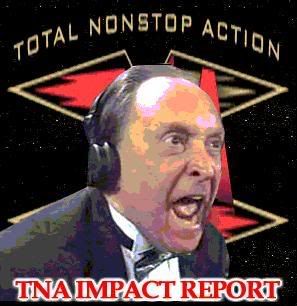 NWA TNA DEATHWATCH UPDATE:

Tell mom not to cry; TNA will still be around come Mother's Day in May. Dad might get hosed the following month, though. All eyes will be on what TNA is hoping will be their biggest show ever, their third-year anniversary PPV, May's "Slamiversary." While I'm not saying that I don't have high hopes that this will be the show that saves the company, I'm not adding the word "Slamiversary" to my spell-check dictionary just yet.

Scott Hall isn't around right now because…ah, hell, you know how this sentence is gonna end.

As everyone knows by now, Roddy Piper will be inducted into the WWE's HOF the night before he hosts a "Piper's Pit" at WM21. Obviously, Piper forsook his job as TNA "enforcer," which Dusty bestowed upon him in early January. Piper has been so prominent in his enforcing duties, I didn't even realize he'd left TNA until just now. How well the Pit gets over at WM21 is almost irrelevant. I would think that the WWE would sign him as a spokesperson for the 24/7 promotion, if nothing else. Say what you want about Hot Rod (and we all have), but the reality is that he's probably the third most well known American wrestler alive today. (Hogan and Rock outrank him, but everyone else is arguable at best.) In fact, during my Victory Road party, he was the only guy anyone recognized or remembered. For TNA, a company that puts such an emphasis on star power, the Rodectomy is a huge blow.

Speaking of star power and things that blow, Dusty continues to push the has-beens while ignoring the X Division workers. Sonjay Dutt was an extra on Smackdown a couple weeks ago as part of a JBL angle.

NWA TNA IMPACT ON FSN (3/25/05)

Show opened with T&T in Dusty's office. Abyss jumped in bed with them as a teaser. Ahem. Bed of the pickup truck, that is. Though come to think of it, that's even kinkier.

After Mike Tenay and Don West welcomed us to the show, we were then treated to the exhilarating conclusion of the Abyss/T&T saga. What, no "earlier tonight" flashback to bring us up to speed? People who just tuned in must have been totally lost. Anyway, 'Byss wanted a shot at the World Title, but Traci couldn't find the contract, so Abyss angrily posed at the ladies. Real Man's Man A.J. Styles took exception to this and showed up to have a pull-apart with Abyss. I guess that's how they're going to set up Abyss-Styles as one of the cage matches at Lockdown. He posed at defenseless women! This can only be settled in six sides of steel!!

1) In his Impact debut, Trytan killed Buck Quartermain at 2:08. Buck still doesn't have his new manager with him (Jonny Fairplay). Trytan won with an F5, which Tenay said they were ordered to refer to as "T3," as in, it leads to Trytan achieving a 1-2-3. Dusty thinks this guy is money, so we'd all better get used to it. (Waldo)

That commercial aired for Jeff Jarrett on Blue Collar TV with the stars of the show singing his praises. They didn't even edit out the one comic calling him "Double-J."

Backstage, Konnan confronted Outlaw. The rest of 3LK soon intervened. Coleslaw blew off K-Dawg, but vowed that he had "business later" with B.G. James. This news displeased Konnan, who confronted B-Jizzle once again. B.G. just threw up his hands and walked off.

2) Jeff Hardy & Shocker beat David Young & Lex Lovett at 5:01. When did they bring back the Lethal Lottery? Jeff hit the old "poetry in motion" on Young. The announce team still didn't call it by name. The Orlando crowd continues to warm up to Shocker, who continues to rule. Awkward spot saw Hardy whip Lovett under the ropes to the floor. Lovett hit an invisible speed bump on the way out. Heat on Hardy, including a clever spot that saw LL suplex Hardy and roll through into a front facelock-style submission. Another sloppy spot saw the heels have to stand still for way too long as Hardy climbed to the top and hit the twisting senton. Shock got the hot tag and hit both heels with a split-leg dropkick off the top rope. Hardy gave Lovett a pescado, followed by Young getting pinned with a Shockwave. As good as Shock was, the other three were hopeless. (Mike)

Backstage, Kevin Nash was doing his strict training regiment of holding up a wall. Michael Shane (and apparently, he's back using that name again this week) walked by, so Nash's lazy ass asked where was DDP. Michael stooged off Page straightaway. I guess this was Nash's idea of "giving the rub to a young guy."
3) The Hairless Brothers (w/ Traci) squashed Shark Boy & Cassidy Riley at 3:33. Shark's theme music (a goofy knockoff of the famous "Jaws" theme) is the only non-sucky entrance music in the good company, if only because it fits his character to a T. Speaking of which, Traci's outfit was easily the highlight of the show so far as she led the DUD (Disciples Uf Destruction) to the ring. Shark got to bite Traci's butt, the lucky bastard. Riley then fell to the H-bomb, as Traci continued to sell her ass. Damn it, the innuendos are writing themselves this week. Anyhoo, Shark and Riley did what the could, but it was still a Ron & Don squash. I don't even care enough to ask who the babyfaces were supposed to be. (Waldo)

This bout's replay was brought to you by the new comedy CD from Larry The Cable Guy. I kid you not.

DDP walked through the crowd for his interview. It'll be good practice for when he's selling hot dogs at sporting events in a couple months when TNA goes out of business. That's right, I'm bitter this week. I know I'm funnier than Larry The Fucking Cable Guy, yet I have no CD or Harris Brothers replay of my own. Where's the justice? DDP screwed up the name of the stip match for his upcoming PPV main event, calling it "six walls of steel." Dusty came out with my girls to officially make DDP & Nash & Waltman vs. Jarrett & Outlaw & Monty Brown as the Lockdown main event. Dusty retreated back to his pickup with my girls, leaving DDP to cut a promo on Monty. Exact quote: "Any fool that would align himself with Jarrett is a true fool." Ahhh…I understand. To beat Monty, you have to cut promos like Monty. It all makes sense now. At least he didn't call him "Alpha Scum" Monty Brown. Jarrett interrupted DDP from the big screen. It looked like Outlaw and Monty were beating the crap out of someone, but we couldn't see it worth a damn. Oh, it was Nash.

Backstage, Jeff Hardy was going to a pajama party somewhere. Raven stopped him to ask directions to it. Also, he wanted to be Jeff's new partner. Jeff politely turned him down on both. Raven felt disrespected.

4) Apolo pinned Sonny Siaki at 2:39. Long, slow power-vs.-power match. Even in fast forward this thing dragged like a cross-dresser at the Indy 500. Apolo missed a HORRIBLE kick, allowing Siaki to hit his knees-to-the-back move. Then Siaki charged at Apolo in the corner, but Apolo leapt up and was supposed to roll him up for the pin. It looked awful, like it was in super-slo-mo. Match was so bad, it was insulting. Amateur hour, all the way. Even the hot Orlando crowd cooled off, which I didn't think was possible. After the match, they shook hands to no reaction. I'd even go as far as to say it was the worst match in Impact history. (kevin)

HALLELUJAH~! Kid Kash (w/ Lance Hoyt) came out afterwards to save my attention span. Kash asked if his eyes deceived him, or did those two guys just "love all over each other" after a match that, "in my opinion, really sucked." Kash further pointed out that "the show is called 'TNA wrestling,' not the 'Puerto Rican/Samoan Soap Opera.'" Actually, it's called "Impact," but don't worry. I'm TIVO'ing "The Puerto Rican/Samoan Soap Opera" in the other room. Siaki called them "Dumb and Dumber" twice. Nobody laughed. Siaki called them out, but Kash replied, "You wanna get your hands on me? That's exactly WHY I'm not coming down there, ya weirdo. I'm not like THAT, okay?" Siapolo chased off Kash and Lance. This wasn't quite a show-saver, but Kash was still damn good in his role and the best heel on FSN yet.

Mean Shane interviewed Dustin Rhodes. It's Dustin vs. Bobby Roode at the PPV. Dustin said that there has never been a Canadian who whooped a Texan. I SO thought they were going to bring up Bret vs. Shawn. Roode and Scott D'Amore interrupted for a face-to-face that went nowhere.

5) NWA World Tag champions AMW beat Phi Delta Slam (w/ Trinity) in a non-title match at 6:55. Okay, this week, Trinity is hotter than Traci. The frat boys gimmick has potential…just not with these two loads. PDS is kinda like 3 Minute Warning for me: Love the gimmick; hate the big oafs doing it. Clever bit saw Brother Bruno accidentally-on-purpose get his leg up to low-blow Chris Harris on a float-over out of the corner. James Storm finally got the hot tag and laid out both of PDS. Finish saw AMW go for the death sentence on Bruno, but Team Canda ran down and broke up the move. All the heels beat on AMW, with Big Tilly going for the "hully gully" (top-rope splash) on Storm, but Dustin ran-in and saved the day, battling everyone by himself. Because he's a Rhodes, if you weel. Bad match, though AMW did try. (Chris)

Overall over-analysis: No good matches, lowlighted by the single worst match in Impact's history (Siaki-Apolo). They planted the seeds for some future matches, but I have zero interest in any of 'em. Raven-Hardy? Dustin-Roode? Siapolo-Kash/Hoyt? Konnan-Outlaw-B.G.? AMW-Team Canada? AGAIN? Then there was the insanity that was the whole "Hey, I've got a kooky idea! Let's do a cage match with A.J. Styles and Abyss for the hell of it!" Take away Kash's rant and the two Ts, and this was the worst Impact ever. Hell, even including Kash's rant and the two Ts, this was STILL the worst Impact ever.

This Observer's Thumb…………………is WAY down.

-HDS-

Lockdown PPV lineup (4/24/05):

"Six Sides Of Steel" cage match: Jeff Jarrett & Outlaw & Monty Brown vs. DDP & Sean Waltman & Kevin Nash

"Six Sides Of Steel" cage match: A.J. Styles vs. Abyss (?)

XD Title: Christopher Daniels vs. winner of next week's four-way main event (Elix Skipper vs. Petey Williams vs. Chris Sabin vs. Michael Shane)

Dustin Rhodes vs. Bobby Roode
---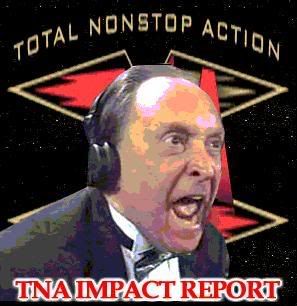 NWA TNA IMPACT ON FSN for (03/18/05)
DESTINATION X PPV RESULTS (3/13/05)

* Chris Candido & Andy Douglas beat Lex Lovett & Buck Quartermain (Countdown show)

* Kid Kash & Lance Hoyt beat Cassidy Riley & Jerrelle Clark (Countdown show)

1) Petey Williams & Bobby Roode & Eric Young & Alistair Ralphs beat AMW & Konnan & B.G. James

2) Chris Sabin pinned Chase Stevens. Shocker made his surprise TNA debut running-in after the match to save Sabin from an attack by The Naturals and Candido

3) Dustin Rhodes beat Raven in their bullrope rematch

4) Team Traci (The Hairless Brothers) beat Team Trinity (Phi Delta Slam) so Traci gets to be Dusty's "permanent" assistant…supposedly

5) In Monty Brown vs. Trytan, the lights went out, Trytan disappeared, then a masked guy showed up, so Monty pounced and pinned the masked guy

6) Jeff Hardy pinned Abyss in their "Final Assault" FCA rematch, then got black-hole-slammed onto a bunch of thumbtacks

7) Outlaw beat Kevin Nash in a no-DQ taped-fist first-blood match after Jeff Jarrett interfered and screwed Nash

8) Christopher Daniels won the four-way Ultimate X match over A.J. Styles & Elix Skipper & Ron Killings to win the XD Title. It was a screwy finish as Styles actually retrieved the belt from the cables, but Daniels snatched it away

9) Jeff Jarrett pinned Diamond Dallas Page to retain the NWA World Title in the "Ringside Revenge" match after Monty Brown turned heel and screwpounced DDP

* Jonny Fairplay is now managing Lovett & Quartermain…supposedly

NWA TNA DEATHWATCH UPDATE:

They're about to enter the fourth quarter of Dusty's deadline. In what might be the make-or-break moment, A.J. Styles' contract is up a couple of months, and he's expressed interest in leaving for the WWE. If TNA loses its most popular wrestler, you can official bring out the fork.

Dest X was not nearly as well-received as previous TNA PPVs, effectively killing the biggest positive buzz the company had going for it. Also, in another cost-cutting measure, they've expanded the Impact tapings from two weeks' worth of shows at a time to three. No more seconds at the water cooler, either.

The best TNA news of the week was that apparently a couple nip-slip pics of Traci surfaced on their website. About freakin' time they rewarded me for watching.

NWA TNA IMPACT ON FSN (3/18/05)

Stills of Dest X opened the show, followed by Jarrett's backstage victory celebration. JJ now "owes one" to Monty. So THAT'S who's been writing Monty's promos lately! Suddenly, it all makes sense!

1) New XD champion Christopher Daniels pinned Jerrrelle Clark in a non-title match at 2:35. The intro graphic said "Jerrelle," but the Fox Box said "Jerelle." Might as well use all three Rs just to be on the safe side. Daniels looks so awesome with the belt, it's not even funny. Best thing they could do at this point is to have A.J. win the World Title, then build it up for a title vs. title match. Huge "Fallen Angel" chant, as Daniels is TNA's resident heel who is so great and so cool, that the fans can't help but give him his due. (Think Randy Savage in mid-80s WWF.) Fans even loudly counted along with the ref when Daniels got the pin with Angel wings. (David)

After the match, Daniels took the mic and put over his PPV win, pointing out that he beat three guys who, respectively, held the XD Title, Tag Title, and even the World Title. Daniels said that he should be the flagship wrestler of the company and declared himself "Mr. TNA." Um, this may not be the best time to hitch your horse to that wagon, buddy. This prompted Elix Skipper to come out and scoff at his former partner. PT was supposed to be the babyface in this deal (as Daniels double-crossed him at the PPV), so the crowd welcomed him with a chant of "Primetime sucks."

2) Kid Kash (w/ Lance Hoyt) squashed Mikey Battsh at 3:54. Don West said that the pre-show match with Kash & Hoyt vs. Riley & Jerrrele was "one of the best matches I've ever seen." He was doing so well all these months, too. Bad timing as they stuffed a clothesline-over-the-ropes spot, then Batts took way too long setting up a pescado. Hoyt did the press-throw over the top rope, but barely cleared the ropes. Kash did what he could to salvage the match with two nice flying clotheslines. Na-na-na-na-nananana-Battsman seriously needs to improve his selling. A good start would be to actually start selling something. Anything. Batts hit an implant/impaler/Edgeacution DDT, but Hoyt distracted Batts and decked him when Kash tied up the ref. Kash hit a SWEET match-saving "Kashspring" dropkick, then got the pin with a moneymaker. Kash overprotected the hell out of Batts on the finish, but I guess that's better than the alternative. Owen didn't protect Austin at SummerSlam 97 and look how that turned out for both of them. (Mike)

I admit it, I ruined it for us all. I was thinking, "What in the name of Joanie Laurer's jockstrap is going on here? It's 21 minutes into the show and we've only had wrestling with no skits yet!" Lo and behold, it's time for this week's edition of "As The Kru Turns." Konnan is still upset with B.G. James for dipping his nachos in Outlaw's sour cream.

3) NWA World Tag champions AMW & Dustin Rhodes beat Chris Candido & The Naturals at 3:23. Mike Tenay, the greatest PBP man of our generation, put over the history between AMW and the Nats. Largely a squash with AMW doing nice spots like flipping Candido into a Dustin powerbomb. Does that count toward their community service as helping the old and infirmed? Finish had James Storm pin Andy Douglas after the death sentence. Remember all those months AMW spent chasing the Nats, who were doing the Roadrunner bit where AMW could do everything to them except capture that elusive pinfall victory? I would have had Candido do the job, just so they could have the Nats play the "you've never beaten us" card. Since XXX split and Shazarian fell apart, it's not like there's a line of Tag Title challengers wrapped around the block, you know. (David)
Tenay welcomed Jarrett (w/ Outlaw) to the ring. You know, I pay so little attention to these things, they could just keep rerunning the same Jarrett "King Of The Mountain" promo week in, week out. Jarrett could give out his credit card number and he'd be safe in my eyes. West said JJ was "surrounded" by Outlaw. Whatthehellever. Fans immediately chanted "drop the title" at Jarrett. Credit where it's due, Jarrett did drop the belt to the mat, then picked it right up again and laughed. Now THAT was funny. For once, I listened, hoping to use Jarrett's credit card to purchase the new Red Dwarf DVDs that came out this week. Tenay wants to know how Jarrett pulled off the screwpounce. Jarrett said that he convinced Monty to turn against DDP by promising him an elusive opportunity at the World Title. At least they offered up an explanation. Jarrett intro'ed Monty to the ring, claiming he "always respected" the Alpha Male. Fans chanted "you sold out" at Monty. Monty and Jarrett gloated while Angry Mike Tenay rocked the sourpuss and mouthed something angrily. Monty actually cut a good heel promo, vowing to pounce the world. Something of a letdown after previous weeks' sermons about Voltron, Orson, Hank Hill, and the Little-Head People.

Backstage, Dusty was still with both girls. Three way cleavage-off ended with Dusty screwing Traci both in theory and (suggestively) in practice, as he said that T&T were still both co-personal-assistants anyway, PPV stip match be damned. It's good to be the booker.

4) In his TNA debut, Shocker squashed David Young at 2:01. If you've never seen Shocker before, run out and pick up some tapes of his CMLL matches against Ultimo Guerrero, ASAP. The guy has charisma to spare, plus he's a good hand in the ring, too. Tenay put over the fact that he's a major superstar in Mexico. The Orlando crowd got hip to him soon enough. Shock got the pin with his "Shockwave" rollup, then strutted and danced for the appreciative fans. Very good debut. (David)

5) DDP & Sean Waltman (w/ Kevin Nash) beat Lex Lovett & Buck Quartermain at 8:47. Hey, isn't JFP the new manager of QuarterLove? The hell? Nash joined the announce table for commentary. Wait, is he a babyface now? I really need to sign up for those e-mail updates from TNA. Big Kev recapped Sean's appearance on a recent "Surreal Life," saying he beat up Peter Brady and left with Da Brat and two "40s." What's even sadder than Nash trying to be hip? The fact that they forced poor Mike Tenay to laugh at his jokes. Remember those awful 1-800-COLLECT bits with Lee Marshall on Nitro/Thunder? Yeah, this was THAT bad. Great timing for the commercial break. Heat on Waltman, including a SICK back suplex where Waltman landed right on the back of his head. DDP got the hot tag with 1:55 left on the clock. Waltman did a double bronco buster, then DDP hit the diamond cutter on Buck for the pin. Too long, too boring. After the critically-acclaimed Rockers reunion on Raw, this was not the best week to do a "superstar tag team" main event. (Mike)

After the match, Nash called out Dusty. Trinity is this week's "Hottest T," hands down. Nash campaigned for a cage match pitting himself & DDP & Waltman against Jarrett & Outlaw & Monty at the next PPV. Dusty said he'd give his answer next week, then took off with his harem. I guess this was a cliffhanger. I'd better spray pesticide on my fingernails immediately, otherwise I might bite them clean off.

Overall over-analysis: An unfocused show. They didn't really push the PPV replay as well as they usually do. They did start laying the seeds for the next PPV, but since they have six weeks, there's no hurry just yet. While nothing was worth going out of your way to see on this show, the fact that they upped the wrestling quota while severely limiting the backstage skits is a giant step in the right direction and enough to leave me with a positive feeling on today's show.

This Observer's Thumb…………………is up.

-HDS-

(Implied) Lockdown PPV lineup (4/24/05):

"Six Sides Of Steel" cage match: Jeff Jarrett & Outlaw & Monty Brown vs. DDP & Sean Waltman & Kevin Nash (?)

XD Title: Christopher Daniels vs. Elix Skipper (?)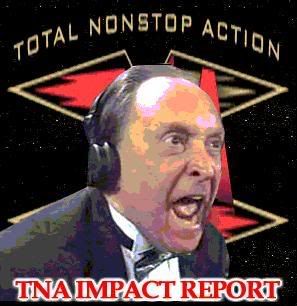 NWA TNA IMPACT ON FSN for (03/11/05)
NWA TNA DEATHWATCH UPDATE:



Nothing new to report on this front. The ban on TNA guys working for ROH is now over so guys like A.J. Styles and Christopher Daniels can go back just in time for ROH NAMBLASlam or whatever stupid shit they're doing this week.

NWA TNA IMPACT ON FSN (3/11/05)

This is the "11th hour" show before the Destination X PPV.

1) Raven & Abyss squashed Cassidy Riley & Mikey Batts at 2:19. Weren't Raven and Abyss so cross with each other that they had settle their matter in an implausible "Monster's Ball" match at TNA's first three-hour PPV? Riley got the hot tag and was going Scrappy Doo on Abyss until Raven floored him with the worst missed dropkick you'll ever see on broadcast cable (this week). 'Byss caught Batts from the top rope, pressed him, and threw him over the top to the floor in a SICK bump. Abyss drilled Riley with the black hole slam for the pin while Raven ankle-locked Batts on the floor. After the bell, Jeff Hardy showed up on the ImpactTron and punked out Abyss. The reception was really crappy. I know money is tight, but TNA desperately needs to invest in a plasma screen. Or at least, a new roll of tin foil for their antennae. (Waldo)

Mike Tenay brought NWA World champion Jeff Jarrett into the hexaring for an interview. At least this week, JJ is wearing a battleship-gray suit, having dropped his day-glo-orange-trousers. Hey, speaking of dropping trou, DDP came out and cut one of his embarrassing ass-kissing promos from the crowd, trying to get the crowd to chant along with everything he said. "Enuff Z'Nuff" isn't just an obscure rock band that no one remembers but me.

XD champion A.J. Styles joined the broadcast table just in time to see my girls have a cleavage-off in Dusty's office. Traci won. Matt Bentley (formerly known as Michael Shane) dropped by to see Dusty, but he was MIA. Probably at one of the 23 lunch hours he takes during a day.

2) Christopher Daniels pinned Chris Sabin to qualify for the Ult X match at Dest X at 3:51. Have you ever stopped and tried to count how many kick-ass wrestlers are named "Chris?" These two, Chris Benoit, Chris Jericho, Christian, Chris Candido, Chris Kanyon, Chris Adams, Chris Masters, Christy Hemme, Chris Von Erich…okay, screw that theory. Anyway, this was an awesome whirlwind of a match, with everything timed well and looking great. Finish saw Daniels escape the cradle shock by grabbing the ref's shirt, then hit Angel wings for the pin. (Kerry)

Backstage, Konnan confronted Outlaw. They had words, and as bad as the acting was, I actually was amused by the time it got to K-Dawg calling him "Coleslaw," prompting Slaw to fire back, "Talking about a taco and a burrito, right?" The rest of 3LK came in for a pull-apart, with the gist of it being that Konnan is jealous of Outlaw's advances toward B-Jizzle.

3) In his real TNA debut, Outlaw pinned Sonny Siaki at 2:54. Siaki got in enough offense so that this wasn't a total squash, but still, they shouldn't be feeding Siaki to Coleslaw, deathwatch or not. Finish saw Outlaw win clean with the Rocker dropper/Fameasser, which they'll probably have to rename now. Out of all his various personalities over the years, Coleslaw then did his old "holster the pistols" motion from his days as a Smoking Gunn. Ummmmm…okay. (Waldo)

Party in Dusty's office! Dustin pulled Traci onto his lap, but she rebuked. Bad career move, Trace. He is the booker's son, you know. Trinity, on the other hand, had no problem lapdancing Chris Harris. Team Canada showed up and challenged the hicks. This was like six bad angles in one.

4) The Disciples Of Destruction (w/ Traci) squashed Buck Quartermain & Lex Lovett at 1:28. The Hairless Brothers rode motorcycles to the ring. I don't think anyone told them that the only reason the gimmick was over in 1997 was because the alternative was cheering for Los Boricuas. Lovett got pinned after an H-bomb, and it's really stupid to keep calling their finisher that if there isn't a letter "H" in their latest tag team name. Phi Delta Slam attacked after the bell, but were run off by the DOD. At least we got to see Traci and Trinity again. (Waldo)

Back in the office with Dusty and my girls, Dust and Kevin Nash were sitting on the tailgate, reminiscing about Dusty's past grudge matches. TNA's biggest ass meets TNA's biggest asskisser. How did I not see this coming. Coleslaw showed up with Generic Lawyer Guy. Now Nash vs. Slaw is a taped-fist match. What ever happened to the wrestling rule that stated you had to have a REGULAR match before a grudge match with stips?

5) David Young (w/ Chris Candido & The Naturals) pinned Shark Boy at 1:45. Shark had the pin after a neckbreaker, but the Nats distracted the ref. Shark went for the DSD, but Candido stopped him. Young then caught Shark off the second rope in an awful-looking spinebuster for the pin. They sold it as a major upset. This SO didn't work. Need I mention that they have mere hours left to sell their next PPV? (kevin)

Monty Brown joined the announce table. Monty seemed exhausted from his promo last week. For that matter, so am I. Monty proclaimed that Jeff Jarrett wasn't "King Of The Hill," but rather, "Hank Hill." Was he insinuating that Jarrett has a narrow urethra? Mysteries abound.

6) In his TNA debut, Apolo pinned Lance Hoyt (w/ Kid Kash) at 4:51. Hoyt is slowly improving. This week, he transcended "suck" and moved to "blow." At this rate, he might even be "watchable" by summer. You never know. Apolo no-sold Hoyt's chops in the corner, but Flair-Sting this was not. Zero heat for Apolo's comeback. Finish saw Apolo bump Kash off the apron, then give Hoyt a weak-ass stunner out of a full nelson. Apolo isn't horrible, but he's a sad substitute for Hector Garza. I think Dusty should have just ordered Garza to try coming back to America under a mask as "The Mexican Midnight Rider" or something. (Chris)

After the match, the lights went out, so Monty sprang into action, readying himself at the entranceway. But Trytan again outsmarted the Alpha Male by showing up in the shadows of the ring. As Monty stomped down to confront him, the show ended cold, without even one last sell for the PPV.

Overall over-analysis: Not a good 11th hour show by any means. Number one, no Tag Title match on the PPV. I understand that they're running out of teams to feed to AMW, but the 8-man tag buries your franchise team. Number two, both Christopher Daniels and Elix Skipper are in the Ultimate X match on PPV, kinda-sorta reuniting XXX, one of TNA's best and most-over teams ever. The announce team mentioned this exactly zero times. Take the Chris-Chris match out of the equation, and the show stunk from a workrate standpoint. Even four segments with T&T couldn't save this show.

This Observer's Thumb…………………is down.

-HDS-

Destination X (3/13/05) PPV lineup:

Told ya so. "Ringside revenge" match (a.k.a. lumberjacks with chairs) for NWA World Title: Jeff Jarrett vs. Diamond Dallas Page

Ultimate X match for XD Title: A.J. Styles vs. Christopher Daniels vs. Elix Skipper vs. Ron Killings

8-man-tag: AMW & Konnan & B.G. James vs. Team Canada

Monty Brown vs. Trytan

"Final assault" FCA rematch: Jeff Hardy vs. Abyss

Bullrope rematch: Dustin Rhodes vs. Raven

No-DQ taped-fist match: Kevin Nash vs. Outlaw

Winning lady gets to be Dusty's permanent assistant: Team Trinity (Phi Delta Slam) vs. Team Traci (The Hairless Brothers)
---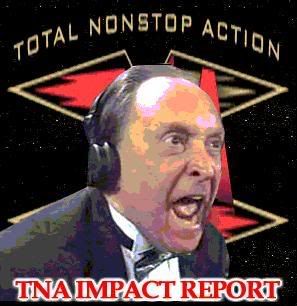 NWA TNA IMPACT ON FSN for (03/05/05)
NWA TNA DEATHWATCH UPDATE:

Well, Amy screwed around with Adam, so now Matt is heartbroken. Meanwhile, Randy did questionable things to that OTHER Amy on a flight, which could be a bone of contention down the line. Oh wait, that's the deathwatch for that OTHER wrestling company. No major new developments in TNA's deathwatch this week, and in this case, no news is definitely good news. But the clock is still ticking…

NWA TNA IMPACT ON FSN (3/4/05)

Show opened with Mike Tenay and Don West putting over today's main event, an XD Title match with A.J. Styles defending against Kid Kash. They hit the "champ might not make it to the PPV" angle to perfection. This is already the best Impact in months.

Dusty came out with my girls. Trinity looks hotter than Traci this week. Dusty talked about TNA's "open door policy," which I presume is the policy that says they must all take their belongings and leave through an open door when they close up shop in a month or two. Dusty welcomed Apolo to TNA. Apolo came out and cut a promo in spanish. Apolo got the disgraced Hector Garza's spot as the new "Latin Sensation" after they couldn't sign Shocker. Dusty ordered Jeff Jarrett to meet with him "within 30 minutes." Then he ordered several large pizzas, but that was off camera.

1) Chris Sabin pinned Michael Shane at 4:03 in an "XD shootout." This is Shane's last match under that name. Starting soon, he'll be going by his real name (Matt Bentley) as a singles babyface. Tenay put over their history together, and as you'd expect from two of the better workers in the company, this was a good, fast-paced spotfest. Highlight was Shane hitting a swinging neckbreaker off the second rope. Finish saw Sabin win with a cradle shock after Shane missed sweet cover music. I'm gonna miss that joke. (David)

A feature aired with some of the comedians from "Blue Collar TV" praising Jeff Jarrett, who did a sketch with them. From what they showed, Jeff looked great, except one of them called him, "Double-J Jeff Jarrett" while putting him over.

Mean Shane announced that Trytan would face Monty Brown at the next PPV (which he erroneously called "Final Destination"). Mean Shane brought in Monty to comment, and what follows is a complete verbatim transcript of Monty's promo. You've just gotta read it to believe it, folks.


(Monty's "robot voice"): Tryyyyy-tan…

(Back to Monty's normal shouting promo): …you have earned the attention of the Alpha Male! And now you've got two choices you need to make! First, take that little spaceship you came here on to the nearest muffler shop! And with all that smoke you come in with, you obviously need to get your exhaust fixed or your oil changed! Then fire that bad boy up and head straight back to the land of the Little-Head People and tell your leader that the Alpha Male is too much male for you to handle! Or better yet, Shane, why don't you contact him telepathically!

(Monty shuts his eyes and goes into a telepathic trance): Trytan, calling Orson. Come in, Orson. Trytan, calling Orson. Come in –

("Orson" interrupts both "Trytan" and Monty at this point): TRYYYYTAN! HAVE YOU CONQUERED THE GREAT ALPHA MALE YET?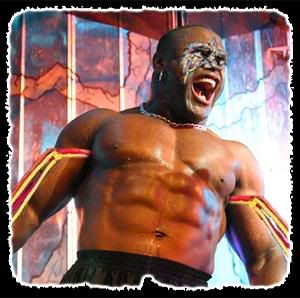 ("Tryan" Telepathy Trance II): No, Orson, I haven't. For the great Alpha Male is a supreme being and is too much male for me to handle.

(This angers "Orson"): WELL, TRYTAN, FOR THE LOVE OF ALL THE LITTLE-HEAD PEOPLE, YOU EITHER FACE THE ALPHA MALE OR SUFFER THE CONSEQUENCES!!

(Back to Monty Prime again): And suffer the consequences, you will, Trytan! Because at Destination X, you will be executed, exterminated, and POOOOOOOOOOOOOOOOOOOOOOOUNCED…PERIOD!
Mean Shane looked shell-shocked as Monty left, and for once, I agree with him. Between this week and last week, Monty's promos have caused much discussion around these parts. They don't make me want to buy the PPV, but much like Ultimate Warrior and Sid, you have to laugh at this super-intense guy screaming nonsense under the mistaken impression that he's being deep and/or philosophical.



2) Chris Candido & The Naturals beat Elix Skipper & Mikey Batts & Petey Williams (w/ Coach Scott D'Amore) at 3:35. They sold that Dusty put this match together, with Skipper and Petey unhappy at being forced to team with each other (they faced each other on the last PPV). Petey set up Chase Stevens for a Canadian Destroyer, but Andy Douglas clotheslined Petey. In theory, anyway, because Douglas totally blew the move. Batts was supposed to hit a stunner on Stevens (they whiffed it) followed by an enziguiri (they hit that okay, though). Then they did a Nasty finish where Batts covered Stevens, but Candido broke up the pin with a diving headbutt and put Stevens on top for the pin. (I call that the "Nasty finish" because the drop-something-on-a-pin-and-make-the-pinnee-pin-the-pinner is how The Nasty Boys notched almost all their high profile wins. Like the "Dusty finish," it's not a compliment.) A nothing match that was killed by the two blown spots. (Chris)

Dusty is back with my girls in his office. David Young (who was never identified) begged Dusty for one more chance. My girls whispered something in his ear, so he promised Young "one more chance" next week.

3) Dustin Rhodes squashed Eric Young (w/ D'Amore) at 2:59. "Canadian Bacon" is now officially D'Amore's nickname.
Oh, hell.
Young did the Flair flip and inverted-atomic-dropped himself. Dustin is a freakin' statue. Dustlord superplexed Young, prompting Young's Team Canada teammates ran down. AMW came down to counteract them, allowing Dustlord to bulldog D'Amore and powerslam Young for the pin. (Waldo)

A commercial for Dest X aired. The former Billy Gunn is no longer "The New Age Outlaw," but simply "The Outlaw." So now he's not living off his own past, but rather that of Ron Bass. Big improvement.

Dusty was awaiting Jarrett in the ring. Okay, we're halfway through the show and there have already been three Dusty segments. Dusty set up the stips for the Jarrett-DDP title match at Dest X in that the ring will be "policed" by 3 Live Kru and others wronged by Jarrett in the past. DDP came out and made the crowd yell "It's time." You can write your own punchline for that one. Jarrett (w/ Outlaw) came out in all his day-glo-orange-trousered glory. Jarrett knocked Dusty's hat off and they doubled on DDP until Kevin Nash did a gimp-in. 3LK, Candido, and the Naturals joined the shmazz. So I guess JJ-DDP will be a lumberjack match, but probably with some stupid "new" name. If TLC became "Full Metal Mayhem," I guess the lumberjack match will be a "Multi-Man-Meat-Mash" or a "Six Sided Circle Jerk" or something similar.

Christopher Daniels graced the announce table again. He rules your bitch ass, bitch.

4) A.J. Styles pinned Kid Kash (w/ Lance Hoyt) to retain the XD Title at 16:24. They took two commercial breaks during this. Daniels was upset that Tenay and West weren't talking about him during the match. Great heel touch, as Daniels was already great on the stick to begin with, and he gets better every week. Kash took over with a hotshot on the guardrail, and gave Styles a sweet rolling surfboard. Styles crotched Kash on the top rope, then backdropped him from off the top rope. After a double dead-sell, Styles started his comeback, featuring a nice brainbuster for a nearfall. Kash hit a jawbreaker, followed by a run-up-the-ropes hurracanrana and a running tornado DDT, both executed with amazing precision. Hoyt brought a chair into the ring, so Styles gave him the springboard forearm. As the ref de-chaired the ring, Daniels left the booth and broke up the Styles clash. Kash went for the moneymaker, but Styles backdropped him into a pinning position and held him for the three-count. Awesome match, easily the best in Impact history. Everything they did looked perfect. (Kerry)

The show ended with a brief skit backstage. Abyss was on the warpath while Jeff Hardy was perched atop a trailer like Spider-Man, watching him through binoculars. Maybe he was on the lookout for potential guys who nailed his brother's girlfriend. I hope he has food and water, because he's gonna be up there for a very long time indeed.

Overall over-analysis: Today's show suffered from a serious OD (over-Dusty), but forgiving that, it had a good opener, a balls-out great main event, and good overall build for their next PPV. Even with the six-man blown spots blowout, Styles-Kash alone made this the best Impact yet.

This Observer's Thumb…………………is up.

-HDS-

Destination X (3/13/05) PPV lineup:

World Title: Jeff Jarrett vs. Diamond Dallas Page (Lumberjack match?)

Ultimate X match for XD Title: A.J. Styles vs. ? vs. ? vs. ?

Monty Brown vs. Trytan

FCA rematch: Jeff Hardy vs. Abyss

Bullrope rematch: Dustin Rhodes vs. Raven

No-DQ match: Kevin Nash vs. Outlaw

Winning lady gets to be Dusty's permanent assistant: Team Trinity (Phi Delta Slam) vs. Team Traci (The Hairless Brothers)
FEATURED COLUMN
THE TWF "MENTAL WELLNESS TEST!"
TWF FLASHBACK
November 2006
SATIRE: DISCONTINUED WWE XMAS PRODUCTS!
With Christmas just around the corner, what better way to spend your few remaining dollars (left over after the seemingly infinite line-up of fucking pay-per-views ) then on the following "quality WWE merchandise!" After all, if they don't move this stuff, and fast, stockholders just might get time to figure out what "plummeting domestic buyrates" means!... and well, I don't think they need to tell you what that means! (Seriously. They're not telling you. Everything is fine! Ahem.).