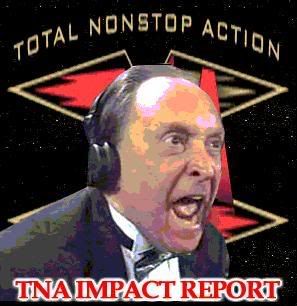 NWA TNA IMPACT ON FSN (1/22/05)
*FINAL RESOLUTION PPV RESULTS (1/16/05):


The Naturals b Johnny B. Badd & Sonny Siaki (countdown show)
Chris Candido b Cassidy Riley (countdown show)
3 Live Kru b Michael Shane & Kazarian & Christopher Daniels
Elix Skipper b Sonjay Dutt
Dustin Rhodes b Kid Kash
Erik Watts b Raven
Jeff Hardy b CholesterHall (Roddy Piper was special referee)
Monty Brown won the three-way elimination #1C match over DDP & Kevin Nash
AMW b Bobby Roode & The Other Guy to win the NWA World Tag Title
A.J. Styles won the Ultimate X match for the over Petey Williams & Chris Sabin to win the XD Title
Jeff Jarrett b Monty to retain the NWA World Title
TNA DEATHWATCH UPDATE:
The big shocker at the PPV was when Abyss made a surprise return, attacking Jeff Hardy. 'Byss and TNA came to an agreement, which was kept secret from pretty much everyone, including the boys. That always goes over like a fart in church. Or whatever the wrestling equivalent is. A Bible in a locker room, I guess.
Apparently, Erik Watts is taking the whole "deathwatch" thing a little too seriously. According to a letter sent around by Erik's pappy, Cowboy Bill Watts, Erik unsuccessfully attempted suicide over the past week. Erik has denied the whole thing. We make fun of him anyway. The douche.
Sean has all the lurid details on the main page.

Amazing Red's contract wasn't renewed, so he's done for now. As for Johnny Swinger, they have neither released him (like he wanted) nor booked him, so they're doing the old "starve him out" deal, which is a petty, rotten move by petty, rotten people.

NWA TNA IMPACT ON FSN (1/22/05):

The show opened with stills that covered a few points from the PPV. The voice over said that Jeff Hardy "gained revenge" on CholesterHall. For what? They had no issue. Hardy was a fill-in for Hector Garza.

From there, we were magically taken to a press conference that officially announced the main event for their next PPV, Against All Odds (2/13/05). Don't get too excited, it's Jarrett vs. Nash. They said Nash was the #1C. Screw that. He was the first one eliminated from the three-way at Final Res. If anything, he's the #3C. Anyway, Jarrett dressed like a prick again, while Nash played himself, the smarmy assbag. DDP tried to crash the party, but no one cared. I thought it was funny that Jarrett sat next to a TNA official, who was so denoted by the name plaque in front of him that read "TNA Official."

1) Christopher Daniels squashed Buck Quartermain in 57 seconds with Nova's old "spin doctor" finisher (inverted swinging neckbreaker). (Waldo)

After the match, Daniels called out new XD champion A.J. Styles. Styles answered, followed by Dusty and T&T. This set up today's TV main event. If Styles can beat Daniels in less than 10 minutes, Daniels will walk away from Styles and the XD title picture. But if Styles doesn't get the job done, Daniels gets a title shot at the next PPV.

2) Jeff Hardy swantoned Lex Lovett at 1:28. Then Abyss attacked him again and press-slammed him over the top, through a table at ringside. The lads face each other in a TLC match at the next PPV. No championship involved, mind you, but tables, ladders, and chairs are legal. They just keep sending buckets down that Jeff Hardy well. (Waldo)

Jeremy Borash and Mean Shane plugged their website (www.tnawrestling.com) which is now selling the Victory Road DVD as well as a "Best Of 3 Live Kru" DVD. Um, pass.

A commercial aired for AAO. Well-produced, sure, but a shameless ripoff of that one Wrestlemania commercial that showed guys warming up backstage, right down to the line, "Only those bold enough to chase dreams are the ones who catch them."

Mean Shane talked to AMW, putting over their sixth Tag Title reign. In a classy move, Chris Harris actually put over the other teams in the company saying they "Welcome the rematch (with Team Canada)." Kid Kash and Lance Hoyt (the artist formerly known as Dallas) interrupted, demanding a title shot at AAO. James Storm mocked Kash for losing to Dustin Rhodes at the last PPV. There might be nothing to that, but a) It has nothing to do with this impending Tag Title program, and b) AMW and Kash legitimately hate each other. Who knows?

3) Michael Shane & Kazarian NC The Naturals at 2:18. Shane & Kaz came out to new music, but they were Traciless. This is completely unacceptable. Tenay said that he was just handed a note that the winners of this match would be "considered one of the top contenders to the Tag Title." Wow. What a blockbuster. Anyway, just as this match was picking up steam, Kash & Hoyt attacked the Nats for the non-finish. Shane & Kaz smiled, thinking the attack was for their benefit, so Kash & Hoyt attacked them, too. AMW ran in for a eight-way dance. Don West put over the competition in the tag team division, while Mike Tenay asked who would get the title shot at AAO. As angles go, this was a good one. But as a match, it was a cockteasing ripoff. A cock-off, if you will. (Chris)

4) Raven killed Cassidy Riley at 1:35. As Raven walked to the ring, West enthusiastically put over the fact that Erik Watts came back from a long layoff to beat Rave. Okay, so that's two PPV matches in as many months that have seen Raven lose to guys who haven't wrestled for months (or in DDP's case, years). Good thing they pointed that out. This match seemed to be Raven getting his groove back as he just slaughtered Cass. He blew the kneedriver spot off the top rope, but the finish was nice. Raven slapped on an ankle lock, and as Riley struggled to get out of it, Rave spun him around and gave him the "Raven effect" DDT. Rave picked Cass up twice before allowing the three-count to stand. After the bell, Raven did the old "break the other guy's fingers" spot that always looks like crap. Raven got a chair, but Dustin Rhodes made the save, pulling Cass out of the ring. Seemed to tease Raven vs. Dustin for AAO. (Waldo)
Mean Shane grilled 3LK about their relationship with Jeff Hammond. Forget it. Not going there. Anyway, the thugs cut a promo on Shane & Kaz, putting over Hammond. Speak of the devil, Hammond joins the broadcast table for the main event. And all the thuggies say he's pretty fly for a white guy. Tenay officially announced Hammond would make his pro wrestling debut at AAO, teaming with B.G. James against Shane & Kaz. Aw hell, they're gonna job out their most underrated heel team to a fucking racecar driver. They recapped the Hardy-Abyss angle from earlier in the show in case you're one of those people who only tune in for the last 14 minutes of Impact.

"'Total Nonstop Action', My Ass" Stopwatch: 47 minutes into the show, they've had about six minutes' worth of wrestling.

5) Daniels outlasted XD champion A.J. Styles at 10:00 in a non-title match, thus earning a title shot at AAO. They opened with mat wrestling before Styles tapped Daniels with a sweet dropkick. Daniels caught Styles on the floor, though, slamming him into the guardrail, then doing the Rock bottom backbreaker on the floor. Daniels was in control as they went to break. The match picked back up at five minutes and change, so we were screwed out of a full third of this match. Impact is a pre-taped show, so why they do it that way, I don't know. Are they hoping that people think it's live? What about the fact that the show is replayed twice now? It's a double-edged sword when the main event sucks (and many of them have), but when it's a match I actually want to see (like now), it just pisses me off. Anyway, Daniels hit a moonsault off the second rope, then yanked back with a nice crossface. Styles started his comeback with a Pele kick as the match entered the fourth quarter. Styles got a nearfall with a springboard forearm that looked amazing. He followed that up with the quebrada reverse DDT for another nearfall. Daniels countered a move into the atomic lift sitdown bomb that Val Venis likes to use, but no one ever named. Styles hit a discus clothesline as we entered the final minute. Fans were on their feat, and the heat (which is always good in Orlando) reached thermometer-breaking levels. Daniels kicked out of several pin attempts, then spent the last 10 seconds somersaulting away from Styles. Daniels grabbed the ropes as the clock hit zero. Daniels gloated, prompting Dusty and my girls to come out and announce that their PPV title match would be a 30-minute Ironman match. Daniels wasn't happy with the announcement, as the theme was that he didn't BEAT Styles so much as he ran out the clock. Tremendous match between two of the best workers in the company. Great angle, great story, and a great appetizer for the PPV match. (Kerry)

Overall over-analysis: This is more like it. TNA hit the ground running after Final Res, immediately laying down groundwork for the next PPV. The Daniels-Styles storyline carried this show well, but the sad reality of it all is that as long as the next PPV main event is Jarrett vs. Nash, at least 25% of each Impact show leading to it is guaranteed to suck. Once you accept that, it's a lot easier to enjoy the good stuff.

This Observer's Thumb……………….is up.

-HDS-

Against All Odds PPV lineup (2/13/05):

NWA World Title: Jeff Jarrett vs. Kevin Nash

30-minute Ironman match for the XD Title: A.J. Styles vs. Christopher Daniels

TLC match: Jeff Hardy vs. Abyss

Michael Shane & Kazarian vs. B.G. James & Jeff Hammond

Raven vs. Dustin Rhodes?
---
NWA TNA IMPACT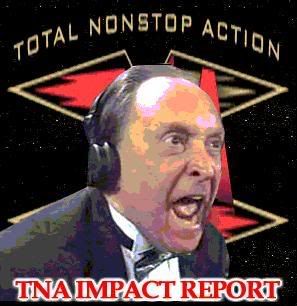 NWA TNA IMPACT ON FSN (1/14/05)

Today's show opened with the announcers running down the lineup for Final Res. Here's where it gets strange: They plugged Hector Garza vs. CholesterHall, with Roddy Piper as special referee. This was actually taped a week and a half ago, but seeing as how Garza is still in jail, that just ain't gonna happen. Latest word is that it will be CholesterHall vs. Jeff Hardy; while last week's announced PPV match of Hardy vs. Elix Skipper was changed to Skipper vs. Sonjay Dutt. (Final Res was originally supposed to have Hardy vs. Abyss, before Abyss quit the company.) Needless to say, card subject to change until 10 minutes after the PPV goes off the air.

1) NWA World Tag champion The Other Guy (w/ Coach Scott D'Amore) pinned James Storm at 3:08. Both wrestlers came out with their partners, who were ejected from ringside. Storm opened fast with a bulldog on the floor. Storm hit his "swinging noose" move (an inverted tornado DDT during which he put on his cowboy hat). D'Amore got Guy's foot on the ropes to stop the pin. D'Amore's distraction allowed Guy to take over. It didn't last. Storm got a nearfall with "Eye of the Storm" (a helicopter slam). Storm tried for a hurracanrana off the top, but D'Amore held Guy in place to block it. Storm again recovered quickly and went for the "eight second ride" (?), but D'Amore again broke up the move. D'Amore ran-in with the hockey stick, but Storm superkicked him in the belly. D'Amore dropped the stick, so Guy picked it up and hit Storm with it for the pin. Bad match, made worse by Storm's refusal to sell a damn thing. (Chris)

A commercial aired for Final Res. Now they're plugging Elix Skipper vs. Sonjay Dutt, pushing hard that Skipper walking the cage on the last PPV was the performance of the year. Actually, they're right.

The Dustin Rhodes-Kid Kash issue was recapped.

2) Dustin Rhodes pinned Chris Candido at 1:45. Nine years ago, both these guys left Wrestlemania 12 as WWF champions. Nowadays, they're over the hill, but they can still put together a nice little quickie of a TV match. And that's just what they did. Dustin won with a bulldog, while Candido further improved his credit rating with the company. (David)

3) A.J. Styles pinned Cassidy Riley at 4:12. Typical good Styles TV match. Riley got in enough offense so that it wasn't a squash, and even mocked Styles to get his personality over a bit. For some reason, Riley has the initials "HS" on his trunks. Dude, those are my initials, but I still wouldn't wear 'em on my ass. Riley got Styles in a nice "rocking horse" submission hold (inverted crab with a surfboard-esque stretch). Styles blocked a lionsault to start his comeback. One quebrada DDT later, it was over. (David)

Backstage, Raven ambushed Erik Watts with a garbage can and bragged that he still had Watts wrapped around his finger.

Time for Jeff Hammond's "Sucks Points Of Impact" with DDP, Monty Brown, and Kevin Trashed. The lads baited each other, but everyone stayed civil until Jeff Jarrett crashed the party. Jarrett and Nash had a pull-apart, and one of the guys doing the pulling was none other than Jerry Lynn! Not the greatest Impact debut for Mr. JL. And not that I'm complaining, but I guess the issue last week with Hammond & 3 Live Kru vs. Michael Shane & Kazarian has been dropped.

Back from commercial, Trinity and Jonny Fairplay were in Dusty's office, looking for a "clue." I wonder if the performers fully appreciated this while they were performing it. It warned "the game begins" at Final Res. I'm all for a Trinity-Tracy program, but this cryptic cutesy-poo stuff just ain't paying the Pickle Man.

4) Elix Skipper pinned David Young at 3:02. Primetime was winning the crowd over with his innovative spots, but lost them for a moment when he fell on his butt after doing a snapmare. Young belly-to-back threw PT over the top rope to the floor, then hit a bad lionsault for a nearfall. PT hit the POD out of nowhere for the pin. I recently discussed this finisher in Sean's "Shittiest Finishers Ever" thread up on the TWF Forum. (Mike)

Mean Shane interviewed Team Canada. Johnny Devine gave a good sarcastic promo. Roode gave a good "intense tough guy" promo. Petey gave a good "I'm the best and I've got the belt to prove it" promo. D'Amore wished Mean Shane a happy Boxing Day and wrapped it up. The Other Guy wasn't allowed to talk. Now you know why I call him "The Other Guy."

5) Chris Sabin pinned Christopher Daniels to claim the last spot in the Final Res Ultimate X match at 11:50. Disappointingly, they didn't recap last week's build between these two. "Fallen Angel" chant for Daniels in the opening minutes. Sabin almost crippled himself with a Sasuke-style dive over the top. Fans chanted "TNA." TNA took a commercial break. Tremendous back-and-forth. Daniels missed the BME, allowing Sabin to hit a tornado DDT for a near fall. Daniels escaped a cradle shock attempt and went for last rites, but Sabin snapmared out of it. Daniels then went for angel wings, but Sabin rolled him up in an innovative cradle-type move for the pin. Excellent, competitive match. Easily one of Impact's best. (Kerry)

One final feature aired, hyping the PPV. The show ended with Dusty Rhodes cutting in with some late breaking news. He said, "As we know, Mr. Hector Garza is no longer in the match with (Cholester)Hall." Um, we do? They never said anything about it on TV yet. Dusty announced that Jeff Hardy would officially replace Garza in the match. Memo to Hector: When Jeff Fucking Hardy is considered a reliable substitute for you, it's time to take a long, hard look in the mirror.

Overall over-analysis: As an "11th hour" show, the build to the PPV left something to be desired. With Garzagate derailing things, that had to be expected at least a little bit. A fantastic TV main event put this week's show over the top, though.

This Observer's Thumb…………………is up.

-HDS-

Final announced "Final Resolution" PPV lineup (1/16/05):

#1C triple-threat elimination match, winner gets NWA World Title shot later in the show: Monty Brown vs. DDP vs. Kevin Nash

NWA World Tag Title: Bobby Roode & The Other Guy vs. AMW

Ultimate X match for XD Title: Petey Williams vs. A.J. Styles vs. Chris Sabin

Elix Skipper vs. Sonjay Dutt

Dustin Rhodes vs. Kid Kash

Raven vs. Erik Watts

Jeff Hardy vs. CholesterHall
---
NWA TNA IMPACT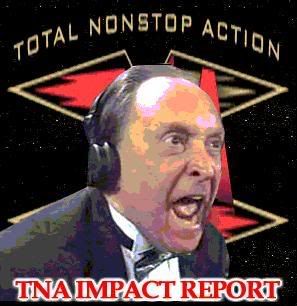 NWA TNA IMPACT! ON FOX SPORTS NET (01/07/05)
NWA TNA Deathwatch update: In case you haven't already heard, the one babyface TNA was seriously pushing, Hector Garza, just got busted in Houston for having steroids in his bag. He was jailed while waiting for his brother to fax in a prescription from a doctor. Hector was advised not to put up bail, because then he would likely get deported, which would be the end of his career in the states. Um, they're one week too late for that. As a result of Hector's detour, he missed the TNA tapings. Since he was scheduled to be a major player for the next two weeks (leading to Garza vs. CholesterHall at Final Res), TNA scrambled to re-write their shows. Obviously, the PPV match is up in the air, and seeing as how Garza won't be back in time to promote it (the PPV airs next Sunday, 1/16/05), my guess is that it will be postponed until the February show…assuming the company lasts that long. I'll bet a combo platter right now that they turn this into a TV angle and claim that the KOW "set up Garza" to keep him out of the Impact Zone (without going into specifics). I'm serious. Wrestling is wrestling, people. I dunno, with THIS locker room, you'd think Hector could have just scored when he got to Orlando, for fuck's sake. He ain't no rookie.

From the "get while the getting is good" file, Abyss quit. After a week's worth of haggling, 'Byss left TNA to seek his fortune elsewhere. I'm sure the WWE will give him at least a look, because if nothing else, they're always looking for monsters to feed to The Undertaker. Abyss was one of the featured "TNA superstars" in their new t-shirt/action figure deal, so his leaving doesn't come at a good time. It was supposed to be Abyss vs. Jeff Hardy at Final Res, but that obviously had to be scrapped. They changed it to Hardy vs. Elix Skipper as of this week's show.

Johnny Swinger also asked for his release, but hasn't gotten it as of press time. When Johnny Fucking Swinger wants out, you know the future is bleak indeed.

NWA TNA IMPACT ON FSN (1/7/05)

The show opened with Jeff Hammond doing an in-ring workout with 3 Live Kru in the Impact Zone. They claimed that it was before the show started, but I know better. Obviously, all the fans saw Hammond in a wrestling ring and ran away. Michael Shane & Kazarian mocked Hammond, but there was no audio, so it couldn't have been that important. It looks like 3LK vs. Shane & Kaz at the PPV.

At the announce table, Christopher Daniels joined Mike Tenay and Don West. Dusty is trying to get Daniels over as a personality, and you can't fault that move at all. Daniels was good in his role, and the three played off each other well throughout the first half of the show. A nice change of pace.

1) A.J. Styles pinned Chris Candido at 5:17. Brief "ECW" chant for Candido. Candido seemed a step and a half slower than his prime, but he more than made up for it with his heel psychology and bumps. Daniels boasted that he knows how to beat the Styles clash. Candido hit a nice inverted atomic drop off the second rope. Styles came back by launching Candido off the top rope, and hit the Styles clash for the pin. This match was a "second coming" for Candido, who impressed everyone with his good attitude. Even though he's past his prime physically, CC can still teach a lot to the youngsters as far as psychology, facial expressions, promos, etc. Candido was a can't-miss prospect in the 90s until the ever-popular personal problems wrecked everything. He's been going around telling people that he's clean now, and I truly hope for his sake that it's the truth. Candido would be a welcome addition to TNA, easy. Just like that, we have our first nominee for "Comeback Of The Year." (David)

Jeremy Borash and Shane Douglas announced some of the winners from the year-end balloting.

Most Memorable Moment Of The Year: Elix Skipper walking the cage at Turning Point

XD Superstar Of The Year: A.J. Styles

Match Of The Year: AMW vs. XXX ("Six sides of steel cage match," Turning Point)

"Mr. TNA" for 2004: A.J. Styles

It's pretty hard to argue with any of those choices.

A feature aired on the Ultimate X match, hyping the fact that XD champion Petey Williams doesn't know both of his opponents yet.

Backstage, they finally did a segment with Traci in bed! Okay, so it was the bed of Dusty's pickup truck, but it's a start. I'm not picky. There was a big sign on the back of the truck that said "Directory Of Authority Office." Okay, that was clever. Trinity and Jonny Fairplay approached said office. Trinity sat on a bale of hay (this segment is getting better by the moment), and freaked out, thinking she'd sat on a snake. You know I once had a dream where Trinity did the exact same—um, nevermind. Anyway, it was a rope, not a snake. Freud would have a field day with whoever wrote this skit. Traci read a poem that said, "You who wish to play must find a way to stay" or somesuch. JFP took to the camera and said, "That sounds familiar." I guess it was a Survivor reference. Trinity yanked a piece of paper out of Traci's back pocket and took off with JFP, who gave his hand signal and said "alliance" as they ran off.

2) XD champion Petey Williams (w/ Coach Scott D'Amore) pinned Andy Douglas (w/ Chase Stevens) in a non-title match at 3:03. Tenay said that the Canadian destroyer won "Finisher Of The Year" in the year-end voting. That was a no-brainer, but when wrestling and fan voting is involved, you can't take anything for granted. The lads worked well together, and in a clever spot, hit a simultaneous eye-poke. Daniels continued to hype his goal of getting to the Ultimate X match and beating Petey and Styles. This match's commentary emphasized that in a UX match, the CD can't cause a pinfall, but it sure can incapacitate a competitor long enough for Petey to climb the cables and retrieve the belt. Petey's agility is something to behold. As Douglas yanked him out of the corner, he hopped to his feet, then hit the tilt-a-whirl into a Russian legsweep (which they should really call the "Canadian legsweep"). Petey went for the CD, but Douglas backdropped him over the ropes. Petey recovered and went for it again, but Stevens jumped up on the apron to distract him. D'Amore yanked Stevens down, and Chase lived up to his name with the Coach. Petey blocked a reverse-rollup attempt, but missed an enziguiri. As Douglas went for him, Petey snagged Douglas in a victory roll and got the pin with a handful of tights. Good match, with the point proven that Petey could pull a win out of nowhere, CD or no CD. (David)

A feature aired that hyped Final Res' Tag Title match, with Team Canada defending against AMW. Mean Shane interviewed AMW. They're doing a nice job pushing that AMW is coming off the Turning Point cage match, which many have raved is the greatest cage match ever. (I'm not being sarcastic.) AMW cut a good promo on Team Canada, vowing to win their sixth NWA World Tag Title at Final Res.

3) NWA World Tag champion Bobby Roode (w/ D'Amore) pinned Chris Sabin at 2:58. Between AMW and Sabin, Daniels was beside himself. Guess how this mofo is gonna end up, kiddies. Good match that was very fast paced. Sabin is still TNA's best-kept secret, and Roode is one of their best stars on the rise. Finish saw Sabin go for the cradle shock, but Daniels jumped in the ring with a chair. Sabin let go of Roode, cutting off Daniels, who dropped the chair. Roode gave Sabin the Nothern lariat, sending him face-first into said chair (while D'Amore tied up the ref). Roode got the pin, prompting Daniels to do some great heel gloating. Good stuff. (David)
Borash and Mean Shane revealed more winners from the year-end voting.
Knockout Of The Year: Traci (I called this in our own year-end awards. Told ya so.)
Finisher Of The Year: Petey Williams' Canadian destroyer
"One To Watch" In 2005: Hector Garza (AHAHAHAHAHAHAHAHAHAHA!!!!)
Tag Team Of The Year: AMW
4) Konnan (w/ B.G. James & Ron Killing) pinned David Young at 2:06. Before the match, Konnan mocked Young's losing streak and told him, "You couldn't be a star if you were thrown by a ninja." The announcers talked up Young's awful win-loss record again. Didn't they just do this angle with Young last year? B.G. distracted the ref, allowing Killings to legdrop Young in the naughty bits off the top rope. From there, Konnan hit the Mex factor for the pin. Okay, so K-Dawg needs help to beat the biggest loser in TNA history? Even had they not just done the three-on-one bit in the previous match, this still would have been not just stupid, but "TNA stupid." (kevin)
Backstage, DDP was arguing with Raven. We finally discover what the issue is. Apparently, Raven called Erik Watts' wife (pretending to be DDP). Raven told Mrs. Watts that Erik was (ahem) putting the STF on rats while on the road, "when we both know he ain't." Because, you know, wrestlers would never cheat on their wives. They're too busy trying to carry bags full of drugs across the border. So Raven wrecked Watts' life and fingered Page. After a month of build, that's the best they could come up with? Raven bragged that Watts wouldn't listen to Page because Raven had Watts wrapped around his finger. But what's all this then? Watts was standing right behind Rave during this exposition. Kinda wrecks Raven's whole gimmick of being a master manipulator, doesn't it? Watts dragged Raven out to the ring and accosted him with a garbage can before hitting the chokeslam. DDP and Watts made up. Watts vs. Raven is now on for the PPV, which would make perfect sense if not for the fact that Watts just got his revenge on free TV.
Tenay previewed the Final Res main event, then brought out NWA World champion Jeff Jarrett for an interview. Double-J is still wearing his cred-killing orange jeans. DDP and Monty Brown came out for a brawl. At least this show hasn't had the Oldsiders yet—Aw, fuck, here they come. During this, JJ accidentally clocked CholesterHall, leading to a Jarrett-Nash face-off. DDP and Monty recovered, tipped over the KOWs, and had a pull-apart with their bad selves.
5) Jeff Hardy & Dustin Rhodes beat Kid Kash & Dallas at 4:47. Dustin vs. Kash is official for the PPV. Kash was as good as the other three were bad. The Kay-Eye-Dee played the chickenshit, refusing to tag in until Big D had already worked over Dustin. Daredevil spot saw Dallas stand on the bottom rope so Kash could do a moonsault off his shoulders. He missed and it didn't look good, but big ups to KK for those legendary brass balls of his. (Off-the-charts Kid Kash shoot interview at
www.bbrownvideo.com
. You. Go. Buy it.) Hardy got the hot tag and the finish saw Dustin hit the bulldog, allowing Hardy to swanton Dallas for the pin. Much better match than I expected. Kash was easily the MVP. (David)
Backstage, the show ended with Jarrett yelling at the Oldsiders while security held them apart. JJ shouted that Big Kev "did it to Hunter and Shawn 10 years ago" and "screwed everybody in WCW." Bottom line, Planet Jarrett isn't big enough for both of 'em. I guess this is good to build the PPV, but still…it's Kevin Nash.
"Total Nonstop Action, My Ass" Stopwatch: In this week's hour-long show, we got 18 minutes worth of wrestling. And that's actually an improvement.
Overall over-analysis: It's ironic how they pulled a good show out of the wreckage from Garzagate. They went four-out-of-five as far as having good matches, with Konnan-Young the only stinker. The build for Final Res is coming together nicely. Part of me hopes TNA really does get its shit together, finishes up all this nonsense with the Oldsiders, and takes off by properly using the talent of its roster. That's the same part of me that dreams about Traci and Trinity in the back of pickup trucks, but hey, it's there.
This Observer's Thumb…………………is up.
-HDS-
Next week on Impact: Christopher Daniels vs. Chris Sabin for the final slot in the Ultimate X match at Final Res
Final Resolution PPV lineup (1/16/05):
#1C triple-threat elimination match, winner gets NWA World Title shot later in the show: Monty Brown vs. DDP vs. Kevin Nash
NWA World Tag Title: Bobby Roode & The Other Guy vs. AMW
Ultimate X match for XD Title: Petey Williams vs. A.J. Styles vs. winner of next week's Chris vs. Chris match
Jeff Hardy vs. Elix Skipper
Dustin Rhodes vs. Kid Kash
Raven vs. Erik Watts
Traci vs. Trinity?
Naturals vs. Sonny Siaki & Johnny B. Badd?
Hector Garza vs. CholesterHall
??
---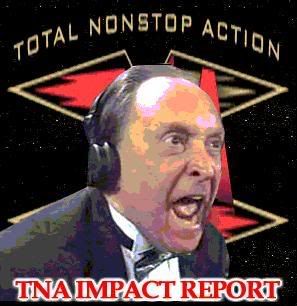 NWA TNA IMPACT! ON FOX SPORTS NET (01/05/05)

This week's show aired on Tuesday in most markets, postponed from the usual Friday slot due to FSN's New Year's schedule. Speaking of which, that "usual Friday slot" is now an hour later, at 4pm. Plus, there will be a replay Saturdays at midnight (late-Saturday/early-Sunday technically). TNA is banking on this as a hook to reel in some new viewers. Anything's a blessing at this point, really.

They replayed last week's announcement that set up the main event for Final Res. TNA then finally got around to building their true dream match: Traci vs. Trinity. Trinity played the bitch, snatching away Traci's papers. Terry Funk piledriving Ric Flair on a table it wasn't, but I still wanna see the match, for obvious reasons. TNA's 2005 is suddenly off to a mighty good start.

1) A.J. Styles & Sonny Siaki & Johnny B. Badd beat The Naturals & Elix Skipper at 5:51. Big props to Mike Tenay for immediately going over Primetime's history with the Nats, putting over that Skipper was forced into the match and didn't really want to tag with his former rivals. Excellent touch. Siaki did the powerhouse bit, tossing around both Nats. Skipper refused to tag in, forcing Chase Stevens to tag in Andy Douglas. They're still putting over the XXX-AMW main event from Turning Point, which is another good move. The WWWFE has had tons of great PPV matches over the years, but they were forgotten about as soon as they ended. WCW was even worse in that regard. The Nats got heat on Styles for a couple minutes. PT's first action was to shove Styles off the top rope, then hit a twisting crossbody plancha. The Nats actually had to pull PT off of Styles. Nice booking. Siaki finally leveled PT with a clothesline at ringside. Badd got the hot tag and handed out kneelifts like somas. Styles hit PT with a flip plancha of his own. In a receipt from last week, Badd went for the "Badd mood" frankensteiner on Stevens, but Douglas blocked him. (That's how the Nats stole one over Badd & Siaki last week.) But this time, Siaki neutralized Douglas, and Badd hit the move for the pin. Um, I guess that means they're not going with Badd & Siaki vs. Nats on the next PPV. Well-booked, watchable TV match. (David)

Mike Tenay interviewed Roddy Piper. Tenay mentioned that DOA Dusty Rhodes has fired Terry Funk from the championship committee. So after months of pushing Funk and building to a Funk-Dusty confrontation, Funk is out of the storyline altogether. I know that they wanted to bring Funk in a few times, but things kept getting in the way to screw it up. It's not just funny, but a microcosm of everything ridiculous about TNA's booking that Terry Funk was for all intents and purposes, an on-air character for months despite never appearing on TV. Oh yeah, and Hot Rod was named as Funker's replacement, plus Dusty knighted RP as TNA's official "enforcer." He's no Ronnie Garvin, that's for sure. Long segment short, Piper will be at Final Res, but no one know's what he'll be doing there yet. That's something of a shoot as Piper's role is still undecided. They debated doing a tag match with him and Hector Garza, but now they're leaning toward Garza vs. Cholesterhall, with Piper in Garza's corner. They're trying to give Garza the rub from as many old stars as possible. Remember that sentence, because we'll come back to it momentarily.

2) Christopher Daniels pinned Michael Shane (w/ Traci & Kazarian) at 5:30. They really need to get around to explaining why it's not a conflict of interest for the DOA's secretary to be managing a heel. Tenay put over how important this match was the XD rankings, as it relates to who will end up challenging Petey Williams at Final Res. Don West pointed out that Shane won the first Ultimate X match. Kaz was ejected for interfering. Great innovative spot saw Daniels give Shane a "snapmare slam" off the second rope. Daniels hit the BME for a nice nearfall. They clotheslined each other for a double-sell. It was a very good match up to this point, but then everything went straight to hell. Daniels was supposed to get Shane in a reverse-rollup, but he totally blew the move, which is really uncharacteristic for Daniels. Traci jumped up on the apron to distract the referee (and me). From there, Shane was supposed to reverse the rollup. Given Daniels' blunder, they covered as best they could. Storyline was Traci didn't see that Shane reversed the pin, so she kept distracting the ref. Shane jumped off Daniels and angrily confronted her, smacking her Dusty-issued cowgirl hat right off her noggin. Major heel heat for that, obviously. Daniels got it right the second time, and snagged Shane in a reverse-rollup for the pin. Kaz came back out as the three heels argued. I guess it was inevitable, but they had SO much potential as a trio, it makes me sick. Best I can hope for is that this turns out to be some big Machiavellian swerve to screw over Dusty. The blown finish hurt the match. (Mike)

Backstage, Garza was shown walking into the arena. Two guys sat on a bench, wearing ponchos and sombreros. They were revealed as the Oldsiders, who nodded at each other, then bowed their heads to take a nap. That's what happens when you get old. You're cold and sleepy all the time.

3) Dustin Rhodes squashed Marco Cordova (w/ Kid Kash) at 1:22 with the curtain call, which they're now calling "the Lone Star State-Of-Mind." Um…okay. Kash was in Cordova's corner and the announcers spent the whole match talking about how Kash disrespected Dustin last week. Dustin vs. Kash is planned for Final Res. (Waldo)

They replayed last week's DDP-Erik Watts confrontation. Starring Raven as Eddie Haskell. DDP came out, and can still talk to a hot crowd well. In case I haven't mentioned it, the hot Orlando crowd is TNA's most valuable asset. DDP said that he loves nothing more than to get a beer with one of his best buddies, "Eric." He said he didn't mean Eric Bischoff, he meant Erik Watts. DDP called out Watts, but the droogs attacked him instead. DDP fought them off and unmasked them as Watts and Raven. Watts ate a diamond cutter, but Raven flew the coop. Raven grabbed a mic and told DDP, "I would set you on fire just to light my cigarette." Nice try, pal. About the only vice Scott Levy DOESN'T have is smokes. Rave continued, blaming DDP for "ruining (Watts') private life." Raven said something else that was bleeped. Rave vowed that Page would pay. For those of you playing along with the official TNA Home Game, that means Raven and/or Watts will be screwing Page in the three-way match at Final Res.

The KOWs came out for their weekly promo. I grabbed the remote for my weekly fast-forward. Hey, bite me. I watch Impact DESPITE these douchebags; not because of them. Monty came out and had a yelling match with Jarrett.

They replayed last week's angle, with Garza kabonging CholesterHall. Tenay & West welcomed Spanish PBP man Armando Contero (sp?) to the table.

"'Total Nonstop Action,' My Ass" Stopwatch: 53 minutes into the show, we've had 12:43 worth of wrestling.

4) CHOLESTERHALL (w/ Nash) FUCKING PINNED HECTOR GARZA at 5:05. The Oldsiders came out with their Mexican-mocking gear. It was unintentionally hilarious as their feeble old man legs took them so long to get from the entrance just to the top of the ramp, they started playing Garza's theme music and cut away. CholesterHall (who wrestled in his shame-concealing Elvis suit) did a hat dance. I knew Russo didn't really leave TNA. Nash interfered, and got knocked off the apron. CholesterHall seemed to legit struggle when lifting Garza for the "last call" fallaway slam. CH then did the old Tully & Arn abdominal stretch spot with Nash. Garza started his comeback and slammed CholesterHall. Nash started to climb into the ring, so Garza dropkicked him again. Doesn't that count as elder abuse? Garza went upstairs, but CholesterHall crotched him and got the pin after an awful-looking "Razor's edge." Or "Outsider's edge." Screw it, it's now called the "pizza (w)edge." If TNA can rename moves, so can I. Do I even really have to mention why this is exactly what the company DOESN'T need right now? Oh, and for those of you keeping score, CholesterHall's Impact record is now 2-0. (kevin)

Overall over-analysis: Not a good sign for what will probably wind up as the first show of TNA's last year. The best match had a blown finish, and the last match just plain blew. Then there's the fact that we're 12 days away from their next PPV and they still don't have the XD Title match announced.

This Observer's Thumb…………………is down.

-HDS-

Final Resolution lineup (1/16/05):

#1C triple-threat elimination match, winner gets title shot later in the show: Monty Brown vs. DDP vs. Kevin Nash

Tag Title: Bobby Roode & The Other Guy vs. AMW

Ultimate X match for XD Title: Petey Williams vs. A.J. Styles vs. Chris Sabin?

Hector Garza vs. CholesterHall?

Dustin Rhodes vs. Kid Kash?

Naturals vs. Sonny Siaki & Johnny B. Badd?

Traci vs. Trinity?
FEATURED COLUMN
THE TWF "MENTAL WELLNESS TEST!"
TWF FLASHBACK
November 2006
SATIRE: DISCONTINUED WWE XMAS PRODUCTS!
With Christmas just around the corner, what better way to spend your few remaining dollars (left over after the seemingly infinite line-up of fucking pay-per-views ) then on the following "quality WWE merchandise!" After all, if they don't move this stuff, and fast, stockholders just might get time to figure out what "plummeting domestic buyrates" means!... and well, I don't think they need to tell you what that means! (Seriously. They're not telling you. Everything is fine! Ahem.).