Navigation:
November 05, 2004
November 07, 2004
November 10, 2004
November 12, 2004
November 19, 2004
November 30, 2004
December 03, 2004
December 10, 2004
December 17, 2004
December 24, 2004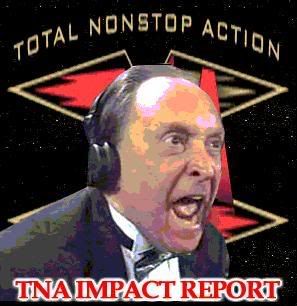 NWA TNA IMPACT! ON FOX SPORTS NET (12/24/04)



Last week's Jarrett-Garza finish was recapped. I'm still pissed off, but I take solace in the fact that the dairy products in my fridge will likely outlive TNA.

Dusty Rhodes & Traci (who is now officially his secretary) opened the show.
The KOW chips interrupted. Dusty incessantly yelled "Aw, shuddup!!" I admit it, I laughed at that. Dusty officially announced the main event for Final Resolution. Three guys will compete in a triple-threat elimination match, with the winner going on to challenge Jeff Jarrett for the strap later in the night.

Contestant #1: Monty Brown (wearing a heat-killing neon yellow turtleneck), who showed up from the other entryway to point at Jarrett.

Contestant #2: DDP, who taunted the KOW from the crowd.

Contestant #3: Kevin Nash, who didn't really react.

For one thing, why is Jarrett upset about this? It puts his challenger at a total disadvantage. For another, WWE just did the "I'm challenging my teammate" thing with Batista and HHH…and they did it oodles better. I hope someone brought a big jar of KY Jelly for TNA's pooch, because it sure got screwed. Again.

1) B.G. James & Ron Killings (w/ Konnan) beat Cassidy O'Reilly & Brandon Thomas at 3:11. Mostly a comedy squash, though the heels did get heat on B-Jizzle so he could hot-tag Killings. Truth got the pin with the lie detector. You know, if Ron ever turns heel, they should just call him "Truth Killings." As in, a guy who lies a lot. Because, you know, Fit Finlay and Al Snow don't like liars. (Waldo)

DDP faced off with Erik Watts backstage. Watts was upset that DDP was getting a potential title shot. He ain't the only one. Once Page split, Raven showed up, stirrer in hand.

2) Abyss killed David Young in 45 seconds. That's right, the same David Young who had a "reverse Goldberg" losing streak of 0-75 or whatever. Guess what time it is, kids! That's right! Once again, it's time for The Complete And Total List Of Every Maneuver In This Match:
1. Punch
2. Chop
3. Palm thrust
4. Avalanche
5. Whip into turnbuckles
6. Boot to the face
7. Black hole slam
(Waldo)

A Garza feature aired. This was followed by Garza being the guest in the return of "In The Pit With Piper." Guys, you're already getting sued by WWE. Just call the damn thing "Piper's Pit" already. Piper had a Mariachi band playing to welcome Garza. Piper danced badly. Brock did it better. It's weird; the heel Piper would have done this to make fun of Garza, but babyface Piper actually tried to use this to put Garza over. A PC Piper? Is this really what the world needs? Moody Jack accompanied Garza so he could translate. Garza wants Jarrett's belt. Garza blamed CholesterHall for screwing up his chance at a title shot. Even though he's right, it still makes him sound like a crybaby, which is not what a babyface needs to sound like. I'm guessing this was Big Kev's idea. Speaking of the has-beens, The Oldsiders interrupted things at this point. CholesterHall handed Garza one of the Mariachi guitars, and asked him if he knew any "hits." CholesterHall then turned his back, so Garza kabonged him. The guitar didn't break the first time, so CholesterHall staggered up to his feet and they did it right the second time. Somewhere in there, Garza dropkicked Nash, too. Looks like it's Garza vs. CholesterHall on the PPV.

Trivbit: Garza actually pinned Hall clean on the 9/22/97 Nitro. WCW didn't bother to put it over as a major upset, thus dropping the ball on another sure-fire star-making angle.

Mean Shane interviewed XD champion Petey Williams & Coach Scott D'Amore. Shane announced that Petey would defend the XD Title in an Ultimate X match on the PPV. They didn't announce his challengers yet, but a confident Petey didn't care. My guess is A.J. Styles and Chris Sabin, his challengers on the last two PPVs. D'Amore said that everything was a conspiracy against his men.

3) A.J. Styles pinned Johnny Devine (w/ D'Amore) at 5:50. During intros, Don West speculated that in the Ultimate X match, Petey's challengers would be two more X Division wrestlers. Nothing gets by him. This was a good fast-paced match. "Hotshot" Devine is starting to get over with his cocky heel personality. Sweet spot saw Devine leap backwards out of the corner, then catch Styles with a reverse DDT. Devine's slingshot legdrop onto the apron was followed by a snap suplex and a surfboard deathlock. Devine gave Styles an airplane spin from an over-the-shoulder backbreaker into another reverse DDT. Devine then missed a nice moonsault, setting up Styles' comeback, featuring the quebrada DDT. Styles climbed to the second rope, but Devine countered with snake eyes. Devine went for what appeared to be a vertebreaker, but Styles flipped out of it, and in an AWESOME fluid move, gave Devine a hurracanrana into the Styles clash for the pin. Excellent TV match that showcased both guys. This was Devine's breakout match, easy. (Kerry)

Backstage, Dustin Rhodes met Kid Kash. The Kay-Eye-Dee insulted the hell out of Dustin's daddy, then wandered off. Dustin quoted the movie "Tombstone," Goldust-style. Remember what I said about WWE lawsuits?

"Total Nonstop Action My Ass" stopwatch: 49 minutes into the show, we've had 9 minutes, 45 seconds worth of wrestling.

4) AMW beat NWA World Tag Team champions Bobby Roode & The Other Guy (w/ D'Amore) at 8:42 in a non-title match to earn a title shot on the next PPV. This also had the "special 15-minute time limit." Fellas, you've done it the last two weeks. It ain't special anymore. Nice spot saw Guy throw Chris Harris over the top, but miss a slide-kick when Harris skinned the cat. AMW then hiptossed Roode into a lift and throw him into Guy. The fans ate it up. The show went to a commercial break. Stuff like this worked for "Saturday Night's Main Event" in the 80s, but now it's just kinda frustrating. Act II saw the hosers get heat on James Storm until the "Tennessee Cowboy" could turn an attempted double-backdrop into a double-DDT. Did Raven book this show? There have been like 78 DDTs so far, and we still have five minutes to go. Storm finally tagged in Harris after hitting Roode with an enziguiri. Harris managed to make a blind tag, but Roode reversed a full-nelson slam anyway. Storm superkicked the hell out of Roode. Storm small-packaged Guy, but D'Amore turned them over. However, Harris turned them back over, so Storm pinned Guy. A good, effective match, as it showed how AMW is clearly the superior team as they go for their 6th NWA World Tag Title at the PPV. (David)

The KOW closed the show with some drama from the parking garage. Jarrett was livid about Dusty trying to "divide and conquer." Once he stormed off, CholesterHall pointed out to Kev that he had held the "WWE" belt and the WCW belt, but never the NWA belt. Before Kev could figure out where his porcine pal was going with this, they were distracted by a loud crash. Over on the other side of the lot, Abyss laid out someone under a table. It sounded like he grunted "Truth." Is this a mystery? Bad camera work? Something that just ain't going anywhere? Why the hell was there a press table in the parking lot? Find out next week! Maybe.

Overall over-analysis: They're building to the PPV, which is a good thing whether I want to see the main event or not (and that would be "not"). Still though, the tag main event was good and a promising sign for said PPV. And the Styles-Devine match is worth hunting down.

This Observer's Thumb…………………is up.

-HDS-

Final Resolution lineup:

#1C triple-threat elimination match, winner gets title shot: Monty Brown vs. DDP vs. Kevin Nash

Ultimate X match for XD Title: Petey Williams vs. ? vs. ?

Tag Title: Bobby Roode & The Other Guy vs. AMW

Hector Garza vs. CholesterHall?

Programming note: No Impact this Friday (12/31/04). The next Impact airs next Tuesday (1/4/05) at 3pm.


-HDS-
---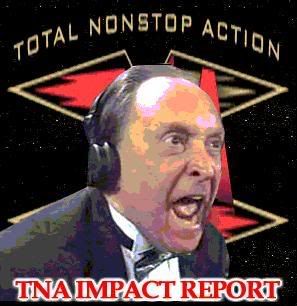 NWA TNA IMPACT! ON FOX SPORTS NET (12/17/04)



1) The Naturals beat Johnny B. Badd & Sonny Siaki at 4:58. The Nats showed more light than the Batman-signal. Strangely enough, They doubled on Siaki until he could hot tag JBB. Um, shouldn't this have been booked the other way around? Badd hit a nice double-clothesline off the top and brought back the kneelift. He must have watched this week's "I Love The 80s" marathon on VH1. This thing had the worst TV finish of the year. The faces whipped Andy Douglas into the ropes, which was supposed to crotch Chase Stevens. It looked SOOOO bad. JBB went for the "Badd mood" (hurracanrana off the top), but Douglas held Stevens in place, blocking it. Stevens went for the pin with his feet on the ropes. As the ref dove into position, he fell ON STEVENS' LEGS, which were on the ropes. Then he counted the pin anyway. This was easily the worst match in Impact history. Not a good omen for today's festivities. (kevin)

Dusty cut a promo from the bed of his pickup. And he wonders while people still make fat jokes. He said that he was still waiting on a call so he could announce the main event for Final Resolution. Great message, people. "It's gonna be the best PPV main event ever…if the guy returns our call." Traci (with Trish Stratus' old cowboy hat) showed up, offered to be Dusty's secretary and accidentally on purpose fell into his lap. Warrant put it best:

I saw red
When I opened up the door
I saw red
I just fell onto the floor
And I didn't need to see his face…I saw yours
I saw red and then I closed the door
I don't think I'm gonna love you anymore

TNA has opened up the polls for year-end voting. The nominees for Tag Team Of The Year are Kazarian & Michael Shane, 3 Live Kru, The Naturals, Team Canada, XXX, AMW, and The NYC (who won one squash match on Impact, then got killed in every other match they wrestled all year).

2) Jeff Hardy pinned NWA World Tag champion Bobby Roode (w/ Coach Scott D'Amore) at 5:06. Fast start saw Roode shove Hardy off the top rope onto the guardrail. Roode bullied Hardy for most of the match until Hardy fell out of a powerbomb attempt. He was supposed to flip out of it, but well, he's Jeff Hardy. Hardy escaped a vertical suplex and hit the twist-of-fate. Hardy went for the swanton, but D'Amore distracted him, allowing Roode to crotch him. Roode tried a superplex, but Hardy shoved him off and hit the swanton for the pin. Fuck this shit. There's like three Team Canada guys they do nothing with; don't job out Roode, who is not only a champion, but TC's #2 guy, right behind Petey Williams. (Chris)

3) Dustin Rhodes pinned Johnny Swinger at 4:50. Waaaay too long. Finish was the curtain call, though they didn't call it that. (Chris)

Shaneurysm welcomed Dustin to Impact. He was excited to be there and cut an energetic promo, putting over both the company and Turning Point. Dustin challenged Jeff Jarrett and reminded us that he was Dusty's son. Now think about the lengths this guy went to just to get out of Dusty's shadow.

The Raven-DDP feud was recapped, as was last week's confrontations with both Rave and the Oldsiders.

4) Erik Watts NC Scotty Matthews. Before the match started, DDP ran-in from the crowd and gave Matthews a diamond cutter, apparently wanting to match-jack things and face Watts himself. Watts backed off. Didn't they just do the "we don't know why they hate each other" build with DDP and Raven a month ago? (Lance)

Best Finisher nominees are: Swanton, stroke, Canadian destroyer, pounce, Styles clash, diamond cutter, black hole slam, and Raven effect.

They replayed last week's finish where Garza edged Styles with a small package off the superplex. Mike Tenay and Moody Jack did the bi thing again this week. Oh, just stop. You know what I mean. Bilingual announce teams.

5) NWA World champion Jeff Jarrett pinned Hector Garza in a non-title match at 12:13. This match also had a 15-minute time limit, which they really ought to just establish as the regular time limit for TV main events. Good psychology and great heat (including the now-standard "dueling chants" bit). Jarrett was great, slapping around and taunting Garza. These two work well together, and have feuded in AAA recently. It seems like every week, I'm typing that Garza "works well" with everyone, and dammit, he does. Great drama and heat for the nearfalls as they passed the 10-minute mark. Jarrett went for the kabong, but the ref grabbed the guitar. Garza schoolboyed Jarrett for a nearfall. The Oldsiders did an amble-in and the crowd just groaned. Garza floored them both with a split-leg dropkick. The ref was about to DQ Jarrett, but Garza stopped him, wanting to win it clean. Garza powerbombed JJ and went for a moonsault, but JJ caught him with the guitar while the Oldsiders tied up the ref. Didn't look good. Jarrett got the pin, and one more nail was firmly hammered into TNA's coffin. If Jarrett was going over, why not make it a title match? Jobbing out Garza in a non-title match was buried, squared. Good match, horrible finish. (Chris)

Overall over-analysis: Three words, and they earned every letter: WORST…IMPACT…EVER.

This Observer's Thumb…………………is WAAAAAY down.

-HDS-
---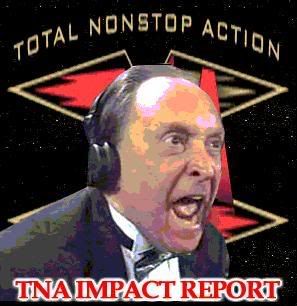 NWA TNA IMPACT! ON FOX SPORTS NET (12/10/04)
TURNING POINT PPV RESULTS (12/5/04)

1) Bobby Roode & The Other Guy beat B.G. James & Ron Killings (surrogate-defending for Konnan, who skipped the PPV to wrestle in Mexico) to regain the NWA World Tag Title.

2) Hector Garza & Sonjay Dutt & Sonny Siaki beat Kid Kash & Kazarian & Michael Shane.

3) Monty Brown beat Abyss in the "Serengeti survival match" where the finish could come via pinfall, submission, or by throwing the other guy into thumbtacks (finish was the latter).

4) Pat Kenney & Johnny B. Badd beat The New York Connection. Jacqueline was special ref. This was supposed to be a six-person with Trinity, but she bailed on the PPV for a movie role with next to no notice. Wild guess: Softcore, only two inputs. This understandably pissed off TNA huge, so the announcers just pretended that she didn't exist. She's pretty much done with the company. Fuck.

5) DDP pinned Raven.

6) XD champion Petey Williams pinned Chris Sabin to retain the title.

7) A.J. Styles & Jeff Hardy & Randy Savage beat Jeff Jarrett & Kevin Nash & CholesterHall in the "Political Chernobyl" match when Savage pinned Jarrett after (get this) punching him in the head on a sunset flip attempt.

8) AMW beat XXX in the "six sides of steel" cage match, forcing XXX to split up. All reviews have this pegged as a MOTY candidate, and Dave Meltzer gave it ****3/4 in this week's WON.

NWA TNA IMPACT! ON FSN (12/10/04)

Open with clip of Vinny McDaddy and "Son-In-Law." This was an annoying swipe at the WWE they took during the PPV. Unfavorable comparisons to Billionaire Ted flowed like ranch sauce at CholesterHall's house. All show long, they smartly pushed the TP replay with clips and stills, plus uncredited quotes claiming that it was the greatest thing ever (especially the cage match). I still stick to my guns that they didn't deserve my money after
Victory Road,
but still, I may just have to track down a video of this bad boy for purposes of Recapitating the hell out of it.

1) Christopher Daniels pinned Mikey Batts at 5:00. Announcers said that it was supposed to be Daniels vs. Chris Sabin, but Sabin's back was hurting from the PPV. Batts came out to Sabin's theme music anyway. Fast-paced with good back-and-forth until Batts totally fucked up a spot where he was supposed to jump up on Daniels' shoulders from a knucklelock. Daniels finished Batts off with "Angel's wings" (yet another pedigree knockoff). This smartly reintroduced Daniels into the singles division, which opens up all sorts of possibilities. (David)

DDP bumped into the Oldsiders. I love how TNA gives TV tme to the young kids trying to make names for themselves. They baited each other. This went nowhere. Hopefully, it will stay there.

Next up was a little skit with TNA guys giving their "Resolutions," to build for the "Final Resolution" PPV in January. Traci saved it for obvious reasons with her obvious talents. Damn, she's hot.

The announcers recapped the Tag Title switch from the PPV. Shaneurysm talked to a celebrating Team Canada, who is back to controlling two-thirds of all TNA gold. Johnny Devine has returned from his pincushion impersonation. Bobby Roode cut a funny promo running down other teams, cutting himself off as he listed XXX. Coach Scott D'Amore served notice on Jeff Jarrett that he wants ALL the gold. He didn't bark at us this week, which I guess is their way of showing that TC is deadly serious in their championship aspirations.

2) AMW beat Kazarian & Michael Shane (w/ Traci) at 6:29. Tenay put over today's "PPV quality" lineup with this match and the main event. He's got a point, as this was the most loaded Impact I can remember. Still though, I would have slow-built AMW's first meeting with Kaz & Shane. AMW came out bandaged up, selling the cage match. Good stuff. The heels isolated Chris Harris until he could give the hot tag to James Storm. Kaz hit the old Buff blockbuster move on Storm, followed by Harris hitting a flying bodypress on Kaz. Kaz & Shane went for extreme domination on Harris, but Storm made the save with a superkick. Storm pinned Kaz after the death sentence. I don't know why the hell they insist on jobbing out Kaz (who has done like three high-profile TV jobs since his Ironman performance at Victory Road). A good showcase for AMW, but no way would I have fed them to Kaz & Shane with no build. (David)

"Best Of AMW" DVDs are now on sale.

They recapped three days in the life of Monty Brown last week, from the Jarrett match to his win over Abyss at Turning Point.

3) Monty Brown pounced Glenn Gilberti in 28 seconds. (Waldo)

Mike Tenay interviewed Monty at ringside. Monty called Tenay "Professor Of Wrestleology." How did Sean miss that one? Monty further ripped on the KOWpies, calling Nash a "grey goose" and CholesterHall a "three-toed sloth." Everything was going fine until Monty fucked up the name of the next PPV by calling it "Final Destination." Um, that was a movie. (Sean's note: Well, the movie Final Destination was all about avoiding death at all costs, so it kinda makes sense as it pertains to TNA...)

Here comes Jeff Jarrett. Please fasten your safety belts as the show will now screech to a halt. JJ took the mic and bragged about remaining World champion. JJ milked a "Jarrett sucks" chant. At least he tries to parlay his "monotony heat" into "real heat," unlike HHH who insists on "babyface respect" from the fans despite being a heel. Jarrett asked who was left to challenge him at Final Res. That was not a good idea, because fans then immediately started asking themselves the same thing. Jarrett further vowed not to defend his gold at Final Res. Dusty interrupted him, so Jarrett kept interrupting the interrupter in turn, prompting Dusty to scream "AW, SHUDDUP!!" over and over. Total amateur hour, but also perversely amusing. Dusty said that he controls Jarrett's destiny, and he would indeed get a main event PPV payoff, against his will. That'll teach him. As to the challenger, Dusty left us all hanging again.

Footage aired of DDP vs. Raven from the PPV. Shaneurysm confronted DDP backstage, but Raven interrupted them both. Raven played mindgames, taunting that DDP "didn't know" something about Erik Watts and he would "forgive the unforgivable." You mean, every single match Watts ever wrestled? I don't think the Pope has that much fogiveness in him. Then once back from the break, Raven schmoozed with Erik Watts. He continued to stir it up between Watts and DDP. Remember when Raven was the edgiest wrestler in the biz nine years ago?

At ringside, spanish color man Moody Jack joined Tenay for wrestling's "first-ever bi-lingual announce team" for the main event. This was a lousy idea in both theory and practice.

4) Hector Garza pinned A.J. Styles at 8:40 to earn a non-title shot against Jeff Jarrett next week. You read it right. The winner gets a NON-TITLE shot! That's like a hooker telling you that if you pay her, you can get to second base.
The match had a special 15-minute time limit and fans started doing the dueling chants straightaway. If anyone deserves credit for what success TNA has enjoyed up to this point, it's the Orlando crowd. First commercial break hit 64 seconds into the match. Great stuff between two versatile guys who secrete talent from every pore. It was Garza's lucha tumbling vs. Styles' improv highspots. Garza locked in the Romero special (upside-down surfboard), but A.J. made the ropes. Fans were even hot for this. A.J. came back with the Asai moonsault DDT. Styles got another nearfall with a wheelbarrow faceplant. Garza met Styles off the top with a dropkick. Everything these guys did looked great. More dueling chants. Garza went for a tornado DDT, but Styles spun him back onto the corner and hit the Pele kick. Finish then saw Styles hit a top-rope superplex, but Garza small-packaged Styles for the pin. This finish was taken from the famous match between Randy Savage and Dynamite Kid at the WWF's "Wrestling Classic" PPV back in 1985. The win put Moody Jack in a very good mood. They should do a buddy-movie with Moody Jack and Angry Mike. On second thought, no they shouldn't. That was a terrible idea. Throwing away the "winner gets a non-title match" nonsense, this was indeed a PPV-quality match and easily the best TV main event in Impact history, if way too short. (Kerry)

Overall over-analysis: It took the best PPV in company history to give them a desperately-needed shot in the arm. Riding the momentum from Turning Point, damned if they didn't turn out a loaded, focused show today. Major props to the boys who busted their asses to put on good matches, despite being fully aware of the company's financial apocalypse. Next week will be important, not because there's a non-title match, but to see if they can keep on keepin' on.

This Observer's Thumb............................is up.

-HDS-
---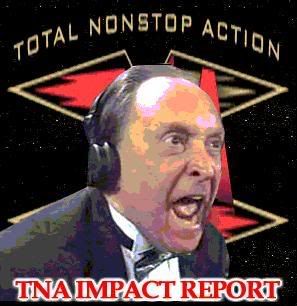 NWA TNA IMPACT! ON FOX SPORTS NET (12/3/04)

It's two days before their next PPV. Just thought I'd point that out.

We open with a teaser for today's Jarrett-Monty main event, which they finally got around to pushing as "the biggest match in Impact history" now that we've already tuned in.

1) XXX beat Sonjay Dutt & Amazing Red at 4:20. Good fast-paced match that saw the announcers talk about the six-man match at the PPV with Jarrett & Nash & CholesterHall vs. Styles & Hardy & Savage. Finish saw Daniels pin Red after Elix Skipper hit a spinkick when Red was going for one of his moves that they didn't name. Nice swan song of a TV match for Fallen Angel & Primetime. (David)

AMW cut a promo on XXX, followed by the kick-ass AMW-XXX feature replayed.

Monty was squatting backstage. Oh, come on, TNA! I know that money is tight right now, and luxuries like terlets are hard to come by, but let the man keep what's left of his dignity! Shut those damn cameras off! Actually he was doing push-ups, but my version is funnier. Monty cut the line of the show, calling the PPV feature narrator "Darth Vader." They need to let the guy do more comedy because he CAN do it and do it well. Anyway, Abyss attacked Monty with a 2x4, making him a question mark for today's World Title main event. That'll teach those pesky fans! I just hope this doesn't mean that Jim Mitchell has been scrapped as Abyss' manager in favor of Hacksaw Jim Duggan.

As the announcers sold the attack, Don West mixed up Abyss and Monty. Ah well, he'll be gone in a few months.

2) Abyss killed Matt Mayor & Vince Desmond in a handicap match at 1:36. Mr. Craptus Interruptus came out with his usual chain, his bag o' tacks, and now a 2x4. This wouldn't be so bad if TNA made action figures. But they don't, so it is. 'Byss crushed the hapless jobbers with his rackbreaker and BH slam, respectively. Abyss finished 'em off with the double-pin. Now that he's not building to a three-way match anymore, that spot doesn't exactly make sense. Abyss went to pour his tacks on the jobbers, but the ref yanked 'em to safety. No sign of Abyss' mystery voice this week. (Waldo)

Last week's finish was replayed. Don't worry, they showed CholesterHall pinning A.J. Styles again, just in case you missed it last week. The KOW chips gave another long, show-killing interview. Look, guys, I'm not gonna bullshit you. I fast-forwarded through it. I'm willing to go kayaking through a septic tank for you, but Nash and CholesterHall are just too damn frustrating to sit through.

3) Kid Kash pinned Chris Sabin at 3:00. The hell? Isn't Sabin challenging for the XD Title on PPV this weekend? Hang on, let me check. Yup. Yes indeed, he most surely is. Nice fast-paced match with a finish where Kash turned a cradle shock into a victory roll with a "plumber's crack" tights-pull for the pin. Very good match, but this was NOT the time to job out Sabin. Funny story: When I read this result in WON, at first, I thought it said NASH pinned Sabin. On a quiet Las Vegas night, you can still hear the echoes of me swearing at the top of my lungs. (David)

The Sabin-Petey Williams feature was next, almost as an apology for the previous match.

Back at the announce table, Mike Tenay told us that fans voted, in a landslide, to have TNA air the WWE "welcome wagon" footage on PPV. They're SO sued.

Next up was a feature-angle-and-another-feature on the Raven-DDP feud. The crowd went nuts for Page walking through them. Raven blindsided DDP with a trash can. They had a nice, quick brawl. Raven bailed out before Page could hit the diamond cutter. Erik Watts stared them down from the cheap seats. The whole "Erik Watts wildcard" factor hurts this feud more than it helps it.

They replayed the Abyss attack as Tenay & West speculated as to the condition of Monty.

4) NWA World champion Jeff Jarrett pinned Monty Brown to retain the title at 13:03. Monty came out with his ribs taped heavily, swiping DDP's "other" gimmick. Jeremy Borash did the ring intros after both guys were in the ring, like ECW/Japan. Borash did a decent enough job, but reminding us that JJ has been the champ since May isn't a good thing. Tenay did the best scream-sell of his career as they went to break before the start of the match. When the match started, Tenay assured us that they would show the full match in its entirety. Opening minutes saw Monty overpower Jarrett like nobody's business. The tide turned when Monty missed a (bad) dive over the ropes. Jarrett worked over Monty's bad ribs and back. Monty came back with a bunch of power moves for a bunch of nearfalls, capped off by that kick-ass bodyslam-lift-into-a-powerbomb. The crowd was on their feet for this and the heat was everything you could ask for. Monty gave Jarrett the fallaway slam, but threw him into the ref for a ref bump. Jarrett kabonged him, but he no-sold it. The fans went nuts. Jarrett hit the stroke, but Monty kicked out for a great false finish. Monty um, Browned up and gave Jarrett the pounce. At this point, it kinda reminded me of Hogan-Goldberg with fans creaming for the unstoppable babyface to knock off the stale heel champion. Didn't happen. CholesterHall ran-in and was similarly pounced. During this, Jarrett grabbed a chair and gave Monty two chairshots for the pin. Okay, so not only was the challenger injured in a pre-match attack, but there was still outside interference, a guitar and two chairs involved. Not sure who this protects, but overbooked nonsense like this doesn't get anyone over. (Chris)

The show ended with a shot of A.J. Styles and Jeff Hardy in their street clothes, apparently laid out in the parking lot. The implication is that they were victims of the mighty KOW once again. Savage showed up and hovered over them as a mysterious vehicle drove onto the scene. Um, TNA? It's been five fucking years. We don't care who drove the damn hummer anymore.

Overall over-analysis: It seemed like this show should have aired a week AFTER the PPV, instead of two days BEFORE. You have a screwjob in a World Title main event (never a good thing). You have Chris Sabin, the #1C to the XD Title, doing a job. You have XXX doing a quickie match and AMW doing a quickie promo despite the fact that in two days, you're having the most important match in the career of either team. You have the baffling involvement of Erik Watts on the only thing that really DID work today. And you have another lackluster "11th hour" show days before TNA expects fans to cough up another $30. Good freakin' luck.

This Observer's Thumb……………..is down.

-HDS-

Turning Point PPV lineup (12/5/04)

"Six Sides Of Steel" cage match, losers must split up: AMW vs. XXX

XD Title: Petey Williams vs. Chris Sabin

Jeff Jarrett & Kevin Nash & CholesterHall vs. A.J. Styles & Jeff Hardy & Randy Savage

Raven vs. DDP

Serengeti survival match (?): Monty Brown vs. Abyss

Kid Kash & Kazarian & Michael Shane vs. Hector Garza & Sonjay Dutt & Sonny Siaki
---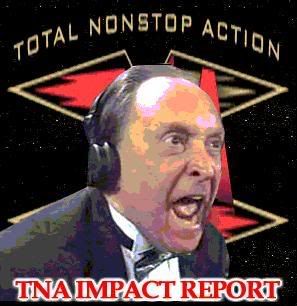 TNA IMPACT! (11-30-04)
NWA TNA update: The last two weeks in Dave Meltzer's Wrestling Observer Newsletter told the story that this company is in deep doo-doo. The numbers for the
"Best Damn" special
were better than the show's usual ratings, but still fell below expectations, which torpedoed any chance of FSN giving them a prime time slot.

B.G. James became my favorite wrestler in the world when he recently flipped out backstage, called Bob Ryder a "fucking faggot," and tore into AMW for having to "get all their shit in" at Victory Road despite the fact that Elix Skipper suffered a concussion during the
AMW-XXX match.
James was also rightly pissed that the 3 Live Kru are "supposed to be thugs, but made to look like pussies."

Not to be upstaged as TNA's most vociferous malcontent, my other favorite wrestler in the world, Kid Kash, did another shoot interview for a U.K. magazine where he again ripped into the company for flushing money away on Savage, Nash, and CholesterHall, while cutting corners and not paying the young wrestlers what they're worth.

Then Dusty Rhodes addressed the troops and basically told them to quit bitching because Victory Road did a better-than-expected buyrate thanks to Nash, CholesterHall, and Savage (who wasn't advertised beforehand and arrived as a surprise in for the last 30 seconds of the show).

But most importantly, Panda Energy (TNA's sugar daddy) has grown tired of flushing money down the toilet on the company that has yet to turn a profit or for that matter, ever break even. TNA has been cutting corners like they're coupons from the Sunday newspaper. Impact tapings were scaled back to bi-weekly outings, while the syndicated Xplosion show will be a magazine format. Just recently, Jerry Jarrett was basically told that Panda wanted out. It was a major miracle when Jerry hooked up with Panda several months ago when it looked like TNA was DOA. So unless Jerry Jarrett can somehow pull another rabbit out of his hat, NWA TNA is done for. Suffice to say, they're now officially on death watch.

NWA TNA IMPACT! ON FOX SPORTS NET (11/30/04)

The Monty Brown-Abyss feud was recapped, as was KOW vs. The Soon-To-Be-Unemployed.

Speaking of the TNA death watch, we're starting the show with an angle that sees EIGHT FUCKING BABYFACES ambush Nash and CholesterHall in their dressing room. A.J. Styles sucker-punched CH and the faces ran away like cockroaches, callously disregarding the "DO NOT ENTER" sign on the door. Lousy whippersnappers.

1) AMW beat The NYC (w/ Trinity) at 4:04. James Storm got the hot tag and cleaned house until getting tripped by Johnny Swinger. Storm no-sold and pinned Disco No Mo' after the death sentence. Trinity is hot. The match was not. (Mike)

Mean Shane talked to Dusty, who booked Styles vs. CholesterHall for today's main event. Mean Shane didn't even finish overselling that announcement when Dusty also booked next week's TV main event with Jeff Jarrett defending the NWA World Title against Monty Brown. For comedic purposes, Mean Shane will now be referred to as "Shaneurysm" for the remainder of this review.

Hey, let's poke at a hornet's nest! As you surely know by now, the WWE crew was at Universal Studios to film a commercial for the upcoming 1/30/05 Royal Rumble PPV. Masterminded by David Sahidi (the production genius behind TNA's recent video features who used to work for the WWE), a camera crew filmed Abyss, Trinity, Shane Douglas, and 3LK going out as a "welcome wagon" for the WWE guys, complete with balloons and cookies. WWE freaked out and threatened to sue everyone from Universal to TNA to Nabisco for making the cookies.

Anyway, TNA filmed the whole thing and now there's a poll on their website asking if fans want the footage shown on the Turning Point PPV. There's not enough bandwidth on the whole freakin' internet to fully explain how awful this idea truly is. Even if the incident happened on public property, the WWE still owns the likenesses of their guys. It would be one thing if TNA showed it on their TV show, but to use it to BLATANTLY try and sell their PPV, they're gonna be up to their balloons in hot water. I'm all for TNA going balls-out against the competition, but this is NOT the time to court trouble from the WWE (pun intended).

Next was a feature on the AMW-XXX war. Very well done. Don't quit your day job, Sahadi.

They went two for two on great features by then recapping the Petey Williams-Chris Sabin feud and the emphasis on Sabin OWNING the Canadian Destroyer.

2) Chris Sabin won a non-title sudden-death three-way match over XD champion Petey Williams (w/ Coach Scott D'Amore) & Michael Shane (w/ Traci) at 3:57. Okay, for today, Traci beats Trinity for babe of the week, but check back with me in seven days. I hope they book those two on PPV before the company goes belly-up by February. This was an interesting choice for a match when you're trying to sell a Petey-Sabin PPV title match in nine days. Not what I would have done, but still, the booking was solid as Shane played the wildcard rather than help Petey. Tracy and her cleavage trapped Sabin between the ropes, allowing Shane to hit a hanging guillotine legdrop. Sabin gave Shane a NICE enziguiri, prompting Petey to dart in and hit the tilt-a-whirl legsweep for a nearfall. In the move of the year from TNA, Petey set up Shane for a CD off the second rope, but Sabin flipped over Shane's back, and in one fluid motion, hurracanrana'ed Petey and German suplexed Shane. All three guys get MAJOR props. A quick fix to making Smackdown watchable again would be to sign these three guys for the Cruiserweight division ASAP. Sabin went for the cradle shock, but Shane made the save with a backbreaker. Petey rewarded him by clotheslining him over the top rope. Petey went for the CD, but for the third time, Sabin countered it into the cradle shock for the pin. Again, not conventional booking, but the point was made and made damn well. (Kerry)

Shaneurysm tried to talk to Raven and his Droogs, but Rave blew him off. I always did like Raven.

The Sabin-Petey PPV commercial aired. Awesomely booked, awesomely produced. One of the few things going on in wrestling right now that is exactly what it should be.

3) Raven NC Vordell Walker. Raven attacked Vordell before the bell so the ref waved off the match. DDP made the save and cut a promo on Rave, running down their history. DDP bragged about winning a four-way match over Sting, Hulk Hogan, and Ric Flair to become World champion. That happened at Spring Stampede on 4/11/99, by the way. It's one thing when the WWE has guys teaming up with each other a few months after a blood-feud (like Lesnar & Cena last year), but when you're boasting about your career peak from five and a half years ago, it's just sad. And it only got worse. DDP said that after the win, he and Rave partied "with Kim." Hey, I like DDP, but implying that you let another guy have a "three-way-dance" with you and your wife isn't exactly gonna get you over with the 18-34 male demographic, or for that matter, sell a single PPV. Anyway, DDP returned because Raven was talking smack about him. Dude, if wrestlers went to war each other every time one of them badmouthed the other, then everyone would be always be fighting each other and there would be no time for 20-minute HHH promos or witless jabs at the NFL with a black wrestler and a naked Canadian chick. Raven shot back with a funny line. "So many people have stuck knives in your back, how do you know which one is mine?" He's still got it, I tell ya. Rave continued that their issue about Kim, but rather, "it's about Erik Watts." Raven further whined that he should have been the World champion, not DDP. The Droogs attacked DDP, who gave them each a diamond cutter. Homosexual overtures focused on Erik Watts notwithstanding, this was a fun nostalgic angle. (Lance)
The DDP-Raven feud was recapped. DDP's "TNA in-ring debut" is officially on for Turning Point.

A.J. warned us not to try this at home again. Thanks, Phenomenal One. Now I'll return the favor by warning you not to have TV matches against CholesterHall.

4) Hector Garza pinned Kid Kash (w/ his coconut) at 2:55. A nicely-illustrated fan sign boasting "KID DESERVES KREDIT" was featured as the Kay-Eye-Dee walked to the ring. This amuses me because he's perpetually in the doghouse, but apparently someone forgot to tell the production monkeys. Fans chanted "Hector" as the lads faced off. Good back-and-forth, leading to Shane and Kazarian coming down to ringside and hopping up on the apron. Kash shoved Garza into them both, and went for a powerbomb or piledriver. Garza was supposed to flip out of it and roll up Kash for the pin, but they totally fucked it up. Kash just kinda fell over backwards and Garza pinned him. After the bell, the heels went for another coconut shot, but Sonjay Dutt, Amazing Red, Shark Boy, and D-Ray 3000 ran 'em off. Traci or no Traci, a finish botched that badly is gonna cost you a full Von Erich. (Mike)

The Turning Point commercial aired, followed by stills for the top three matches (AMW-XXX, Petey-Sabin, and the six-man).

They recapped wrestling's most boring feud, Team Canada vs. 3LK. They're selling that Konnan was injured by the KOW last week, so now B.G. James and Ron Killings are defending the belts. I guess 3LK is like the Freebirds or Demolition, to where any two of the three can defend their tag straps. Not my favorite recurring angle, but hey, if we get Killings instead of Konnan, that's a system upgrade even Dell would be hard-pressed to equal.

5) Ron Killings pinned Bobby Roode (w/ D'Amore) at 3:18. Good action between two guys who deserve better than to be buried in a listless faction war. Truth won with the lie detector after shoving Roode into D'Amore. B.G. cut a promo on TC, as it's 2LK vs. Roode & The Other Guy for the Tag Title at Turning Point. At least he didn't brag about retaining the IC Title over Ken Shamrock, Val Venis, and Goldust, at Wrestlemania 15. BTW, did you notice that 3LK is the only faction around these days that has yet to show the slightest sign of splitting up? There, that oughtta jinx 'em. (David)

Another commercial for Turning Point aired. I think it's hilarious that they emphasize how the losers of the AMW-XXX match can never again team up "in TNA wrestling." That's an empty threat. Will there even BE a "TNA wrestling" in three months?

6) CHOLESTERHALL FUCKING PINNED A.J. STYLES AT 8:36. Is it three months yet? CH has to be seen to be believed. He's still rolling in his Wolfpac-issue black-and-red trunks, but the problem is that his midsection is rolling them altogether. I taped this match just so I can pop it in from time to time and horrify my "casual fan" friends by saying "Hey, remember Razor Ramon? Well check THIS out." A.J. did what he could to carry CH and

Slow-mo Kevin Nash came down and interfered while the poor referee had to play the dumbass and distract himself while Nash could hobble up on the apron and blindside Styles. Hall caught Styles off the top, but Jeff Hardy ran-in (or knowing him, just now arriving at the building) and dropkicked Styles in the back so Styles fell on CH for a nearfall. P1 went for the Styles clash, but Jarrett ran-in and kabonged him. CH pinned him. In the wrestling biz, we refer to this as "the first nail in the coffin." Savage's TNA music warbled and the Macho Hobo led 3LK, AMW, and the rest of the babyfaces into the ring. Jarrett and CH backed up in cowardice (you know, the way heels are SUPPOSED to), but Nash laughed at Macho and mockingly played air guitar on a chair. Out of every possible TV match they could have done to push the six-man main event at Turning Point, Styles was the LAST fucking guy who should have done the job, screwjob or no. Oh yeah, this company is doomed. (kevin)

Overall over-analysis: The build to Petey-Sabin remains strong. Ditto AMW-XXX and in a pleasant surprise, DDP-Raven. Out of all the things I ever expected to critique this company for, "underpromoting a Jeff Jarrett main event" was never on the list. If the World Title is at stake on free TV next week, it should be a huge deal. How about a promo from Monty, who finally gets his crack at the big prize? How about some words from Abyss' mystery voice about how they hope Monty wins the gold, so then a fresh Abyss can in turn beat Monty for the strap two days later on PPV? Missed opportunities. Young guys cut off at the knees. Nash and CholesterHall running rampant. I could have just phoned it in today and done a "copy n' paste" from the last two years of WCW rants.

This Observer's Thumb……………..is WAY down.

-HDS-

Turning Point PPV lineup (12/5/04)

Jeff Jarrett & Kevin Nash & CholesterHall vs. A.J. Styles & Jeff Hardy & Randy Savage

"Six Sides Of Steel" cage match, losers must split up: AMW vs. XXX

XD Title: Petey Williams vs. Chris Sabin

Raven vs. DDP

Serengeti survival match (?): Monty Brown vs. Abyss

Kid Kash & Kazarian & Michael Shane vs. Hector Garza & Sonjay Dutt & Sonny Siaki
---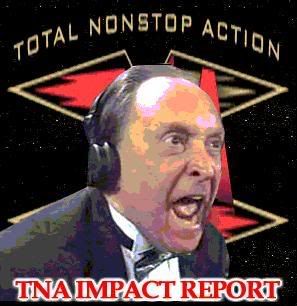 NWA TNA IMPACT! ON FOX SPORTS NET (11/19/04)
The KOWboys attacked people out back, including an homage to 1996 when Amazing Red jumped on Kevin Nash, who pitched him into the side of a trailer. Unfortunately, Red is no Rey Misterio Jr 1996 and Kevin Nash is no Kevin Nash 1996. You're reaching, guys. You're realllllllllllly reaching.
1) NWA World champion Jeff Jarrett (w/ his KOWs) stroked J-Rocc in a non-title match at 40 seconds. The KOWs kicked Don West out of the broadcast table and joined Mike Tenay for commentary. These guys wish it was 1996 again so bad, CholesterHalls arteries are hardening. Jarrett joined the party at the broadcast table. (Waldo)
A feature aired hyping Sabin vs. Petey at Turning Point. The big push going into this match is that Sabin knows how to counter the Canadian Destroyer into his own "cradle shock" finisher. Good stuff.
Next was a feature for the PPV as a whole. It was a ripoff of the old "I know what you're thinking" vignette. Then again, is it really a ripoff if it's the same guy ripping himself off? I hope not, because I do it every time I roll out a "Behind The Pyro" piece (Shawn Michaels coming in December!).
XXX cut a promo on AMW from inside a "six sides of steel" cage outside the arena. Who the hell left that thing laying around out there? All we need is some kid to start fooling around, climb on it, then fall off and land on Shark Boy. Anyway, Elix Skipper accentuated their rage by mashing fruit through the cage. Was that a gay-bash?
2) AMW NC NYC (w/ Trinity and her cleavage) at 1:33. You know, I don't think we have enough abbreviations in wrestling. LOL. Oh, hell. Looks like the KOWs are our broadcast team for the day. Trinity went for a flying hurracanrana on Chris Harris, who threw her over the top rope onto her team. Jarrett berated AMW, so they attacked him. This led to the KOWs and NYC attacking AMW. They dragged AMW out back and threw them into the cage with XXX and their fruit. Another limo pulled up. This show is disintegrating by the second. (Chris)
The KOWs are back in the production truck, barking orders. Someone needs to confiscate their copy of the "Monday Night War" DVD now.
3) XD champion Petey Williams & Bobby Roode (w/ Coach Scott D'Amore) beat Jerrelle Clark & Mikey Batts at 2:46. Petey & Roode are SO much better as a team than Roode & Eric Young ever were (and they were the tag champs for a couple weeks). Roode plays the powerhouse well, and Petey is just freakin' awesome. Sabin watched from the aisle. Finish saw Petey give Jerrelle the CD for the pin. Sabin hit the ring and danced well with Petey. Sabin again countered the CD into the CS. Good match with excellent build for the PPV XD Title match. (David)
A third mystery limo pulled up. What the hell is this place today? A strip club?
Back from commercial, the KOWs were perplexed because there was no one in the limos. Well hell, there had to be SOMEONE in the limos. Did they drive themselves?
Next was the clip from last week when DDP attacked Raven.
4) Johnny B. Badd pinned Raven at 2:41. Raven came out wearing a Roman soldier's helmet. I'm sure there's either some sort of deep psychological significance behind this, or it's just another dumb insider rib. These two did not work well together at all. They had no timing and everything looked like crap. Raven superkicked JBB into the ref for the ref bump. DDP came back and and again cut Raven's diamond. DDP is over huge with the Orlando crowd, who chanted "DDP" and gave him the diamond sign. DDP kicked the ref back to consciousness and JBB got the pin. Odd that they didn't give this more time, as you could all but tell that they were hoping to snag some channel flippers with the Fox Box advertising "Raven vs. Johnny B. Badd." (Chris)
Up next was a feature on A.J. Styles and the XD Gauntlet from VR. Well done, but the Gauntlet highlights are already getting old.
Shane Douglas interviewed DDP in the parking lot. As DDP climbed into his limo (as in, one limo down; two to go), he said that Raven has been "living in (his) head rent-free for two-and-a-half years." DDP concluded by telling Rave "(the) rent's due." Douglas mouthed the words "Rent's due?" Douglas is so freakin' horrible in his role as "Mean Shane," it defies description.
5) Abyss killed Kevin Jones at 1:12. 'Byss hit the BH slam, but picked Jones up at two. Mr. Black Robe is still stalking Abyss. Fans chanted "one more time." Abyss instead pounced Jones for the real pin. Abyss then did the "second three-count" bit. It made sense when he was building to a three-way match. Now it's just kinda dumb. Abyss gave the mat a thumbtack bath and teased powerbombing him on the tacks, but Monty ran-in and made the save. (Waldo)
Mean Shane interviewed Raven. They were both pissed that no one asked them to give "celebrity comments" on the new "Rise & Fall Of ECW" DVD. Raven said Erik Watts was to blame for Page's problems. I don't know where they're going with this, but if they're brining in Watts, I hate it. Raven's still doing the angry poetry bit. He needs a new bit. Raven challenged DDP for Turning Point. Um, I think.
Dusty Rhodes addressed the crowd from inside the hexaring. He said that as an added stipulation for AMW-XXX, the losing team must split up. Dusty tried to rally the locker room against the KOWs. Apparently, Dusty was in limo #2.
The replayed clips from Piper's Pit That They Can't Call Piper's Pit from VR. Sonjay Dutt cut a promo saying Jimmy Snuka was one of his favorite wrestlers and one of the first autographs he ever got. Dutt vowed revenge on Kid Kash.
"Total Nonstop Action My Ass" stopwatch: 50 minutes into this week's show, we've had less than 10 minutes of in-ring action. They're slowly getting better. Verrrrrrrrrry slowly.
6) Kid Kash & Kazarian & Michael Shane (w/ Traci) beat Sonjay Dutt & Hector Garza & Sonny Siaki at 3:36. The heels came out wearing leis to mock Jimmy Snuka. Kash brought out a coconut. He needs to start sipping pina coladas out of broken coconuts. It would be a cooler visual and be truer to his character's personality. After the ring intros, they picked this match up at two-and-a-half minutes into it. Siaki hit Kash with that nice Samoan drop of his. Traci rolled in the coconut, and Kash laid out Siaki with a coconutshot for the pin. So now all three members of the babyface team have tasted Kash's coconuts. Shark Boy ran-in to snitch. It looked like the ref was going to either reverse the decision or restart the match, but they never quite got there. Shark, Sonjay, and Hector hit a triple Superfly splash on the heels as a tribute to Snuka. The heel team bailed, and the KOWs hit the ring to lay out the babyfaces yet again. Jeff Hardy & A.J. Styles came out to confront the KOWs. Hardy and Styles brought out the occupant of limo #3, Randy Savage (who is back with the company after a week of ridiculous backstage politicking/haggling). A pathetically appropriate visual was picked up by the camera when Dutt rolled out of the way for Savage. Savage ran off Jarrett, took the mic, and threw out the challenge for a "six man match from hell" for TP. Yeah, "hell" is the word I'd use. (Chris)
A feature recapping the KOWs history (all two weeks of it) closed the show.
Overall over-analysis: DDP-Raven is a nice subplot, but Raven desperately needs to drop the poetry. His "intellectual Vietnam" line isn't paying the pimp, either. If Page and Rave want to have any chance for a good feud, they'll drop whatever they have planned with Erik Watts, if for no other reason than it¡¯s Erik Watts. Monty vs. Abyss? Seen it. Promised stips for the final encounter between AMW and XXX? Fool me once, yadda yadda yadda. The build to Petey vs. Sabin was this show's only real saving grace. Just when it looked like they were going somewhere with Traci and her coconuts, in came the Class Of 96 to ruin the party. I have one word of advice, TNA: IMPROVE.
This Observer's Thumb.....is down.
-HDS-
Turning Point PPV lineup (12/5/04)
"Six Sides Of Steel" cage match, losers must split up: AMW vs. XXX
XD Title: Petey Williams vs. Chris Sabin
Jeff Jarrett & Kevin Nash & CholesterHall vs. A.J. Styles & Jeff Hardy & Randy Savage?
Raven vs. DDP?
Monty Brown vs. Abyss?
Kid Kash & Kazarian & Michael Shane vs. Sonjay Dutt & Hector Garza & Sonny Siaki?
---
NWA TNA IMPACT! ON FOX SPORTS NET (11/12/04)
Raven confronted Larry Zbyszko, demanding a match against Monty Brown. I guess Rave wasn't paying attention when Dusty was named new DOA.
World champion Jeff Jarrett & The Outsiders cut a promo. Randy Savage is already done with the company and they're burying him on TV. Does it really count as a "good move" since we're talking about doing clean-up on a "horrible move" in the first place? JJ and pals officially announced their newfound partnership as the "Kings Of Wrestling." Good move, you dongs. I don't have enough material to rip on CholesterHall as it is; now he's in a faction with the initials K.O.W.
1) 3 Live Kru (Ron Killings & World Tag champions Konnan & B.G. James) squashed Scotty Matthews & Justin Cage & Jason Stoddard.
"In The Pit" from VR was recapped.
2) Kid Kash & Kazarian & Michael Shane (w/ Dallas & Traci) beat Hector Garza & Psicosis & L.A. Park. Garza got pinned after Kash hit him with a coconut. Having Garza do the job days after wining a red-hot XD Gauntlet at VR is beyond ridiculous.
Douglas talked to a car with no one inside it. Just humor him. TNA does. They showed clips of the Monster's Ball match from VR. Forget it. I'm not gonna waste any more of my life bitching about...­you know.
3) Monty Brown pinned Raven after DDP ran-in and gave Raven a diamond cutter.
A feature on Chris Sabin aired.
4) Chris Sabin pinned Alex Shelley.
Douglas interviewed DDP, who further set up a feud with Raven. DDP and Raven did have a fun WCW feud back in 1998, but that was six years ago, and Father Time hasn't marked out for either guy, if you feel me.
5) Jeff Hardy & A.J. Styles beat The Naturals. KOW laid out the babyfaces after the match.
-HDS-
Turning Point PPV lineup (12/5/04)
"Six Sides Of Steel" cage match: AMW vs. XXX
XD Title: Petey Williams vs. Chris Sabin
---
THE BEST DAMN WRESTLING EVENT EVER
As part of "The Best Damn Sports Show Period," FSN taped for two shows worth of stuff at the Impact Zone from Universal Studios in Orlando, FL. This was a huge deal for NWA TNA as far as mainstream exposure. It was also one of the worst examples of a shitty show that didn't understand or respect the business making wrestlers and by extension, wrestling fans, look and feel like complete douchebags.
DAY ONE (aired 11/10/04)
The BDSSP crew walked around Universal Studios. Host Chris Rose disrespected wrestling, so NWA World champion Jeff Jarrett kabonged him. Abyss then carried off his carcass. Tom Arnold told Abyss, "I loved you in Pulp Fiction." And it was downhill from there;­
The BDSSP crew opened the show from the hexaring. Rose wore a t-shirt that said "WRESTLING IS FAKE." The guys backstage were livid about this and rightly so. Roddy Piper came out to confront Rose. Piper cut three rambling promos at once. My closed-caption feature committed suicide. Piper slapped Rose, which was a planned spot, but Hot Rod still stiffed the guy. This is the first time I've marked out for Piper since his woot promo on Hulk Hogan at Halloween Havoc '96. This set up Rose appearing in the Pit for tomorrow's show. Monty Brown was out next for Open Mic Night, and he confronted fellow former football player, Bryan Cox. The Naturals attacked Monty with the powder-in-the-eyes bit and a chairshot. They told Cox to get himself a partner. This set up Cox & Monty vs. The Nats for tomorrow's show. Oops, did I give away the surprise? You should thank me. For all you know, it could have been Randy Savage again.
Back from break, they did a Victory Road recap.
Mine was better
. What followed was a witless segment called "Things You Wouldn't Say To TNA Wrestlers." They called Kid Kash "Dolores," and further ripped on Dallas and Team Canada. Of course, all the heels in question came out, and of course, AMW and 3LK chased them off.
Leann Tweeden talked to Dusty Rhodes. The New York Connection razzed Leann, so Dust shooed them away. Trinity is so much hotter than her, it isn't even funny.
1) A.J. Styles pinned Alex Shelley at 1:27. Their ring attire was way too similar, which had to confuse the hell out of people who were (hopefully) watching them for the first time. It was about as good as it could have been given the time constraints. Clever finish had Styles yank Shelley out of the corner and into the Styles clash for the pin. After the match, Abyss attacked Styles and chokeslammed him through a table at ringside, setting up their tables match for tomorrow's show. (Waldo)
Throughout the show, they counted down "Top 5 TNA Moments." #5 was when Brian Urlacher press-threw Jonny Fairplay out of the ring. Oh, so it's one of THOSE kinda countdowns.
Back from commercial, TNA Moment #4 was when Jarrett kabonged Hulk Hogan in Japan.
Tom Arnold was backstage. He checked Teo for weapons and told some lousy midget jokes. Johnny B. Badd talked to Leann about the upcoming Ultimate X match. They were hoping that fans would remember Badd. If they heard his voice, it's a possibility, but if they were channel-flipping with the mute on, it's a lost cause because the guy looks nothing like he did during his WCW days. Off-topic a little bit, though, it's uncanny how seamlessly the guy slipped back into his old gimmick. Just goes to show you that "Marvelous Marc Mero" wasn't really him and one of the rare examples of Vince totally dropping the ball on a guy.
2) AMW beat Kid Kash & Dallas. 3:15 aired, with one commercial break. James Storm had no tape on his bad leg and didn't sell it at all, despite the fact that the last several weeks of his career revolved around XXX chairshotting the hell out of said leg. It's one thing that they didn't have the guys come out with their belts so as not to give to give away the results from VR (this was taped a week before the PPV, to air afterward). But they've been doing the Nancy Kerrigan bit with Storm for months now, it's just plain insulting to our collective intelligence. And since I'm doing seven hours of TNA this week alone, my brain needs all the help it can get right now. Bryan Cox held Kash for Storm during the break. AMW went for a sky-high reverse DDT on Kash. It would have been sweet had they not totally blown the move. Now Kash has another reason to hate AMW. Did I mention that Kash has a scathing must-see shoot interview which is available for purchase at www.bbrownvideo.com yet? Dallas gave Storm a nice splash mountain lift into a powerslam, followed by Kash hitting his best-in-the-biz frog splash. Harris broke up the pin. AMW double-clotheslined Dallas out of the ring, then Storm superkicked him off the apron. Harris speared Kash for the pin. Again, this was good given the time limit, if a little unfocused and clusterfucky. (David)
Next was a teaser for the game of horse. See, if John Salley won said game, he would get to "promote" two blond women. But if he lost, he would have to "promote" 3 Live Kru. Waitwaitwait. If he wins, he gets to pimp out broads, but if he loses, he's FORCED to promote your babyface tag champs?? Is it any wonder the wrestlers hated this whole thing?
Back in the Zone, Tenay & West did their damndest to save the show by putting over the X Division and the NWA tradition. Arnold hijacked the segment and totally wrecked it.
Time for the all-Jeff quarter-hour. The Jarrett-Hardy VR match was recapped, then Jarrett talked to Jeff Hammond. Hammond incorrectly called JJ a former "seven-time IC champ" (it was six). You know, I thought I had been too hard on the dipshit up to now. I stand corrected.
More offbeat shenanigans from the BDSSP crew. Another Salley tease from the basketball court.
3) Christopher Daniels pinned Kazarian (w/ Traci) at 2:07. Wait a minute, I thought Traci was Michael Shane's designated T&A. Everything I thought I knew about the world was a lie. Daniels came out to a thinly-veiled rip-off of Marilyn Manson's "Disposable Teens." Yet another highspots-on-crack match. Gotta give the guys credit for trying to shoehorn as much into their matches as possible. Besides, the decision to keep the matches short wasn't their fault. It's not like Ring Of On-Him, where if there's a 20 minute match, there's 17 minutes of highspots, and three minutes of enziguiris. Kaz started out fast, but Daniels came back and hit the BME, which he called "the best damn moonsault period" for this show. Traci distracted the ref, so Shane ran-in. Kaz accidentally jump-kicked Shane, allowing Daniels to hit his "angel wings" finisher (think "pedigree") for the pin. Elix Skipper ran-in to even the odds and XXX ran off Kaz & Shane. XXX were booked as the babyfaces despite being uberheels over the past few weeks. A two-minute job? Is this any way to reward Kaz, who bumped his ass off for almost half an hour and all but single-handedly lit up the crowd on PPV? Fuck 'em. (David)
Salley finally met his partners in the game of horse, who turned out to be Shark Boy & D-Ray 3000. Salley said, "One is a fish, one smells like a fish." Arnold went to the back to prepare for further disgracing the business.
TNA Moment #3 was Jarrett getting the crap slapped out of him by the Tennessee Titans. Wait, THEY outrank Hogan??
Arnold talked to the TNA referees. Even the nameless zebras seemed embarrassed that they had to do this. Arnold told more lousy midget jokes.
4) Ron Killings pinned Raven at 2:17. About as competitive as it could have been given the maddening "you'll get over over our dead bodies" mindset of this show. Raven went for the "Raven effect" DDT, but Killings slipped out and schoolboyed Rave for the pin out of nowhere. It's one thing to job out guys who have never had any major mainstream exposure, but Raven has been all over the map. I'm all for clean finishes, but you've gotta think that any "lost" fans who remember Raven could only think that the guy is now totally washed-up. Well, he IS, but you don't want people to THINK that. Worked or not, wins and losses still mean something to the casual fan. They should have at least had Rave attack Truth after the bell to get his heat back for fuck's sake. (Chris)
Puppet The Psycho Dwarf confronted Arnold. You're never gonna believe this, but lousy midget jokes followed.
3LK beat Salley & Shark in the game of horse. It was so nail-bitingly exciting, I feared that my typing days were over. Fortunately, I persevered. They showed the finish, as apparently it was all tied up until Shark blew it for his team. Just as well. If Salley has an aversion to the smell of fish, he has no business promoting TNA women.
5) Teo pinned Puppet The Psycho Dwarf at 1:31 in a hardcore midgets match with Tom Arnold as referee. Tenay said "Teo stands for "Totally Outstanding." Mike, we're buds. You know I love you, buddy. Why do you make me hurt you? I don't like to hurt you. I don't want to hurt you. But when you say such things, you leave me no choice. It hurts me more than it hurts you. Arnold refereed with the mic. He kept screaming, "Oh! Oh! Oh!" He was kinda like Susan St. James at Wrestlemania 2. Arnold saved Teo from a fireman's carry and helped give the worst damn double-clothesline period. Teo covered Puppet and Arnold counted to three by rapping the mic into Puppet's head. Arnold punted Puppet around the ring after the match. After the bell, Teo left with Salley's would-be prostitutes, while Arnold and Puppet yelled at each other to set up their "match" on tomorrow's show. Oh lordy, it ain't over yet. (kevin)
TNA Moment #2 was when Chris Rock appeared on a Wednesday PPV to endorse TNA as the best wrestling in the whole world. This would have meant a lot more had they not shown it right after a Teo-Puppet-Tom Arnold debacle. Still though, this was a major coup for TNA at the time it happened. Chris Rock is a bonafide guru to the WWE's target audience, so this appearance was the closest TNA has come to giving the WWE a "fuck you" in their full 2.5 years of operation.
Back from break, TNA Moment #1 was Toby Keith suplexing Jarrett at their first PPV Gauntlet match. Ya know, JJ did kinda look like one of the Dixie Chicks back then;
The BDSSP crew previewed tomorrow's show, which looks frighteningly similar to today's show.
6) Chris Sabin won an Ultimate X match over "Primetime" Elix Skipper & Sonjay Dutt at 6:39 to earn an XD Title shot on the next PPV. UX matches have two cables crossing the ring. In the past, the XD belt was the prize hung at the "X marks the spot" point where the cables cross. This time, however, there was a big red "X." Whoever was first to grab that won the match. Well, seeing as how the only match booked for the Turning Point PPV (12/5/04) is AMW vs. XXX, I think it was a safe bet to the viewing audience that Primetime wasn't going over. This was the only match that got a decent amount of time, so they kept cutting away to Tom Arnold for picture-in-picture comments. Christ, just bring back Ed Ferrara already. Stick the knife all the way in. Arnold called PT, "the black guy" and he called Dutt, "the little Indian guy." He must have prepared for this match with Roddy Piper. Skipper walked the ropes and hurracanrana'ed Sabin to the floor. First big spot saw both PT and Dutt climb for the X, but Sabin hit a springboard split-leg dropkick to neutralize them both. The crowd totally dug this. Arnold just keeps getting less funny before our very eyes. Tenay said this was only the fifth UX match in TNA history. Dutt kicked Sabin loose from the cable, then dropped an elbow on him. Not the wisest move for a guy recovering from a legit dislocated elbow. When Dutt went for the X again, he dropped off the cable while PT held Sabin for a slam. So PT slammed Sabin and powerbombed Dutt at the same time. Classic XD spot in that it made absolutely no damn sense from a storyline standpoint (why would Dutt drop when the other two were tussling?), but it looked cool. PT almost grabbed the X, so Sabin launched Dutt into PT to knock him loose. My enemy's enemy is my friend and all that. Finish saw it turn into a three-way race and subsequently, a three-way chicken fight. Sabin outlasted the other two and claimed the X to win the match. UX matches are the natural successor to ladder matches. At least it makes a little more sense that it would take guys longer to go hand-over-hand for the brass ring, as opposed to guys crawling up the ladder as slow as humanly possible, waiting for the other guy to stop them. Awesome effort from all three guys, and the match had good heat. Good sauce (TM Sean Carless). (Kerry)
The BDSSP crew wrapped it up from the hexaring. One down.
DAY TWO (aired 11/11/04)
­One to go. The second show opened by recapping the first show. You know how when you usually see highlight clips of a show, it makes the show look better than it actually was? Well, they didn't capture that magic here. Go figure.
Arnold ran off a list of "Things You Wouldn't Say To Puppet." You'll find this hard to believe, but this was another laundry list of lousy midget jokes.
First up was Chris Rose in the Pit. Rose was wearing the same old Terry Taylor robe that Scott D'Amore wore for a squash a few months ago. The lads had a really bad confrontation which was interrupted by Jonny Fairplay. No one was comfortable with Piper and JFP in the ring at the same time, due to the fact that back when JFP was Piper's assistant, JFP almost killed Hot Rod by crashing his hot rod. Piper sprayed JFP with a fire extinguisher (which the camera largely missed). Remember when Piper did the same thing to Morton Downey Jr. at Wrestlemania V? You know, even if you DO remember that, then, by default, you'd also remember that four years after main-eventing the first Wrestlemania, Piper was doing schlock shtick with Brother Love and MDJ. Rose then gave JFP the worst damn bodyslam period and tore off his "Wrestling is fake" shirt Hogan-style to reveal an amateur wrestling outfit. I don't get it. Was this supposed to be Rose symbolically accepting wrestling as his new personal Jesus? Was the whole thing a setup just to get the drop on JFP (who wasn't a scheduled guest for the pit)? Anyway, Piper then sprayed Rose in the face with the fire extinguisher, which was part of the backstage anarchy during this taping. Rose agreed to get sprayed, just not in the face. Who does he think he is? Missy Hyatt? They cut away immediately, because Rod went into business for himself. Piper was said to be one of the guys who was the angriest about Rose's shirt. This whole bit was less than four minutes long, but it dragged nonetheless. Just plain horrible.
Leeann interviewed Team Canada. Coach Scott D'Amore cut his barking promo on Salley and 3LK. This was below D'Amore's usual level.
1) Konnan & B.G. James (w/ John Salley) beat Bobby Roode & The Other Guy (w/ Coach Scott D'Amore) in a capture-the-flag match at 2:01. I guess this was a non-title match. They didn't clarify one way or the other. D'Amore tried to steal one of the flags, but Salley grabbed a basketball that just happened to be lying around (whatthehellever) and bounced it off D'Amore. Dave Meltzer reported that it was supposed to be a crotch shot, but Salley fucked it up. Still though, D'Amore saved the bit by crotching himself and falling into the tree of woe. B.G. climbed up said tree and captured the flag to end this waste of time, which was even worse than their bad match at VR. (Chris)
Today's countdown is the top five finishers. They have Petey Williams' Canadian Destroyer at #5 (four slots below where it should be).
The unfunnyness that is Tom Arnold interviewed a bunch of wrestling fans, along with Shark Boy & D-Ray 3000. He's no Triumph The Insult Comic Dog.
Salley interrupted Bryan Cox's workout and called him "Big Cox." Thank God that Vince Russo has already left the company. Salley wanted to know who Big Cox's mystery partner was going to be, but Big Cox didn't leak.
2) A.J. Styles beat Abyss in a tables match. 3:25 aired, with one commercial break. Good action. These guys have worked together before and have the David vs. Goliath bit down pat. Finish saw Abyss try to superplex Styles through a table in the ring, but Styles fought out and sunset-powerbombed 'Byss through the table in a NICE spot. Too short to warrant a higher rating. (David)
Leeann interviewed Tom Arnold. I'm not gonna lie. I fast-forwarded through this. I have my limits, people.
Finisher #4 was the Styles Clash; Finisher #3 was the pounce.
Leeann interviewed Puppet. Shane Douglas interrupted and took over. He is so useless, he ought to regularly work for Best Damn.
3) Tom Arnold (w/ Leeann Tweeden) kinda pinned Puppet The Psycho Dwarf at 1:26. Teo ran-in and attacked Puppet, basically wrestling the match for Arnold. Teo even hit a 619 (!) on Puppet. Teo swanton'ed Puppet and covered him. Arnold covered the pile after the ref had already counted two-thirds of the pin. This was one of the worst damn things ever. Period. (kevin)
Big Cox was backstage, reading the riot act to his partner behind a closed door. The guy just took the browbeating, never talking. I've got it! His mystery partner is Bobby Eaton!
Great moments in assbaggery: The "coming up next" teaser previewed stuff from yesterday's show, including the Ultimate X match.
The XD Gauntlet from VR was recapped. The highlights (and standing-O pops) looked great.
4) XD champion Petey Williams won a sudden-death five-way XD match over Jerrelle Clark & Sonjay Dutt & Shark Boy & Michael Shane (w/ Traci) by pinning Jerrelle. 4:58 aired, with one commercial break. Again, probably a non-title match. Arnold joined Tenay & West on commentary. Fuck this shit. There, I said it. Comedy pop for Shark biting everyone's butt (including Traci). Petey was clearly the star of the match. Sadly, the three guys without a fin mask might as well have been interchangeable in the eyes of the first-time viewer. Still though, I understand them wanting to throw out as many faces as possible. Finish saw Jerrelle miss a handspring splash, leading to Petey hitting the CD for the pin. The right guy went over with the right move. The CD move alone has as good a chance of hooking new fans as anything TNA has to offer. After the bell, D'Amore yelled at Salley (who was with Rose at another ringside table) and did the bit where Petey had to hold back his Coach. Match was good for the cup-of-coffee it was. (David)
5) Monty Brown & Big Cox squashed The Naturals at 2:24. Cox came out to Monty's theme music, which is actually one of the few identifiable themes in TNA. So of course, poor Tenay & West had to sell like they had no idea who Cox's partner was. Credit where it's due: Cox worked hard and did a good job of making this into a credible match as opposed to an Arnold. Cox even slapped a nice figure-four on Andy Douglas. Cox bodyslammed each Natural, who bumped like champs and made this match. Finish saw Cox pin Chase Stevens after Monty hit the pounce. Ordinarily, I'd balk at a full-time wrestler laying down for an ex-football player (remember how LT sacked Bam Bam Bigelow's career?), but they couldn't have booked this match any better. Salley interviewed the winners, but pulled away the mic before Monty could finish his "pounce period" catchphrase. By the way, Cox was said to be the only member of the BD crew who was well-received by the boys because he treated them and the biz with respect. Who woulda thought? (David)
Leeann interviewed Lex Luger backstage. You read it right. She asked him about the "six sides of steel" cage match, but Luger wanted to talk about himself instead. Rather than my usual cheapshot about Luger managing to date (and kill) the only woman in wrestling with a gag reflex, I choose bring joy to the world by reporting that this was probably Luger's last appearance for TNA. Not only did he make a lousy impression when they brought him back in hopes of doing something with him at VR (which they scrapped), but Luger's been running around trashing both Vince McMahon and Jerry Jarrett for "ruining his reputation" ever since. Makes you wonder what color the sky is on Planet Luger.
Finisher #2 was Hardy's swanton; finisher #1 was Jarrett's stroke. Well, it probably HAS won more matches than any other move in TNA history.
6) NWA World champion Jeff Jarrett pinned Jeff Hardy in a "six sides of steel" cage match. 7:13 aired, with one commercial break. Dusty joined Tenay & West. Only Tom Arnold could make me happy to see the Dream back on headset. Another "probably non-title" match. After spending the last two nights talking about the dangers of the SSOS cage, the assholes LEFT THE FUCKING CAGE 15 SECONDS INTO THE MATCH and brawled into the crowd. You gotta be fucking kidding me. Jarrett used a figure-four, which Hardy reversed right away. What does it say about your promotion when Bryan Cox and Andy Douglas do a better figure-four spot than Jarrett and Hardy? Hardy kicked out of the stroke, which West put over as the "top finisher in TNA." Okay, that worked. JJ went for the climb, but Hardy followed him up and hit the swanton. He got a one-count, then got up off of Jarrett for some reason. Hardy gave Jarrett his version of the flatliner, which I decided to start calling the "ADDT" for obvious reasons. The ref took a bump off that move. Oh, swell. A screwjob in your steel cage main event. If that doesn't make Vince pee his pants, nothing will. Hardy threw off his shirt, prompting Dusty to excitedly scream, "He's gettin' nekkid!!" Let us never speak of this again. Hardy climbed to the top of the cage and missed a swanton. Jarrett picked up the chain from the cage door and clocked Hardy for the pin as the ref woke up. Styles did a climb-in and hit a crossbody on Jarrett from the top of the cage. Styles pounded on Jarrett as they threw it back to the BD crew for the wrap-up. As matches go, this was tons better than their ladder match at VR, but that ain't saying much. There was enough good stuff in this match to make it watchable, but the stupid crap takes it down a notch. (Mike)
The BD crew bid farewell. Rose was now wearing an Impact shirt that they called absolutely no attention to whatsoever. Rose put over Arnold, Salley, and Cox, who all won their matches. Bastards. They¡¯re worse than the Clique. They did their Fantastic Four handwich, but wait, the fun isn't over yet! Puppet attacked Arnold, and they rolled down the ramp together to end the pain.
Overall over-analysis: I give the wrestlers more credit than Mastercard for making the best out of an impossible situation. I understand their need for publicity, but with Rose and Arnold making wrestling look like a joke, I can hardly call this a success. And even if it did well in the ratings, that doesn't change the fact that so much of this thing was just plain terrible in theory and in practice. One more hour and we're done with TNA's biggest week ever. That one hour is the 11/12/04 Impact show. (above)
This Observer's Thumb....is down.
-HDS-
---
Welcome to my first-ever Precap! Given that I've been following TNA Impact since its debut on FSN, I thought this would be a good chance to analyze what's on the table for their first three-hour PPV. Enjoy!

PRECAP: NWA TNA VICTORY ROAD PPV (11/7/04)

The match: Jeff Jarrett (w/ Scott Hall) vs. Jeff Hardy (w/ Kevin Nash) in a ladder match.

The stakes: Jarrett's NWA World Title, plus it's the main event of TNA's first three-hour PPV.

The build: They did what they could. They made a huge deal out of Dusty Rhodes bringing Hardy in for a title shot. Their first title match (9/8/08) was a disappointing screwjob, but unlike the Jarrett-Raven program, they kept the fires burning for a rematch. The Outsiders are the focus of the match's intrigue.

The hope: For starters, they're hoping that the damn challenger shows up for the main event. He no-showed an Impact taping, ya know. Fans want ladder spots and for Hall & Nash to do something cool.

The hell? For some reason, they totally screwed the pooch on the final Impact before the PPV (11/5/04). The storyline was that Jarrett and Petey Williams attacked Hardy in his hotel room days before the big event. Then they shoved Hardy off a ladder on Impact. Undeterred, Hardy did a run-in on Impact's main-event and pinned Jarrett clean, even though Hardy wasn't competing in the match. Hardy then basically no-sold his brutal beating and subsequent stretcher job. It's hard to imagine the sheer volume of illegal substances that had to be consumed to make this seem like a good idea. It's tough when your challenger is so flaky, he oughtta be selling Head & Shoulders. He doesn't sell wrestling moves worth a damn anymore.

Do I want to see this match? Not really. Hardy's already a has-been and a ladder match doesn't play to Jarrett's strengths.

*

The match: Petey Williams (w/ Coach Scott D'Amore) vs. A.J. Styles

The stakes: Petey's XD Title.

The build: Rock solid, and everything it should have been. The guys attack each other on a weekly basis, and have taken to using one another's finishers to send a message.

The hope: A cutting-edge show stealer. From a workrate standpoint, this match has the highest expectations of 'em all.

The hell? When Styles used the Canadian destroyer to win a squash, it was on the syndicated Xplosion show. Meaning, most of their audience (including moi) never got to see it. They should have at least replayed it on this past Impact. Or would that have gotten in the way of the Johnny B. Badd squash?

Do I want to see this match? Hell, yes!

*

The match: Bobby Roode & The Other Guy (w/ Coach Scott D'Amore) vs. Konnan & B.G. James

The stakes: Team Canada's World Tag Title.

The build: Two-thirds of the 3 Live Kru won an anticlimactic #1C match over The Naturals to earn this shot. That's about it.

The hope: That K-Diddle and B-Jizzle still have some star power enough to where fans will pop for their intro.

The hell? This was the only heavily-promoted VR match that didn't even get one of those slick "____ vs. ____" graphics. Also, The Other Guy (a.k.a. Eric Young) has had ZERO character development. You'd be hard-pressed to find even a regular TNA fan who could tell you anything about him.

Do I want to see this match? Nope. Couldn't care less. It's obvious that TC are beltwarmers for AMW. Speaking of which…

*

The match: AMW vs. XXX in a last-team-standing match

The stakes: Who is the better team? Simple, yet effective. Gotta love that old-school booking.

The build: Victory Road's best-built match, easily. They've played up the history between the teams to the hilt. XXX has the better record, but AMW are the perennial favorites. They did a mix-n-match angle wherein Chris Harris (AMW) & Elix Skipper (XXX) won the Tag Title together, only to lose it to James Storm (AMW) & Christopher Daniels (XXX) weeks later. When Storm & Daniels dropped the gold to Team Canada, everything exploded again and AMW-XXX was the hottest tag team feud in the country again, belts or no belts.

The hope: Another very good match between the four that further cements the AMW-XXX war as the cornerstone of the tag division.

The hell? Word's already leaked out that AMW just re-upped their TNA contracts. They'll be getting another Tag Title run before you know it. Gotta admit, that does take the edge off the suspense for this match. Also, they never did get around to explaining the stips for a last-team-standing match.

Do I want to see this match? You betcha. This is the surest thing on tap for Sunday.

*

The match: Monty Brown vs. Raven vs. Abyss in a three-way no-DQ "Monster's Ball" match

The stakes: They've kinda sorta implied that the winner would be the new #1C for the World Title, but they haven't really hammered that point.

The build: All three are perennially in the World Title picture and have been feuding with each other after Jeff Hardy outlasted them all to win the four-man tournament to crown the new #1C. They've done creative things like have Monty pounce two guys in one squash, and have Abyss demand a double three-count in another squash. But the real intrigue is the mysterious voice that has been touting itself as the new "voice of Abyss." It's supposed to be Jim Mitchell, which would totally rule all ass.

The hope: Monty Brown takes a major step closer to becoming TNA's first official home-grown superstar, while the other two stay strong.

The hell? Like with AMW-XXX, we still don't know what exactly the stips entail for the Monster's Ball. This past Impact, they said it was no-DQ, but that's about it.

Do I want to see this match? Sure, I'll bite. This is the wildcard. If done right, it can be very entertaining, but it does seem to have "clustershmazz" written all over it. Between the three personalities (four if Mitchell shows up), that's a lot of booking to cram into one bout.

*

The match: 20-man XD Gauntlet battle royal.

The stakes: Again, it's implied that the winner will be the new #1C to the XD Title, but they haven't made that a focal point.

The build: Chris Sabin won a match to earn the #20 slot; Kazarian lost a match to "earn" the #1 slot. Spanky may or may not be part of this.

The hope: See spot. See spot fly. See spot get over. See fans come back for more spots.

The hell? On the latest Impact, Sabin complained about winning the #20 slot, which doesn't make a damn lick of sense.

Do I want to see this match? Let me put it this way: If the Monster's Ball could end up as a clustershmazz, this thing could be a plane crash that derails a train into a toxic waste dump, causing a radioactive catastrophe that wrecks vegetation and sees an entire continent wither away and die. Okay, so maybe it won't be THAT bad. I dunno, if you shut your brain off and just enjoy the carnage, these can be pretty fun. So to answer the question, that's a "yes."

*

The match: Macarita Sagrada vs. Piratita Morgan in a minis match

The stakes: None.

The build: None. They never even announced the guys by name on TV.

The hope: Comedy. I half-expect them to use this match as an excuse to have Puppet The Psycho Dwarf to a run-in and make him the midget 911 or something (which I would totally mark out for, but it wouldn't mean crap for revenue).

The hell? I can appreciate them wanting to have "something for everyone," but for their first outing, I think this spot should be given to a couple full-sized full-timers. Just sayin'.

Do I want to see this match? Not really, but damned if those minis don't crack me up.

*

The match: Trinity vs. mystery opponent

The stakes: None.

The build: Trinity keeps challenging anyone, man or woman. When Director Of Authority Vince Russo booked this, he cryptically warned that Trin "wouldn't like" who her opponent turns out to be.

The hope: Trinity will make fans touch themselves. Hey, just being honest.

The hell? Mystery surprise angles bomb more often than not. Remember Rockabilly? As much as I dig Trinity, this is not good business.

Do I want to see this match? No, but I do want to see Trinity. She's on my "must-stalk" list. Hey, just being honest again.

*

The angle: A fan vote pitting Vince Russo against Dusty Rhodes.

The stakes: Winner becomes TNA Director Of Authority.

The build: The two worst bookers in history have been arguing for months now. The crazy thing is that they've never really clarified what the dispute is. I guess they just don't like each other.

The hope: Fans still love Dusty despite killing more territories than bad weather and plague put together.

The hell? It's been public knowledge for months now that Russo is done with TNA (for now). Why they would waste valuable PPV time for these egomaniacs is a bigger mystery than Trinity's opponent.

Do I want to see this? Do you even have to ask?

*

The angle: Roddy Piper will host a mystery guest in a special "Pit."

The stakes: None, really.

The build: A bunch of horrible vignettes with Piper babbling about past Pits. He threw out a lot of racist remarks, too, the assbag.

The hope: That it's a star fans will pop for. Sting is their best bet.

The hell? Lex Luger was brought to an Impact taping. Please God, no.

Do I want to see this? Nuh uh. Watching the train wreck that was once Roddy Piper isn't funny anymore. It's just plain sad.
FINAL TALLY:
Matches/angles I want to see: 5
Matches/angles I don't want to see: 5

Overall over-analysis: I wish I could say that I planned a deadlock, but the fact is that I just shot from the hip and totaled up the numbers at the end. But when you factor in that some of the "want to see" side is more like "What the hell, I'll watch it," rather than "I really, REALLY want to see this," it doesn't look so good. Let's face it: TNA doesn't have a great track record when it comes to delivering the goods. Will I give them a chance this time? Okay. But if they piss me off, I'll happily watch them die. Ball's in your court, guys. Just please, no more passing to Russo. That guy chokes in the pinch worse than Mama Cass.

-HDS-

THE CLUSTER-PLUGGER:

One week from today, Victory Road goes from "Precap" to "Recapitation" in the 'Shmazz. Check back to see who lived up, who won't live it down, and most importantly, what Trinity was wearing.

Wanna brush up on your TNA before the big dance? Go read my Impact reviews over here.

Might I interest you in some 1994 WWF reviews with your TNA this week? We gotcha covered. This week, we re-open the Vault with my reviews of both "Inside The WWF" and "Bloopers, Bleeps, & Bodyslams."

Two Sundays, two PPVs, two Recapitations? I feel like I'm back in the 90s! Where's my one t-shirt? You know, the black one. Provided my cable company doesn't shut me down for delinquent bills (Hey, I can't help it. The Naked News is like heroin to me), I'll drop the blade on the Survivor Series 2004 come 11/21/04.

And no sooner will the chop block be cleaned than it'll be time for yet ANOTHER Recapitation. This time, the target will be new WWE DVD, "The Rise And Fall Of ECW." I'm really looking forward to this one; no sarcasm needed. Look for it on 11/28/04.

In the meantime, don't forget to keep checking in with Sean on the main page for all the latest poop. Seriously, people. He'll cut you.

And finally, jump on over to the TWF Fan Forum to tell me what you think about all of this. Seriously, I need boundaries. Without them, I'll be cracking that joke, "_____ once killed a homeless man just to give himself an erection" from now until the end of time. It's all on you.
---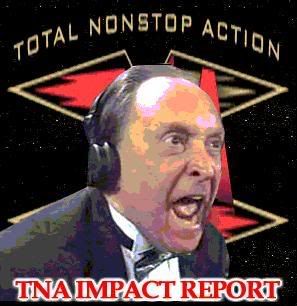 NWA TNA IMPACT! ON FOX SPORTS NET (11/05/04)


Okay, gang, we're 49.5 hours away from TNA's first three-hour PPV.

1) Johnny B. Badd squashed Tony Stradlin at 1:18. This was bizarre on so many levels. For an "11th hour" show, everything should be focused on the PPV. Why bring back a name from the past NOW? They should have trotted out JBB the following week after the PPV, so fans would have something new to talk about. Also, he didn't even look like the JBB of old. He was clean-shaven with a close-cropped haircut. He wore black trunks, pads, and boots. He did come out with a robe and the famous Badd blaster, and he said some of his catchphrases to the camera. JBB did what he could in his time, even bringing back the old "Badd mood" (a Frankensteiner off the top). Fans chanted "Johnny." JBB finished off Stradlin with the TKO ("Total Knockout," a diamond cutter out of a fireman's carry), which was the finisher for "Marvelous" Marc Mero, not Johnny B. Badd. It's a nitpick, but it's like when Cactus Jack uses the sock; that's not the character's finisher. Don't worry, plenty of Sable/Brock jokes to follow, but I have a full plate this week. (Waldo)

Jarrett gave the production truck a tape and told them to play it when he told them. JJ said, "Don't ask any questions; I'M running the show!" That's a shoot, I presume.

Two days before the PPV, they finally made a feature on the Jeff vs. Jeff main event.

A plug aired for the "Best Damn Wrestling Event Period," a joint production of TNA and BDSSP. Their main event is Tom Arnold vs. Puppet The Psycho Dwarf. 'Nuff said.

More "Tales From The Pit" with Racist Roddy. He said Mr. T was a black guy with an Indian haircut and Aztec gold. Then the guy rambled about shaving "a black midget" (The Haiti Kid), and some nonsense about Capt. Lou Albano and Cyndi Lauper. I don't care how big a name RRP is; these things do nothing to get him over and do everything to reinforce the feeling that the guy has totally lost his marbles. The racial crap doesn't do anyone any favors, either.

Mike Tenay was in the ring running down the VR lineup. Jarrett and his ladder came out. JJ cut a good promo, saying the "neon space cadet landed on Planet Jarrett." JJ threw to his tape, which was himself and Petey Williams attacking Jeff Hardy in his hotel room. Jarrett called the cameraman "Scott," implying it was Scott Hall. Petey was dressed like a maintenance man, which was how they got the drop on Hardy. Angry Mike Tenay was cross with The King O' The Mountain. Jarrett said he needed a new opponent for VR. Guess he read my last few weeks of Impact reviews. Jarrett sarcastically challenged Nash, asking if he could even still walk to the ring. It's official; I'm now a Jarrett mark again. Dusty interrupted JJ, saying said that come Monday morning, he'd be running the company and JJ would be beltless. A bandaged Hardy (who was wearing the same outfit as when he was attacked "last night") ran out of the crowd to attack Jarrett. Hardy set up JJ for a flatliner, then seemed to forget where he was for a moment and hit a Rock bottom. Hardy climbed the ladder, presumably for a swanton, but Petey ran-in and shoved the ladder over. Hardy bumped to the floor, which the announcers sold huge.

Douglas interviewed Chris Sabin and congratulated him on winning the #20 slot for the XD Gauntlet at VR. Sabin complained TNA's marketing of him (join the club, pal) and said that he would have preferred to be #1. Um, then why the hell did he pin Alex Shelley last week to win the slot? Sabin vowed to win the Gauntlet and stormed off. Douglas was standing next to a cute blond chick who was holding a jug (huh huh, huh huh). There were slips of paper in said jug. Douglas explained that today's show would have a four-way one-fall XD match, with the loser of the fall getting the #1 slot in the Gauntlet. Douglas said that they'd already drawn Matt Sydal (who?) and Amazing Red for the match. Hey, thanks for telling us, jerky. Douglas drew Kazarian's name as the third entrant. Kaz & Michael Shane (w/ Traci) showed up and complained about how they kept getting screwed and pitted against each other. Douglas drew the final slip but MS told him don't bother reading it, because he was sure that his name was on every last slip. The lads left to prepare. Douglas overacted as he read the name on slip #4, asking "Is he even with this company?" Nice tease, despite the Franchise's amateur-hour theatrics.

Back to the Impact Zone, Hardy was stretchered out. Jarrett attacked him on the stretcher for good measure. Okay, this was the exact opposite of what they should have done two days before a PPV.

A short feature aired on the "Monster's Ball" match at VR. We still don't know what the stips are. They replayed the ghost voice singing Abyss' praises from last week (Jim Mitchell?).

2) Abyss mangled Seth Delay in 41 seconds. This was quite possibly the most realistic squash match ever as the jobber just ran like hell until 'Byss caught him and sent him to SquashyTown with the BH slam. Abyss insisted that the ref administer another three-count after the bell. Nothing's worse than an insistent Abyss. The point of this was to answer Monty's double-pounce of weeks previous. Get it? One three-count for Monty; one three-count for Raven, showing that he could beat them both. In a rare goof, Tenay totally missed this, and said Abyss insisted on a "five-count." Monty came out to tease a throwdown, but 'Byss emptied his sack of thumbtacks onto the mat, which caused "The Alpha Male" to put his tail between his legs and back off. They mentioned that the Ball was no-DQ but didn't go into specific stips. (Waldo)

Raven cut a short, intense promo for the PPV. Rave said that he was going to fast for 24 hours before the Ball because it would either bring him clarity or drive him insane, and he doesn't care which one it is. He's such an angry young fella nowadays. If you want to read what he was doing ten years ago in happier times, go check out this week's update over in
the Vault
.

A feature aired hyping the AMW-XXX "last team standing" match. We still don't know what the stips are. Notice a pattern yet?

Douglas talked to AMW, who cut a short-but-sweet promo on XXX. James Storm in particular showed good fire.

3) James Storm beat Christopher Daniels by DQ in 55 seconds. All action up until Storm hit a nice superkick, causing Primetime to run-in and break up the pin. Chris Harris made the save, but PT handcuffed him to the turnbuckle. The Naturals showed up and helped XXX deliver a beating to AMW. Heavy D and security showed up to poop on the party, but Daniels wiped out Storm with a chairshot to the knee. Daniels asked how AMW expected to win a last-team-standing match if they couldn't even stand. Well done. The Nats and Team Canada watched from the aisle. This was about the only thing on the show this week that was exactly what it should have been; a taste of what's coming up on PPV, yet it didn't give away money. (David)
4) Spanky won the four-way one-fall XD match to determine the #1 entrant in the Gauntlet by pinning Kazarian at 1:44. Spanky was mysterious #4, and the announcers kinda blew it by screaming it was Spanky the second he appeared. The rule for "surprise" angles has always been to give the fans a second or two to recognize the guy before your announcers start marking out. It's considered good business to let the fans realize who the surprise is before the announcers. I know it sounds silly, but trust me, it works. Trinity came out during the match and re-reissued her open challenge. Spanky hit sliced bread #2 on Sydal, who managed to tag in Kaz. Spanky went for sliced bread #2, um, #2 on Kaz, but Michael Shane broke it up. Trinity then jumped up and snapped Kaz's throat off the top rope. Spanky hit a sweet tornado DDT into a small package to pin Kaz, so Kaz is #1 in the Gauntlet. Fun while it lasted, but too short to be a full-blown "match." They accomplished what they wanted to. (David)

Vince Russo came out. Crap, I guess it was too much to hope that he would finish up a week early. Russo didn't even mention his deal with Dusty on the PPV, which was something of a blessing in disguise. Russo said "Punky Brewster" (Trinity) would have a match on the PPV, but she wouldn't like her opponent. Ring announcer Jeremy Borash asked Russo who would replace Hardy in today's main event (which was supposed to be Hardy & A.J. Styles vs. Jarrett & Petey), but Russo blew him off.

They replayed the Hall & Nash promos, interspersing them with each other. Nothing new, but it did remind fans that they were part of VR.

Today's "Total Nonstop Action My Ass" clock: 50 minutes into the show, we've had less than five minutes of wrestling.

5) Today's main event was World champion Jeff Jarrett & XD champion Petey Williams (w/ Coach Scott D'Amore) vs. A.J. Styles & Ron Killings (who replaced Jeff Hardy). Angry Mike Tenay disgustedly called Petey "The Maintenance Man." You know, that has a nice ring to it as a nickname. Killings danced out and this time the announcers got the surprise right, letting RK do his thing for a few moments before selling that Jarrett was out of the frying pan, into the fire. They did another mid-match commercial break for this match, which, as I've bitched about before, is stupid, disrespectful, and totally unnecessary for a 10-minute TV match. Styles and Petey danced well together. Jarrett kit Killings with a beltshot, but Styles yanked the ref out of the ring. Hardy ran-in out of nowhere and gave Jarrett a horribly sloppy twist-of-fate followed by a swanton. Hardy, who wasn't part of the match, covered Jarrett, and the ref counted the pin at 6:36. You gotta be fucking kidding me. Words fail me. (kevin)

One last feature aired, previewing the PPV lineup. This was nice, if a little bit all-over-the-place. And guess who got the last word? World champion Jeff Jarrett? Nope. His challenger, Jeff Hardy? Nuh uh. The company's most-over babyface, A.J. Styles? Of course not. No, the last plug for Victory Road came from Tom Arnold!! Hey, if he can't sell this PPV, nobody can.

Overall over-analysis: In many ways, this was the most important edition of Impact yet, and to say they dropped the ball would be kind. The Badd match had no business on this show. Doing a storyline like the Hardy attack two days before a PPV defies all logic. Like I said, the only thing they got right was the build to AMW-XXX. I talk more about VR in my first-ever Precap.

This Observer's Thumb…………is down.

Final announced lineup for Victory Road PPV (11/7/04):

Ladder match for World Title: Jeff Jarrett (w/ Scott Hall) vs. Jeff Hardy (w/ Kevin Nash)

XD Title: Petey Williams vs. A.J. Styles

World Tag Title: Bobby Roode & The Other Guy vs. Konnan & B.G. James

20-man #1C XD Gauntlet battle royal w/ Kazarian (who will enter at #1), Michael Shane, Alex Shelley, Jerelle Clark, Shark Boy, Chad Collyer, Amazing Red, Sonjay Dutt, Mikey Batts, D-Ray 3000, L.A. Park, Psicosis, Hector Garza, Nosawa, Chris Sabin (who will enter at #20) and others

No-DQ "Monster's Ball" match: Monty Brown vs. Raven vs. Abyss (w/ Jim Mitchell?)

Last-team-standing match: AMW vs. XXX

Trinity vs. mystery opponent

Minis match

Fans vote for DOA: Dusty Rhodes vs. Vince Russo

Roddy Piper to host a mystery guest "In The Pit"

-HDS-