Navigation:
May 06, 2006
May 13, 2006
May 20, 2006
May 27, 2006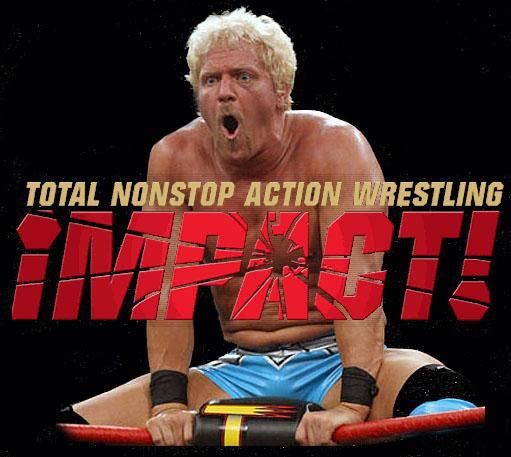 05.27.06
God damn you, Csonka. Fucking guy decided not to do a recap this week. And while my memory is good, sometimes it's nice to have someone do an anal job so that I can at least make sure I didn't miss something important. And it's okay if I cheat a little, but only because I do the best damn recaps (of TNA) on the internet or possible in the ever.
But fuck him. I have a question I need to pose to you, the reader. And I'm really hoping to hear back on this one, because I'm curious as hell. So here's the first ever edition of "Remy Asks." Which is just me asking a question, but it's instantly more fancy because I gave it a title like it means something! So here it is:
Do you think TNA gets bashed on the ineternet too much, or … is it praised blindly?
I've heard both opinions, but I want to know how it holds up on a larger scale.
So, here we go. I'm running blind and the forest is just ahead. Oh, and there's razorblades taped to the trees in the forest. And the razorblades are coated with cyanide.
And AIDS.
Now is the time of Impact's beginning!
We're starting the show off with the first match too, and damned if I don't love that. It's actually like my love-life, in fact … well, if my love-life were existent. Anyway, the point is that there's no foreplay, just action.
Senshi vs. Jay Lethal vs. Alex Shelley vs. Shark Boy:
Now here's something I really wish I could compare to my love-life: a four way! But honestly, I'd settle for two way.
Lots of high-flying action here. No real huge spots, but a very well done match nonetheless. Great to see on TV. There's a Tower of Doom in this match, and while it's a decent move, I think they do it a bit too much in TNA. And really, it feels a bit contrived. Senshi does hit a stomp on Lethal though, from the top rope, and it looked nasty. I'd love to hear someone explain how that's fake. Learn to fall? Maybe. Learn to defy gravity? Hell looney bin! Senshi is your winner.
King of the Mountain is hyped. Frankly, I think the mascot for this PPV should be that Swedish guy from The Price is Right.
But hey, fuck the bullshit. Let's have another match!
The Diamonds in the Rough vs. AJ Styles & Christopher Daniels:
I was talking to Sean earlier tonight, and he brought up a great point. Why is it that the number one contenders have not won a single match together as a tag-team?
AJ and Daniels are great, but this match is nothing special. I'll be honest and admit that I'm not a huge fan of Diamonds anyway. I mean, really, a month's salary? Fucking women. Oh yeah, the Diamonds win it after interference from Harris, who hits Daniels on the head with a police stick. I want to call it a baton, but that's really not the right word.
Backstage Segment

We're here with the Stinger. He's always been a good promo-guy. King of the Mountain is hyped.
Another hype bit for Slammiversarry. Pretty funny commercial sees Jarrett hitting the el-kabong on a Tiger Woods look-alike at a golf course. Not bad.
In Ring
The James Gang is out now … dressed as Team 3-D. It's almost as original as the time they did this bit with The Nation. Except that … they did this before, so it's not original at all. They're going to fight 3-D again though, which is the important part. Or not.
Bobby Roode vs. Andy Douglas:
I actually forgot about this match altogether. Shocking, I know. Roode wins with a Northern Lariat. And sorry to say it, but the Northern Lariat does not look all that impressive.
Funny thing here: I actually really enjoyed this week's Impact, but I have a feeling this recap is coming off as largely negative. Now, if you look at how well WWE does, and how much we bitch about it, then maybe I'm doing TNA a favour. There's probably a bitch-on-the-internet to profits ratio of some sort.
Oh, and Shane Douglas stares from the ramp again. You know what's hilarious here? WWE's continuity is so bad that our own James Walker composed and sang a song about it. Yet TNA takes it to the point that a guy like me (who's been recapping it for months) has no idea as to WHY there's continuity here. I appreciate they aren't being sloppy, but a little bit of insight would be nice for those of us who haven't followed TNA from day one.
King of the Mountain Qualifier: Monty Brown vs. Ron Killings:

Killings does a promo backstage beforehand, but it's nothing important. Although, I honestly feel embarrassed for the guy. God God is his song or rap or whatever the fuck it is … well, it's awful is the point.
Okay, okay. Yes, I have another bone to pick. Monty Brown. His return was dumped on us with way less hype than he deserves, and then he gets beat by Killings. Killings' raps alone should bar him from, well, anything. Jesus. I'd have rather seen Monty move on, but that's not going to be the case. And considering all the potentials they hyped for the main even of this Impact, this match seemed a huge disappointment. Of course, it was gutted by fucking commercials.
Well, all-in-all I actually really enjoyed this week's Impact. Lots of in-ring action to be had, and minimal hype. Of course, even though it was full of matches, they were all weak. So I guess it's A for effort, but C+ for execution. Of course, you could always watch SD first. That would make Impact look like lesbian porn.
Okay, so that's it for this week's recap. Send me feedback if you're so inclined, but I'd really like to get some replies to the question I posed at the very start of this column. Just in case you forgot:
Do you think TNA gets bashed on the ineternet too much, or … is it praised blindly?

Be sure to check out the main page for
BRAND NEW Bacon!
And keep up with that other Thursday wrestling show by checking out
Joe's SD report
. He's a damn fine lad, and for our female readers out there, he's quite the catch too. Plus, we've got a
guest columnist
that I think will be losing something in the near future. That being the "guest" part. Oh, and I have to say, it's rumoured that Anvil's Swagbag from
the forums
will be making a return to the front page as well, and I've been looking forward to that for a while. Lots of great stuff to check out. Take care, and as always, I remain,
Remy
Remy's the kind of guy who enjoys long walks on the beach and quiet candle lit din … fuck that, chicks are crazy. He's actually a wrestling fan (and therefore not single by choice, as he'd have you believe). He's also a former admin of HTM.com, having been there for nearly three years. Now, he resides in limbo, wandering from forum to forum, fixing past wrongs, with the help of his friend Sam who … well, err, nevermind. He is, however, the brother of a well-known gentleman, whom you may have heard of, by the name of … JESUS! Well, not blood brother, but brother in the way black people say it, which is more meaningful, I think.
---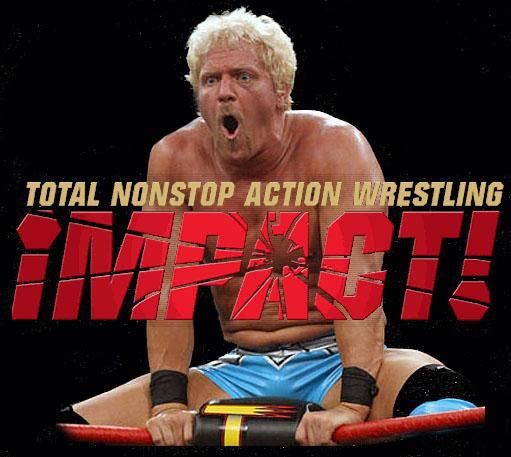 05.20.06
Hello once more, TNA fans, and welcome to Remy's TNeh Report. Right off the bat I have to say thank you to everyone who has sent me an e-mail or a PM, or posted comments in the forums. The wave of support for these recaps has been overwhelming lately, and you guys don't know how much it means to me.
Okay, now that the faggy emotional stuff is out of the way, here's some TNA news to kick off this week's recap.
But first, if you haven't read my huge and highly acclaimed PPV Rant for TNA's Sacrifice, you can find it HERE.
For those of you who are unaware, Samoa Joe has been suffering from some knee problems. So, here's what I've heard so far (full credit to 411mania):
Samoa Joe will be undergoing physical therapy on his knee for the next three months with famous sports therapist Tommy Chao in California. Joe will not be working his independent bookings so that he can rest his knee and keep working TNA shows.

The injury was to the posterior cruciate ligament (PCL), which suffered a major tear. The PCL prevents the tibia (shinbone) from sliding too far backwards in order to protect the knee from bending in the wrong direction. Joe also suffered a minor tear of the medial collateral ligament (MCL), which prevents widening of the inside of the knee joint. That tear caused Joe's knee to buckle and also was the source of swelling and pain.

The tears are expected to heal although he may need surgery in the future.
So, for those fans of the Samoan Submission Machine, at least Joe won't be missing any TV time. And with that good news, lets kick of TNA's iMPACT!
Highlights from Sacrifice are shown. This is actually a very well done presentation.
And to start the show off with a bang, we've got Christian Cage, coming down to the ring. Except he goes into the crowd instead, and says that he wants to know who his opponents will be for the King of the Mountain tournament, coming up at TNA's Slammiversarry PPV.
The first challenger we see is … the returning Monty Brown. He's looking ripped and ready for action, good to see. Then they pan the crowd and we see Rhino, Ron Killings, Raven, and Abyss all standing around menacingly, implying their intentions for Christian's title. And while this is going on, I'm wondering, what the fuck? Suspension of disbelief be damned, these guys were waiting in the crowd for an impromptu promo by Christian? Somewhere on the planet, right at this moment, a guy is watching wrestling with his buddy who's not really a wrestling fan and hears him say "you know this shit is fake, right?"
Jarrett is down to the ring now as well, and he thinks he's the most qualified to be in this match, since he won it last year. This prompts Sting to show up in the rafters, claiming that since Jarrett got involved, by proxy, he's also involved the Stinger. So … an impromptu promo by Christian leads to challengers with psychic powers, which in turn leads to Sting who has anticipated their psychic powers so that he can be in the right place to challenge one of the challengers. Or something. Whew, I need a beer.
The gist is, we're going to have qualifying matches for the King of the Mountain match at Slammiversarry, and the first qualifier will be … TONIGHT!
But first, resolution to the X-cup tournament, and it's next.
Chris Sabin vs. Petey Williams:


This is the tie-breaker for the X-cup, and it's sure to be a hell of a match. As we get started, both guy's teams are not only sent from the ring, but are barred from the Impact zone.
Match starts off at a decent pace, and it's not long before we're seeing some nice spots. Petey Williams starts it off when Sabin is on the floor. He leaps over the top rope and lands on Sabin to hit a Hurricanrana.
There's an odd bit here where LAX is protesting this match, likely making fun of a few weeks back when Mexicans collectively went "on strike" across the US. Yes, that really did happen. And Americans collectively made "oh no, who will mow my lawn?" jokes. And Canadians groaned at their collective stupidity. And it was good. Okay, but what makes this even more odd is that fucking New Jack is part of the protest, although there's virtually no mention of it by the announcers.
After trading Tree of Woes that lead to testicle stomping, Sabin picks up the momentum with a Levitation Dropkick. Honestly, words don't do that move justice, as it does look brutal. Not long after this Sabin hits the Cradle Shock for the win.
Your winners of the X-cup: Team USA, once more. Geez, you'd almost think that a promotion based in Florida would be rigging it so the USA wins, eh?
After the match we get a beat down by Kevin Nash. If you're like me (and chances are you must be at least a little bit, if you're reading this) than you probably don't give two fucks about Nash. If only Rey Mysterio wasn't busy getting his ass kicked by Khali and Kane, he could show us that HEART is what matters, as he beats Kevin Nash once more. Or … Mysterio could join LAX in protest.
Backstage
Steiner is here, and he's pissed. He wants action, and he's coming to the ring to get it! Once he's ringside he goes after the announcers, demanding that he have a qualifying match for the King of the Mountain immediately. He's going to be out of luck though, because …
Here comes Samoa Joe! "Joe's gonna kill you" chants throughout the arena. He and Steiner stare down, but Steiner walks away after flexing, which Joe completely NO SELLS. Brutal encounter there, folks. This is going to lead directly to our next match, however.
Samoa Joe vs. Chase Stevens:


This is a very quick match that sees Joe get the win via submission. Nothing overly impressive here, just continuing Joe's build. The submission is basically a choke, I should mention, which looked somewhat like an STF. I'll probably get e-mails telling me it looked more like a Vesuvian Back-Breaking Camel Knuckle Clutcher or some shit, but oh well.
After the match Joe continues to beat on Chase, but Andy Douglas runs to the ring to make the save. And while I've learned a lot about TNA the past few months, I have no clue who this motherfucker is. But the Naturals are re-united, so yay. Oh, and Shane Douglas is on the ramp observing this for some reason. And with that display of sheer ignorance, my e-cred drops a notch.
Backstage Segment
Team 3-D is here, and Bubba is upset about the outcome of their match at Sacrifice. Also, someone ate the last chocolate glazed donut backstage, and Bubba had CLEARLY written a note declaring it as his on the fridge. Watch out Samoa Joe and Raven, I'm thinking you're the primary suspects.
Okay, what really happens is that a rematch is set up for 3-D vs. The James Gang, but this time, they're doing it 3-D style … a hardcore match at Slammiversarry!
Rhino vs. Abyss:
And here you have your first King of the Mountain qualifying match. They did a great job of hyping the possibilities throughout the show, and this certainly appears to have promise.
Nothing technical here, just a straight-up brawl. It would be nice to see these two in a more specialized, brutal match, but oh well. Still pretty decent, even though it's obvious as hell that Abyss is going over. Which is exactly what he does, hitting a Black Hole Slam for the win. Not a bad match, and a good way to build towards Slammiversarry.
Over all it was a very good show. The opening bit with Christian was cheesy as all hell, but damnit, at least it was ten times more watchable than WWE. Most importantly, there was one great match, one decent match, and one fun squash match, filling out most of the show. I have to say, it's nice to be able to watch this with my younger brothers (much younger, they're 10 and 12), and not have to worry about all the filth WWE puts on TV.
So thanks again to all of you who have shown support for TNA and my recaps recently, it has been fucking awesome. Feel free to keep sending me e-mails, or swing by the forums and chat with all the TWF crew. I do respond to every e-mail I get, and I'm more than happy to talk TNA with anyone who has the time.
But it wouldn't be TWF without the other awesome writers on the main page. We've recently had a damn good guest column, on top of the ever-blossoming Joe Merrick, and the inconsistent James Walker. Why is he inconsistent, you ask? Because he consistently tops himself, that's why. Only James could make an oxymoron come to life quite like that.
Anyway, take care, and as always, I remain,
Remy
Remy's the kind of guy who enjoys long walks on the beach and quiet candle lit din … fuck that, chicks are crazy. He's actually a wrestling fan (and therefore not single by choice, as he'd have you believe). He's also a former admin of HTM.com, having been there for nearly three years. Now, he resides in limbo, wandering from forum to forum, fixing past wrongs, with the help of his friend Sam who … well, err, nevermind. He is, however, the brother of a well-known gentleman, whom you may have heard of, by the name of … JESUS! Well, not blood brother, but brother in the way black people say it, which is more meaningful, I think.
---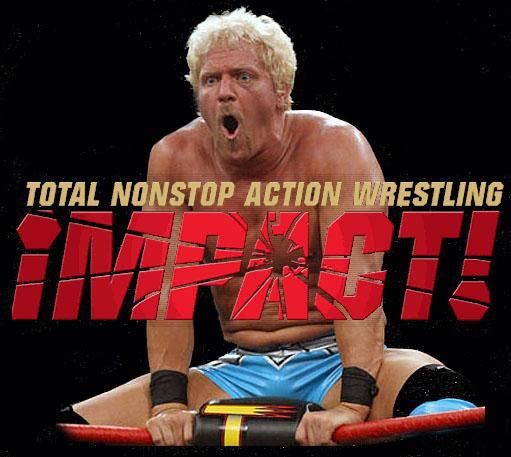 05.13.06
Ah, summer time. What a wonderful season it is. And do you think I was enjoying the beautiful sunny rays today? Well, if "sunny rays" are small white flecks that fall from the sky and melt on your hand, then yes. That's right, it's mid-May and it fucking snowed where I live. So I'm sitting by the fire with a hot cup of cocoa right now as I write this, while the Christmas tree I have yet to take down lights up the room. The tree is dead, but fuck it, the lights still work!
NOW is the time of Impact's beginning, let us commence!
For those keeping track at home, this Impact achieved its best rating ever. And yes, it is largely due to my fantastic recaps.
Team 3-D is out to the ring, and it's time for a bitch-fest. Standard "we've beaten the best, blah blah blah" promo from the fat one. Okay, the white fat one. I'm just kidding, I like 3-D, but they're no fucking AMW. Anyway, they're about to look even better as an even older (for WWE fans) and more stale tag-team makes their way out: the James Gang is here. If only it was led by our own James Walker, it would be so much cooler. I guarantee they'd bake cheesecakes and allude to fucking girls that were bloody from their period. Now THAT is badass.
The gist is that it will be Team 3-D vs. The James Gang at Sacrifice, essentially for bragging rights. Both teams were amiable towards each other in the ring. Perhaps too much so (depending on whether you like the cock or not) as Devon KISSES BG James before ducking out of the ring. I don't know when they let Kanyon start booking, but this angle did a Kanyon Kutter on my SOUL. Although that could have been indigestion from the pizza I had for dinner.
Chris Sabin vs. Puma:
This is a World X-Cup match, U.S. vs. Mexico. They start this match off with a lot of fast-paced back and forth action, building up some ring psychology that is promptly ruined by a commercial, just as it gets going. But it's not all bad, as Sabin and Puma put on a very solid match. No real high spots until the end where Sabit has Puma in a Tree of Woe and hits his Levitation Drop-kick. This looked like one stiff fucking shot to the head. Much like the one BG James is probably getting backstage from Devon, if you know what I mean, WINK WINK. Sabin then hits a Cradle Shock for the three count, giving the victory to Team USA. They lead with 5 points, while Mexico still as 2 and the rest have zero.
Backstage Segment
AMW and crew are in back and the main event for Impact is hyped. In case you missed it, that's going to be AMW and Bobby Roode vs. Rhino, Styles, and Daniels.
Zybsko also pops by, and he wants help with his Raven problem. I humbly suggest putting a straw hat on Runt Deadly (Spike Dudley) just as a precaution. D'Amore suggests A1 against Raven though. I'm skeptical, frankly, as I don't think birds like steak sauce, but I bet it's hardly a deterrent either. If you got that joke you're either patting yourself on the back, or groaning. And if you're groaning the people around you will think you're wanking it to a porn site, so I have my sweet revenge, mwa haha.
There's a brief set-up with nothing important as we head to Alex Shelley's Kevin Nash interview, Part the Second. Pretty decent promo with Nash ripping on the X-division. Funny stuff, but probably for all the wrong reasons if your name is Kevin Nash. If not, laugh away. Line of the night: "A mediocre big man will kill the best small man." If you don't get the irony you should be watching Desperate Housewives instead of wrestling.
After this is all done, Sonjay Dutt makes a challenge to Nash, indirectly of course. Nash will be at Sacrifice, so these two will meet face-to-face.
Chase Stevens vs. Abyss:
Mitchell cuts a promo as Abyss comes to the ring, and you know what I'm thinking? Here is a big guy booked properly. Mitchell speaks, Abyss wrestles. And they don't make him do gay rest holds, he gets to come off as a monster. Put this in the "things TNA does better than WWE" list, which is ever growing if you ask me.
Abyss wins with a chokeslam in no time, squashing Chase and picking up momentum for Sacrifice. Well booked.
In Ring Segment
It's time to find out who SAMOA JOE Sting's partner will SAMOA JOE be. Yeah, the game show idea is fucking old at this point. It's Samoa Joe, enough said.
Rhino, Christopher Daniels & A.J. Styles vs. AMW & Bobby Roode:
And it is main event time. Okay, I'll be honest. I missed most of this because I was flipping back and forth between Impact and hockey. Ryan Smyth got some teeth knocked out, but still managed to play until triple fucking overtime when he pinned Storm? No, wait, that was Rhino. But seriously, Edmonton came back to win the game, and then went on to tie the series tonight. Awesome. This is what you get for reading a Canadian recap.
Okay, so this was a solid match, no doubt. But, it was also a six-man tag, which means that it was less that stellar. Anyway, Rhino gets the Gore and the pin on Storm after Jackie throws coffee in Storm's face. And for those who want to rip on me for my recap of this match, keep in mind that a good few minutes was lost to commercials, so don't blame me for flipping over to hockey! TNA really needs to stop doing that, it's not doing them any favours.
So that's it for another Impact. The show is closed with a hype package for Sacrifice, but I was more stoked for Lockdown than I am for this PPV. Slightly unfortunate, but it happens. I'm sure I'll be recapping Sacrifice anyway, so be sure to check for that.
Oh, and what the fuck is with
Khali getting a clean pin over Rey on SD
? Fucking retarded. If you're not watching Impact instead of SD on Thursdays (for my fellow Canadians), then all I have to ask is … WHY? Do you really need more incentive to check out an alternative? But considering this was the highest rated Impact to date, I think it's safe to say most of you made the right choice, which is awesome.
Don't forget to stop by the
forums
and hey, send me an
E-MAIL
for Christ's sake. Would it kill you? Take care, and as always, I remain,
Remy
Remy's the kind of guy who enjoys long walks on the beach and quiet candle lit din … fuck that, chicks are crazy. He's actually a wrestling fan (and therefore not single by choice, as he'd have you believe). He's also a former admin of HTM.com, having been there for nearly three years. Now, he resides in limbo, wandering from forum to forum, fixing past wrongs, with the help of his friend Sam who … well, err, nevermind. He is, however, the brother of a well-known gentleman, whom you may have heard of, by the name of … JESUS! Well, not blood brother, but brother in the way black people say it, which is more meaningful, I think.
---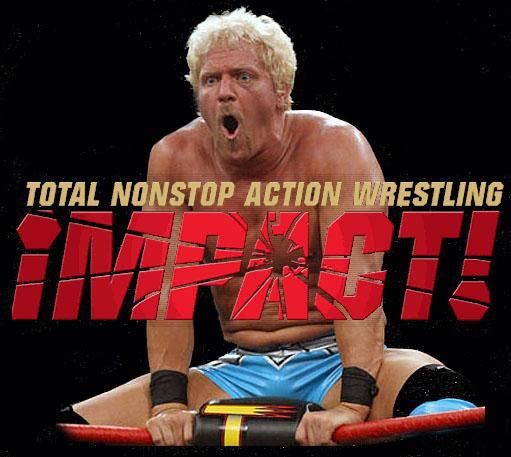 05.06.06
Miss me? Well, like it or not, I'm back again this week. Had a bit of a hiatus there after recapping the monster PPV that was Lockdown, which you can find HERE. Also, scroll down to check out Joe's Impact recap, since he covered for me last week. He may not be familiar with TNA, but considering it was practically a WCW reunion show, I don't think it mattered. Plus, he's funny as hell, so that's always a plus.
Before heading right into the action I'd like to direct you to a great article up on TNA's website about Shane Douglas. You can find it HERE. This is a short read, so take the time … just don't forget to come back here. For anyone fascinated by the brutal world of pain medication addictions though, this is a must read.
And with that, it's time to get this recap rolling. Fortunately, unlike my car, I don't have to throw it in neutral and push first!
Backstage Segment
Jackie and Gail are having a tiff in the back. I'm hoping it leads to a lesbian angle … like every women's angle in the WWE. AMW stops by on the way to the ring, and they're ready to kick off this week's show.
America's Most Wanted vs. AJ Styles and Christopher Daniels:

Solid match-up with four guys that can really go. Here's the problem: you've got WWE which tries to be all ring-psychology, at the expense of solid ring-work, and then you have TNA, which has great ring-work and a problem with psychology. With TNA though, it's easily blamed on God damned commercials.
The first half is cut by commercials, but coming back we get some great action. Standard match fare though, until near the end. We see Styles catch Storm in a torture rack that really looks impressive, especially considering the size difference. He follows up with a spinning flapjack and looks to have it, but the ref if yanked out of the ring by Harris. This allows for a change in momentum, as Gail Kim is in the ring, allowing Storm to hit a mean superkick on Styles. Kim follows this up with a crazy looking Hurricanrana (sp?) that is easily the highlight of the match. That's all it takes for Storm to get the pin, and AMW are your winners.
Sacrifice is hyped, and a vignette is aired for Senshi, formerly known as Low Ki. Frankly, every time I hear the guy's name I think of Sushi.
World X-Cup Match: Team Mexico (Shocker and Magno) vs. Team Canada (Eric Young and Johnny Devine):

And just like that, we're into another match. Before this bout we're shown that team USA is in the lead with two points, everyone else has zero.
Pretty simple match, nothing terribly exciting to report. The only things of much not are that Team Mexico wins, and that this is due to poor interference by Alex Shelley. Team Canada is not happy with him after the match. So, after this match you have Mexico and the US tied with two points a piece, while Canada and Japan stay at zero.
The Living Legend is at ringside and announces a match for Sacrifice: we're going to see AMW lock it up with Styles and Daniels one more time. Frankly, I'm stoked. I smell new tag champs. Oh, and the bitches are barred from ringside. They have to meet up at a hotel and one is dating the other's dad and … just kidding. As we've seen since Lockdown, Raven comes out and chases Zybysko. A little variety, just a little, would be nice here.
In Ring Segment
Jarrett and Steiner are in the ring, and it's time to play a game with the Stinger. I was hoping for an invigorating game of monopoly, but instead it will be a rip-off of some gay show starring Howie Mandel. Yeah, way to copy a winning formula, TNA. Anyway, this week there is only one choice, and eventually, Jarrett rejects it, once more refusing to play ball. So who is it? Why, another WCW reject, of course! It's … STEINER. You know, the other Steiner. The one nobody cares about. Okay, okay, you're right. That was uncalled for. That statement does apply to both Steiner's, I'm sorry.
So next week Sting will reveal his partner, and this time, Jarrett has no choice. Finally.
Interview
Yay, it's Kevin Nash. And I'm sure as hell hoping that Nash is trying to be funny, because the only other explanation is that he's starting to go Warrior. Nash complains about how his phone hasn't been ringing, even though so many other WCW'ers have resurfaced lately. He then pulls out a fucking graph that he says proves he drew more money than Hogan, Austin, or Rock. Welcome to Nashville, population 569 891. Erm, I mean, population 1. Maybe two if you count his mom or something, but that's semantics. Nash then proceeds to call the X-division "filler." I think you're mistaken Nash, that's that stuff between your ears.
Side note: I find it ironic that Nash is back just in time for the Sacrifice PPV. For those who haven't seen it, you MUST find lethalwrestling.com's version of Nash's sacrifice.
Christian Cage vs. Alex Shelley:


And it is main-event time, folks. Which is … a squash match, sorry to say. Christian wins with an Unprettier, and that's about it. In one corny bit during the match, Cage grabs a headset and leads us out as we go to commercial. Apparently TNA is so cheap that Christian has to moonlight as a ring announcer! Also during the match, it is announced that next week we'll see AMW with Roode of team Canada versus Styles, Daniels, and Rhino.
After the match, Christian cuts a promo on Abyss. Pretty entertaining stuff actually, like one would expect from him. This is followed by a clip of Mitchell challenging Christian to take his title back next week, on Impact.
And that's it! This went a whole lot faster than that monster Lockdown recap, thank God. Of course, Sacrifice is just a few days away, so … yay? Although, seriously, I am looking forward to it. Beats the hell out of Judgement Day (for your wallet, if you're dumb enough to order it … except you, Sean. You're not dumb at all, I swear. Oh shit, digging a hole. I'll have to send him flowers tomorrow now, great).
Don't forget to check out the main page, and stop by the forums to send us some much deserved love. Take care, and as always, I remain,
Remy
Remy's the kind of guy who enjoys long walks on the beach and quiet candle lit din … fuck that, chicks are crazy. He's actually a wrestling fan (and therefore not single by choice, as he'd have you believe). He's also a former admin of HTM.com, having been there for nearly three years. Now, he resides in limbo, wandering from forum to forum, fixing past wrongs, with the help of his friend Sam who … well, err, nevermind. He is, however, the brother of a well-known gentleman, whom you may have heard of, by the name of … JESUS! Well, not blood brother, but brother in the way black people say it, which is more meaningful, I think.