N.W.O. 4 DEATH
How I survived getting to, and watching,
No Way Out
Greetings, wrestling fans and WrestlingFan fans. Last month, your dad, Sean Carless, asked me if I would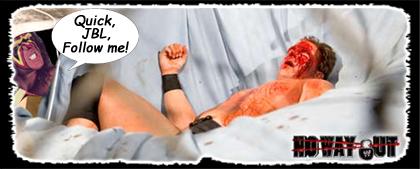 document my experience at the WWE Smackdown brand's No Way Out pagar-por-vista. "Just have fun with it," he said. Flattered, I responded, "You don't fucking tell me what to do, ever."
Now, a month later, I've reconsidered. Well, actually, half-truth be sort of told, I had forgotten that I attended the show until the buyrate came out a couple days ago. Apparently, a number of other people had forgotten to buy the show in the first place. So for their edification, here is a List of Things I Think I Remember About No Way Out:
- With unexpectedly hideous driving conditions of ice, snow, cold, and chill, I distinctly recall the internal debate I had with myself over whether or not I ought to risk death in order to make it to the show in time for Heat. I tried to gauge the chances of something awesome happening versus something horrible happening, and the potential of Ultimo Dragon coming back to wrestle Nunzio, or Rochelle Loewen making out with Dawn Marie, or Josh Mathews' wedding to Rue outweighed the disincentive of something like Bob Holly vs. Mark Jindrak or Kenzo Suzuki vs. Scotty 2 Hotty. So I maintained a high rate of speed through the dire elements, allowing me to arrive in time for …
- … Hardcore Holly & Charlie Haas vs. Kenzo Suzuki & Rene Dupree. I would've been pretty annoyed if I'd died for that.
- There was a No Way Out press conference earlier in the week, but I missed it. If I had known it was happening, only five minutes away from me, I ... probably still wouldn't have gone. Actually, I would have gone with a notepad and a hat that said "PRESS" on it and been like, "Ms. Giovanni, Justin Shapiro of the Sunday Heat. How do your husband and babies feel about your 'special companionship' with one the Big Show?"
- The kids in the row in front of me went with the "Just a Big Loser" sign, always a good choice. They also had one that said "EDDIE AND REY STOLE MY TACOS," which is, I mean, come on. Not only do they have to eat tacos, but they have to steal them too? Racism against babyfaces is the worst kind.
- Booker T's pyrotechnics, those giant flaming eruptions? They are warm, if you can believe that.
- There seems to be something of a cult fanbase developing around JBL, as he's a total babyface to a subsection of the crowd. There was even one full-on John Bradshaw Layfield impersonator in the audience complete with hat, replica title belt, and sweatsuit. He had all the mannerisms down and everything. The only thing that could've made it better was if he brought four other people to be the Cabinet. The setback is that a guy who dresses up as John Bradshaw Layfield, all the way down to the shoulder towel, probably does not have a surplus of friends, let alone a female friend suitably slender enough to pass for Amy Weber. But the ersatz JBL was so great that I would have willingly gone blackface to play the role of Orlando Jordan.
- There was also a little boy who had Carlito hair. That was cool.
- I considering running in on the main event and climbing up the cage like at Halloween Havoc '97, but then I realized that I'd never be able to get past that brutally barbaric razor sharp barbed wire. For Justin Shapiro, there was truly No Way In.
That is all that comes to mind. Oh right, and Kurt Angle and John Cena had a very strong match, and Paul London did a top rope neckbreaker. In terms of great moments in the history of me in the vicinity of wrestlers, the most important people in the world, there was nothing that could measure up to the time that Rob Van Dam and Tajiri almost hit me with their rental car, or the time that Maven and Al Snow almost hit me with their rental car, or the time that I tried to win the hardcore title when I saw Steve Blackman on an airplane. But I think I almost ran over Michael Hayes. If only.