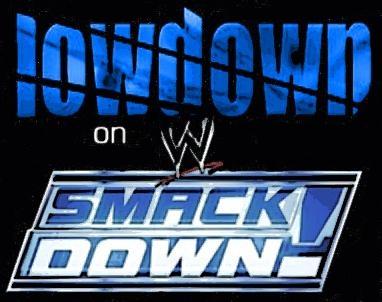 Welcome all to a very special edition of Friday Night Smackdown!, for tonight marks an event that only occurs two or three times a year - The return of the Undertaker! Yes, after being away from tv for over four months, he makes his return to Smackdown tonight in, um, the exact same match he won like two weeks ago at Unforgiven when he actually returned. Huh. Well anyway, I'm sure they've got something interesting planned for this main event. Surely they wouldn't just have another glorified squash. Surely.
Anyway, we start off with a recap of Teddy and Kristal's wedding last week. They don't even show Kristal falling or anything! I don't know why they wouldn't, that's one of my favorite Smackdown moments from this entire year, right up there with...um... The Khali Shuffle? Okay, it's my only favorite Smackdown moment by default. But still. All the more reason to replay it, because it really was a great fall. I mean she didn't just fall, she fell and slid all the way down the steps and out onto the floor as Vince just turns his head and takes a quick step back. Don't get me wrong, I'm sure he would've liked to help her up, however his probable Vietnam-like flashbacks to the Royal Rumble a couple years ago paralyzed him with the panic of that horrible moment. Let's go with that. Anyway, Vince is backstage with Vicki Guerrero. Apparently Teddy had a massive heart attack and is in a coma. That's worse than I expected, I mean he was well enough when he clutched his heart and fainted to break his fall with his hands. I wish I had reflexes like that. So with Teddy out, Vicki is the next most qualified person to be Smackdown GM for, some reason, I'm sure. Vince says he has faith in her when Finlay shows up and they walk away talking about Hornswoggle or something, I don't know. I was kind of eating.
Next is the continuation of a feud that's been going for quite a while now with some forgotten irrelevant reason behind it and no chance of a title being involved or any sort of furthering the feud whatsoever. And no, I'm not talking about Kane/Finlay. Or Chuck Palumbo/Kenny Dykstra. Or Mark Henry/Undertaker. All of those are later. I'm referring to Torrie Wilson and Victoria! ...Hey, why are you scrolling down the page?
Torrie is out to little reaction and Victoria to even less. It's the Black Widow vs the White Divorcee? No? Oh. Well anyway, Billy Kidman's losses aside, this match is on.
Torrie Wilson vs Victoria, Grudge Match...I think
They lock up which of course Victoria wins. She puts Torrie in a headlock but she gets out. Torrie takes down Victoria with a crossbody and an arm drag. She then rolls her up for two consecutive two's. Victoria throws her out to the floor, then follows her out and begins assualting her, but not sexually because this is the CW. Those wrestling shows come on the higher channels. Victoria then rolls her in and gets a two count. Snap suplex gets another two. Torrie is back with some punches but Victoria battles that with her remarkably large boobs. Boots. I said boots. But Torrie rolls her up again for another two. She then hits some weak forearms and bounces off the ropes and hits a headscissors followed by a clothesline and facebuster for another two count. She then misses a clothesline and Victoria gets the roll up with a little help from every lame heel's best friend. No, not jokes about city's sports teams, I mean the bottom rope.
After the match some new blond girl is out and hits a back breaker on Torrie, then goes outside while Torrie lies in the ring and bends her CARCASS around the ringpost. She then pulls her out and throws her into the barrier and leaves looking like she just accomplished something. She does know that Victoria won the match, right? And that the women's title is on Raw? Motives are for the weak.
JBL says he'll be conducting a hard-hitting interview with Rey Mysterio tonight, which will be totally a real interview and not at all exactly like the one we saw just last week where JBL just made racist jokes towards Rey Mysterio until a fight broke out.
Next in the ring is a bunch of random people who I guess are supposed to be MVP's friends. What better place for a party than a resling ring?! Pretty much anywhere? You're probably right. Poor choice of location aside, it's time for the VIP Lounge. MVP says if Teddy dies in the hospital, he will best be remembered for signing MVP to the most lucrative contract in history. He says today is the one-year anniversary of him being signed to Smackdown! and he's lived up to the hype and says he's actually most proud of his tag team title which he won with the man who is riding on his coattails, Matt Hardy. I wonder why they made him say that? I mean you'd think he'd be proud of his U.S. title the most. It's supposed to still be kind of a big deal and is generally considered a bigger achievement than the tag titles and it usually has at least one contender for it, plus he won it in a big upset from...erm, oh, yeah... Well anyway, at this Hardy makes his way to the ring with a bottle of champagne. He explains even though this party isn't his scene he still showed up because they are partners - no, more than that - homies. He presents MVP with a special video package. These always go over so well. This video includes MVP getting stunnered, KO'd by Holyfield, set of fire, and losing a basketball and arm wrestling contest to Matt. After it's over, MVP is looking rather upset over the champagne, or maybe it's the video. But the champagne looks pretty cheap. But still, he shouldn't be so unapprecitive of Hardy's attempts, he knows that he's from Nawth Cayowlina. TGI Friday's is where people celebrate big job promotions and fiftieth wedding anniversaries down there. It's all he knows. Just be lucky he didn't bring a two-liter of Pepsi. Regardless, MVP is still pissed, but Matt insists the video was just a joke. He then pours him the cristal which both ruins my entire cheap champagne thing and amazes MVP that he can afford it. Matt gives a toast calling MVP arrogant like four times among other things which causes MVP to try to kick Matt out of the party, but Hardy insists before he leaves, he has one last gift for him - tonight MVP will face Kane. Because Matt Hardy is co-GM with Vicki, I suppose.
Sometimes I don't think WWE realizes that not every kind of person would make a good wrestling character. Like yeah there are some rednecks out there, that's not gonna make anyone cheer Cade and Murdoch or Cade and Murdoch's retarded Smackdown bretheren. And while some guys are into motorcycles, it's still impossible to get virtually any reaction to this next match.
Chuck Palumbo vs Kenny Dykstra, Apathy Match
Lock up and Palumbo takes down Kenny. Chuckie slings him into a turnbuckle and hits a big hip toss followed by a slam and a missed elbow drop. This lets Kenny get in a missle dropkick which gets two. Kenny kicks the back and dropkicks him on the ground and stomps his face for another two. Kenny then gets him in a body scissors/chinlock combo but Plaumbo gets on his feet with Kenny on his back, so he rams him into the turnbuckle a couple of times until Kenny comes off. Big punches and a back elbow off the ropes by Palumbo, who follows with a powerslam and then a clothesline. More punches lead into a whip of Irish descent and a big belly to belly suplex, then a yakuza and swinging side slam which I guess is his finisher because it wins the match and there hasn't been a clean finish that hasn't ended with a finisher in like fifteen years.
Condemned DVD, Jesse and Festus debut next week, Batista says he's a dangerous animal in a cage but a docile sloth in bed, both due to steroids, Undertaker promo, and lots more shit you don't care about take up the next fifteen minutes or so. MVP and Kane up next.
We come back to a two-minute long Taker promo featuring his usual montage of images. Close up of the chair, coral snakes writhing on the coffin in the desert, that whole bit. I bet all of these promos will equal the length of his match tonight.
MVP vs Kane, Nostalgia Match
MVP and Kane both have made amazing recoveries from their respective burns. MVP starts off with an armbar but Kane "starts things off with power moves." As opposed to fucking what, his vast arsenal of technical holds or jaw-dropping high-flying style? Kane takes him down with a shoulder block and MVP gets all Malcom X angry and starts yelling and shoves Kane, so Kane takes him down a few pegs to Rodney King with an uppercut and slam to the turnbuckle followed by more uppercuts. MVP goes to seek refuge outside but Kane of course follows with what of course more punches. Back in the ring Kane hits a big boot and what else but more uppercuts. MVP hits a low dropkick off the ropes, however Kane just toses him into a corner. MVP blocks a corner clothesline with an elbow followed by a plethora of punching and kicking. Kane counters MVP's suplex attempt with his own but MVP hits a slow-mo ddt. MVP gets only two, so he breaks Kane's neck with the appropriate move, but Kane somehow kicks out at two with a broken freaking neck! Either that move's effect isn't as literal as it's name, or Kane really does have magical powers. I'm leaning towards the latter. I mean how else can anyone be involved in as many bad storylines as Kane has (ie all of them) and STILL consistently get the biggest pop of the night this side of HORNSWOGGLE? MVP punches some more and gets a couple more two counts. Kane comes back with uppercuts and a back elbow off the ropes but misses the top-rope clothesline which gets MVP two. Another armbar by MVP but Kane escapes, so MVP hits some more rights but the ref backs MVP off long enough for Kane to land in a shot followed by a slam to the corner and an irish whip which MVP counters into a drop toehold sending Kane facefirst into the turnbuckle. Kane blocks a kick and hits a clothesline followed by more kicks and Jesus fucking Christ, this is like watching a wrestling match on a video game between two people who only know how to kick and punch. You hold R1 and move the analog stick SIMULTANEOUSLY, you fools! Kane gets a backdrop and a goozle but MVP elbows out and is off the ropes to collide heads just in time for the commercials. When we return MVP is choking Kane on the ropes. Kane keeps trying to get up but MVP keeps him down with a running boot which gets a two. MVP locks in another armbar and chinlock but Kane gets to his feet but MVP puts him back down with a jawbreaker. MVP hits a big kick which gets two. MVP then clubs some more and makes a not cool at all pose to which Kane replies with a not repetitive at all uppercut. He whips him into the turnbuckle and clotheslines MVP twice, then gets a side slam for two. Kane goes up but MVP meets him there looking for a superplex. Kane headbutts him down and finally gets the obligatory flying clothesline, then another goozle by Kane which MVP counters again by throwing him over the top onto the apron. Kane back in and starts choking MVP with both hands so MVP just kicks him with a low blow for the DQ. Of course, of course they end a 15 minute match with a DQ, how satisfying. That match was ridiculously horrible.
Oh, oh! Diva Search time! For those of you who HAVEN'T been following, Naomi was eliminated last week for not being very good at volleyball. This week Lyndy gets the axe for not being a very good limboer. "Lyndy, you have been eliminated." "Really?" No, Lyndy, not really at all. You were just the only girl who failed the limbo challenge and they just directly told you you were out, but no, that was a joke. They've decided to keep you and get rid of Jessica because she won't put out for Johnny Ace....actually, don't be surprised if you see Lyndy back next week as a special "wildcard."
Back from commercials we get that weird promo that everyone already knows is Jericho anyway with a bunch of scrolling letters and words. I only caught a few, they were "rescue", "locator", and "bumpy". And yes, I'm completely certain of the accuracy of those. Perhaps. Maybe. Hey, JBL inteview time! He's in the ring and says it won't be touchy feely Barbra Walters, it'll just be really cheap and racist and kind of uncomfortable to watch. Rey is out to a quieter intro, but his music still sucks regardless of the volume, unless that volume is 0 or Mute. He looks pretty solemn for some reason. JBL says something about machismo and calls him stupid but has some real hardball questions for Rey. Rey however has one for him - What his "hatrage" for Rey is all about. He pries that maybe it's because Rey retired JBL and JBL really wants to be the one being interviewed. JBL gets intensely angry and says he's damn right, he is stuck talking up guys who are half the champion with half the talent he has. Rey says JBL needs to get over the fact that his career is "over, finato, comprende?" JBL responds by shouting "English!" Rey basically challenges him to a match, but JBL says he should be worried about Khali next week and shoves Rey across the ring. Rey however gets him on the ropes and hits a 619 and seated senton but enter FINLAY who lays him out with a shileighleigh shot. Cole says Rey is clearly Finlay's next victim like that explains it. It's like they don't even try to make up motives for people, can't they come up with anything? Maybe do like Finlay's looking for a replacement midget for Hornswoggle in Rey and he's "breaking him in" or however you gain control over a midget. As opposed to just grabbing one, I mean.
Speaking of which, Vicky is in the back with Horny and says him winning the title was a fluke, and so was all those times he defended it, and him being champion is a joke. Shannon Moore, now THERE'S a guy who can be taken seriously as a champion right now. She is concerned that him being a champion and a McMahon will make him a target, because everyone attacks the McMahons, so he needs to "advocate" the title. For some reason she then takes it from him and he leaves like he's about to cry. I thought she wanted him to show it off and advertise he had it. Did she mean vacate? How do you mess that up? What is she, retarded? I think Matt Hardy should be sole interim GM, Vicky as co-GM is not working out. Cruiserweights next.
Jamie Noble vs Shannon Moore
Noble wants revenge for Moore costing him his match against Jimmy Yang. Noble starts off with punches and kicks but Moore hits a leg lariat off the ropes, followed by a reverse atomic drop and dropkick for two. Moore tries a crossbody from there but gets a knee instead. Noble proceeds to stomp him and locks in a boston crap even though Moore is already hanging on the bottom rope before he even applied it. Moore back with punches and neckbreaker thing followed by a clothesline and spinning wheel kick. He then gets legdrop on Noble's face which Cole calls "high-flying". I guess if you consider a two foot jump high... JBL agrees and tells him it was a standing leg drop and rightfully ridicules him. Noble slams Moore on his face and a big gutbuster for three. He signals that he wants the belt as we head to another Taker promo.
Announcers put over Punjabi Prison Match and how it's "Khali's Match" even though the only one they've had was Big Show vs Taker. What was it again, like a bamboo hell in a cell or something? Termites. MENACING.
In the back it's time for Khali's rebuttal against Batista earlier, which mainly consists of a lot of "brrgargle" and pointing at the camera. The translator explains that he said Batista should watch Rey vs Khali next week. Khali then blarghs some more, which his translator translates as Khali having "No fear, no remorse, no ability!" Or maybe it was mercy, I don't know I lost interest. Khali's promos are too long, that's the problem. Why doesn't Khali just tell his translator what he wants to say before the camera starts rolling, and the guy can just say it in English while Khali just stands there like a dope? It'd be done in half the time, and it would add a certain mystique to Khali. He'd be kinda like a really big Sabu, minus the ability and charisma. Right. Why is Khali on tv again? Oh yeah, the really big part.
And now finally, the moment you've all been waiting for, The Undertaker returns in the main event! Live, er, pretaped! Ton-, well, three nights ago! Sold out! Those sections are tarped off just because! Really! There aren't hundreds of empty seats behind there! Please don't look it up on Ticketmaster!
Undertaker vs Mark Henry, MAIN EVENT
Mark Henry is out looking damp as usual. Dong sounds and red lightning strikes two big suspended Taker symbols which burst into flame. Undertaker appears through the smoke and flames and the announcers remind us how much of Taker's game is mental and assure us Mark Henry must be terrified. Henry of course ruins this cool moment by shouting obscenities when the camera pans on him. Taker eventually makes his way into the ring and under the blacklight Henry is just covered in bright little neon specks as they stare each other down. Hey, what? There's five minutes left in the show? Son of a bitch, it's gonna be a squash. Not that I really wanted to see Henry in anything over five minutes, but still. Bell sounds and Taker immediately goes after Henry who hurries, well, moseys, to the outside, but his foot gets caught on the bottom rope so Taker has to make like he can't reach Henry for a few embarrassing seconds. After he gets free, Taker follows him out only to be clubbed and rolled back inside. He puts Taker in the corner and punches him, then slings him to the opposite turnbuckle and wadles right into a big boot. Taker now hits some punches and old school attempt which Henry counters by pulling him into bearhug position but rams him into the turnbuckle instead. He then clotheslines Taker who stumbles out and they begin to trade blows. Henry counters an Irish whip into a clothesline followed by an elbow drop for two. Frustrated, he tries for another elbow drop, because surely this will do him in. This somehow misses though and they trade shots to the head. Henry then misses a clothesline so Taker bounces off the ropes and hits his signature leaping clothesline. He then hits two more clotheslines on Henry in the corner, however a chokeslam attempt is countered by an elbow to the head but Henry misses yet another clothesline so Taker just chokeslams him for the three count. Show ends with blacklight on Taker in his kneeling pose. A lot of people look pissed.