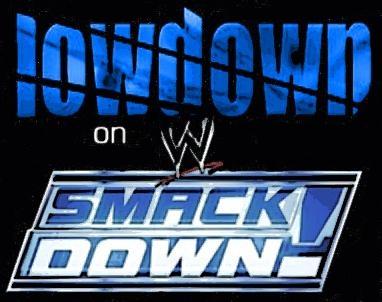 You know what's more irritating than having to write the fucking Smackdown Report? Having to write the Smackdown Report twice.
Let's be honest, it always feels repetitive. But this time, it IS repetitive. I have already written this shit once. Unfortunately, just as I was detailing a performance by Lashley that was ACTUALLY interesting, my laptop died.
So I'm keeping this short, sharp and angry. Oh so very fucking angry. Lets get this show on the road.
Batista comes out to start the show, and already I'm depressed. This is the exact same way that they started the show last week. Which means I have covered the exact same thing three times. This is like Groundhog Day, only I don't have to kiss Andie McDowall. Every cloud has a silver lining. She looks like a foot.
He says the Mania match will be very messy. Way ahead of you pal, TWF have been saying that for months.
Then Taker appears on the screen and says, 'MAAAAANKIIIIND, You will never….rest…in…peeeeeaaaaaace.' No, wait, that was in 1996 when he first did this exact same fucking interview. And Lance Storm says that the Dub is real strong at the moment. Well, fucking YEEEEAAAH. That's because they are repeating all of their good stuff.
Taker says that everybody gets buried eventually, which would imply a Buried Alive match. Which would imply that Michaels and Cena will headline Mania, because they never end Mania with a gimmicky match.
Match One:- Matt Hardy vs. Someone Different. Nah, just kidding, it's Joey Mercury. MITB Qualifier.
For FUCKS sake. I have reviewed this exact same match, not just tonight, but for the past two fucking months.
The conclusion sees Matt doing something new? Original? Unexpected? Don't be fucking stupid. He goes for the mask. He gets an elbow in the face for his trouble, and Mercury goes to the top rope only to be met with a SECOND ROPE TWIST OF FATE! I love finishers when they do them from the top rope. Really puts over the added power.
Winner:- Matt Hardy.
Hey, at least Joey Mercury doesn't have to face his fear.
Mercury:-Look, Vince, could I PLEASE go over tonight? Just this once?
Vince:-Sure thing.
Mercury:-What, really?
Vince:-Why not.
Mercury:-Wow, okay!
Vince:-(aside) Hey guys, change of plan! Tonight, Joey goes over in the Money In The Bank Qualifier. Isn't that right Mercury…. Mercury?
Mercury:-(Laying in a corner, in a faetal position, sucking his thumb) Ladd… lad….
Vince:-…never mind.
OOOH! LOOK! KRYSTALL and MVP are backstage by god! And no matter how much EXCITEMENT I inflect into this, I STILL don't give a fuck!! WOW!
Match 2:- Scotty, Wang and Shannon vs. Daivari, Chavo and Helms.

I didn't give a crap about this the first time I wrote it. Hell, the Dub doesn't give a shit about cruiserweights, why should I? Hell, they gave the Light Heavyweight Championship AWAY, to Japan, for years. So whilst this match was going on, I was playing Clock with my trusty pack of cards, and glancing up every so often.
My first glance up, I see Scotty Too Hotty hitting the ten punches in the corner. DEAR GOD NO! How could I be missing this hard hitting high impact lucha action!? For FUCKS sake.
Second time, I see Wang Yang hitting some offensive maneuvers, and everything this guy does looks clean and crisp… standing moonsault, nice. Some flip kick variation, sweet. And now… Scotty is setting up for the Worm. Aaaaand, back to my game.
I glanced up luckily to see the end of the match. Wang Yang hitting a big moonsault on Daivari for the win. They are wasting this guy.
Winner:- Wang and co.
Mr McMahon comes down, because what everybody wants is for WWE's 'wrasslin' show to be watered down yet further by shitty talking.
Vince says something, and then cums a little in his tighty whiteys at the sound of his own voice.
He shows the video of Lashley doing the only interesting thing he has done since the King Of The Ring. At least now Lashley is one up on Mark Henry now that we know he can break a gimmicked cage at will.
Lashley tells Vince that he wants to play 'wing awound the woses'. Vince then slaps Lashley for sounding like a homosexual, but apparently Lashley likes it rough, and chases Vince out of the ring. Vince runs like the wind, saving his anus for another day.
Kennedy asks Vince for an ECW championship match backstage, and Vince says that the match will be NO DQ. But only for… erm… Kennedy. So let me get this straight. The EXTREMIST isn't allowed to use weapons, but the 'superstar' is? Isn't that like telling a rapist that he can't use his penis? But that the attackee can indeed use a cucumber?
Match 3:- BOOBIES!
That's all you are getting from me there. Moving swiftly on.
Match 4:- Money In The Bank Qualifier: Finlay vs. Chris Benoit vs. MVP.
Before the match, Finlay brings to life one of my all time fantasies. By hitting Michael Cole, you fucking sick freak! He then tells us that Little Bastards name is Hornswaggle. Great, except for Finlay sounds like Captain Jack Sparrow, and that is not a convincingly aggressive voice.
This is a potentially good match, with MVP thrown in to water it down. Because we wouldn't want to ENJOY the show, would we now? Finish sees Hornswoggle (nope, it still sucks) distract the ref so that Finlay could hit both MVP and Benoit with the shileighleighleighleigh for the pin.
Great, Finlay is in the MITB. The obvious choice would have been Benoit, because he is so good in those matches, but meh. As much as I love Finlay, the guy is old. And I wouldn't want to see my grandad plummet 20 feet.
He'd sell it terribly.
Winner:- Finlay.
Jerry Lawler is in the Hall Of Fame. I hear they are making him his own individual wing. He had heard rumours that if he shared a wing with the other inmates, they did nasty stuff to guys like him, like put glass in his porridge and stuff. Heh.
My GOD, lets just get the main event over with. This ran to five pages on Word earlier. I have dwindled it down to three. Heh, that's why they hired me, guys.
Main Event:- Lashley vs. Kennedy, no rules for Kennedy.
Kennedy exposes turnbuckles, which would be illegal at any other time, but not under these rules. Because it is illegal to expose that DANGEROUS tiny steel ring, but legal to throw your opponent into the COMPLETELY MADE OF STEEL ring steps. That is because the TINY steel must hurt more. Something to do with surface area. And also, something to do with RETARD.
Kennedy with CLOSED FISTS. AGAIN illegal. AGAIN more painful than those placid lame steel ring steps, AGAIN smaller surface area, and again, fucking retarded. Lashley makes a small comeback, and goes to throw Kennedy into the EXPOSED STEEL! OH NO! But… he can't. He slams him instead. Don't worry Lashley, just use the COMPLETELY LEGAL RING STEPS.
Now Kennedy hit's a LOW BLOW. Legal. I am really enjoying this match, the psychology rules. But I'm starting to get worried that, as strong as it will make Lashley look, it will bury Kennedy.
Kennedy continues to use the turnbuckles, and then THROWS HIM INTO THE STEEL STEPS OF COMPLETE LEGALITY. Well that's just weak, Kennedy, those big metal bastards wouldn't hurt a fly. Infact, a fly once bashed into one at a house show once. The fly just rolled with the punch and kept going but the steps were a write off. Kennedy with the wrist tape now, and this has been more hardcore than anything the Gersh has reviewed in months. HA! I rule, it's simple maths.
Kennedy is targeting the knee now, whenever Lashley begins a comeback, Kennedy chops him down. Next, a chair. Lashleys head makes a hole in the chair because of the excessive force on such a small object. Okay, there was no hole and the joke sucked. Fuck you. Lashley kicks out at two.Lashley then gets the steel chair and… the ref stops him! NOT YOUR JOB YOU STUPID BASTARD JUST CALL THE MATCH. That would have been the ideal finish, the extremist losing it completely, getting disqualified, going on a rampage, nobody gets buried, everyone looks strong. But the Dub will only give us DQ finishers when we DON'T want them, or when they serve NO purpose.
Nice finish, (at least visually) sees Kennedy fo to work on the knee but Lashley leaps over him and… hit's the power slam. Wow, Kennedy, you chump.
End.
Stored In The Swagbag:-
Loved the psychology of the last match. Lashley actually looked good too. Miracles do happen.
Condemned to the Dungeon:-
Where is Teddy Long, for one? Why is Kennedy losing like that? Why is Scotty getting this minor push? Why is Vince still shilling his shite? Why is Matt still working with Mercury? Etc. Etc. Dear Christ, Smackdown is the best show WWE produces, but by GOD it's frustrating.
I'm done. AGAIN.