Navigation:
July 18, 2004
July 11, 2004
July 04, 2004
Best of June 2004
Best of April & May 2004
Best of Feb. and March 2004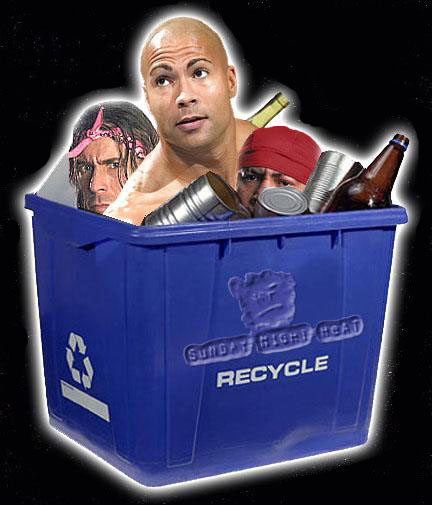 RETRO SUNDAY NIGHT HEAT
By Justin Shapiro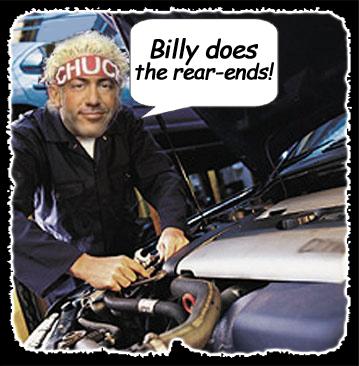 WWE SUNDAY NIGHT HEAT REPORT

July 18, 2004
I'm in the Wetlands. I've got a poker-thing, and I'm here to clean them up.
Match Results: Victoria beat Molly Holly; Val Venis beat Chuck Palumbo; Randy Orton beat Rosey
Boo, it's Todd Grisham filling in for Jonathan Coachman, who's busy "prepping the divas" for Monday TV. Playa's Club featuring Coach indeed. It *is* somewhat impressive that they bother to figure out on Mondays when Coach will be unavailable to do voiceover work later in the week. If it were WCW, they'd probably just have, say, Tony Schiavone and Stevie Ray announcing Thunder while we saw Scott Hudson and Mike Tenay sitting there in the background.
VICTORIA (w/ "Benson" t-shirt) (and now w/o it) vs. MOLLY HOLLY
Governor Craig Benson cooperated with Smackdown Your Vote this week. If Christine Todd Whitman got an honorary WWF Championship belt, does that mean Benson got an honorary Women's Title? It *doesn't*?
This is a rematch from Vengeance. And Wrestlemania. And ... the Royal Rumble? Molly starts by yanking Victoria around by the hair. Hairmare or should I say snaphair. Victoria tossed out of the ring and then dropped facefirst on the barricade. Rolled back in, back of the head slammed into the mat repeatedly. Fake "MOLLY SUX" chant. Molly's snap suplex for 2. Barring of the arm. Victoria's up, whipped into the corner, she floats up and over, but gets thrown into the second turnbuckle. Handspring elbow is countered with a kick in the back, oof. Victoria with a schoolgirl for 1 and a rolling reverse with bridge for 2. Victoria with a backdrop and a dropkick to the head for 2. Molly cuts her off with a clothesline, then goes to pick her up but getssmallpackagedsorta123!
Molly is upset. In terms of emotion, not probability. She jumps Victoria after the bell and delivers a backbreaker, then goes outside and gets a chair -- heavy. But before she can use it, she's stopped by Heat GM Some Strange Woman, conservatively-dressed, who snatches the chair and piefaces Molly. Victoria is still all, wha?

Tonight: Rosey vs. Randy Orton. Wha?
Let us take you back to Edge winning the Intercontinental Title from Randy Orton. Let us take you back to Edge over Batista on Raw. Two down, two to go, we're told. But ... he already beat Flair last month. And does pinning the members of Evolution in matches really "take them down" or whatever? Because Benoit has already made all four of them all tap out to the Crippler Crossface. Which is, like, worse.
Raw Diva Search highlights. They push Carmella DeCesare hard. BUT, does she make her own outfits? I didn't think so. At all. Goodbye, ladies.
Hello, ladies. VAL VENIS vs. CHUCK PALUMBO...?
Wait, what the ass happened to Chuck? He's in a ballcap, gloves, pants that I would best describe as 'brown' and 'weird,' and a chain belt. Did he and Johnny Stamboli get their luggage mixed up? Did Stamboli work Velocity in red trunks and a CHUCK headband? Does Chuck make his own outfits? The only explanation we get is that he's "dressing like a biker." Well then.
Lockup, Val backed into the corner, clean break? As if! Chuck slaps Val in da face, ohhhh. Val slaps him back, ohhhh. Chuck slaps Val again, ohhhh. Val hiptosses Chuck, ohhhh? Val with an armdrag and a shoulderblock for 2. Chuck cuts him off with a thumb to the eye and a Chuck Punch. Snapmare and a kick to the back of the back. Al: "The Raw Divas, baby." Todd: [falsetto] "Hoo." Chuck charges into a high kick to the face, then gets clotheslined and neckbroken. Chuck rolls to the apron but gets suplexed back in. Val intends to Money Shoot, but Chuck holds onto his leg for dear life. A half nelson slam stops all his weeping, and the Money Shot ends it. That was 90% gravity. Chuck got squashed pretty bad there in like three minutes -- ahhhhh I finally get it. He's supposed to be a new Brooklyn Brawler!
WWE Rewind: Matt Hardy tells Lita to stay away. Followed by still photos of Matt beating Kane. Followed by Lita and Kane on a most Jerry Springeresque edition of the Highlight Reel. Where the heck did that startlingly good Lita promo come from? Jericho's Final Thought: They will never, e-e-ever be the same again. Take care of yourselves and of each other.
A special video package detailing the events of last week's Raw and Eugene assaulted. I think Lesnar's massacre of Zach Gowen last year was a more effective heat-building angle, but that was different circumstances since it was basically killing off of the Zach character, not setting up something he'd seek revenge on. And also, he only had one leg. "We don't know if we'll ever see Eugene again," says Al.
WWE Slam of the Week: Ric Flair makes Hurricane submit to the figure-four. More like the WWE Hold of the Week, am I right.
RANDY ORTON vs. ROSEY
Orton is specifically announced as "the former Intercontinental Champion." Announcers actually explain the purpose behind this match, which is Rosey trying to avenge Hurricane's loss to Flair. They lockup and it is a struggle. Orton is backed into the corner, clean break? No!? Rosey cheapshots Orton while the ref is trying to separate them. Rosey's mask is already off. Revealing him to be: Rosey. Lockup, Orton with a knee, Rosey reverses a whip, Orton with a sunset flip, Rosey sits down on him, 1 2. Rosey ducks an Orton clothesline and then swats him through the ropes. Orton hops up onto the apron and guillotines Rosey across the top rope. Dropkick, 2. Orton ... rubs his elbow across Rosey's forehead unpleasantly. Orton with a chinlock.
Rosey fights to his feet so Orton hops on his back and upgrades to sleeper. So Rosey falls backwards onto him. They struggle to their feet and exchange punches. Rosey staggers backwards into the ropes but bounces back with a clothesline. Rosey with a whip, head down, kicked, Orton goes for a DDT, but ultimately ends up backdropped. Spinnin' legdrop, 1 2 no. Rosey picks him up for the spinny-go-round-slam-thing, but Orton lands on his feet, *but* Orton gets clotheslined. Rosey is gassed the proverbial out. Avalanche a-comin' -- Orton gets out the way -- RKO! 123. That may have been the least legendary person that Randy has killed. But he got a bloody lip.
Tomorrow: divas.
My name is Justin Shapiro, I am the WWF Champion, and I do not deserve to be treated like this. I earned a Master's Degree in Literary and Cultural Studies from Carnegie Mellon University, which I have parlayed into a cushy position as the WWE Sunday Night Heat co-reporter, non-Australian version, 2003-2005, at WrestlingObserver.com. I collect My Little Ponies. My favorite food is banana pudding.
---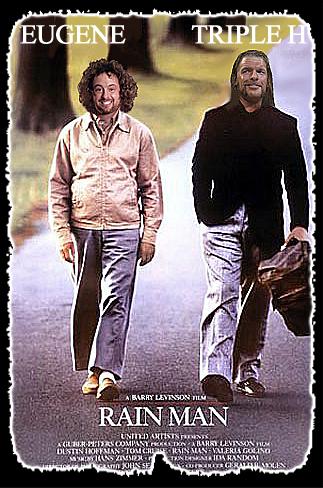 WWE SUNDAY NIGHT HEAT REPORT
July 11, 2004: Stevie Wonders
Rue de Bona, you shall not be forgotten. For ... a little while.
Match Result: Tyson Tomko beat Val Venis

The Big News: Perhaps the most important Heat of all time, as they pulled the million dollar trigger on two mega-angles that Heataholics have been dying to die for. First, you had the long-awaited conversation between Victoria and Steven Richards to talk it out and get some things straight, after seven months of panic and confusion over their unexplained breakup. Later, we got the beginning of another dream storyline, when Nidia was rescued from an attempted Tyson Tomko problem solve by none other than her fellow Tough Enough co-champion, Maven. There were literally people crying in my chair when this happened.
Stop me if you have, in fact, heard this one, but we are inside the Hartford Civic Center with Todd Grisham and Ivory for some pagar-por-vista. Baby. It's Vengeance. It's Triple H vs. Chris Benoit. It's Randy Orton vs. Edge. And, later on Heat, it's Todd's favorite Raw moment of the year.
They throw it to Al Snow and Jonathan Coachman! "It's been a good few weeks for the Coach," says he, but we are left to wonder whyzcome he's in his wrestling gear? Mum is the word and the word is mum; he'll explain later.
Let's talk about Matt Hardy vs. Kane. Huge, huge congratulations to Matt Hardy, as we commemorate his getting an actual professional wrestling match on an actual WWE PPV. He's put together quite the record over the last year:
Bad Blood: did not work
Backlash: did not work
Wrestlemania: did not work
Royal Rumble: participated in the Rumble
Armageddon: last minute match booked with Maven but never takes place
Survivor Series: did not work
No Mercy: jobbed to Zach Gowen
SummerSlam: match booked with Zach Gowen is cancelled
Vengeance: participated in APA Invitational
Judgment Day: did not work
Backlash: did not work
So in his last 11 potential pay-per-views, Matt Hardy has gotten into two battle royals and one singles match, with no buildup, in which he jobbed to a one-legged dude. No wonder he's willing to defend the pregnancy angle.
Video package for a No Disqualification matchup between Kane and Matt Hardy with Lee-Tah ohhhh Lee-Tah at ringside. It dissolves into a shot of Kane backstages. Sweating. He says that not knowing who the father of Lita's baby is is eating Matt alive. But Kane assures him: "That baby is mine! Your woman is carrying my child." It doesn't matter if Matt believes him, because he promises that Matt won't even be around to see the birth. Because Kane is going to ... kill him, apparently. Or eat him alive.
A special encore presentation of the Divas Casting Call in Los Angeles. The use of the Wrestlemania 2000 California theme is pretty resourceful. It was "just another day in the life of the Coach," says the Coach, who will host a Casting Special this Thursday on Spike TV. It will have four guest judges: Randy Orton, Triple H, Chris Jericho, and Edge. Man. How will those four men ever possibly be able to coexist, let alone adjudicate? Combustible!
WWE Rewind: Eugene and Flair booked as tag partners by Eugene. Flair is in a real quagmire, or so says The Todd, confusing his cohost. Ivory tries to plug Ric's book by delivering the worst 'Woooooo!' in the history of, at least, the post-expansion era. Let's take a look at all the publicity Flair's done for the book. After that, Todd asks Ivory to tell a Flair story, but all she's willing to do is allude to some nudity.
Just Added To Vengeance: Molly Holly vs. Victoria for the #1 contendership to the Women's Title. Lillian Garcia stands with Victoria, who reports that she's in it to win it before trailing off when she notices someone standing off-camera. "H...i." Hooooooly cow, it's Heat GM Steven Richards. Well this is awkward. He's sorry to interrupt, but he'd like a moment alone with Victoria. Lillian grants him this. And now, the most important conversation ever:
"Hi, Stevie."
"Hi, Victoria. Long time no see."
"It's been a long time."
"If I can recall, the last time I saw you was when you left me high and dry after you won the Women's Title in the first place."
"Stevie, I thought we discussed this." (You didn't!)
"Oh no, we did. We talked about this, we settled it, water under the bridge. I'm not mad at you. As a matter of fact, I just came out here to wish you good luck in your match against Molly Holly."
[A hand is extended ... and tentatively accepted.]
"Thanks, Stevie."
"No, I mean it. *Good* *luck*."
[He stares intensely into her eyes as she apprehensively backs out of the shot.]
Oh wow.
Video package for Edge vs. Randy Orton. Tying in a promo from April is a nice effort. Back to Coach and Al, and the question remains: why is Coach dressed to wrestle? Hmm. In due time, my boy. First, the final selections from the L.A. casting call. AND TWINS. Except for that one.
WWE Slam of the Week: Batista costs Jericho the Intercontinental Title, though his Buffalo thing was, thankfully, retained. Tonight, it's Jericho vs. Batista, as well as all the other matches. And now, Todd Grisham's favorite Raw moment of the year, musical chairs, natch. A meticulously- and intricately-booked legitimate MOTYC, as the innovative ending makes up for the lack of a clean finish. However, added play-by-play by Todd and Ivory kind of ruins this, and then--hey! They cut it off as soon as Tajiri mists Coachman! What a ripoff. Well I see where this is going ...
... as Coach shouts down Todd and Ivory, tells them to shut it up, and reveals his huge news. Tonight, in that very ring, in the first match of the evening, it's going to be Jonathan Coachman and Garrison Cade against Tajiri and whoever he can scrounge up in the next, oh, 15 minutes. That's probably too short notice to call Super Crazy. Rhyno, if we'll recall, is searching for the perfect partner to go after La Resistance. Help me help you. Coach leaves to get ready; "I gotta go. Peace."
This Thursday! The Diva thing. Todd: "So many beautiful women, but don't worry, Ivory, they got nothin' on you." Ivory: [blushes] "Oh thank you, Todd!" Aww.
VAL VENIS vs. TYSON TOMKO (w/ Trish Stratus, who, intriguingly, once had a similar business relationship with this very same Val Venis)
Jim Ross and Jerry "The King" Lawler take us back to Trish's title defense on Monday, where in the soon future, Trish and Nidia will have a match, and that match is then. The soon future gives way to the now present, where Nidia's music brings Nidia to ringside and unnerves Trish.
Underway, Val with a hiptoss, Tomko bails, gets attacked upon re-entry, but guillotines Val across the top rope. Tomko with Pound & Ground. Tomko with choke. Tomko puts Val in the corner for back elbows from elbow left and elbow right. AmbiDORKstrous. Tomko with choke. Tomko with choke. Nidia watches intently. Trish polishes her belt and uses it as a mirror. Val fights back with chops, clotheslines, Tomko puts his head down and gets kicked, Tomko either deadweights or mistimes his jump on the half nelson slam, they sort of recover and get it right the second time. Val on the apron, shoulder to the gut, sunset flips in Tomko sits down and gets a helping hand from Trish, 1, 2, but it ain't enough as Val fulfills his sunset flip destiny and takes Tomko down for 2. Nidia inches closer to Trish. Val turns around into Tomko's Kick Your Face So Hard That I Fall On My Own Human Butt, but without the falling. Tomko wanders around for a second then covers. 1. 2. 3. Yowza.
Now Tomko hops to the floor to step in between Nidia and Trish. Nidia retreats into the ring. Tomko follows her. Nidia is in trouble except that O
M
G
IT'S MAVEN. MAVEN IS HERE. DROPKICK! TOMKO KNOCKED OUT OF THE RING! NIDIA AND MAVEN HUG! YES YES YES YES YES. Play Maven's music. Greatest Heat ever.
Video package for Triple H vs. "For Real" Chris Benoit. Not to be confused with "The Real" Brock Lesnar. They sure have done a sterling job building up this singles match that they've held off on for the whole year. You know, by having Benoit do zero promos and HHH steal a retard. I'm pumped!
My name is Justin Shapiro, I am the WWF Champion, and I do not deserve to be treated like this. I earned a Master's Degree in Literary and Cultural Studies from Carnegie Mellon University, which I have parlayed into a cushy position as the WWE Sunday Night Heat co-reporter, non-Australian version, 2003-2005, at WrestlingObserver.com. I collect My Little Ponies. My favorite food is banana pudding.
---
We are live outside the Centrum Center in Worcester, Mass., just one hour away from Raw presents King of the Ring 2004! Todd Grisham and Ivory are our hosts, and can you believe they were in New York City just this morning, but are now right here for our seventh pay-per-view in eight weeks! Let's take a look at the tournament brackets, as Todd considers Randy Orton the heavy favorite, but Ivory warns him not to discount Edge, a former KOTR winner himse.............. okay, that didn't actually happen. I was just lying. Sorry.
Match Results (there's more than one): Garrison Cade beat Maven; Val Venis beat Murray Happer; Tajiri beat Chuck Palumbo; Victoria beat Gail Kim
Two weeks ago in New York City, WWE was honored with some awards, like the prestigious New Brand Builder Award. It was not given to the Smackdown brand.
Pyro to celebrate Independence Day [I support President Tom Whitmore!] and to indicate that we really are a scant one weeks away from Vengeance. Oh no way, our host really IS Todd Grisham filling in for Jonathan Coachman. I guess I brought that upon myself. Coach is apparently in Los Angeles doing more judging for the Diva Sweepstakes.
MAVEN vs. GARRISON CADE (w/o a friendly point in the direction of his main man, the Coach)
Curses, they've ruined the intriguing partisanship of Snow and Coach calling a Maven/Cade match. Maven with a legsweep for 1 and a diving schoolboy for 1, infuriating Cade and leading to accusations of tight-pulling. Maven clears his name by punching Cade in the face. Cade rolls outside, Maven invites him to return by holding the ropes open for him, but Cade is taking his time. Back in, whip, Cade puts his face down for a backdrop and Maven kicks it. Dropkick (shades of Maven!), dropkick (shades of Maven!), 2 count.
Cade cuts him off with a back elbow, the cheapest of shots, then catapults him throatfirst into the bottom rope for 2. Chokes him across the ropes. Neckbreaker gets 2 twice. If you follow. Cranium Crunch applied, Maven fights out, but gets cut off with a kneelift. Corner whip, Cade charges into Maven's elbow, then charges into Maven's airborn, lariatting legs. Punches are exchanged by both parties in a slugfestival, Maven gets a clothesline and back elbow for 2. Heading to the top rope but Cade stops him from getting there with a back suplex. Now Cade to the top rope -- flying elbow drop! "Shades of Shawn Michaels! Nobody does it better!" Hmmmmm.* 123. Replay of the elbow.
* Notes from 2006: Remember the "HBCade" gimmick that was scrapped because Larrison got hurt? Sort of? Maybe? "Shawn Michaels Jr." was, then, not quite the act he was brought back with.
A special encore presentation of the Diva Search casting call. I will not watch this again. I;m closinf myu eyrs anf typinh. Okay it's over. I will say this, it's nice to see all of Coach's hard work as a lascivious lothario finally paying off with his new role as groping emcee.
VAL VENIS vs. MURRAY HAPPER
Sign: "HERE I AM." There you are. Todd creates an unsafe working environment for himself by refusing to kayfabe with the Babaganooch schtick. "Maury Babaganooch? This is Murray Happer, don't underestimate him!" Uh oh. With Val firmly in control of this one, Todd is compelled to rename his opponent "Murray Sadder ... because he's sad, not happy." Man. Todd: "You're calling all the moves! I wanna try. Can I try?" Al: "Go ahead." Todd: "Okay, Val Venis throwing Murray off the ropes and a big ... thigh ... to the ... stomach area." (Val with his running series of knees, FYI.) Money Shot. 123. That was one wild ride. Val gives his towel to a woman in the crowd, to the dismay and jealousy of her covetous son.
WWE Rewind: Triple H tells Eugene the truth about William Regal.
Let us take you back to HHH vs. Regal with Eugene as the special guest referee and the struggle to harnass the Power of the Punch. Later, HHH explains his master plan to Flair. Yeah, I like Eugene and all but they're kind of overdoing this. It's Zach Gowen all over again, except Eugene is more entertaining and Zach was more retarded. Surprisingly enough.
Tomorrow: Eugene is the Interim General Manager!
Next Week: Benoit vs. HHH in the battle for Eugene's soul!
WWE Slam of the Week: Batista clotheslines Orton, Jericho pins Batista. Good thing the tag belts are on La Resistance for their huge matches with Sgt. Slaughter so the titles can mean nothing and do nothing instead of providing added heat and purpose to matches like E&J vs. Evolution.
holy shit it's TAJIRI vs. holy shit it's CHUCK PALUMBO
Whoa, where did this come from?? I don't believe we've seen Tajiri since May 10th, but it goes unmentioned. Clearly he views Chuck as the first test to prepare himself for revenge against Batista. You're a very wise man, Tiejiri. Chuck plows him over with a shoulderblock for 2. Abdominal stretching occurs until Tajiri escapes into a rollup for 2. Chuck knocks him down with his Big Right Hand, sends him into the corner, but charges into Tajiri's educated feet. Chuck Punch! Tajiri Kick! Chuck Punch! Tajiri Kick! Chuck Punch! Tajiri Kick! That was cool. Enziguirtajiri knocks Palumbo down! Both dudes are spent.
Tajiri staggers Chuck with the handspring back elbow, then hits a thrust kick for 2. Chuck with a scoop, Tajiri slips behind him, kick to the back of the knee knocks him down, dropkick to the back of the head! 1, 2, no! Palumbo reverses a whip, Tajiri tries a floatover but gets caught on Chuck's shoulder -- Snake Eyes! Chuck off the ropes, head of steam, kick to the face! Al: "Italian businessman organization kick to the face!" 1, 2, NO! Tajiri whipped into the corner, gets outta da way, Chuck shoulderfirst into the post! Kick to the leg takes him down, Execution Kick of Doom, 1 2 3! Delicious.
A special video sets up Kane/Benoit and Kane's plan to be both the world's champion and its greatest dad.
Let us take you back to Benoit vs. Kane, Who Tapped Out. Lita comes out to reveal that Kane has testicles in his butt. I am ticked off that they won't admit on TV that Paul Bearer is dead, because it robs me of many a joke. Like how Paul is dead but the circle of life continues on in Kane's child. Or how Undertaker has now successfully killed all three of Kane's parents. All very, very hilarious. Turn me on, Dead Man. I buried Paul.
Vengeance: Chris Benoit vs. Triple H.
Vengeance: Chris Jericho vs. Batista.
Vengeance: Edge vs. Randy Orton.
GAIL KIM vs. VICTORIA
Todd recaps the feud they used to have. TiVo claims that this is a #1 contender's match, but if that's the case it goes unmentioned by Howard Finkel and the announcers. RVdictoria with a backdrop, backflip, and dropkick to the head for 2. Gail with a legsweep, then a Walk Up Your Body Monkeyflip? Nope, she settles for kneeing her in the jaw. Victoria takes her "kicked through the ropes" bump to the floor and NO GAIL NO DON'T DO A DIVE. Okay, she doesn't. Victoria sells the knee big after the spill to the floor. She rolls back in but Gail drops a leg on her head, 2. Crazy Ass Leg Submission applied with one leg halfcrabbed and the other spinning toeheld. Victoria makes the ropes, but gets dragged back to the middle for more limb cranking.
Gail goes for the leg again but gets small packaged for 2. She clips Victoria's knee, picks up the leg, but gets enziguiri'd. Al and Todd: "ENZIGUIRI!" Al and Todd: "JINX!" Bahaha. Victoria kind of making a comeback as Gail runs into a powerslam for 2. Whip, Gail tilt-a-whirls up into THE MOVE! THE MOVE! The submission move! Victoria has tapped to this many a time, we are told! So she runs Gail into the turnbuckle, breaking the hold! A lesson learned! Victoria to the top rope -- shoved off by Molly Holly! And yes yes yes, HEAT GM SOME STRANGE WOMAN is here to even the odds, shoving Molly down on her behind!! Victoria ducks a clothesline, back chick kick! 1! 2! 3! "Who is this lady?" we wonder. The red wig does obscure the boss's face. Even Victoria looks confused. Her brain is befuddled but her heart must know the truth. Mine does.
Tomorrow: Eugene is the Interim General Manager!
My name is Justin Shapiro, I am the WWF Champion, and I do not deserve to be treated like this. I earned a Master's Degree in Literary and Cultural Studies from Carnegie Mellon University, which I have parlayed into a cushy position as the WWE Sunday Night Heat co-reporter, non-Australian version, 2003-2005, at WrestlingObserver.com. I collect My Little Ponies. My favorite food is banana pudding.
---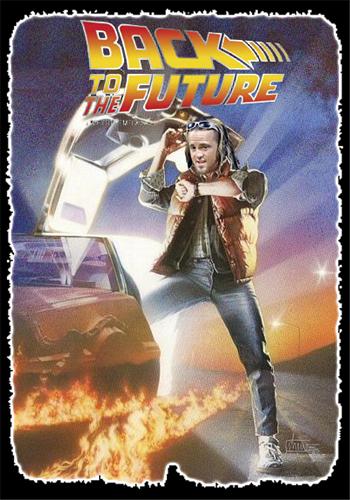 WWE SUNDAY NIGHT HEAT REPORT
Best of June 2004: Mercury Rising; Bearer - Bad News
hey it's MAVEN vs. HEAT GM STEVEN RICHARDS;
It's been quite the comeback for Maven so far. Lockup, Richards complains about ... some kind of viscous substance on Maven? Sid Viscous? What? So Jack Doan hands Maven a towel and makes him wipe off, giving Richards a chance to take a viscous cheap shot with Maven in mid-wipedown. An interesting start. Maven reverses a corner whip, hiptosses him on the raw rebound, and hits a dropkick (shades of Maven). Richards rolls out, Maven -- the MVP of Heat, according to Al -- follows, but his whip into the barricade is reversed and he smashes his ribs. Back in, abdominal stretch, Maven hiptosses out but it takes a toll on his ribs. Even the throwing of punches causes Maven to wince, as does this backdrop. Taking ... his ... time ... setting ... up ... a ... slingshot ... into ... the ... corner ... wrestling ... is ... fake ... schoolboy, 2. Faint Maven chant. To the second turnbuckle, ostensibly looking for the Maven Effect, but he leaps into a fist to the midsection, Arn Anderson style. Stevie taking off his elbowpads -- Flower's Elbow coming up? Now performing the last rites. I'll Show You You'll See Suplex -- blocked, countered into The Stroke, 1 2 3. Of all the weeks to steal that move. But be forewarned, young Maven, since the guy who stole the Styles Clash ended up dead. Clearly the money* angle with Maven and this show is for Coachman to annoy Al by stealing Maven as a protege and turning him into El Hijo del Coach.
* no actual money involved.
WWE Rewind: La Resistance wins the tag titles on Raw. Certainly more successful than how I expected them to be booked in Montreal, which was to commemorate Memorial Day by jobbing to Sgt. Slaughter and Hurricane dressed as Captain America.
SummerSlam is in Toronto press conference. F*** IT ALL AND NO REGRETS
Tour de Fiance highlights from Ireland, including Bradshaw dredging up an ignominious part of the country's collective national heritage by impersonating a banshee.
BATISTA vs. VAL VENIS (w/o towel since it was used in the first match)
Val was a heel last week! Val lost to Rhyno last week! Coach commends the directors for not showing any ugly chicks during Val's entrance! Coach you're mean! Val's trunks say LIVIN' LARGE, i.e. his penis! Spinning toehold is kicked off, but Val knows another form of toehold: the *drop* toehold. The tide quickly turns. Sitout powerbomb -- "the Batistabomb, if you will." Sure, I will. 1 2 3.


The rats have got your flour
Bad Blood it got your mare
If there's anyone that knows
Is there anyone that cares?
Bad Blood: HBK/HHH/HIAC
Bad Blood: Legend Killer Randy Orton vs. The Legendary Uppityness of Shelton Benjamin
Bad Blood: Benoit vs. Kane. This intense, heated rivalry may have reached its boiling point when Kane ... beat up a retard that Benoit kind of likes.
Welcome to the exterior of the Nationwide (It's On Your Side) Arena in Columbus in Ohio in the USA. Ew gross our hosts are Todd Grisham and Ivory, all dressed up again, and they fancy themselves jetsetters since they were in New York City just this morning, cough cough. You got your Hell in a Cell and you got your Benoit double duty and Todd starts to announce some more matches and Ivory cuts him off in a SHOOT to send it to our real hosts inside the building, Al Snow and Jonathan Coachman.
And they're like "hey." Todd puts his arm around Ivory 'cause he feels threatened by Coach dissing his suit. Because he's the Coach, that's why. Any more stupid questions? Coach, as it turns out, is oh so sick and tired of Eugenemania. Here's a video package that is disappointing in that it's not similar enough to the trailer for Radio (Lance Storm to Regal: "Eugene needs you more than I do." [retires].) Seeing Coach cackle makes Coach cackle.
Tonight, Benoit has to wrestle twice, which Al thinks is the toughest odds in the history of wrestling but I totally saw Benoit wrestle twice at Judgment Day 2001. I remember it like it was three years ago -- and one of Benoit's opponents was EDGE! Coincidence?! Yes!?
Lillian Garcia stands with La Resistance, who will be in the first match on the PPV. Lillian: "Sylvain. Rob." Sylvain: "No, no. No, no, no. You ignorant American. Simple 'Rob.' It's not 'Rob.' It's Robért Conwáy." According to Robért, Chris Benoit is "like a typical greedy American." Look, Robért, people in glass houses should not try to trick the ZERO people who aren't accepting Benoit as a babyface because he's Canadian. No, shut up, Benoit is sooo American and just perfect to defend our country against all these heinous anti-American heels from Canada, France, Japan, and Heaven*.

* Note from 2006: This joke refers to Mordecai.
Back to Al to discuss Triple H and Shawn Michaels, "former friends and a part of the most powerful group in wrestling." They weren't in the NWO! Well, Michaels was, sort of, with the-- "The Clique." Oh. Who? Here's a video package wherein Triple H repeatedly hits Shawn Michaels.
Back to Coach, who promises that Rock will see Eugene torn apart, if ya smell what the Coach is cooking. He will also see Chris Jericho vs. Tyson Tomko, and "talk about carrying somebody limb from limb." Oops, I misheard. "Tearing somebody limb from limb."
Video package for Benoit and Kane. Backstage, Kane breathes and sweats. And here's a video package wherein Shawn Michaels repeatedly hits Triple H.
WWE Cool Color of the Night: (tie) black and blue. Shelton Benjamin gets beaten down by Evolution.
One more video package for HBK/HHH in Hell in a Sell and Sell and Sell and Sell and Sell ...
Oh, Chavo Sr., you were so close to making it until Father's Day. They could've done a great skit where, I dunno, maybe his son buys him some more hookers, and one stabs him and steals the cruiserweight belt. Or maybe that's what actually happened to him last weekend. Splendid. My father was a traveling salesman, I never met him.
VAL VENIS vs. HEAT GM STEVEN RICHARDS
Coach is somber about his undefeated record on PPV being sullied. But he has a big secret that he'll share with us later tonight. Val and Stevie have a weird staredown over Val's towel ritual. Val fights hard to maintain a double underhook, with two hundred kneelifts enabling him to execute a butterfly suplex. Stevie applies a cobra clutch, which Al cutely names the "katahat-stevie," but Val turns it into a half nelson slam. Val with a rolling reverse cradle, Stevie holds onto the ropes, Val initiates plan B or should I say plan C: clothesline. Stevie whipped into the corner, puts his foot up on a Val charge but he CATCHES it, which is hardly fair, and punches away. Stevie attempts a tornado bulldog (!) but Val turns it -- in midair, mind you -- into the blue thunder bomb ("~!"), one two NO. Al: "Steven Richards going for former [Stevie Night Heat] employee Crash Holly's famous finisher, the Crash Landing." [awkward silence.] Katahat-stevie applied, despite fellow GM Kurt Angle's insistence that it's an illegal choke. Val makes it to the ropes and Stevie is frustrated. A Christianesque temper tantrum ensues. Pulls down his kneepads. Looks in his tights (no Victoria there). Repeatedly punches the turnbuckle. Well this is embarrassing for all of us, made worse so when he turns around and charges di-rectly into a Val spinebuster. Money Shot 123. Announcers are left with the question, "what happened to Steven Richards?"
Onto the interview the next night on Raw, and ha HO let me refer you back to the January 26 Heat, wherein we speculated, "I think instead of a finish, the Shawn/Hunter blowoff would just end with both guys simultaneously ascending to heaven while the DX music played." And if that's not what the end of the HIAC match and the interview the next night was, then I dunno what is. Bischoff with the coitus interruptus of their handshake, then out comes Kane. For the chair on the throat, they switch to freeze frames and skip past the moment of impact. I thought this was a killer angle because it was so different from the usual injuries they do. Tomorrow night, we'll get an update on Shawn Michaels' condition. Well, clearly he was hiding a blade under his tongue and accidentally swallowed it.
Let us have a very special look back at sucky Hell in a sucky Cell. Remember when they did this for Angle/Benoit from the '03 Royal Rumble? Or Edge & Mysterio vs. Angle & Benoit from No Mercy '02? If so, then you remember stuff that never happened, which is odd.
MAVEN vs. JOEY "The Future (in a Weird Alternate Timeline)" MATTHEWS
I think they need to put Nidia with Maven, just to do it. Well, not to "do it." Chris Nowinski can manage them. Josh Matthews can ... rap about them. Actually, one of my Dream Programs That Would've Meant Nothing was concocted last spring, when I envisioned an intergender feud on Smackdown with Jamie Noble & Nidia against Brian Kendrick & Taylor Matheny. That would've been sweet as the day is long. ANYHOO MAVEN HITS THE STROKE. 123.
Diva Search. To Be A Diva. Was the point of the Stacy & Nidia vs. Gail & Molly match on Raw to illustrate the dichotomy of hottest hotties vs. toughest toughies? Also, what was the deal with Torrie Wilson dressed as Uncle Sam warming her butt on open flame?? Was that supposed to be ... sexy? Like, "oooh, Torrie, oooh, America"? I don't get it. The Statue of Liberty, okay, kind of hot (e.g. Ghostbusters 2). But Uncle Sam? Coach reveals his big news and I hope you're sitting down. He was at the first casting call for the Diva Search, and the chicks were, get this, hot.
Let us take you back to the six-man elimination match and the over-overrun. Edge's backdrops here had not enough back and way too much drop. I don't really get the purpose of making it an elimination match, but I approve of the 2004 WWE policy where Benoit Always Beats Everybody, babe.
Cool Color of the Night: gold, as Trish pins Lita to become WWE women's champion. Coach is concerned for Matt Hardy since he don't need no baby tyin' him down at this stage in his life. Man, Lita wrestling in matches is going to be so unsafe for that baby. But if it's Kane's, then it can probably no-sell miscarriage. Like, perhaps after a particularly hardfought match with the always-tough Jazz, Lita loses the baby. But then it SITS UP~!, jumps to Smackdown, and wins the cruiserweight title. (lineage: Chavo Jr. -> Jacqueline -> Chavo Jr. -> Chavo Classic -> Chavo Classic's hooker -> miscarried Little Red Machine fetus)
I've seen entirely too much Todd Grisham and Ivory on this show since May, yet here they are again outside the Scope in Norfolk, VA. They're still running with the "can ya believe we were in NYC just this morning?" thing but are really bad liars. Tonight it's "the return of the Great American Bash!" What's that! Returned from where! An "Ivory" chant, are you kidding? Ivory points out that tonight's PPV will be hosted by DIVAS in BIKINIS in HOT TUBS, and Todd is all, [gets an erection].
They send it inside the arena to our three other hosts, Michael Cole, Tazz, and Cement Mixer. Oh ho ho, but you have to buy the show to see the Crypt, we're told. What a deal. Cole: "And if the Undertaker does not do the right thing, Paul Bearer will be suffocated. But what a main event on Smackdown last Thursday..." Uh.


Video package for the issue between Cena and Kurt Angle that sort of mentions the other three guys. It is John Cena vs. Rene Dupree vs. Booker T vs. Rob Van Dam Who Don't Have A Chance At Beating Booker T On Sunday! Ahahahahaha! Gimme some, dawg.

Now Josh Matthews stands with Rene Dupree. He thinks he's better than the other three guys in the fourway and will, in fact, win. It seems that the sole purpose of the draft lottery was to provide opponents for Cena. For ... this one match.
Michael Cole points out that the Great American Bash started in 1985 and this is the first Bash in four years. Look, Michael Cole, my bro. Pretend I just started watching wrestling and don't know what you're talking about. Pretend I'm you.
What the heck, Dawn Marie has joined Todd and Ivory -- and she's in a bikini! They discuss Sable and Torrie. Not to be mean, but this is not Dawn's calling. At all. She gets off to a good start by talking about how great it is to be in "Norfork," then tries to promo the Sable/Torrie match, then does some weird (read: super-hot) innuendo deal with Todd that goes over my head. Also, active military personnel get the Great American Bash for free. They do the same thing for nobility and the Royal Rumble.
WWE Rewind: Chavo Guerrero wins the cruiserweight battle royal. Ivory: "We have got *some* cruiserweight division." Todd: "Norfick, Virginia."
Here's Tazz and Cole in the ring to demonstrate how a Texas Bullrope Match works. You got this rope, see, and the cowbell, baby, and you can use them to inflict pain. And there's no pins, no submissions, and no disqualifications. And taking the rope off is a disqualification. (Wait a minute.) And you gotta touch all four corners consecutively, and if your momentum is stopped you gotta start over. Helpfully, they've set up lights in each corner to show who's touched, and the lights are green for Bradshaw (money!) and red for Guerrero (blood!). Technology has revolutionized the Texas Bullrope Match -- now the cowbell just plays a MIDI of a bell ringing.
Main Event Video Package spot does in fact go to the Undertaker vs. the Dudleys & the right thing. Now we go to an incredibly wonderful shot backstage of Paul Bearer tied to a chair and gagged. Paul Heyman enters the scene: "Psst. For your sake, I truly hope the Undertaker's made the decision to do the right thing." Bearer: "GO TO HELL, HEYMAN! BURRRRRRN IN HELLLLLLLLL!" Um, ~~~~. He struggles a bit and we fade out.
My name is Justin Shapiro, I am the WWF Champion, and I do not deserve to be treated like this. I earned a Master's Degree in Literary and Cultural Studies from Carnegie Mellon University, which I have parlayed into a cushy position as the WWE Sunday Night Heat co-reporter, non-Australian version, 2003-2005, at WrestlingObserver.com. I collect My Little Ponies. My favorite food is banana pudding.
---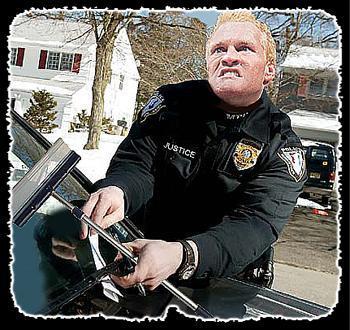 WWE SUNDAY NIGHT HEAT REPORT

Best of April and May 2004: Springtime for Hitler: The Rise of John Layfield
VICTORY IS MINE. NOT GUILTY! Jerry McDevitt, he ain't nothin'. Laura Brevetti, she wants me. This plot, this insidious plot by the federal government and Ted Turner to make me pay a $111 traffic citation, has been thwarted. Why? Because the LAW was on my side. And by LAW I mean LiveAudioWrestling.com/wo, because my cunning legal strategy consisted of the officer no-showing the hearing. Officer Sid Justice, I presume (because he no-shows wrestling bookings).
We open with a brief pyrotechnic display to celebrate my triumph. Al Snow and Jonathan Coachman calling the action -- Snow claims that Coach's face is still green from the misting on Monday. Was the mist skit a pre-tape before the Heat tapings, or have we just been entered into a complicated time vortex? You can't get this kind of multistability over on the Velocity program.
LITA vs. JAZZ (w/o Theodore Long - fare thee well)
Coach and Al believe they see before them a hotter, more focused Jazz. Alright. She does take the early advantage, getting 2 on a sitout slam. Lita counters with a monkeyflip into punches from the monkeymount, but runs into a Jazz elbow on a corner charge. Jazz catches Lita's next kick attempt, ducks an enziguiri, and traps her in the STF! Lou Thesz invented it and taught it to Masa Chono who taught it to Teddy Long in WCW and now he's taught it to Jazz. Lita makes it to the ropes after a really, really, really, really long time. Jazz with a double chickenwing liftup into the Bitchlock or the Bitchdrop or the Bitchplant or something like that, dropping Lita on her face. Jazz gets Lita in a fireman's carry for, let's assume, an F5, but Lita drops onto her feet -- DDT! 1 2 3.
VAL VENIS vs. GARRISON CADE
Val: "Hello, ladies."
Coach: "Hello, Val."
Woman in Audience: "Oooh, it's Val."
Val: "You know something ladies? The Big Valbowski loves to give his women strawberries, chocolates, whipped cream, but nothing goes down better than a cup of hot water ... and a teabag."
Coach: "BWAHAHAHAHAHAHAHA"
Woman in Audience: "..."
The show has slowed to a crawl.
Coming up immediately following Heat is a special encore presentation of Monday's episode of Raw. When that show was over, I did not stand up and say 'encore! encore!' but okay. Cade goes to the top rope almost right away and Val is like "uh, go ahead? I'll probably punch you though" so he descends. Cade does manage to reverse the running series of knees to the gut into a ... knee to the gut. Val with the reverse figure-four (Nagatacock I). Val to the top rope, Cade stops him, they struggle and it actually does lead to superplexation! Now Cade to the top rope -- flying elbow. 1 2 3. You know, if that sexual harrassment suit really thinks Ric Flair is the owner of the Raw brand, then there's going to be lots of interesting testimony at the trial. "Mr. Morley. Please state for the court your duties as the Chief of Raw."
LA RESISTANCE (w/ Quebec flags) vs. MIKE MANDO (w/ an 'a') and BRET ALBRIGHT
It is Sylvain Partie Deux Le Retour Si Vous Plait! To commemorate, the team has apparently moved from France 'back' to Quebec City, Quebec. I guess Dupree is the only real fake French guy now. Grenier and Conway have traded their French flags for Quebecois, making them ... Quebecers? Grenier: "Tonight, it's your privilege to see the new version of La Resistance! This is something you'll be able to tell your grandcheeldren!" My grandchildren aren't allowed to watch wrestling. Grenier is barely in the match except for some stomps, a scary bump through the ropes out of the ring, and taking part in a cool assisted corkscrew suplex with Conway (legs on Sylvain's shoulders while Conway suplexes) that finishes Bret. He's down but he'll be albright.
Let us take you back to the Making of Shelton Benjamin. Now choose your own adventure. If you think HHH is trying to make new stars before he leaves for his movie, turn to page 15. If you think HHH cannot be trusted, turn to page 8. If you think HHH should take the secret passage underneath the ring, turn to page 22.
Page 8: HHH says it was a total fluke and Benjamin isn't in his league, then proves it was a total fluke and Benjamin isn't in his league by pinning him clean.
Page 15: HHH puts over Benjamin, Benoit, Edge, and Jericho, then jumps to Smackdown to put over Guerrero and Cena.
Page 22: The secret passage leads to a haunted cave full of monsters! They kill you! :(
Velocity Acceleration: A fake video look at how the relocated Heat brand superstars are doing on the inferior Velocity program. Look at the Heat talent dominating. Jindrak is tearing guys' legs off and Rico is victorious over former cruiserweight champion Jamie Noble. Heat is where the big boys play!
"Eyes Wired Shut" by Edgewater is the theme of Backlash. It should be "Eyes Like Yours" by Shakira. CAME FROM BENOIT GOT TO FAAROOQ, LOOKING FOR SOMEONE COMPARING TO YOU.
Backlash: Mick Foley (w/ Barbie) vs. Randy Orton (w/ dull)
Backlash: Edge (w/ cast) vs. Kane (w/o iron)
Backlash: Chris Jericho vs. Christian (w/ Trish) & Trish (w/ Christian)
Backlash: Victoria (w/o Stevie) vs. Lita (w/? Matt)
Backlash: Triple H (w/ sledgehammer) vs. Chris Benoit (w/ belt) vs. Shawn Michaels (w/ blade)
We are live in Edmonton, Alberta, Canada, but don't tell the American fans or else they'll turn on the whole darn show. Worcester, yes, we're in Worcester, Mass. Good gravy, the Coach is already in his gear: headband and a sleeveless t-shirt that says [front] "I am the COACH. That's why." [back] "Any more stupid questions?" That's the kind of shirt that a wife would buy for her husband, an actual coach.
Video package for Chris Jericho vs. Christian & Trish Stratus. Q: How many world champions can you name who have been pinned by a woman? I can think of SIX.
Is your Experience limited and underfed? Then you need WWE Experience hosted by Todd Grisham and Ivory, two weeks from today. It's too bad they got rid of LiveWire, because we never got to find out if Michael Cole and that Marissa Mazolla lady ever got together. So if you ever see her backstage, that must mean that they did.
A: I was thinking of Triple H (Chyna on Raw in Aug 99), Jeff Jarrett (Chyna at No Mercy 99), Chris Jericho (Chyna at Survivor Series 99), Eddie Guerrero (Chyna at Wrestlemania 2000), Diamond Dallas Page (Sara Calloway on Raw in Aug 01), and The Rock (Stephanie McMahon on Raw in Sept 01). Technically -- and this is a very technical question -- Kevin Nash also let a stripper pin him in a tag match on Nitro.
Hey, what happened to the Hirohito vignettes? I thought for sure that World War II footage was going to be used to repackage A-Train as A-Bomb. "This message ... will self-destruct!" A-BOMB. COMING TO RAW IN 3 WEEKS.
WWE Rewind: Randy Orton spits in the face of Harley Race. Setting up the return of The Man They Call Vader! To teach Orton how to work holds UWFi-style!*

* Notes from 2006: Vader on Raw, as if.
RHYNO vs. VAL VENIS
Lockup, Rhyno headlock, shoulderblock, Val with a hiptoss. He shakes it (his booty). Lockup, Rhyno armbar takedown and now *he* shakes it (his booty)! Ack! Val off the ropes but runs into a RHYNBUSTER. Measuring him -- "GORE! GORE! GORE!" Al borrows the famed Heyman call. 123.
Tale of the Tape for Chris Benoit and Shawn Michaels and what is called one of the greatest matches in Raw history. It's certainly up there, and before the ref bump they were heading towards MOTYsville, population: cool people. I'd say the best was Jericho/Benoit vs. Austin/HHH from San Jose in 2001, followed by the 10-man tag in Dallas in 2000. Which supports my theory that Chris Benoit has been in a number of great matches.
Welcome to the allegedly sold out Staples Center in Los Angeles. Your hosts are Todd Grisham and Ivory? No! They're dressed up in fancy clothes and Todd is "lookin' extra fine" according to Ivory. No! We want Coach and Al. We want America's sweethearts Josh and Rue. Tonight, Eddie Guerrero vs. John Bradshaw Layfield, as indicated by this graphic. Tonight, Undertaker vs. Booker T, as indicated by this graphic where they use CGI to make Undertaker look pale even though he has a great tan.
Let's go to Michael Cole and Tazz at ringside. Cole is impressed that Ivory and Todd could be in New York this morning and L.A. this afternoon. H..ey.
Here's a special video look at the escalating rivalry between John Cena and René Duprée. Can you imagine the ignominy of a French Man holding our country's titular title? I cannot. Thankfully, John Cena is a patriotic rapper who likes to help girls.
Michael Cole, who often finds himself debating with friends about whether the Undertaker is dead or alive, is excited because Judgment Day is the first appearance of the Phenom on pay-per-view since Wrestlemania. Which only also applies to Booker T, Eddie Guerrero, Bradshaw, John Cena, René Duprée, Rey Mysterio, Rob Van Dam, the Dudleys, Chavo Guerrero, Chavo Sr., Torrie Wilson, Charlie Haas, Ms. Jackie, Michael Cole, Tazz, Brian Hebner, Charles Robinson, and Tony Chimel.
Here is a special video look at Undertaker vs. Booker T and his tiny black sack.
Michael Cole and Tazz are excited about Torrie Wilson vs. Dawn Marie. It's a rematch from Unforgiven 2002 in this very Staples Center! The only reason this should've been booked is if the finish is Zombie Al Wilson, resurrected by Booker T, returning from beyond the grave to distract Torrie, causing her to be rolled up and pinned by her hated rival.
Theodore Long is out to holla atcha. Los Angeles, California, it's where we find the great city of Hollywood. These people love perfection. They thrive on perfection. But they maintain their perfect appearances with a bunch of illegal drugs and plastic surgery! Yes, that must seem pretty hypocritical to pro wrestlers. Mark Jindrak reveals his smokin' bod. Hot bod, nice bod, I want your bod. Teddy, and I quote, "loves it like a fat woman loves spandex, dolla dolla dolla bill cha-ching cha-ching."
YJ Sting of the Night: Kane finds a way to kill Matt Hardy deader, and Lita says "yes." By the power vested in me by the Lord of Darkness, I now pronounce you the Unholy Union of Darkness. You may now kiss the bride.
WWE Slam of the Week: Finish of Monday's tag title match. Well if they were willing to tap Orton to Benoit, then that probably should've just been the PPV title match. But we do get the Muppet Babies version of the HHH/Booker feud instead in Shelton/Orton.
Man! Man. Where's A-Train and Chuck Palumbo already. They should do a gimmick where they're mad that they were traded to Heat, because they were happy on Velocity and Heat is the minor minor leagues. Or, or, OMG, a returning A-Train and a returning Test should reunite as T&A, managed by Trish Stratus, and they can be Christian's heavies, and Tyson Tomko can just step off, okay?
If God hadn't intended Memorial Day Weekend to be spent watching marathons of Degrassi The Next Generation, then he never would've invented this great nation and purged its land with blood. Emma, what a babe.
MATT HARDY VERSION ONE vs. RUDY COOPER
No Matt Facts? Things just keep getting worse for the Sensei of Mattitude. Hey, at least he's gonna win a match for o--wait! Michaels and HHH brawl out to ringside!!! It's out of control!!! Their fury and rage can't be contained!!! Haha just lying. Coach: "Matt needs a second to get a quick blow." Dude what. "Some air." Uh huh. Twist of Fate 123. But what's the deal with Kane and Lita, we wonder. One person speculates:

"It would be pretty great if Kane and Lita DID have a baby, but Matt does the right thing and does everything he can to protect the baby from the evil machinations of Kane, who would obviously be trying to turn the baby into some sort of Kane Jr. (perhaps by lighting the baby on fire!). And then to protect it for good, Matt Hardy could send the baby to the future. And then the week after, the baby could come BACK, except as a fully grown adult and with oddly-coloured hair and a satchel filled with poetry.
Bing. Bang. Boom. Jeff Hardy is back on TV, except this time he's not Matt Hardy's brother, but rather his time-travelling stepson -- the result of an UNHOLY UNION. What a way to freshen up his character."
- a man, a great man, known as The CN.
One Weeks Ago recap of Michaels and Hunter on Raw. Why does Eric Bischoff hide the water fountains in his office behind big cardboard structures? Does he want people to be thirsty.
Loser becomes lowest guy on the Raw totem poll: RHYNO vs. HEAT GM STEVEN RICHARDS
A big matchup between former Alliance members. Stevie is still looking sullen, but we're told that "time heals all wounds, and now Steven Richards has gotten over, apparently, the loss of Victoria" -- the first time they actually mentioned her by name. Coach says he wishes he could've been there with all the greats from ECW like Al, Rhyno, and, um, Tazz. Yeah, I don't believe you. Rhyno charges into a Stevie boot -- SteVieT -- uh oh, blocked -- uh oh, Rhynbuster -- uh oh, "GORE! GORE! GORE!" Al borrows the famed Heyman call. And repeats it for fun. 1 2 3. I think this match is but the earliest stage of a huge angle where Paul Heyman steals all his wrestlers and creates the rebel brand Extreme Championship Velocity!!!!!!!!!!!!!!!
Judgment Day is next! I'd rather pay $35 for the actual Biblical Judgment Day that results in my terrible death as a heathen Jew.
My name is Justin Shapiro, I am the WWF Champion, and I do not deserve to be treated like this. I earned a Master's Degree in Literary and Cultural Studies from Carnegie Mellon University, which I have parlayed into a cushy position as the WWE Sunday Night Heat co-reporter, non-Australian version, 2003-2005, at WrestlingObserver.com. I collect My Little Ponies. My favorite food is banana pudding.
---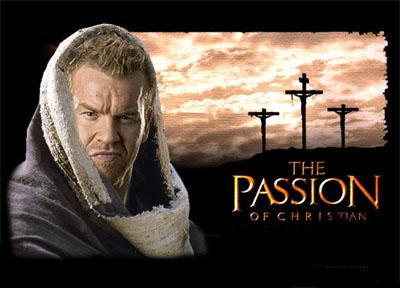 WWE SUNDAY NIGHT HEAT REPORT
Best of February and March 2004: Where It All Begins ... Some More
Greetings. Or should I say ... Heatings? Or should I say ... shut up?
CHRISTIAN (w/ peeps) vs. LANCE STORM (w/o ladies)
Former partners, former champions, former Unamericans! But now Lance supports our troops with zany "I'm pumping up the jam" dance. Can you imagine what would have happened if the Unamericans had lasted until March when the war started? Christian would've changed his name to "Islamic Fundamentalist," Lance would be "Desert Storm," and they'd have put the world title on "Open-Air Test of Biological Warfare." At least they'd have probably been allowed to grow their hair long again to look like terrorists.
Wrestlemania Recall: Andre chokes the guy from Mr. Belvadere. They've showed this one like 50 times and I've made the same joke 50 times. There have been a whole lot of things that happened at Wrestlemania that were more interesting than this and Bart Gunn getting KO'd. So can't we get some new ones, where Test gets stuck in the ropes at WM 17, or the Miller Lite Catfight at WM 19, or Ice-T's endless rap at WM 16? GRAB YO BITCHES
HURRICANE and ROSEY vs. GARRISON CADE and MARK JINDRAK
I never get tired of this match.. Except for when I do. Coach and Al try to sell Brock/Goldberg as the ultimate dream match and September 2002 as the current date. Coach wonders if the Undertaker could really still be alive. Well if he's not, it'd be just like WWE to ignore another wrestler's untimely death. Jindrak clips Rosey's leg while lifting Cade and he falls on top, 1, 2, Jindrak shoves Rosey's foot away from the ropes, 3.
Raw Upcoming Dates lists Saturday in Saitama, Japan as SOLD OUT. So if you were sitting here watching Heat and thinking about going to the house show in Japan this Saturday, well, forget it.
ROB VAN DAM vs. (BIG) JON HEIDENREICH
Heidenreich has turned heel, I guess. Possibly by murdering Little Johnny, since he goes unmentioned. Al says Heidenreich is a "brutal, and I do mean brutal, competitor." Bearhug, Van Dam escapes, gets his foot up on a corner charge and knocks him down with Le Cannonball off the second rope. Coach calls it a somersault and Al calls it a hilo, sparking somersault vs. hilo and color commentator vs. colored commentator debates. Tope con hilo y callate sobre "giro." Van Dam slips behind on a vertical suplex, springs back off the 2nd rope with another kick to the head. A Five Star Frog Splash. A five star match. 123.
Wrestlemania Recall: If it's Butterbean knocking out Bart Gunn again, I will cut off my toe, I swear to God I will. OH GOD, MY TOE. IT'S COMPLETELY SEVERED. THERE IS BLOOD AND TENDON EVERYWHERE.
A Rueless (aggression) Josh Mathews is on location at the ticket turnstiles waiting for Goldberg to show up.
The Basham Brothers sort of look like those terrifying creatures from the Quiznos Sub commercials. Yeah, I said it.
Who's going to win tonight's triple threat match? Let's ask some fans in Tacoma. "John Cena because he's hot" and "Kurt Angle because he's hot" answer two young ladies. Maybe the real question should have been who's the hottest participant in tonight's triple threat match. Big Show has a certain 'really tall, really fat' thing going for him.
Verbatim from commercial - "Critics agree! 'Striperella is on Spike TV!'"
ULTIMO DRAGON, BILLY KIDMAN, and PAUL LONDON vs. commercial break
The arena is disturbingly empty and darkened due to the logjam. If only San Francisco legend Brutus Beefcake was available to guarantee a sellout. But unfortunately, he's ... not.*

* Notes from 2005: This was the week Ed Leslie was arrested in Boston for causing an ANTHRAX scare.
Video package for Eddie/Brock. Who, if my memory serves me well, is also a guy from Spider-Man.
RENE DUPREE (w/ Rob Conway) (w/ flag) vs. VAL VENIS (w/ towel) (w/ Lance Storm) (w/o ladies)
It's the ultimate battle of not very tan vs. really really tan. USA chant, which Coach points out doesn't make sense since everyone out there is from France or Canada. Or a French-Canadian assuming French citizenship, or an American who expatriated himself to French citizenship, or a Canadian who moved to Las Vegas to enter the porn industry, or ... nevermind, Al Snow smartly points out that the USA chant is for him and Coach.
Let us take you back to to Jericho, Kane, roses, and rain.
Wrestlemania Recall: Gimmick Battle Royal. Yessss, check out Repo Man repoing~.
This is it, ladies and gentlemens. The big one. I can't believe they're giving away the Wrestlemania main event here on Heat. The Heat where it all begins ... again.

RICHARDS.
TEST.
NO DISQUALIFICATION.

nuff said.
THE HURRICANE and ROSEY vs. anybody but GARRISON CADE and MARK JINDRAK - oh you cannot be serious
This could be trouble for the faces, as they're 0-44 in their last 44 matches with Cade and Jindrak. Rosey is dominant in the earlygoing. Jindrak dropkick on the floor that makes my elbows and knees hurt. Ouch, my elbows and knees. Also hurting is the Hurricane, who they work over until he avoids a Jindrak reverse atomic drop and hits the Shining Wizard. Hurricane takes out Jindrak with a tope con hilo, but Cade with a second rope bulldog - 1, 2, 3. Make it 0-45. Clearly this is leading to an ultimate blowoff where Hurricane and Rosey put their careers on the line to get ONE MORE SHOT at not losing to Cade and Jindrak on Heat.
MATT HARDY, VERSION ONE vs. CHRIS "some" GUY
Matt Fact: Matt's kitchen appliances are all stainless steel. Matt Fact: Matt likes his eggs cooked over-easy. Matt Fact: Matt had better go back to his crash cruiserweight diet if he wants to get on the Wrestlemania card. Matt gives Guy a lot and they have a good little squash but it goes against my religion to recap it.
LANCE STORM (w/o Val Venis) (w/o ladies) vs. "from somewhere in Latin America," EL CONQUISTADOR (w/o Conquistador Dos)
Announcers discuss Trish on Monday and the Passion of the Christian. (I understand the film contains a disturbingly brutal one-man conchairto scene.) El yanks Storm's arm across the top rope and he sells it to death, but eventually rolls through into the half crab and wins.
We have to take our last commercial break!

TALE OF THE TAPE
Test
height: 6'6
weight: 282 lbs.
hometown: Toronto, Ontario, Canada
finishing move: Big Boot
career highlights: European Champion; Hardcore Champion; WCW Tag Team Champion; WWE Tag Team Champion; Intercontinental Champion; almost married Stephanie McMahon

Stevie Richards
height: 6'2
weight: 220 lbs.
hometown: Philadelphia, PA
finishing move: Steviekick; SteVieT
career highlights: Hardcore Champion; ECW Tag Team Champion; leader of the Right to Censor; general manager of Stevie Night Heat; founder and CEO of StevieCorp
JUSTIN'S KEYS TO VICTORY
Test
1) exploit no DQ stip
2) ignore Victoria
3) lots of jumping jacks
Stevie
1) controlled anger
2) avoid big boot
3) home show advantage
No Disqualification: TEST vs. HEAT GM STEVIE RICHARDS (w/o Victoria)
Coach lamely explains that Victoria isn't here because she's still celebrating her big win -- I refuse to believe that. Richards' fierce and piercing eyes show the magnitude of this matchup and the hatred between these two men. Test jumps Richards as he enters the ring and stomps away, but his clothesline is ducked and Stevie clotheslines him over the top. Test with a Sammartino backbreaker for 2. Back to the bearhug. Stevie fighting for his life, for the very existence of StevieCorp, has no choice but to BITE Test in the face to force him to relinquish his death grip.
Stevie with a clothesline but Test remains on his feet -- another clothesline rocks the big man and he's teetering -- Stevie with kicks to his leg, and a huge clothesline knocks him down can you believe it! Neckbreaker, one two NO! And Test wants a timeout! But he's not gettin' one! Stevie with punches in the corner, shoved off, he charges, Test moves, and Stevie ends up crotching himself on the second turnbuckle. "Boooooooooot" -- Test setting up the Booooooot -- Stevie moves and Test crotches himself across the top rope!! X-Factor! One two NOOOOO! Both men down and, wait just a minute here, Lance Storm is out! Storm looking for a springboard clothesline but -- NO! -- Test moves out of the way and he hits Stevie! Test now looking for the boooot -- and there it is. One. Two. ............ Three. Here is your winner, Test. Storm can't believe his gaffe. And neither can I.
Slam of the Week: Austin. Vince. VROOM.
I was thinking, the other day, as I am wont to do, about that WWE Films horror movie project. Specifically about how it be so much cooler if Vince played the psycho killing monster instead of Kane. He could walk around in his tanktop, doing the Mr. McMahon Strut, murdering a bunch of people. It would be great. Also, it goes without saying that everyone else in the movie would also be played by WWE Superstars. Say, perhaps, Jericho and Trish are found en flagrante, and then brutally murdered. More on this idea as it develops, or until I realize I'm quite dumb.
Slam of the Week: Jericho come gets himself some of Christian. Wait, I thought "Austin. Vince. VROOM." was the Slam of the Week. Which one is the *real* Slam of the Week? Was it a tie?
Josh and Rue had a romantic rendezvous in Central Park with a horse-drawn carriage. Josh has got moves like you wouldn't believe: he claimed he was afraid of the Undertaker's paranormal occurences as an excuse to cuddle up with her under a blanket. No big kiss though, as they're clearly saving that for next year's Mania.
We open with the Wrestlemania XX highlights video. TOP 5 GREATEST MATCHES IN WRESTLEMANIA HISTORY on sunday night heat:
1. Rob Van Dam & Kane vs. Lance Storm & Chief Morley, XIX
2. Rikishi, Scotty 2 Hotty, & Albert vs. Test, Lance Storm, & Mr. Perfect, XVIII
3. Steve Blackman & Grandmaster Sexay vs. X-Factor, XVII
4. Jacqueline vs. Ivory, XV
5. Test and D'Lo Brown win Battle Royal, XV
Tonight: Hurricane & Rosey vs. just take a guess.
Still photos of Jericho vs. Christian at Wrestlemania. What a philanthropist this Chris Jericho is, putting together an angle that not only elevates his buddy Christian, but puts him in a position to make out with Trish Stratus all the time. My friends should be so thoughtful.
Tonight: Hurricane/Rosey vs. Cade/Jindrak. I wish the partners were switched so I could hilariously call the teams HurriCade and Eric Jindros.
SpikeTV presents This Just In, an outspoken pull-no-punches crappy stupid show for idiots!
HURRICANE and his superhero in training ROSEY vs. MARK JINDRAK and GARRISON CADE
Will This Be The Last Time these guys team/fight/eat pizza together EVER? Hurricane battles Cade; Cade sent to the floor, Hurricane starts for a dive but pulls up when Cade gets out of the way. Jindrak in, Hurricane backs him into his corner and tags to Rosey. Big splash on Jindrak elicits a King Kong Bundy reference from ... Coach? What? Samoan drop and neckbreaker combo on Jindrak gets one two, broken up by Cade. Cade pulls Jindrak out of the way of Rosey's avalanche, then drops a top rope elbow on him. Jindrak covers, one two NO!
Tag to Cade but he's slammed to the canvas -- tag to Hurricane -- Rosey sitting on the top rope, Hurricane jumps off his shoulders with a splash! One! Two! ................. THREE! IT'S OVER! IT'S OVER! Hurricane and Rosey's nine-month odyssey has culminated here on Sunday Night Heat! So many times, they've been so close, week after week, mile after mile, Heat after Heat, but they never gave up! They never gave up! And they have done it! Hurricane and Rosey are living their dream! Finally! Finally! My god finally! Hurricane and Rosey have beaten Garrison Cade and Mark Jindrak!
My name is Justin Shapiro, I am the WWF Champion, and I do not deserve to be treated like this. I earned a Master's Degree in Literary and Cultural Studies from Carnegie Mellon University, which I have parlayed into a cushy position as the WWE Sunday Night Heat co-reporter, non-Australian version, 2003-2005, at WrestlingObserver.com. I collect My Little Ponies. My favorite food is banana pudding.