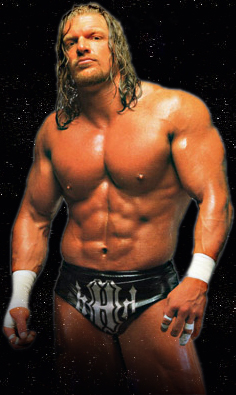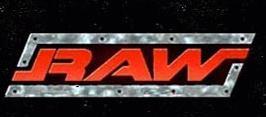 RAW RANT ARCHIVE (September 2006)
Navigation:
September 04, 2006
September 11, 2006
September 18, 2006
September 25, 2006
WWE RAW RANT: (09/04/06) By
Cameron Burge
and
Gershon Levy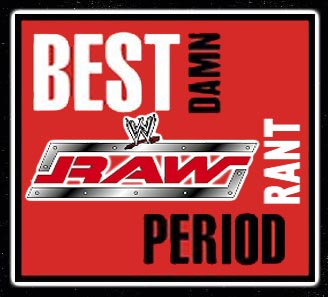 Welcome to tonight's DOUBLE FEATURE! No it's not back to back crappy movies, it's me The Gersh covering the first hour or so (depending on when and if Cameron gets back from whatever supposedly more important things he has to do, and that's a big IF) and then Cameron will be on the keyboard for the second hour of tonight's Raw. I guess it's up to you which one is better.

Tonight we have Jeff Hardy going for his first title since his return against Johnny Nitro for the Intercontinental Title. I hope he doesn't "blow" it or someone might "smack" him for being such a "dope" and a "drug addict". Oh wait, I messed up the joke there. Oh well. Also, according to WWE.com the new tag team Cryme Tyme will be debuting which is "an effort to humor and entertain the fans by parodying racial stereotypes". WWE doing something related to race? Well that's a five hundred and sixty first! We'll also no doubt get ANOTHER glimpse of John Cena's upcoming movie because no matter how crappy it is, they can still shove it down our throats through advertising. I swear, I think they showed more commercials for "See No Evil" then they actually had screenings of it.

Tonight we are live from the old WCW stomping grounds of Atlanta (finally the Braves won't make the playoffs this year it looks like). Just before the show starts they are showing the same thing that put this show over on Sci Fi last week, US Open tennis. Serena Williams just lost to the #1 female tennis player at about two minutes before Raw even though they were going to switch networks at the top of the hour. Good timing! By the way, Raw next week is from Madison Square Garden here in NYC and I don't have tickets yet but I will see if any good seats pop up next Monday afternoon ( I had success with that last year getting 9th row) and they are also taping ECW that night.

Show opens with a recap of Edge and Cena's actions of last week with the contract signing and when Edge names the stipulation and location of their match for Unforgiven. We go live without pyro or theme with Edge in the ring setting up tables, ladders and chairs. JR makes mention of the US Open being on another network and no doubt many tennis fans just tuned in wondering if Andre Agassi became the WWE Champion after retiring (and magically growing his hair back in a mere two days). Edge says Cena can't win this match because Edge always wins it. I wish they would rename this "Glorified Ladder Match". They show a video package that looks like a movie trailer of his history in TLC matches and I laughed when one of his big important traits is "he's Canadian". He blabbers a little more then Cena runs in the ring and Edge tries to jump on him but Cena picks Edge up and FU's him into the table. He then throws the ladder on him as well as the chair and we then go to commercial

Commercial Comment: Kevin Costner and Ashton Kutcher, now there's a movie pairing I never even thought of! Would that be considered a nightmare team?

Back live, Jeff Hardy is painting a wall and then says to Maria he is watching Nitro's press conference from last week. She says it looks like he's watching paint dry. He says "exactly". That was so bad it was funny. Back at ringside, Hardy's music hits (did he even wash the paint roller?) followed by Nitro and Melina.

Intercontinental Champion Johnny Nitro w/ Melina vs. Jeff Hardy (Rainbow Hair Match)

Dropkick by Nitro and quick pin attempt with no success. Hardy gets an inside cradle and then a backslide but neither works. Dropkick by Hardy which takes Nitro to the outside. After a commercial, Nitro has a chin lock on Hardy in the ring. Hardy breaks it but Nitro pulls him down by his hair. Nitro focuses on Hardy's lower back which seems to be injured and does a back suplex. Nitro tries a fancy leg drop but misses and Hardy nails a jawbreaker. Nitro then catches a running Hardy and drops him throat first on the ropes. Pin attempt but only two. Nitro gets a back breaker followed by a side Russian leg sweep and locks in a reverse bear hug. Nitro then goes for a suplex from the top rope but Hardy counters and gets Nitro with an electric chair drop. Flying forearm delivered by Hardy which is followed by a back body drop. Pin attempt but to no avail. Hardy then throws Nitro to the corner and gets the Whisper in the Wind and then goes for the Swanton Bomb but Nitro breaks it up. Hardy then gets the Twist of Fate but before the referee can count to three Melina stops him which causes the disqualification.
Winner by DQ: Jeff Hardy

Coming up next is Trish's farewell address as well as later tonight the next chapter in the DX-McMahons saga. Off to commercials!

Ironically based on where tonight's show is, on this day in wrestling history WCW Nitro made its debut. Trish is walking backstage and comes across Lita. She's glad she came across her (I would like to come across her too) because she was going to call her out for one last match. Lita accepts and it's for the title at Unforgiven. Trish says "Just bring it bitch", Lita slaps her and Trish attacks which is broken up by Carlito and then Orton gets involved.

Here is the obligatory "Marine" segment where everyone kisses John Cena's ass. I find it funny that the director said "if you like John Cena in the ring, you'll like this movie." Well that says it all doesn't it?

Lita is arguing with Coach outside Vince's office about the earlier attack when Shane comes out from the door. Shane makes a tag match between Lita and Orton against Carlito and Trish but Lita says she needs to be with her man. Shane agrees and makes a six person tag with Lita, Orton, and Edge vs. Trish, Carlito, and Cena. Coach kisses Shane's ass (figuratively not literally as recent shows have been) as we go to commercial.

Back live, the "leaner and meaner" Chris Masters (which is another way of saying off the juice). He issues an open challenge and Super Crazy answers. Hmm, I guess this is one of those "contract loopholes"?

The Masterpiece Chris Masters vs. Super Crazy (Super Master vs. Crazy Piece, lame but it sounds like a bad anime fight doesn't it?)

Super Crazy hits a dropkick and then Masters gets control and rams Super Crazy's shoulder to the post. Back inside, Masters hits a slam but Crazy comes back with a kick and when Masters is on the floor, he flips over the top rope with a Swanton Bomb. Crazy goes for a move off the top back inside and misses and Masters goes for the MASTERFULL Nelson but Crazy avoids it and soon after gets a drop toe hold which gets Masters to go face first into the second turnbuckle. Super Crazy hits a moonsault from the top rope and gets the three count.
Winner: Super Crazy

Maria is still watching "Nitro's press conference" backstage as we go to a recap of last week's McMahon beatdown of DX.

Hey look who just showed up! Well ladies and gentlemen (wait do any women read this?) here's the true Mr. Monday Night Cameron Burge!

Hey, I'm back, isn't that great?! Did you miss me?...No?....Assholes...

Anyway, this would probably be a whole lot easier if I had ANY idea what the fuck was going on right now tonight. Fortunately I can pretty much hypothesize something close to what happened to fill myself in, and although in my version all the diva's are naked and Vince McMahon has a trouser malfunction that causes his pants to reach up and throttle his own neck in the middle of the ring, I think it is both accurate enough and probably more entertaining than the version that actually occurred.

Okay, anyway Vince heads to the ring, followed by Big Show who looks like the world's creepiest Big & Tall Store customer. The McMahons and Show meet and greet in the ring for a bit to shine the ECW Title before Shane says he told DX they would not be tolerated and he hasn't had that much fun in years. Shane says just as a reminder DX has a date with Big Show tomorrow night. Show brings out his Thesaurus apparently in the description of what DX did. I would tell you more of what was said but to be perfectly honest with you guys, I zoned out entirely until DX comes out. I'm pretty sure I was hypnotized into buying more Shopzone items like wrestlers' signed underwear.

Hunter and Shawn arrive with weapons and says its been a long time since they tasted their own blood. Hunter says he has two words for them, thank you....for reminding them who they are. They drop the mic and here they come until security stops them. Anyway DX hits the ring with chair and sledge hammers to crush the security swarming them with weapons and signature moves. The McMahons and Show run like the fucking Benny Hill show as we go to commercial.

Random Commercial thought: Battle Royale's should be held like the Koushun Takami classic novel.

Here comes some tag teams for a shot at the titles while the squad comes to ringside to watch. This is a weird match. One Member from all three teams will be in at the same time.

The Highlanders vs. Charlie Haas & Viscera vs. Cade & Murdoch (Triple Threat Tag Team Match)

Some stuff happens, not quite sure what's going on yet, but the Highlanders are instantly shot down when Murdoch takes down Rory. Murdoch works over everyone until Viscera comes in and powerslams him, overpowering Rory and chopping him down in the corner. He tosses Rory to Haas and Viscera's corner, tagging Charlie in. Charlie drop toe holds Rory into a big leg drop from Viscera for two. Viscera smashes Cade and Murdoch in the corner together before Charlie and Viscera help Irish whip one another to send Viscera into the corner. Murdoch manages to clothesline Viscera over the ropes to the floor. Charlie looks to be German suplexing Murdoch, but Robby tag in from Rory and sunset flips over them both to make Haas German suplex Murdoch and get the three on Charlie Haas for the win.
Winners: highlanders

They run a Smackdown rebound and then Carlito makes fun of Orton's "catching a fat bitch from a window" pose with Trish in the back as we go to commercial.

Random Commercial Thought: OH NO! THE MONKEEEEYYYS!

Back to the show. We get Maria with the kiss cam before Flair's music hits afterwards. He wants a kiss from Maria and he gets it and apparently it sends him into convulsions. He gets interrupted in his promo about Foley by Armando Allejandro Estrada. He says Flair should declare Umaga the man since he beat the man, but when Umaga arrives, Kane arrives right behind him and its on now bitch! Kane fights off both Umaga and Estrada before booting Umaga right over the ropes. Umaga tries to rush back to the ring, but Kane calls his PILLARS OF FLAME to block the entry as we go to commercial.

Random Commercial Thought: BowFlex is like the oldest fucking commercial thought planet still today.

Back to the show where we get a hilarious training video from Cryme Tyme featuring them robbing a Smoothie store. Teddy arrives through the crowd to Teddy chants as we go to King and JR who break down the PPV card for us so far. We go to the back with the McMahons and Show. Maria's still watching the good old paint dry. Vince waves the McMahon DVD around in an oh so subtle pimp as he says he'll Main Event in Madison Square Garden for the first time next week. We go to ringside with Edge's arrival and a replay of Edge getting beaten by Cena earlier tonight I guess. Orton follows him out as we go to commercial.

Random Commercial Thought: Nothing hurts quite like anal warts.

Back to the show. Carlito is out next, followed by Trish with whatever the fuck that RAT is that died on her head. The crowd pops for Cena big time tonight. If they tell me who hasn't been in a TLC and who has never lost one, one more time, I will kill JR with a mallet. What's with a TLC match anyway? I never learn anything during them. They should have to fight with text books.

John Cena & Carlito Caribbean Cool & Trish Straus vs. WWE Champion Edge & Women's Champion Lita & Randy Orton (Six Man Intergender Tag Match)

Cena starts with Orton and gets an early two count, before suplexing Orton to tag in Carlito. Carlito is hot out of the corner with heavy lefts that send Orton reeling. Orton counters on Carlito with a thumb to the eye and tags in Edge, but Edge eats a big dropkick from Carlito to tag Cena back in. Cena goes on town with clotheslines on Edge but we can't really see what's happening because the camera centers on ORTON'S ASS CRACK, and Edge tags in Lita. Lita gets in and Cena tags in Trish who wants a piece. The catfight begins and when Orton eats a bitchslap, all hell breaks loose, but the heel retreat in fear of Cena and Carlito, all three diving to the floor as we go to commercial.

Random Commercial Thought: Eureka! I discovered something else to watch!

Back to the show. Trish is unleashing on Lita when come back and they both go down, tagging out to Carlito and Orton. Orton is crumpled by a big clothesline before being thrown in the corner for mounted punches. Carlito gets distracted by the heel so Orton can toss him to the floor, Edge and Lita tackling him for a beat down. They roll Carlito back in for a two count by Orton. The ref gets distracted by Cena trying to stop the double teaming when Edge steps in and Orton chokes Carlito out on the ropes and knocks him in the temple.

Carlito takes a running shoulder block to the gut in the corner from Edge and more double teaming as Orton tags in for a rib shot. Orton starts stomping Carlito's chest and holds the ropes to stand on it. Orton and Edge distract the ref over Cena while Lita chokes Carlito out on the apron. Carlito hits a hard knife edge chop on Edge, then another and begins fighting back, but Edge stops the momentum with a clothesline for two. Orton tags in and goes for abdominal stretch on Carlito, hitting small chops to the ribs. Carlito tries to makes the ropes and Orton grabs the ropes, but its so obvious even the ref finally sees it. Orton breaks and tags in Edge. Edge hits him only a couple of times before Orton tags back in and does a headlock (take a shot). Enziguiri on Orton takes Orton down. Trish and Lita tag in while Edge eats it from Cena on the floor. Orton and Edge try to take Trish, Cena runs in. He hits a double clothesline and Carlito comes off the top on Orton. It comes back down to Lita and Trish. Lita hits a snap suplex and goes up top. Trish counters with the Stratusphere and sets up for the chick Kick. Edge is behind her waiting with a spear, but he collides with Carlito. Orton runs in and hits an RKO on Trish for Lita to pick up the three while Edge holds back Carlito.
Winners: Edge, Lita and Orton

After the match, the show pretty much just goes off the air. The end. Finito...no more...LEAVE.

Highlight of the Night: I have NO idea. I would say the Paint drying. That's quality entertainment right there.

Lowlight of the Night: Maria makes out with a bowl of Jello-O...I mean Ric Flair.

Eugene Award: Every recent Champion has a woman with them right now who saves their title (though one traded in for a midget I guess) so the fact every match ends with their interference gets pretty Eugene.
Cameron Burge is TWF's resident "Mr. Monday Night", penning the "Best Damn Raw Rant, Period" appearing every..umm, Monday night. That's right. Also known as "The REAL Inferno" (not to be confused with all those impostors out there) Cameron was hand picked by Michael Melchor himself to assume any and all RAW responsibilities. A selfless man, Cameron has also dedicated most of his organs to science. (which makes his current day to day life quite uncomfortable.) Read his Raw Reports or die.
---
WWE RAW RANT: (09/11/06) By Cameron Burge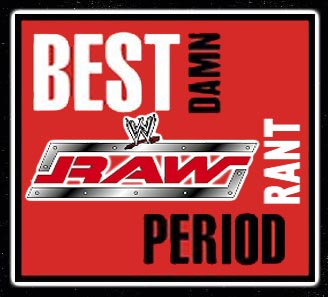 Whoo! The 9/11 edition of Raw! You know what that means? The Return of Muhammad Hassan in his own personal low flying Jet when it finishes off DX's work for them by slamming into the WWE Tower? Or possible Hacksaw Jim Duggan ranting for an hour or so incoherently about Freedom? (Sadly that one might happen) Or even better! An annoying patriotic video that you've probably seen five others of on various channels today alone? If you chose the last, then you win the booby prize, and no it isn't Melina and Trish.

Raw 09.11.06

Show opens with a moment of Silence.

WHAT?

I said a moment of silence.

WHAT?

...shut up.

The Marine Corps Honor Guard is out (hey it's just like Nascar!) Lillian (looking hot >.>) sings the America the Beautiful to pictures that might call up emotions in people with hearts, unlike me. I traded in my emotions for a cheese sandwich. And how do we kick off this patriotic, tear-jerking moment? With a Jell-Oish old man in a pink robe and a fat-ass Samoan. Sounds about right to me. Estrada has apparently been demoted to handler now.

Ric Flair vs. Umaga w/ Armando Alejandro Estrrrrradaaa

Flairs opens with heavy chops, but Umaga rolls through him. Umaga goes to town, tossing Flair like a rag doll until his knee gets clipped, but he recovers and Estrada gets up on the apron to signal the Spike. The ref is distracted by Estrada, so Flair low blows with his fist twice then kicks him in the nuts as well. Umaga still only goes to a knee. Flair grabs a chair, comes in and cracks Umaga in the face, but he just stands there. Flair doubles it up and he still stands there.
Winner by DQ: Umaga

Flair runs to the stairs and grabs them, but Umaga slaps them from his hands Samoan drops Flair on the outside. Umaga tosses the stairs into the ring and is going to throw Flair back in when Kane's music hits. The two brawl in the ring and Kane goes for a choke slam, but Umaga powers out with a belly to belly suplex. Umaga grabs the chair and levels Kane with it, but Kane sits up while Umaga's back is turns. Umaga comes running with the chair right into a big boot and Kane takes the chair to send him to the floor. Kane crushes Umaga on the outside with the stairs, sending him into the crowd. When Umaga and Estrada regroup, they're cut off by flames again as we go to outside the arena.

Vince says he and Shane are about to walk in along the walk of fame. They mention Ali, Larry bird and other and Vince says the biggest name happens to be roped off. Vince McMahon. Apparently it's because no one steps on him. .....Now I want to go to MSG and drag my ass on his name

JR and King pimp the card for us as we go to commercial.

Random Commercial Thought: Dehydrated Racers? Say that's a problem to Mad Max before we talk.

Back to the show. They show Cactus Jack getting back dropped through the cage and a full compliment of the NYPD Highland Drum Core with pipes. The highlanders are of course not far behind before being followed by Rowdy Roddy Piper. He says he found a magazine for the 51 worst offenders in the WWE and he was number one. Piper says he's proud to be here with the #1 Tag Team Contenders. He asks which ones they are. He and Robby keeps introducing their names to each other. Rory has to slap Robby to make him stop and says Robby like it. Roddy tries it and before long everyone is slapping each other. Roddy tells us he hasn't had this much fun since he beat up Mr. T. The Squad arrives to mess up our good fun. They say it doesn't matter whether they call them kilts or skirts, the simple fact is that the Highlanders, Piper and the NYPD is dressed like girls. Piper says it is good talk for guys who voluntary removed their testicle to replace them with pompoms. Piper says it's been a long time since he had a fight here and asks for a six man tag right now. They have a huddle and agree before Piper sends out the NYPD. The Squad talks them down, but the Pipes and Drum advance on them until the Squad hide in the side while they go by and we bagpipe off to commercials.

Random Commercial Thought: No wonder Rock shaved his head for a while, the bastard's forehead is extending backward at a steadily increasing march against his hairline.

Back to the show.

The Highlanders & Rowdy Roddy Piper vs. World Tag Team Champion The Spirit Squad

The Match is underway and Roddy tags in Robby to double team a Squad member, but the ref gets distracted for all the Squad members to rush in and switch things up on Robby. Mikey tags in and works Robbys arm some more before tagging out again. Whoever this one is attacks Robby for a while then tags in Nicky. Nicky picks up two and goes for a headlock (take a shot). Spirits Squad springboards a member into Robby's face and I really can't keep track of which is which. Anyway they botch the move and Mikey gets two on Robby before going for a neck vice. Robby fights out and gets countered in an elbow charge. Kenny hits a flying reverse elbow after tagging in for two. Robby tries to crawl to the corner, but Kenny grabs his leg and drags him back. Johnny hits a running kick to the head and sunset flip for two and a clothesline. Reverse chinlock comes in to a headlock (take a shot). Johnny cheap shots Rory off the apron and gets back dropped by Robby. Piper tags in and starts clubbing Squad members with big knee lifts. Mikey goes to the floor and Kenny get back dropped onto everyone else on the outside. The highlanders Slingshot the remaining squad member onto the rope into a suplex for Piper to pick up the three.
Winners: Highlanders & Piper

After the match we go to Nitro and Melina bitching about Hardy when they see him painting on a tiny picture which for some reason he has huge BUCKETS of paint for. Nitro kicks the easel over and Hardy screams "That's my painting!" (EMOOOO!). Hardy retaliates by throwing the yellow and blue paint buckets all over him, leaving Nitro and Melina to splash in paint on the floor as we go to commercial.

Random Commercial Thought: I'm eating Graham Crackers.

Back to the show with more Hell in a Cell clips. Edge and Lita are out for another six man tag. Edge gets on the mic to say tonight is Cena's final Raw appearance and since John is returning to his roots he will go back to what made him popular in the first place, throwback Jerseys and more raps. Edge crooks his hat and reads a rap about beating Cena and punking New York a few times. Eh. Orton comes out next followed by Nitro who now resembles a movie star with a secret fan love of football with all that paint. Off to commercials.

Random Commercial Thought: Why do you need to be buff to play in a rock band? All that heavy lifting (that the roadies do for you)?

Back to the show. The Artists Formerly known as Jeff is followed by Carlito and Cena. Carlito gets huge pops.

Intercontinental Champion Johnny Nitro w/ Melina & World Champion Edge w/ Women's Champion Lita & Randy Orton w/ Long Fucking Tag Team Name Ever vs. John Cena & Carlito Caribbean Cool & Jeff Hardy (Six-Man Tag Match)

Nitro starts off with Hardy and tries to force Hardy tot he corner, but the table gets quickly turned. Hardy whips him to the corner and spring whips from the corner into Nitro's sternum. Carlito tags in and big Carlito chants with a guy who looks EXACTLY LIKE HIM going crazy in the crowd. Carlito hasn't been this hot ever before in his fucking career. Orton tags in, but Carlito gets the upper hand on him with a boot to the face and a left handed clothesline. Reverse elbow keeps the pressure on for two. Orton makes a tag to edge who eats a Hurricanrana for two from Carlito as well. Cena tags in as does Orton when Edge runs from him. Orton looks pissed. Cena chants begin and Cena comes in with rights. Cena hits a fisherman on Orton for two when Edge breaks it up. Cena jumps him and beats him down in the corner when Orton comes from behind. Orton keeps the pressure on but Nitro tags in and gets beat down for his trouble.

Carlito tags in, sends Nitro down for two and gets a low blow from Nitro. The crowd is hot for this match. Orton tries to pick up two on Carlito and goes for a headlock (take a shot). Carlito breaks loose and clotheslines for two of his own. Orton recovers as Hardy tags in and clotheslines Orton big time over the ropes, but Orton holds onto them to stay inside. Hardy sends Randy to the corner to stomp him down and hangs Orton up on the middle ropes. Second time sends Orton to the floor over the ropes. Carlito gets in and kneels down for the whisper in the wind over the rope, but Hardy trips, hangs up in the rope and falls over to barely hits Orton at all. Jeff/Orton dueling chants begin as we go to commercial.

Random Commercial Thought: I remember Normandy, it was that cool opening sequence in that one movie....

Back to the match. Hardy has pretty much been worked down the whole break. Orton is working his leg with stomps and tags in Edge. Edge goes to work, but Hardy escapes to tag in Carlito. Carlito tries his springboard maneuver, but Edge pulls the rope down and Carlito crashes to the floor. Nitro and Edge crush Carlito and toss him back in for Orton to work him over more. Nitro tags in for a leg lock and Cena chants start up. Nitro breaks up the hold then elbows Carlito and keeps the pressure on for two. Nitro eventually goes for the tried and true headlock of doom (take a shot) and Carlito fights up. Reverse flying elbow hits and takes Nitro down and Carlito crawls to tag Cena. Cena takes down everyone of course and hits a nice flip over facebuster on Nitro. Edge takes the Protobomb and is set up for the Five Knuckle Shuffle. Orton is ready for an RKO behind him, but Carlito hits the Apple Jack on Orton and set shim up for a Swanton from Jeff. Cena scoops Edge into the FU, but Nitro rescues him only to get it himself. Edge and Lita are already up the aisle as Nitro taps out to the STFU.
Winners: Cena, Carlito and Hardy

Commercials.

Random Commercial Thought: Nobody beats Aaron's (meat).

Back to the show.

We get to see some more Cryme Tyme training video and we learn that one should never run with a heavy wallet. We go to Vince ranting incoherently in the back about how glorious tonight will be as we go to commercials.

Random Commercial Thought: Monkey vs. Robot!

Back to the show. Masters is in the ring for Super Crazy.

Super Crazy vs. Chris Masters

Super Crazy tries to start with quickness, but Masters catches him into a power bomb drop of sorts. Masters beats on him while he's down and goes for a headlock (take a shot). Super Crazy escapes and comes off the top with a cross body for two before being shoved to the corner for a hard shoulder charge. Super Crazy goes to the other corner to eat a clothesline from Masters. Chris misses the third tries and Crazy hit a drop toe hold into a springboard kick. Crazy goes up top for a dropkick and moonsault for two. King says this reminds him of all his moves like the fatty flab of death I guess. Crazy arm drags out of a hold and kicks Masters in the head. Crazy tries a Hurricanrana and springboard off the top rope in mid-spin to reverse it into a sunset flip for three.
Winner: The Mentally Impaired

We see a video about the Marine and Trish getting ready in the back for her final appearance on Raw as we go to commercial.

Random Commercial Thought: Why don't cheerleaders ever do musical interlude with me?

Back to the show. It's time for Mickie James and Trish Stratus. They are going to go at it and I bet this will be a positively CLASSIC women's match in fact you won't want to miss this one for anythin- Oh look

Oh, well imagine; as I'm pacing the pews in a church corridor, and I can't help but to hear, no I can't help but to hear an exchanging of words. "What a beautiful wedding!, What a beautiful wedding!" says a bridesmaid to a waiter. "Ah yes, but what a shame, what a shame, the poor groom's bride is a whore." I chimed in with a "Haven't you people ever heard of closing the god damn door?!" No, it's much better to face these kinds of things with a sense of poise and rationality. I chimed in "Haven't you people ever heard of closing the god damn door?!" No, it's much better to face these kinds of things with a sense of hope. Well in fact, well I'll look at it this way, I mean technically our marriage is saved Well this calls for, a toast so, pour the champagne Oh! Well in fact, well I'll look at it this way, I mean technically our marriage is saved Well this calls for a toast, so pour the champagne, pour the champagne. I chimed in with a "Haven't you people ever heard of closing the god damn door?!" No, it's much better to face these kinds of things with a sense of poise and rationality. I chimed in "Haven't you people ever heard of closing the god damn door?!" No, it's much better to face these kinds of things with a sense of poise and rationality. Again.. I'd chime in "Haven't you people ever heard of closing the god damn door?!" No. It's much better to face these kinds of things with a sense of poise and rationality. I'd chime in "Haven't you people ever heard of closing the god damn door?!" No, it's much better to face these kinds of things with a sense of poise and rationality.
Okay. ...oh Guess we missed it. Trish wins in spite of Lita being on the apron. Trish grabs the mic for her going away speech..."Thanks for coming along on this awesome ride." .....That's it? Man, I want my money back!...Oh wait, I didn't pay. More Hell in a Cell footage as we go to commercial.

Random Commercial Thought: Limited time only you can catch the original Star Wars Trilogy on DVD completely unedited.

Back to the show. This week in history is the 9/11 recovery Smackdown. They run down the Unforgiven card and we go to the back where DX are confronted by Cade and Murdoch, but they start pummeling them. Shane attacks from behind to turn the tide and Big Show arrive to slam HBK into a limo. They shut the door on his head. Vince comes and kneels down next to Trips and says he's bleeding which is good because tonight the match is No Holds Barred as we go to commercials.

Random Commercial Thought: If they have Poker Chips, why isn't there Poker Dip?

Back to the show. Vince swaggers on out and the DX theme hits. Trips staggers out, bleeding heavily from his ear. Her throws off some little short dude in a suit who is apparently a doctor trying to restrain him.

Vince McMahon vs. Triple H

Vince just keeps pegging Trips with boxing shots every time he tries to stumble up. Vince hits a head butt and Hunter crawls to a corner. Vince head butts him again and slams hunter's head into the turnbuckle. Vince goes for the kidneys and takes his belt off GOD LEAVE THE PANTS ON. Vince chokes Hunter out with the belt. HBK chants are going. Vince sends Hunter outside and rubs Hunter into the ring post. He kicks Hunter in the face and according to JR it is worthy of a "GOOD GAWD ALMIGHTY! What a VILE kick right to the bloody face!" Back in the ring, Hunter tells him to suck it. Vince lands a pedigree on Hunter for two when Hunter kicks out and sits up. Vince kicks him in the head and starts punching him but Hunter keeps rising like a zombie.

Trips fights back with rights and delivers a double A spine Buster. Shane runs in, but Hunter has him ready for a pedigree when Vince breaks it up. Shane stomps hunter and Vince takes over while he fetches a chair. Shawn comes hobbling down the aisle to take out Shane with the forearm and nip up. Atomic drop and Big Show is in. Shawn run and jump onto him, but gets planted with a huge power bomb. Hunter retrieves a sledge hammer, but Shane stops it. Show holds up Shawn for a chair shot from Shane. They then do the same for Hunter, but Vince wants to use the sledge hammer instead personally. Vince covers him for three.
Winner: Vince McMahon

And uh...that's it. The end.

Highlight of the Night: Tough choice. I was really surprised to find myself into tonight's show. I think I'll give it to the Cena and Edge six man tag as the crowd was really behind it, making it extremely entertaining.

Lowlight of the Night: Trish's goodbye speech was less than spectacular to say the least.

Eugene Award: The Main Event. A Clusterfucked, ego-boost for Vince I suppose. Nothing entertaining about it.