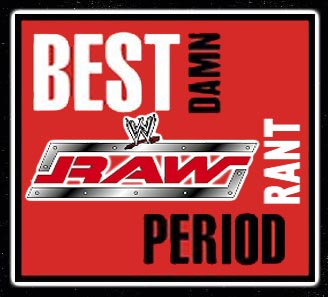 And I am back. Tonight! WWE tries to salvage the main event by bringing Shawn Michaels out of the grave to make Randy Orton tolerable. For some reason, Shawn seems to be borrowing Chuck Norris' wardrobe (There are no weapons of Mass Destruction in Iraq, Chuck Norris is in the United States), all the brightly colored chaps must have been on loan to Chippendales (not the Rescue Rangers). On another note it seems Las Vegas has banned Ken Kennedy from gambling in there casinos. When asked for a statement the Las Vegas city council replied with, "He put both Cena and Lashley on the shelf. Even we won't play them odds." Speaking of odds, some of you may be wondering what the hell this is you've stumbled into after hitting the "I'm Feeling Lucky" function in Google for Raw Rants.
Bet you don't feel lucky anymore, bitch.
Raw 10.25.07
Show opens with a recap of the celebration ceremony from last week. For some reason, in the WWE the past always happened with a red over-tint. Orton claimed he would be champ for a long time. And by long he meant longer than a few minutes this time. We then go to Regal saluting a photo of Skeletor…or fuck that's the QUEEN OF ENGLAND. Orton comes along to bitch and whine like a little emo kid. Who does he think he is? CM Punk? Regal basically tells him to piss off because he has a decision and announcement to make and every thing Regal says gets a pop. Damn you England.
Theme and pyro! Little late aren't we?
Regal comes out as we see the Titantron looks more like the Britaintron tonight. The crowd is hot as Regal conducts their cheers up down. He says our WWE champion likes to do things in threes and that's exactly what he will get, facing each of his three opponents for Cyber Sunday in a one on one match. Kennedy, Hardy and Shawn Michaels. Oh My God I wonder who'll they pick?!….wait…THREE ORTONLOCK MATCHES? Fuck. Hardy is apparently up first and Orton follows who takes his damn time getting to the ring. I think the drinking game might drawn us all tonight.
WWE Champion Randy Orton vs. Intercontinental Champion Jeff Hardy (Non-title Match)
Orton locks up and gets hip tossed. He forces Hardy to the corner, taking a cheap shot with rights. He misses a charging clothesline and Hardy starts arm dragging into a light armlock. Orton forces out and he's actually trying to do a fast paced match her, but he just looks damned awkward doing it. Hardy clotheslines him over the ropes and dropkicks through the ropes before flying like Superman (if he was a rainbow) as we go to commercial.
Random Commercial Thought: Dr. Steve-O got his degree from the same school as Dr. Phil.
Back to the show where Hardy is in an Orton Lock (take a shot). Orton lands a power slam for two and starts stomping on Hardy, hitting a knee drop for two. Orton back to the headlock which is TOTTALLY a legitimate transition move (take a shot). Hardy hits his "wrap around clothesline" and starts going for flying forearms for a one count that JR calls a near fall. Whisper in the Wing gets two. Somebody seems to hae turned up the microphone on the ring as everything sounds insanely loud. Slingshot dropkick to the sternum hits and Hardy goes up top but Kennedy comes out of nowhere to push Hardy down. Orton picks off an RKO for the win.
Winner: Orton
King reminds us to vote for Cyber Sunday between two guys and Michaels! Also, don't forget the KID is back, because Shawn Michaels is totally still eight years old and he's going to bug you all night while you try to play Halo.
Random Commercial Thought: Oh snap Smackdown coming to Wichita in November. How great that for Thanksgiving they give us a big turkey.
Back to the show where Santino arrives with Maria looking like she's trying out for the fucking Rocky Horror Picture Show. He rants about The Condemned and al Venis interrupts.
Val Venis vs. Santino Morella w/ Maria
Venis opens up on Santino and is it just me or has Val gotten chubby and paler than freaking Ghost? Val catches Santino with an elbow and they fall to the mat in some kind of orgy of limbs. Santino stars to work the knee and leg with a half Boston crab (the other half of the city burned down?). Val makes the ropes and starts to work Santino over, hitting a weak assed knee and some chops. Santino blocks a Full Nelson, but a sunset flip in the corner seems to have it sewn up. Santino rolls through and grabs the ropes for the win. Winner: Morella
Maria (as whorish as she now looks) celebrates with Santino. Speaking of whores. Diva Search bathroom break. We then see Carlito and Coach talking about the tiny apple. He says everything here must be small, like Hornswoggle. He asks how he ended up beating him with his own cane and says that was cool. Coach snatches the apple from the air and says that wasn't cool. He believes that Vince secretly wants to be rid of him entirely and needs to get him in the right place at the right time. Hornswoggle is there behind them to a big pop( I thought the Brits still hated the Irish) before stealing the apple and running off to commercials.
Random Commercial Thought: What's inside the Orange box? A little bit of plastic for a lot of money.
Back to the show where Coach is chasing magical beings into the cafeteria and swears he's going to get him. Hornswoggle leaps from the buffet onto Coach, tackling him over a table before running off. Coach gets pissed, throws down his jacket at leaves. This needed more Yakkety Sax. And, as if we haven't had enough time wasting tonight it's time for a recap of last week's incident with Triple H. We go to the office to see Vince having a stare down with the Queen next to a picture of Elton John (She never blinks, she's like that bitch from the Ring). Vince asks Regal how old the Queen really is and Regal asks which one. HA. Vince corrects Regal on his pronunciation of Umaga from Umanga as we go to Kennedy walking dramatically through the halls on our way to commercials.
Random Commercial Thought: Nothing says serious disaster relief like poorly drawn cartoony images.
KENNEDAAAAHHH….Guess who's here? Kennedy introduces himself as the person people are going to vote for on Cyber Sunday (You know, the day they reboot The Matrix). Do we really have to do Orton's entrance all three times?
Mr. Kennedy vs. WWE Champion Randy Orton (Non-title Match)
Kennedy beats Orton to the punch with the headlock (take a shot) but Orton counters it…into a headlock (take another shot). Kennedy switches up into a roll up for two and uses a…headlock. (Sigh…take a shot). Kennedy shoulder blocks for two and goes to!….a HEADLOCK! Whoo! (take a shot). Orton finally just lobs a punch to Kennedy's face, slamming him face first to the turnbuckle. Kennedy gets thumbed in the eye and sidesteps a dropkick for two. Kennedy works a knee into Orton, lobbing punches. Orton fights back with uppercuts and begins stalking stomps. Kennedy starts to run away with it though out of nowhere (okay I admit I nodded off) and hit's some kind of move where he flips over with Orton on his shoulders. He looks to have it won, but Hardy arrives, dropkicking Kennedy for the DQ.
Winner: Orton
Hardy hit's the swanton on Kennedy and runs Orton off as well, staring him down as we pimp Michaels.
Random Commercial Thought: Saw 4. Can you believe Saw 5 is already licensed? My god.
Back to the show where Vince comes to the ring with some random bastard in the ring as well. He starts to talk about how the crowd determines Cyber Sunday to loud What chants. He says it will be Triple H against Umaga because we TOTALLY HAVEN'T SEEN THIS YET. And by totally haven't I mean, we've seen it enough. Seriously. He says this match will be like a Street Fight and then some crap no one cares about. His opponent is Andy Simmons who gets a decent pop for being British.
Umaga vs. Andy Simmons (Street Fight)
He begs not to wrestle and Umaga beats him down and chokes him out on the floor with a cable before destroying the announce table as Vince watches this like Caesar. Where's the thumbs down? There's a freaking Andy chant! Haha! Umaga hit's a Samoan Drop onto a chair and pins him. JR randomly declares himself to be back on the air. Uh…welcome back?
Winner: Umaga
Umaga vs. Andy "I'm not Triple H" Simmons (First Blood Match)
Vince says there's another match type there will be able to choose from and it's first blood. The refs are forced to put poor Andy back in to eats a diving head butt and Ass Crash. Vince finally declares for a finisher (Do an Animality!) He does repeated rapid fire Samoan Spikes until he's bleeding from the mouth for the win.
Winner: Umaga
Vince asks for Medical attention, but as they carry him away the third option is a Cage match. The cage lowereth! Umaga raises his hands like freaking Jesus. Umaga tosses the kid into the cage. He calls the kid Triple H. Man, I could go for a drink.
Umaga vs. Andy Simmons (Cage Match)
This is one of those moments where if you were in the crowd, you might slit your wrists. Umaga throws Andy into the cage repeatedly once they're both inside the whole while Vince tells him to get Triple H. Umaga eventually casually strolls out of the cage for the win.
Winner: Holy shit it's still Umaga!
Vince seems proud of having completely bored the hell out of everyone as we go to commercial.
Random Commercial Thought: Subway quit trying to make me healthy. I want to be a lazy bastard.
Back to the show. Hornswoggle makes his grand getaway on a tricycle. For some reason Coach hops on a bike as well rather than just lightly walking behind him. Ron Simmons is there to offer words of advice before we get Jillian Hall. I wish she'd sing Happy Happy Joy Joy one of these days. She says Lillians performance last week was pathetic. I thought Santino did pretty good. She says Lillian was obviously lip syncing (LEAVE LILLIAN ALOOOONE!!!) They replay the performance right before Lillian went and got a DUI and had a few babies with a has been, nobody. The crowd cheers for the clip like any of them know Spanish. Jillian says real singers go Acapella and will sing in a real language…british. It practically is it's own language. After a hilarious Spice Girls rendition we have to be treated to more music torture with Candice's theme music.
Jillian Hall vs. Candice Michelle
Jillian attacks before the theme ends, but Candice quickly starts to rally and treats Jillian to a dropkick before finishing her with an Unprettier. What the fuck Candice just had a squash?!
Winner: Candice
Elsewhere, The Glamazon says she'll dominate Candice to get down on her knees next week in a rematch. I wouldn't mind seeing her on her knees, but only if Gangrel "The Vampire Warrior" is filming it. Elsewhere still we have the showdown of the CENTURY in Cody Rhodes getting talked down by Holly for their rematch tonight. Holly bitchslaps him and Cody is back up hyperventilating like some kind of asthma patient. Holly says that's the looks he's looking for before walking off and Cody whips his nose with his hand. EEEEWWW boogers!
Random Commercial Thought: Vampires are apparently more than just porn directors according to this commercial.
Back to the show where we get a recap of smack down before Kendrick and London arrive. The highlanders, who are apparently still weighed with rocks. The World Tag Team Champions are on commentary.
Kendrick w/ London vs. Rory w/ Robbie
Rory and Kendrick trade blows, but Kendrick starts wailing in with kicks to the knees to drop him down. Rory head butts the midsection hard and uses a double axe handle, stomping Kendrick into the mat. Rory stalks Kendrick around as he tries to grab ropes and escape, hammering down on him. I like how Murdoch gets randomly more and more intelligent sounding as if he's afraid he'll impede on Festus' gimmick or something. Kendrick grabs the ropes break the pin and Rory goes to a chin lock (take a shot. If any are still alive after tonight's alcohol poisoning, I suggest you go buy more). Kendrick has to rally and elbow out. Rory shuts him down with a knee to the gut, but runs into a stiff kick in the corner. Kendrick does a huge flying dropkick as Robbie tries to get in the ring. London takes him down, but Rory is able to knock Kendrick down from behind. Rory hit's a springboard Reverses suplex, bouncing Kendrick off the ropes to get the pin.
Winner: Rory
In case you didn't see this EXACT SAME PROMO at the beginning of the show they'll run it again for you now with Orton getting kicked out by Michaels.
Random Commercial Thought: Planet Terror. Because you can NEVER own enough shitty movies….I'm serious.
Back to the show. We get an interview with Shawn Michaels who thinks he needs to still be wearing the Cowboy Hat for some reason. The leprechaun is running away from Coach and into the Divas Locker Room. They both go in but Horny comes out with panties while Coach comes out being hailed by debris. We get a promo that totally isn't for Jericho at all that interrupts JR. The announce team finally mentions it. Coach chases Hornswoggle under the ring and retrieve a detonator from under the ring. Acme is waiting for their check. Coach pushes the plunger but nothing happens so he goes under the ring to check it. Horny appears from the other end and uses it himself. It's probably just Ron Jeremy's butter churner. The blast goes off, screwing up the picture, but much like how Paul Bearer cheated death by concrete, Coach emerges, blackened (even more than he was before! Ha!) but unharmed as we go to commercial.
Random Commercial Thought: Heavenly Sword. Kratos wouldn't throw her off his face.
Back to the show. Twelve minutes to go and two matches? Someone's getting' squashed like those pumpkins that are still out during December. Speaking of squashed, here's Cody Rhodes. Holly is from Mobile. Does that make it more convenient for him to fill up his race car? I wonder if he was sponsored.
Hardcore Holly vs. Cody Rhodes w/o A Chance in Hell
Cody and Holly exchange swift shots, but Holly tosses Cody over the ropes. Cody skins the cat and climbs back in, but Holly just runs him over with a clothesline. Holly works Cody over in the corner and Cody turns the tables, striking hard and getting pissed. Cody gets a hard cross body for two and Holly starts works him back over. Holly pulls him up through the ropes for arm clubs to the chest while these guys in the crowd trade echoing Kennedaaaah chants. Holly goes to a head lock (take a shot). JR here randomly calls Cody by the name of "Cody Runnels". Cody gets hammered, but he reverses the Alabama slam into a pin for two. Cody Small Packages for two, tries a backslide for two and another backslide for another two. Holly misses a charge in the corner and gets pinned yet again for two. Holly hit's a stiff dropkick as you can tell the crowd thought this match was over after the corner roll up. Cody rolls through a top rope cross body for two and then runs into an Alabama slam for three.
Winner: Holly
The crowd just self destructed like Coach.
Random Commercial Thought: I've seriously seen all of these commercials every commercial break, it's like no one felt like paying out some cash to show their products on this crappy show.
Back to the show where Shawn Michaels as Kid Rock comes to the ring. Already at the end of the second hour here as we wait for the match to star. Orton, slow walk and all arrives.
Shawn Michaels vs. WWE Champion Randy Orton (Non-Title Match)
As soon as the bell rings Michaels is all over Orton, pounding him until he runs to the floor. Michaels chases him to the floor and keeps the pressure on. Michaels rolls up for two because you totally get back at a guy for kicking you in the head by pinning him with a roll up. Another roll up gets another two, but Orton finally runs over Michaels with a clothesline, mounting for some punches. Orton sets Michaels up top and goes for the suplex. Moron. Predictable knock down into the elbow drop. Michaels goes to tune up the band, but…Wild Kennedy Appears! What will you do? Winner: Michaels
Kennedy hammers Michaels while Orton hold shim, but Hardy appears and destroys Kenned in the corner. He goes for the slingshot dropkick to the sternum, only for Orton to come up and toss him to the floor. Orton gets down on all fours and right in Michaels face, stomping for the RKO so of course when he tries it, he gets thrown into Kennedy who goes to the floor now as well while Orton eats a Superkick. Remember (VOTE MICHAELS) you have (VOTE MICHAELS) your choice (VOTE MICHAELS) For Cyber Sunday (AREN'T YOU LISTENING RETARD?!).
Highlight of the Night: Kind of hard to pick one as basically there were hardly any real matches, just squashes and exercises in futility. So I'm going to give this to London and Rory, who put on an actually entertaining show.
Lowlight of the Night: Wow, um, let's go with being forced to not only see THREE Orton match but essentially THREE Umaga squashes in a row.
WWE "Creative" Award: Acme bomb detonator. Who in the blue hell decided this had a purpose?
Cameron Burge is TWF's resident "Mr. Monday Night", penning the "Best Damn Raw Rant, Period" appearing every..umm, Monday night. That's right. Also known as "The REAL Inferno" (not to be confused with all those impostors out there) Cameron was hand picked by Michael Melchor himself to assume any and all RAW responsibilities. A selfless man, Cameron has also dedicated most of his organs to science. (which makes his current day to day life quite uncomfortable.) Read his Raw Reports or die.