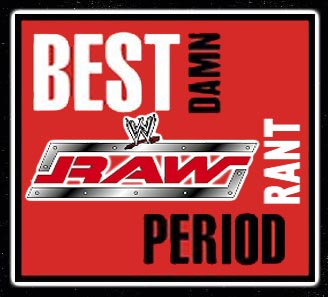 WWE RAW RANT: (12/01/08) By Cameron Burge

Welcome back. Did everyone enjoy getting Rick Roll'd by the Macy's Parade this year? Yeah, fuck that store. Before we get into tonight's show I'd like to talk about something that is completely pointless and only here for filler. I like to make the intro actually look like it has something that resembles substance, even if that substance is pure shit. I care about you, Joe Schmuck the Reader, that much. And by "that much" I mean not at all. It is my belief that from now on all Randy Orton Matches should be completely dubbed over with clips of Captain Falcon. My reasoning for this is….there isn't any. I just think it would make his matches actually tolerable by adding some humor in. In other "news" I met a man today named Marcello Magnifico and if that isn't a perfect wrestling (or porn) name, then I don't know what is. Oh look, what do you know, there's the recap below.

Raw 12.01.08

Show opens with footage of Cena getting the strap at Survivor Series and Jericho winning the right for a rematch and then the two meeting in the ring with Cena delivering an ass kicking the likes of which has not been seen since…the week before. We now see Jericho in the lobby with the Men in Black…oh wait that's security. He also enters through the crow which is annoyingly loud through the camera microphone. Who's bright idea was this? He wines about fans and says he's accomplished all the goals he set out to accomplish….you know except for all those titles he didn't win while Triple H was on this show. Jericho says his son is a John Cena fan because his son watched Raw while he was not personally on the show. Wow, I'm sorry. He complains that Cena got him fired in the first place and not all because he wanted to quit and try to have an (lolwut) Music Career. He goes on to say he wants to scar his son for life when he beats him at
Armageddon.

Oddly, even though this is more than ten minutes into the show now, they decide to NOW give us the theme and pyro….okay? Next we have an IC Tournament match between Mysterio and The Miz. Why The Miz is in a tournament for this is beyond me. Furthermore, why are Finlay and Morrison? There have to be enough Raw guys for a full roster of people. Before Rey makes it to the ring, Morrison mysteriously appears on the aisle to stare him down. Rey attacks and gets beat down. The ref gives him a proverbial slap on the wrist and Knox decides to be a good boy for now and leave.

Random Commercial Thought: Samuel L Jackson is in The Spirit. The movie is officially good.

Back to the show. Rey is apparently hurt now when Steph tells Tard Rey cannot compete because of a torn ligament. Layla says Regal wants Rey eliminated from the tournament. Stephanie says she couldn't agree more. How can you agree in degrees? Can you agree less? Wouldn't that just be disagreeing? These are the kind of questions that keep me up at night. And now, CM Punk who was a grand marshal in his home town's Thanksgiving Day Parade….gay. He and Kingston will take on Cody Rhodes and Manu. As Rhodes and Manu arrive, we see Orton in the back looking extremely disinterested. I love how you always see these guys watching TVs in the locker rooms but when they aren't watching TVs there aren't any in the locker room scenes.

World Tag Team Champions CM Punk & Kofi Kingston vs. Cody Rhodes & Manu (Non-title Match)

Rhodes and Punk grapple about until Punk gains the advantage and drags Rhodes over for Kingston to tag in with a sunset flip for two. Rhodes comes back and tags out to Manu who clobbers Kingston. Manu tries to toss him to the floor but Kingston skins the cat and sends Manu out instead before suicide diving. Punk comes into the ring allowing Rhodes to slip out and slam Kingston into the edge of the ring as we go to commercial.

Random Commercial Thought: I wish someone would Re-leash sonic so he'd stop going out and making shitty games.

Back to the match. Manu is tossing his lard around on Punk, picking up a two count. Rhodes comes in and you can tell he's been studying some Orton as we see some slow, boring stomping. Rhodes puts on some kind of Surfboard Stretch until Punk finally slips free. He tries for a tag but Rhodes grabs the leg and delivers a clothesline for two. Manu tags back in, delivering a "I'm a Generic Fat Guy" slam. Rhodes is quickly back in and starts mauling Punk on the ground, picking up a two count. Punk tries to come back against Manu with a Sunset Flip but fails. However he dodges an ass slam. Cody stops the tag again, but this time Punk delivers a kick to the face and tags in Kingston.

Kingston flips all around, leveling Rhodes with a back rolling Russian Leg Sweep into the Boom Boom Boom. Manu breaks up a cover, but Punk delivers a bulldog. Rhodes tries to get Kingston from behind (Bro Rape) during the distraction, but Kingston counters with Trouble in Paradise for the win.
Winners: Punk & Kingston

Random Commercial Thought: I wish my step brother was Will Ferral.

Back to the show where DX is here to whore out the merch….I kind of want that Elimination Chamber playset. Why the fuck couldn't they have that when I was a kid. Michaels has issues about Christmas Mornings. Just like Grandpa. Elsewhere, Manu and Rhodes run into Orton and ask him what he's looking at since he lost last week. Orton says he will not gloat because they beat Batista together and he sees potential in them. Potential to be pathetic midcarders for the rest of their lives. He tells them if they are interested, he'll be in his locker room….It's a trap! Elsewhere still, Jericho finds Kane by following the obvious red lights. Jericho tries to hype Kane up to kick Cena's ass.

Random Commercial Thought: Ozzy Osbourne ate bats. Hmm..How do they taste?

Back to the show where the announcers talk about Shane and Steph last week before we run the clip. Jillian Hall is here now to take on Melina. Melina's entrance, that is in serious need of more mini skirt these days, is interrupted by Santino and Beth.

Jillian Hall vs. Melina

Jillian starts off strong, beating Melina through the ropes and to the floor. Jillian follows her outside and keeps punishing back into the ring. Jillian delivers an impressive flipping slam out of a side slam position and then we get a pretty grey screen to stare at for a little bit. When it leave we find our heroin in a headlock. Like magic. Jillian sets up for a handspring elbow in the corner but she jumps into a head scissors instead. Melina tackles for a two count. Melina delivers a jaw buster and headlock take down into elbow drop, but Jillian dodges and comes back. This is the best match I've ever seen out of either of these two. Melina delivers "The Last Call" which is one of those ridiculous finishers that requires the opponent to stay bent over forever before she delivers a Canadian Destroyer type flip into power bomb pin.
Winner: Melina

Melina talks some shit on Beth, saying she's going to take the belt as Santino talks back. He says anyone can do Melina's entrance and he will show us. Oh God. Oh God please no…n-no…NOOOOOOOOO! Melina's music plays as Santino prepares….and screams in mortal pain. I think I need a stiff drink. Melina shows him how it's done and stays that way for a couple of minutes in case you haven't seen it before. Elsewhere, JBL is on his way to the ring…yeah, I cared a lot too. That's why I spent the time looking at pictures of kittens.

Random Commercial Thought: The New Xbox Experience has birthed a whole new race of hideous play dough people.

Back to the show where Santino has his balls on ice and gets a surprise massage from Goldust. SURPRISE BUTTSEX! It's like having Hornswoggle back. Lillian tells us the following match is a Street Fight. He reveals to us that his offer to Michaels now since he received no word back on last week is to take part in a Street Fight. Michaels arrives and is much to my laughter wearing a hunting shirt. JBL gets on the microphone to talk about Shawn being poor now and himself being rich. He talks more about injuries and such and I kind of zone out. So, how about that local sports team? Getting their asses beat as usual I suspect? JBL demands to be kicked in the face. I wouldn't pass up on that. You should never pass an opportunity to beat the shit out of anyone who demands to be hit. He says if Shawn does take the shot he will lose the offer forever. Shawn pussies out. Wimp. Michaels takes a walk. JBL tells him he's looking forward to doing business and
Michaels pauses…for the cock tease before leaving.

Random Commercial Thought: Hacksaw Jim Duggan should do everyone's commercials for them.

Back to the show. Batista is out for a match that I hope is going to actually happen. He's taking on….Dolph Ziggler? Oh Jesus, come on. All the times we've seen this guy and this is how he debuts? Dolph introduces himself.

Dolph Ziggler vs. Batista

Dolph offers a cocky handshake. As opposed to a handy cocks hake which is completely different. He then bitchslaps Batista and talks trash as he delivers some punches. Dolph runs from Batista out and into the ring back and forth like he's on Smackdown vs. Raw online. Batista comes through the ropes yet again and eats a step up enziguiri. Batista comes back hard and Ziggler counter a back drop into a fat neck breaker, picking up a two count. Ziggler drops several elbows for another two. Batista clobbers Ziggler and goes for a spear but Ziggler jumps over and beats him into a corner. The crowd is shitting on this right now. Batista tries to power bomb out but Ziggler kicks his knees out. Ziggler comes off the ropes with a cross body and gets dropped in a spine buster. Batista finishes with the Batista Bomb.
Winner: Batista

That was weird. Orton now arrives. Why? Who cares. I think I might go get the last piece of pie instead of caring. No seriously he says nothing important.

Random Commercial Thought: A young warrior will emerge to face the generic plot that has been thrust upon him.

Back to the show. Tonight's show is brought to you by a shitty movie, Punisher: Warzone. Elsewhere, Orton runs into Jericho who suggests they both beat Cena down after his match. The rest of their conversation is full of random tidbits of trivia you may or may not remember from the rest of the show. Tonight's show was brought to you by angst. And now, another IC Tournament Match that might actually happen. Here's hoping. We see Layla talking on the phone in the back about talking to Stephanie. You know when I said things were like having Hornswoggle back? I forgot he was actually going to be here tonight with Finlay. Fuck me.

Finlay w/ Hornswoggle vs. John Morrison (Intercontinental Title Tournament)

Finlay takes Morrison down with a headlock but Morrison starts to slip through his slow offense with a trip up. Morrison tries to slingshot into an elbow drop but misses entirely, allowing a two count from Finlay. It's a good thing these matches don't work like they do in the video game though. If that were true the only offense worth using would be Ultimate Warrior style. Orton and Cena would feel at home I guess. Morrison delivers a flip kick to knock Finlay off the turnbuckle and goes to a headlock. Finlay powers back with clotheslines and…clotheslines. A dorky senton picks up a two count. I didn't know you could make that move look lamer.

Finlay tosses Morrison to the floor where Hornswoggle approaches and gets his ass kicked. It's enough distraction to allow Morrison to kick Finlay. Back in the ring, Morrison trips Finlay up and springboards into a kick to the back of the head for three.
Winner: Morrison

Random Commercial Thought: Will the Playstation 3 animate my shirt as well? I'd like mine to be constantly playing Jenna Jameson's greatest hits.

Back to the show where we get a preview for that shitty movie Kennedy is in. I've seen better trailers by Asylum Films. Also, I laughed at him actually being Mr. Kennedy in the little credits. Here's the thing that ate Stephanie McMahon doing her best Paylin impersonation. She presents the "coveted" superstar of the year nominees. I'm sure you all care. Who the hell thought we should be doing the slammys? Is Vince going to dance again? She accuses herself of pulling an Adamle in calling the matches between the nominees wrong. This will b next Monday….an hour early…I fucking hate you Steph.

The Miz is coming to the ring to have his match after all, but with a new opponent. Who will it be? Will we care? Find out after this.

Random Commercial Thought: I love how WWE has been devouring more and more of the commercials itself and then has the audacity to make part of the actual show more commercial.

Back to the show. Miz is waiting for an opponent…and it turns out to be Rey anyway. Way to make me wait you assholes. Rey has his arm bandaged up now. He forget to paint "Hit Me Here" on it.

The Miz vs. Rey Mysterio (Intercontinental Title Tournament)

Miz hits him there. Rey counters with a head scissors into a 619 right off the bat but the top rope splash misses and he lands on his arm. Miz slams him to the corner before placing Rey up top. Rey fights off a superplex attempt but Miz comes back with a top rope arm breaker for two. The ref seems to forget what is messed up and asks Rey about his wrist instead. Good going there Clyde. Rey kicks Miz in the face to open up for a springboard senton. Mysterio comes back with a head scissors and a springboard cross body but Miz rolls through into a two count. Mysterio tries one of his signature moves that has no name, but Miz counters to a pin that Mysterio rolls through for two. They both try to roll each other up before Mysterio back kicks Miz in the face for two.

Miz bombs the most telegraphed clothesline ever that seemed to be signaled all the way from California. Miz crushes with a back body drop but his neck breaker/knee combo is countered into a roll up by Mysterio for three.
Winner: Mysterio

In the back, Kane is chilling in his random red room. I wonder why every arena in the nation has a room like that. Furthermore, I wonder what the applications are for those rooms? Do they develop photos in there?

Random Commercial Thought: Who is the Alternator Wife?

Back to the show. Here's Kane. He is big and bald…and here is Cena, he is somewhat less big and less bald. Let's watch them fight.

World Heavyweight Champion John Cena vs. Kane (Non-title Match)

Cena comes in hard, pummeling Kane until he is eventually crushed with a big clothesline. Kane tosses Cena around, dragging him out for some shots to the throat over the ring apron. Back in the ring, Kane gets a two count before crushing Cena in the corner with a clothesline. Kane picks up another two off of a dropkick to a seated Cena. And now, headlocks! Yay! I wish we could develop a new rest hold for everyone to use that just looks better. Cena tries to fight back but gets flattened by a side slam for two. Kane climbs up top to check the weight limit of the top rope. He bombs the clothesline and Cena counters into the STFU. Jericho trots out down the aisle and Cena meets him half way, slamming Jericho into the wall after beating his ass. Cena returns to the ring and runs into a foot. Should have seen that coming. Cena blocks a choke slam and tackles Kane. Kane tries another Chokeslam but Cena tosses it off and counters with the FU….effectively
having landed two moves this whole match.
Winner: Cena

Jericho stands outside the ring, having the look of a guy who just farted and can't figure out who to blame it on yet. Cena cuts off his retreat and beats Jericho all around the entrance ramp until Rhodes and Manu make the save. Cena still fights them off until eventually Randy Orton stomps him flat, accomplishing by himself what three other guys couldn't do. Orton delivers a DDT from the ramp to the concrete floor and then everyone else kicks on him for a bit. Funny they manage to put an add for Prince of Persia and a replay in during this while Jericho puts the WCW style Walls of Jericho on.

Highlight of the Night: Melina's first singles match was quite good and entertaining. I enjoyed it.

Lowlight of the Night: Cena beats Kane with two moves. Boooooo.

WWE "Creative" Award: Ziggler owns Batista for most of his match…because? ….Exactly.

Cameron Burge is TWF's resident "Mr. Monday Night", penning the "Best Damn Raw Rant, Period" appearing every..umm, Monday night. That's right. Also known as "The REAL Inferno" (not to be confused with all those impostors out there) Cameron was hand picked by Michael Melchor himself to assume any and all RAW responsibilities. A selfless man, Cameron has also dedicated most of his organs to science. (which makes his current day to day life quite uncomfortable.) Read his Raw Reports or die.
---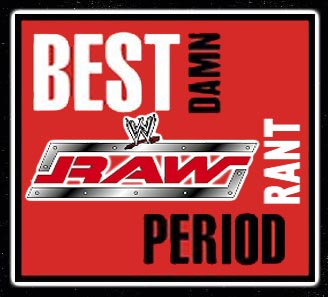 WWE RAW RANT: (12/08/08) By Cameron Burge
Tonight, we watch the only awards even more pointless than any awards given out on MTV. It's time for the Slammies and we can all only hope that Stephanie McMahon doesn't decide to take a hint from her father and start dancing. I have a feeling things would be moving that I don't want to see moving. In other news there was this ridiculously hot chick on NCIS…..what? At that is something interesting to be talking about to me.

Raw 12.08.08

Show opens with a video package about the Slammy Awards followed by the usual theme and pyro. I like Jericho was the only superstar up for Superstar of the Year without a phrase for himself so they just had him calling himself "The Best in the World". Somebody must be singing the National Anthem or the crew forgot to get King and Cole their chairs as they are just standing at the announce table for seemingly no reason. Lillian introduces Maria and Festus to present the first Slammy Award. Festus' tie is the greatest thing in Sports Entertainment History. You heard it here first. Tag Team of the year has Carlito and Primo, Priceless, Miz and Morrison, and Cryme Tyme, so basically the entire tag team division. Miz and Morrison win despite not even winning the titles any time year. They come out and hug like some queers. They then fight over who gets to hold it. Miz wants them to kiss his hand for some reason. Miz picks on Festus before kicking them
out. They then thanks their families and a bunch of memes…no seriously. They thanks Chuck Norris, Mr. T and Admiral Ackbar. IT'S A TRAP. This goes on way too long. There are so many things I could be doing right now instead. We go straight from this to Morrison's IC Tournament match. He even slows down on his way down the aisle. Love those expensive special effects. It's Hollywood material. He should just be happy Michael Bay didn't make his entrance.

CM Punk vs. John Morrison

CM Punk immediately tries a rollup for two and Morrison counters into his own. High impact maneuvers. Some chain wrestling ensues with Punk attempting a GTS, but Morrison slips out. Punk back kicks him and misses the Pepsi One but stops himself, landing a mule kick for two. Morrison powers back with a dropkick and the fight spills to the floor with Punk catching Morrison with a Pepsi One against the side of the ring. Punk springboards into a Cross body as we go to commercial.

Random Commercial Thought: Michaels Jackson's Moonwalker is the greatest video game ever. You "rescue" little girls and dance with enemies.

Back to the show where Punk's leg is being worked over because he was dumped to the floor on it apparently. Punk tries to come back with a kick and just hurts himself like a retard. That was genius. The thing I think of when fighting is to fling my injured body parts at the enemy. I can only fear what he would have done with a groin pull. Punk delivers a top rope Hurricanrana and leaves himself hurt as well. Punk crawls over for a two count. Somehow Cole manages to fit Pat Patterson into the same sentence as Triple H, The Rock, and Steve Austin. That's not something I ever though I would hear. Morrison delivers a huge kick to the back of Punk's head, ducking under Punk's kick and rising up into his own. It was awesome. He gets a two count.

Punk comes back now with some offense off the ropes for two. Punk hoists Morrison into the GTS, but Morrison counters into a rollup for two. Punk delivers a roundhouse and scoops up for a second GTS which he lands for three.
Winner: Punk and the mysteriously disappearing leg injury

And now a video package about Cena as well as an interview with him. I could tell you what was said here but it's not important. He's coming to get Jericho. He keeps repeating Hustle (except when he blows up two minutes into a match…), Loyalty (to…?), Respect (with words like Poopyhead…).

Random Commercial Thought: Magneto seems to have gone bald.

Back to the show where we see our Best Finisher award being given out by Candice and Cryme Tyme. What the fuck are those things JTG is wearing? Glasses? Retard Goggles? They have a finisher name off. Shad wins with the Sharpshooter. Nice. Candice makes an emotionless joke that I think was referencing to oral sex. The first nominee is Taker's Hell's Gate submission. The RKO is next despite Orton barely wrestling this year. Evan Bourne and the Shooting Star are next with Big Show being there for his…knock out punch? Is that a finisher? What the fuck? Cryme Tyme tries to steal the slammy until Candice gets it back and they leave. It's actually kind of awkward. Evan Bourne wins it and Mike Knox appears. He stares face to beard with Candice and takes the trophy. She doesn't seems to give a shit about giving it to him either. Ho.

And now, Randy Orton. He says apparently despite being champion earlier in the year and having beaten all of the nominees, he still isn't good enough to be Superstar of the Year. That sounds about right to me. He then goes on a whiny emo fest about his history, starting with Evolution. No mention of who he beat to become champion. I wonder who that was. I spent the rest of this promo watching game play footage of Boogerman. It's that good.

Random Commercial Thought: Tivo will change your life…and beat your mom.

Back to the show. ECW was the most watched thing on SciFi for 10 weeks in a row. This isn't because the rest of Sci-fi network's shows are completely trash or anything. Not even. MVP is here to talk shit on some Philadelphia player. Nobody cares except Philly itself. I like Rocky. And now…it's MVC…Most Valuable Charlie. Oh…god.

MVC vs. MVP

Charlie imitates MVP in every way entirely with the crowd rallying for MVC. MVP elbows out of a waistlock and tosses Haas around, delivering a neck breaker for one. MVP mounts for some pummeling and covers for another one. Grounded abdominal stretch. I notice Haas has been letting his hair grow back in a normal fashion. Haas works out and fights back, walking into a cheap shot into a face buster. Ballin' Elbow drop which is probably the dumbest thing I've ever seen. MVP tosses Haas to the floor. I have to wonder what the hell MVP is supposed to be. What is that bullshit outfit he's wearing. MVP gets distracted by that guy at ringside and walks back into a punch combo from Haas back in the ring. Haas delivers the Ballin's elbow drop right into MVP's knees. MVP pummels Haas and beats him into the corner, but the running kick misses, leaving him hung up for a rollup from Haas for three.
Winner: MVC

Random Commercial Thought: Panormous. So big it crosses THE NATURAL BORDERS OF REALITY.

Back to the show with Matt Hardy presenting Extreme moment of the year. The Cena/JBL Parking Lot brawl, Undertaker being flung from the ladder by Edge, HBK going through the OBSCENELY expensive Jeritron, and Hardy diving from the titantron onto Orton. The slammy goes to Mae Young for taking a scoop slam…no not really. It goes to Jeff "I'm not wearing Women's makeup" Hardy. That pinstripe suit makes Matt look like a rejected cast member of the Godfather. Jeff tells us the Reader's Digest version of his life.

And now it's time for another match that one of the participants conveniently had to already be out at ringside for.

Random Commercial thought: Axe body gel has yet to make a women jump me like I was a shoe sale.

The Match is already underway and Hardy is in control.

Jeff Hardy vs. Chris Jericho

Jeff beats Jericho into a corner but Jericho powers back and delivers a back suplex for two. I'm still trying to figure out why WWE enjoys adding the announcers from all the shows into these types of matches. Jericho tries to dump Hardy but he hangs on the apron before eating the springboard dropkick. Jericho puts on a half Nelson (The other half is still on the Simpsons). For some reason, JR spends this time sucking Jericho's dick. Jericho comes back with a few flying forearm shots and a leg drop to the "lower abdomen" that is obviously not a low blow at all. Forward suplex or whatever you want to call it, leads to Jeff going up top but meeting Jericho. Jericho is pushed off but dodges the Swanton. Hardy takes a Lionsault for two instead. The Walls are attempted but Hardy kicks him off. Jericho goes right back for another attempt and is rolled up for two instead.

Hardy delivers the mule kick slingshot dropkick to the sternum in the corner. Hardy seems to botch the run for a Whisper in the Wind, and they reset the move up with Hardy landing it, but the Twist of Fate is countered into the Code Breaker.
Winner: Jericho.

In the back Orton and Priceless are having an oiled chest contest…or at least I assume that's what they are doing just staring at each other as we go to commercial.

Random Commercial Thought: The Spirit should be an alcohol themes hero.

Back to the show. Kane and Kelly Kelly will present an award here…wait…KKK? OH SHI-

Kelly says many couples have touched hearts and love is a wonderful thing. Kane says he still has a burning sensation and the last time he was involved in a relationship, he tombstoned a priest. I'll let you guess which part I made up. Glamarella is first up, Edge and Vickie is next, Layla and Regal, and….Finlay and Hornswoggle? That's an attraction I didn't want to know about. Edge and Vickie win it. OH JESUS SHE'S HORRID LOOKING. Vickie accepts the award, neck brace and all. Santino and Beth come out to complain about not winning. Santino challenges any of the other couples to a match.

Random Commercial Thought: Three in the morning online is for porn and porn only.

Back to the show. Obviously the ones who accept the challenge are Finlay and Hornswoggle. I am shocked. Shocked I say. Hornswoggle has Santino's Unibrow which all this time I had through was an insect on his face. Beth crushes Finlay's hat and Santino slaps him, but gets backslapped clear across the ring. Finlay demands to start with Finlay but Beth wants to be in. He convinces her to sit out eventually. That's right bitch get back in the kitchen.

Finlay & Hornswoggle vs. Santino Marella & Women's Champion Beth Phoenix

Santino gets beat right the fuck down. Finlay crushes him into the corner and runs into a kick, but a follow up by Santino is counters into an inverted atomic drop. Hornswoggle tags in and fights Santino while he's on his knees, delivering a DDT. Horny goes up top and gives a Tadpole splash for the three.
Winners: Horny and Finlay

T-Long (that should be a porn name) and Melina are here to deliver the Diva of the year award. Melina is looking…excuse me I'll be back later…..oh right the recap. Um Beth, Mickie James, Kelly Kelly, and Michelle McTaker. Beth wins the award who is still in the ring holding Santino up. She drops him and runs up the ramp to get the award. Melina and Beth stare down for a sec and unfortunately do not engage in some sort of lesbian sex scene. I call bullshit. Beth does shove Melina though. Come on wardrobe malfunction….They brawl with Long and Santino watching until Beth is thrown into Santino's crotch. He proceeds to almost barf and talk in a high squeaky voice. The epitome of comedy. We find out that Triple H and Batista will not face each other anymore, but instead take on Priceless and Orton in a handicap tag match. I suddenly care less.

Random Commercial thought: Magnum PI would have been better with Monk.

Back to the show. Alecia Fox (who?) and Joey Styles are here to give away the OMG award. CM Punk cashes in his MITB, Taker sends Edge to Hell, Mayweather breaks Big Show's nose (that was stupid), Cena returns to win the Rumble. Punk wins and although he put on a shirt and hoodie, he seems to have forgotten the pants…and right as I wrote that he points it out himself. Dick. He thanks every Philladelphia hero ever, including Rocky. I like Rocky. Did I mention that? He has to have Joey Style say Oh My God for him. I love Joey Styles too. And here are Kofi and Rey to get it on.

Kofi Kingston vs. Rey Mysterio (IC Tournament Semi-final)

Kofi and Rey exchange some quick moves with Rey gaining an early advantage until he has to favor his injured arm. Kofi comes back and pick sup a two count before locking on an arm bar. The arm bar goes on for a while before Kingston flips about out of a 619 and slams Mysterio with an odd dropkick for a two count. Rey tries to come back but Kingston rolls him up in a bridge for two. Kingston leaps at Mysterio in the corner and tries a springboard cross body but nobody is home. Mysterio rolls him up then for a three count.
Winner: Mysterio

That was anticlimactic and rather random. Post match, they shake hands to show they are both faces in case we forgot as we go to commercial.

Random Commercial Thought Drawn to Life was an ass game, I wouldn't bother mentioning you were the creators of it.

Back to the show. Kennedy and Eve come to present Match of the Year and somebody seems to have randomly hung a microphone there for him to introduce himself as well. Where the fuck do they even get those things? Nominess are WM24's MITB, the 2008 Royal Rumble, Take vs. Edge Hell in a Cell, and Ric Flair's last match. Flair's match wins with Michaels accepting it. JBL interrupts his speech to take the award for himself and leave. Well that was awkward. Not something like that happens to you every day. Isn't there supposed to be some kind of committee making sure these people actually get their trophies?

Random Commercial Thought: Call of Duty World at War. The most important thing: sending attack dogs after your foes.

Back to the show where we are about to get our Handicap match underway. Priceless is too unimportant to come out to their own theme music which is good because it sucks horribly. Instead they all come out with Orton. It's not often I ever have the urge to team up with a guy who gave my partner a concussion on purpose but whatever.

Priceless & Randy Orton vs. Triple H & Batista (Handicap Tag Match)

Rhodes and Batista start out and it goes about as well for Rhodes as you might expect it too. Batista beats the holy hell out of him for a little while. Cody looks really awkward as he's the only person in the ring not wearing dark black trunks. Instead he opted for royal blue. Trips and Batista double team Rhodes, inviting Manu in. He gets his ass kicked as well and is sent to the floor with Rhodes. Orton tries to sneak up from behind but is scared off when Trips and Teest turn to stare him down and we go to commercial.

Random Commercial Thought: Lance Armstrong outraced his tumor.

Back to the show. As per usual, the commercial break has magically changed the tide. I often wonder why this happens. Do the heels know when we at home are not watching? Is it not important for us to see how the control in a match changes so we always miss the heels taking over? What the hell? Trips is being stomped by Orton and worked into the ground. Many headlocks ensue. Trips throws off Orton, but can't make the tag before Cody comes in to drag him back. A bull dog attempt has Cody sent flying across the ring. Apparently one little throw is enough to wear whimpy Cody down as much as all that ass kicking did to Trips so Manu and Teest get the tags.

Manu is ran over by a clothesline and dropped with a spine buster. Batista sets up a Batista Bomb, but instead throws Manu into Cody who is leaping off the top. Batista turns in circles trying to figure out who to fight. Orton tags himself in blind on Manu Batista clotheslines Manu. Orton tries an RKO but is thrown into Triple H. Batista tries a Batista bomb while Manu and Trips go to the floor but Cody hits him from behind allowing the reversal into the RKO.
Winners: Priceless & RKO

Random Commercial Thought: TNA's wrestling game is actually pretty good, if a little shallow by the standards we are used to now.

Back to the show. Ron Simmons and Mickie James give out the "DAMN Moment of the Year" award. We are definitely pushing it now as for awards to give out. What's next? "Best Gay Joke of the Year". Nominees: CM Punk attacking Chavo in Mariachi suit, Santino doing the splits, JR and Tazz in costume, and Khali's kiss cam. Oh. My. God. Oh wait, that's the wrong award. Khali wins it. Wow he's dressed up well. Where that hot bitch he has for a wife? Khali's acceptance speech is the greatest thing ever. Mickie tries to make out with Khali for some reason and Jillian sings a song. I um…and here is Funaki, Finkle, Slaughter, and Duggan. What the fuck is going on? Amidst all this Ron gives hi two cents. Also Mickie does make out with Khali. I am very confused. This was all some kind of fucked up crack dream segment.

Random Commercial Thought: Jewelry Savers, they rescue Jewelry in peril. For a price!

Back to the show. Who is this black guy rapping in the ring? It's Rtruth or however you spell his name. This is what I get for focusing solely on Raw. I get lost. Here's a guy whose name is ENGRAVED in my mind. Dolph Ziggler.

Dolph Ziggle vs. R Truth

Dolph offers a hand but Truth shakes his nuts at him Deez Nutz, Nigguh! Dolph attacks hard and fast but Truth comes back and gets wrapped around the rope but Ziggler in a very awkward way that sends him to the floor. Ziggler drops some elbows and picks up a two count. There is some stupid announcer conversation going on about JR being named Frank. Dolph goes to a vicious headlock of death. Truth escapes and takes a few hard rights for his efforts. Truth rams Ziggler hard into the corner, countering an Irish Whip. Truth clotheslines Ziggler to the floor leaps over in a suicide dive. Both men continue to fight outside as Ziggler introduces himself again. Ziggler trips Truth up on his way back into the ring and slips in at the edge of the ten count.
Winner: Ziggler

Dolph introduces himself…as The Winner….Dolph Ziggler.

Random Commercial Thought: Why has Ozzy yet to upgrade to King of Darkness?

Stephanie is here in all her bloated glory to present the Superstar of the Year award. Thankfully there is no dancing at all. Jericho surprisingly wins the award. Apparently Triple H was gone on that meeting decision. Jericho says he knew he would win. This is because he read the script to make sure his lines would be right. He lists off his accomplishments this year and claims to be the one who will win at Armageddon. Cena interrupts this. Cena rushes out to kick some ass and Jericho runs out through the crowd like a little pussy. At least SOMEONE manages to get home with their Slammy award. And now here is Edge, thankfully minus that beard he had developed the last time I saw him. Let the best of Infinity series continue.

Random Commercial Thought: I wish Jack Nicholson ran the tree farm by my house.

Back to the show.

World Heavyweight Champion John Cena vs. WWE Champion Edge (Non-title Match)

The match is already underway and Cena is having his head worked over in a headlock, the move of champions. Cena fights free but Edge lands a wheel kick for two. Cena rallies back now only to be face planted once more. Edge picks up another two count and decides now is a good time for another rest hold. Yay headlocks! Edge sets up Cena and prepares for a Spear, but Cena tackles him first. Cena goes into his general offense, delivering the proteome and Five Knuckle Shuffle. This takes so long I can only assume Edge was busy doing his taxes in his head. Cena attempts and FU and Edge escapes, trying a clothesline. Cena ducks and goes for it again, but Edge escapes to an Edge-o-matic. Cena counters and breaks back into an FU, but once against Edge slips free. Edge tries a spear, but Cena trips him into the STFU. It is right about there that Jericho comes down the aisle.
Winner: Cena

Cena wins by DQ fighting Jericho back into the crowd and Edge gets up only to be tackled by Triple H. Trips beats him down into the corner before Hardy takes them both down. A Three way brawl breaks out with Hardy being sent to the floor and Triple G delivering a spine buster to Edge. Edge is subsequently sent to the floor. Hardy springboards off the stairs into a dropkick on Edge. Edge decides to get the fuck out of Dodge.

Highlight of the Night: Hardy and Jericho was pretty much the best match on the card. Great showing.

Lowlight of the Night: Kofi and Rey was just an overall disappointing match where not much at all happened, despite the two people who were in it.

WWE "Creative" Award: …Why was there a "DAMN!" award? POR QUE?!
Cameron Burge is TWF's resident "Mr. Monday Night", penning the "Best Damn Raw Rant, Period" appearing every..umm, Monday night. That's right. Also known as "The REAL Inferno" (not to be confused with all those impostors out there) Cameron was hand picked by Michael Melchor himself to assume any and all RAW responsibilities. A selfless man, Cameron has also dedicated most of his organs to science. (which makes his current day to day life quite uncomfortable.) Read his Raw Reports or die.
---
---
---