(posted originally in Spring 2004)
Not a day goes past where there isn't someone, somewhere inevitably asking: "Where's The Ultimate Warrior, and when is he coming back?" However, what most don't realize is that even though the enigmatic Warrior has seemingly walked away from sports entertainment, his presence is still felt all around the world. You see, since his self imposed retirement from Wrestling, Warrior has chosen to spend the bulk of his free time walking running the Earth, dispensing Destrucity like it was beer to an Irishman to all those who cared to listen; spreading his message abroad, and often, righting many wrongs that may fall before him (after a series of clotheslines; and, well, clotheslines.). Many of these tales and adventures have been housed in an ultra-secret novel known as "The Book of Warrior", in which Warrior's disciples (Not Ed Lesley) have kept meticulous records of their messiah, in journal form... and actually written in English (I was surprised, too).

These individual tales are known as "The Chronicles of Warrior", and luckily for us, we here at The Wrestling Fan.com have been privy to this information, and will start to reveal some of these previously unknown journal entries.

Join us now as we reveal but one of these stories: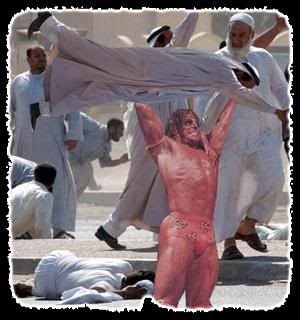 OPERATION WARRIOR:
By now we're all aware of "Operation Iraqi Freedom" initiated by President George W. Bush in hopes to fully liberate Iraq from the "dictatorship" of Saddam Hussein and not say, oil. Trust us. What the world does not realize is that in the last several months, The Bush regime had a secret weapon at their disposal,the gullability of 50% of the nation a man who ultimately(~!) turned the tide for the U.S., and in turn helped the fighting men and women of the armed forces triumph in their goal. I'm of course speaking of The Ultimate Warrior, or as he was code named: "The Weapon of Mass Destrucity"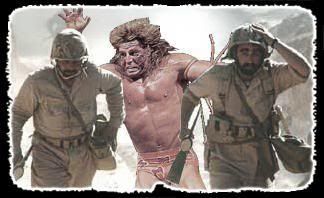 It was decided about 6 months ago that despite their best efforts, the Armed forces were still suffering casualties to a people, who seemingly wanted no part of democracy. It was at this point the call was placed to Scottsdale Arizona, err "Parts Unknown", and The Warrior. After being briefed on the dire situation, Warrior was willing to do what he could.... providing there were no homosexuals or Mexicans in his platoon...

Truth be told, It was not very difficult to convince Warrior to bring down Saddam. You see, he was still quite angry over the fact that it was Hussein who put Sgt. Slaughter up to "stealing" his WWF Title in 1991, and was willing to do whatever was necessary to punish the Dictator for this unpardonable "sin". With this, OPERATION WARRIOR was set into motion... you know, before blowing up five minutes into the plan...


Day 1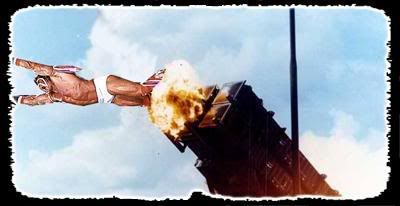 Right out of the gate, there was some minor dissension between Warrior and the other men aboard the Black Hawk chopper headed over the Middle East. When asked which was the better country in which to enter Iraq, "Turkey or Kuwait", one soldier stood up and said "I think Turkey is best". Warrior caught wind of the last statement and completely misinterpreted the boy's words, before going on a long winded tirade of health consciousness, singing the praises of soy, and preaching how a Warrior should never sully his holy temple by consuming such a foul bird. All was settled, thankfully, when the Master-Chief relayed to Warrior that the men were not speaking of fatty luncheon products, but instead the best possible route of attack. Warrior still insisted he stand still, however, for a shoulder tackle. He was 34. And terrible at selling.
Day 2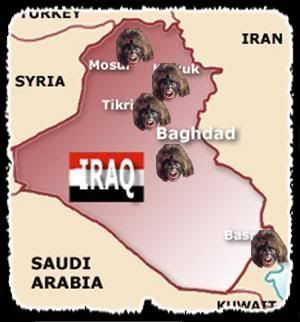 Having now landed, the troops set up camp and went over strategies. (Warrior made no suggestions himself, however, instead hoping Pat Patterson would call in and lay it all out). Seconds later, Warrior shocked the men by announcing that he required no weapons, and further baffled the troops by then shedding his fatigues, insisting on doing battle in a tiny snug pair of bikini briefs, explaining that he's at his best when completely "unfettered".
With the Battle plan firmly set in place, Warrior once again bucked authority, refusing to travel by tank or even by helicopter, instead insisting on making his "surprise" assault by being launched by the division's Patriot missile launcher! (Designed by Del Wilkes, in between sets of fully masked football drills). After much deliberation, it was ultimately (no pun intended) decided that Warrior's unique assault would be the most unpredictable, so Warrior was subsequently greased up ironically and packed into the phallic-like launcher where he was then propelled into the sky like a homophobic dildo.
Warrior, as he cascaded through the darkened desert, soon realized that unlike a standard missile, he lacked a guiding system (something that may have came in handy in '91 whilst holding Vince up for money) but fortunately for him, he learned to manipulate and contort his body during his many explosive flying shoulder tackles, and was thus able to guide himself into proper position....
Upon impact, the Warrior destroyed much of the Iraqi bunker, and proceeded to attack the unprepared enemy with a barrage of thunderous clotheslines. He then began recklessly pressing every man in sight over his head, friend or foe, before all was left was a trail of broken bodies. Dave Meltzer gave the blitz **1/4
With this first victory under his belt, (Blue, and for sale on Ebay!) the Master Chief contacted him by two way radio and asked the Ultimate One if he needed a chopper to retrieve him. Warrior of course refused, and instead sprinted to his next location, and his next, unloading the patented Warrior offense on all those who had opposed him. (For 4 minutes anyway. After that he just looked at his hands and mumbled).
Day's 3-6
Warrior only continued over the next days, refusing air pick up and instead running from city to city, destroying all who dared cross his path, if only to occasionally stop to briefly discuss the perks of a mutually rewarding nation-wide flat tax. Because, as Warrior always says, just because you smite your enemies with extreme prejudice, doesn't mean you can't first sell them on responsible fiscal government.
All in all, Warrior made his way across the ENTIRE country in SEVERAL DAYS by FOOT. Eventually Warrior made his way to Baghdad, but unfortunately for our face-painted hero, The Iraqi forces were ready for him, and unloaded heavy artillery, apparently mortally wounding him.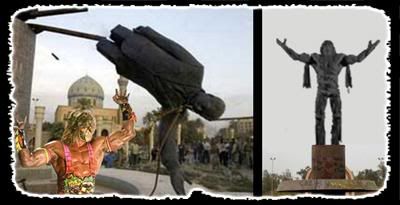 However, as several of the soldiers began to add insult to injury (they told him that Randy Savage carried all of their matches) by beating him with sticks and in some cases the butt's of their rifles, Warrior began to ignore the pain. Soon he got to his knees and grabbed the bottom strand of the barbed-wire fence used for a barricade and began to shake it profusely! This just made the soldiers more angry and they only increased the ferocity of their attack -- but none of this registered with Warrior, who now effortlessly shrugged off each blow while grabbing the second strand of the fence, then finally the last!

Warrior was now a man possessed (Papa Shango?) and began throwing wild punches and clotheslines, before grabbing one man by the turban to hold him in place. Warrior himself then began to jog on the spot. The remaining soldiers were so shocked by Warrior's super human display that they did nothing to stop him, even as he launched himself back first into the fence and then propelled himself forward into a devastating shoulder tackle that caused the soldier to disappear into the night sky.
The remainder then surrendered immediately, to save themselves from a similar fate, because let's face it, the battle was over the moment Warrior spotted those ropes.
Day 7.
The next day, Warrior traveled the city, walking, posing, oiling his body. All those who'd oppose him then bowed at his feet in unconditional surrender. (I think it was the ooil). It was from there that Warrior noticed that a large dubious statue of Saddam Hussein was standing before him, almost mocking him. ( Why not? This was a guy who talked to himself for 4 minutes at WM 7, after all). He then instructed his fellow allies to destroy all evidence of the man as he wanted it completely forgotten (Vince McMahon was seen taking notes.). When several of the men had difficulty breaking the structure, Warrior simply delivered an ominous promo and followed it up with a disturbing snort. The statue then simply tipped over, buckling to Warrior's ultimate will.
Warrior would then instruct those around him to construct a *new* statue, one that would stand forever. And although the Qur'an distinctly spoke out against men who wear make-up, the Iraqi people couldn't help but be compelled by this exotic muscleman and constructed the statue with pride, placing it over the shattered rubble of the previous structure. Warrior then bellowed "mote it be!" but no one knew what the hell he was talking about and just went back to building....
Warrior then finally declared victory, as all rejoiced. Children began to gather around him, in awe of this strange painted man who single-handedly leveled oppression...all in his underwear. Their parents then scooped them up in terror, as this scenario never tends to end well for anyone. WARRIAH!

Day 8 & 9.
In celebration of the end of tyranny, (which we've learned he can finally pronounce) President George Bush himself flew out to greet The Warrior, and to pass along his congratulations. During the entire flight back to the U.S., when asked about his mission, Warrior began babbling about "those who believe, and the skeletons who made the sacrifices" to which Dick Cheney leaned over and whispered to the President firmly, "Christ, this guy makes even less sense than you do!". He then went back to counting the souls he had collected for Satan.
Finally, back in U.S. soil, Warrior was asked to address the House of Representatives and make the official announcement of victory. Warrior then went into a bizarre tirade, pacing back in forth, before expounding these words: "GREETINGS AND UNPARALLELED SALUTATIONS SEEKERS OF HIGHER EDUCATION, THE WARRIAH HAS COME AMONG YOU TO DISSECT THE APOCALYPTIC DISSONANCE FOR TRUTH, THE VERY SYMBIOTIC GRAMMAR WHICH SO BRAGGADOCIOSLY OPPOSES THE COMPLEX BIORHYTHM OF TENACIOUS DESTRUCITY! AND MOTE IT BE , THE VERY COMMANDMENTS WHICH OCCUPY THE MAIRSEDOATES AND DOESYDOATES OF THE HUMAN SOUL ARE LAY WASTE BEFORE THAT WHICH THE WARRIAH POSSESSES!...Always Believe."
As the crowd sat there stunned,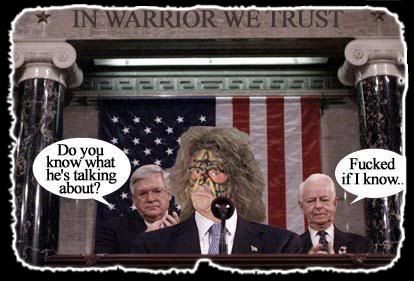 Warrior then suddenly noticed some tobacco lobbyists in the crowd, and let out a loud grunt before attacking them, and bellowing for all to hear: "Be a Survivor ... Donnnnnnn't Smooooooke!"...
At that moment, Warrior's music began mysteriously blaring throughout the House, and after knocking over the podium and intensely pacing around the stage, Warrior than leapt off said stage and sprinted through the sea of white hair, clotheslining every Democrat in his path, before stopping to briefly pantomime a "press to the heavens" motion, before disappearing out the doors altogether, not being heard from since. WARRIAH!
And thus is the tale of how Warrior single-handedly turned the tide in the Gulf. Almost one week later, Saddam Hussein was captured by U.S. forces, after being driven from the hole he was hiding in (OVW?) by what is reputedly described as a "menacing make-up wearing man in his underwear" (Not Michael Jackson). Pundits have assumed this man was Warrior, because who else has such an extensive knowledge of holes and hiding spots so to make a longwinded nonsensical entrance while carelessly putting wrestlers lives in danger? Or something.
The Destrucity carries on Next month! Maybe!
Stay tuned!
WARRIAH.