ˇ In other news that comes as a surprise or a concern to no one (courtesy of
RollingStone.com
, Michael Jackson's Neverland Ranch was raided and searched once again by Los Angeles police and district attorney's investigators. Of course, this is nothing new. We all know that.
Do I think Jackson diddles some little boys? Actually I kinda doubt it. Jackson's problem isn't that he's similar to K-Mart's "Blue Light" special (little boys' pants half off), but more to Peter Pan...
You see, Jackson grew up as an entertainer under a VERY domineering (read: abusive as all hell) father. He was never allowed to have a childhood like other kids – his dad was too busy keeping him and the others on the road and in the studio to make money. Jackson worked in the "family business" since he was 5 years old, and he did so around the clock.
Now, decades later, Jackson has built a massive fortune around that business. And, in response to his upbringing, now has the money and power to have the childhood he was denied. And now he can do it for the rest of his life.
That includes playing with other kids as his friends. And slumber parties. Things that other kids do, but the REAL problem is that Jackson doesn't realize that he's not a kid anymore.
Hence, it may not sink in that he's probably doing something VERY wrong. But the Los Angeles police department will be GLAD to let him know every now and again, and the DA's office will be glad to prove it starting on January 31 of 2005.
I shouldn't even have to say that what Jackson is doing is wrong. I know it's PC to do so and all, but use your head. That should be a foregone conclusion. This isn't a defense of Michael Jackson, merely a reasoning behind his actions. A reasoning that has helped him escape the memories of a hellish childhood but will probably create a whoile different kind of hell should he be found guilty.
ˇ The Blistering Newsletter strikes again with what's contained on the DualDisc Anniversary edition of Nine Inch Nails' The Downward Spiral. The first part is the album itself, of course, while disc 2 contains:
"Burn" (from the Natural Born Killers soundtrack)
"Closer (Precursor)"
"Closer To God"
"Memorabilia" (all from the "Closer To God" EP, aka Halo 10) "Piggy (Nothing Can Stop Me Now)"
"Hurt (Quiet)"
"The Downward Spiral (The Bottom)" (all from the "Further Down The Spiral" remix album – Halo 11) "A Violet Fluid"
"All The Pigs, All Lined Up" (both from the "March Of The Pigs" single – Halo 8) "Dead Souls" (from "The Crow" soundtrack)
"Ruiner"
"Liar"
"Heresy" (all previously unreleased demos)
The DVD itself is mostly a DVD-audio presentation of the above tracks, but also includes 2 videos – for "March of The Pigs" and "Closer" (no word on whether it's edited down) and the live video for "Hurt".
All in all it sounds okay, but the gripe I have with the bonus tracks is that...I already have most of them. Save for the 3 demos, everything else is already out there and available for purchase. As for the videos, if you picked up NIN's
Closure
video set, then you already have all of those as well.
Of course, this is a GREAT way to get more money out of the rubes that just bought the album for "Closer" and "Hurt" in the first place, so the marketing strategy is sound. Still don't know if I'm going to wind up getting this one or not.
ˇ Courtesy of The Blistering Newsletter, something that may need to be picked up (if you're familiar with them) is the Guano Apes' Greatest Hits set,
Planet Of The Apes
(heh). Just in time for Christmas, the 2-disc set contains:
Disc 1
01. Break The Line (video)
02. Open Your Eyes
03. Big In Japan
04. Rain
05. No Speech
06. Innocent Greed
07. Living In A Lie
08. Dödel Up 09. Lords Of The Boards
10. Pretty In Scarlet
11. Mine All Mine
12. Quietly
13. You Can't Stop Me
14. Wash It Down
15. Scratch The Pitch
16. Don't You Turn Your Back On Me
17. Gogan
18. Kumba Yo!
+ Multimedia Part
Disc 2
01. Stay
02. Underwear
03. La Noix
04. Cuts
05. Candy Love
06. Trumpet Song
07. Cream Over Moon
08. Allies
09. Ain't Got Time
10. Electric Nights
11. Counting The Days
12. Open Your Eyes - Calcia Mix
13. Maria - D+B Smooth Mix
14. 360° Aliendrop - Kaleve-Mix
15. Don't You Turn Your Back On Me - Frozen Mix
16. Big In Japan - Space Jazz Dubmen Mix
17. Dödel Up - Kukliczi Mix
18. Plastic Mouth - G-Ball & Kaa Mix
19. Pretty In Storm - G-Ball RemixA
Now, unlike other Hits releases put out just for Holiday cash grabs (kinda like
Evanescence
), there's a twist to this story (reprinted from The Blistering Newsletter):
Guano Apes guitarist Henning Rümenapp has posted a message on the group's web site explaining the band's decision to go their separate ways following the completion of their upcoming German tour in support of the just-released "best of" CD, "Planet of the Apes". His message reads as follows:
"I've been reading the guestbook a lot recently and saw many different opinions and emotions, I can only write and speak for myself, but I want you to know that I understand how sad, angry and disappointed you are.
"It has not been an easy decision for us to go separate ways after the tour in February. It's been 10 years of GUANO APES now, and it has been an amazing time! We've had wonderful moments, incredible experiences and most important: fantastic fans!
"But after all, it has not always been easy... a band consisting of four very different characters, different opinions and visions. We have made a lot of mistakes, every one of us, left things unspoken, undone and finally lead ourselves to the point where we can't see any perspective to go on like before.
"I'm still sure that this band has a lot left to say musically and who knows what time will bring... Please stay with us, maybe sometime we'll hit the road together again.
"Until then, we are working on the documentary DVD, Friedel has been eagerly collecting and cutting material, and preparing the tour for February.
"We are sorry we're not able to do more shows and give all of you in Europe the opportunity to rock with us one last time, still we hope that some of you will make it over to Germany, to make this a great tour!"
Well, sonofabitch...they're breaking up! I've only ever heard one song from them (and I really enjoyed "Open Your Eyes"), but now I may have to get this to see what I missed over the years. Why do all the good (or at least possibly good) ones have to go while a band like Motley Crue gets back together for more noise pollution?
ˇ Courtesy of RollingStone.com comes another update on the latest rock trend – dying bands forming new bands. The Panic Channel, comprised of 3/4 of the most recent Jane's Addiction lineup – Dave Navarro (guitar), Stephen Perkins (drums) and Chris Chaney (bass) – and new vocalist Steve Isaacs (late of Skycycle), made their debut at Los Angeles's Key Club as part of a homeless benefit for radio station Indie 103.1. The band played 9 never-before-heard songs assumed to appear on the debut album set to hit sometime next year.
First, the band itself: I like Isaacs simply because he played the title role of Tommy on the touring stage production. Anyone with that kind of resume gets high marks from me. Now all they need to do is keep it from becoming Dave "Will Play For Food" Navarro's vanity project and they may do okay.
With that done, it's now time to present the Official Double M Old Bands/New Bands Algebraic Scorecard! Trust me, this'll be fun AND educational...and even in chronological order of release (to the best of my knowledge)!
(Note 1: This is ONLY for members of other bands that have formed NEW bands. Swapping members obviously does not count.)
(Note 2: This list ONLY comprises from 2000 on. If I went digging into the last century I'd be doing this through next year.)
(Rage Against The Machine – Zach De La Rocha) + (Chris Cornell – Soundgarden) = Audioslave
(Guns N' Roses – (Axl Rose + Dizzy Reed)) + (Scott Weiland – Stone Temple Pilots) + some new dude = Velvet Revolver
(Creed – Scott Stapp) + some other new dude = Alterbridge
(Jane's Addiction – Perry Farrell) + homeboy from Skycycle & Tommy = The Panic Channel
As you can see, the is the "it" thing to do amongst bands this century. As for how good any of them are...2 out of 4 have improved their standing, 1 still sucks as bad as they did before, and the jury's still out on the last one. You probably know me well enough to be able to determine who goes in what category there.
ˇ In somewhat of a follow-up to last week, word comes from Blabberbag.net that Evanescence will take the stage at this year's Billboard Music Awards show set to air December 8. The band joins an awards-show lineup that already includes Gwen Stefani, Nelly, Usher, and Green Day. Not much competition there, but anyone eyeing a copy of Anywhere But Home should be watching this to see if Amy Lee's vocals are live or if they're Memorex. I'll lay $5 on the latter, and if she lip-synchs then that's a default victory. Hand over my money, bitch.
ˇ And now, the Double M column presents what may or may not be a running feature, "What Kind Of Shit Is This?!"
Part 01 comes from Blabberjag and spotlights Def Leppard singer Joe Elliott. Elliott is set to contribute a big part to "The Story Of Bohemian Rhapsody", a BBC3 documentary about the making of one of the most famous Queen songs ever to come ou—
Hold it...a documentary about a song? Umm, why? Granted, "Bohemian Rhapsody" is one of the most recognizable songs ever, but an entire fucking documentary about it? Define: needless.
The story is simple, folks: Freddie wrote it, played it on piano for the band, convinced them to do it, recorded the music, overdubbed the vocals so much that the tape wore clear (prompting them to do the final take and move on), released it, it sold millions and was revived for Wayne's World. Show over. This has been a BBC3 production.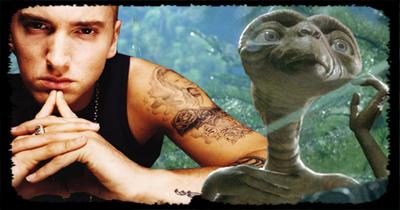 ˇ What Kind Of Shit Is This?!" part 02 comes courtesy of RollingStone.com, which announces that the high priest of the Raelin clan (named Rael, natch) has bestowed honorary priesthood in the cult upon one Marshall Mathers. The decision comes on the heels of the "Mosh" video, which Rael says earns Eminem his respect for being "a public figure not afraid of jeopardizing his careers for their standing up for peace." If that's the case then why not include Cat Stevens, every one of the Beatles, A Perfect Circle AND REM, and maybe Bruce Springsteen while we're at it? Since they're already dead, most of the Beatles would make sense since the Raelin clan could try and clone them as well...
ˇ "What Kind Of Shit Is This?!" part 03 comes again from RollingStone.com and proves that the Doors' Ray Manzarek will do just about anything to use his connection with Jim Morrison to keep the money raking in. You see, Manzarek is convinced that Jim Morrison will join him onstage at a show in Australia next year. No, not his totted, alcohol-imbued corpse rising from the dead; just his ghost.
And that's not even the BEST part! Manzarek is certain of this because he and Morrison worked so well together the last time Morrison's spirit came a-callin' at a show in Paris.
I swear to God, the only thing left for Manzarek to do is dig up the corpse himself and slip Jim the ol' love lizard (no pun intended) from behind before a show. He's already violated the man's legacy in every other way he can think of...
ˇ Blabberbag is reporting that Sharon Osbourne is still running her mouth about The Story That Will Not Die. Speaking to
Mirror.co.uk
, Sharon tells anyone within earshot that Ozzy is still "Haunted by the burglar's eyes" that he saw when a gentleman rifled through their house for 2 hours and was caught by Ozzy in a headlock only to escape. Ever since the burglary, Sharon hasn't shut up about the incident...
...and why would she? Ozzy's not on the road, there's no new album out, the MTV show is now finished...there's no other source of publicity for the woman other then tha fact that their house was broken into while they slept. And I'm not trying to make light of the burglary itself, but all this speaking in hushed tones and playing victim for every fucking media outlet that's asking about it is just milking it now. Just like Sharon has always done with ANYthing that's gotten her ANY attention.
And yeh notice how she doesn't bring up that, while burglary is a horrible crime and that invading someone's privacy to that degree is just horrid, that Ozzy himself spent time in jail for the same fucking thing during his younger years? Thanks again, Ian!
ˇ Closing out the news this week is The Blistering Newsletter with a Headbangers' Ball Tour update from none other than Arch Enemy guitarist Michael Amott:
"We are currently in freezing Edmonton, Canada…it took us 17 hours to drive from Vancouver to here…we drove through the mountains and there was really nothing else but ice and snow…and then some more ice and snow! We saw some beautiful nature, and some really cool wildlife like eagles and a ram crossing the road — very impressive for us Swedes! :-)
"The shows have been going extremely well on this tour, it's been a lot of fun! And I must say that we are slightly surprised and totally honoured that CRADLE OF FILTH's fanbase has taken to us so well! We played Vancouver for the first time ever 2 days ago and that was really a killer show, great crowd...we'll be back!!!
"In San Francisco we met up with Steve Smyth (ex-TESTAMENT now in NEVERMORE) and hung out for a while before we hit the stage at the Fillmore (wow, lots of history in that venue...!). In Seattle we met up with the rest of the NEVERMORE dudes, the guys from our favourite band were in great shape and spirit! Can't wait for their next album...I am sure it'll be killer!
"Talking of new stuff, we have been able to write some new riffs for the next ARCH ENEMY studio opus while on the road — well, I don't wanna hype this too much...but these are some of the coolest, melodic, angriest and tech riffs I have heard in long time! Ha!
"We will spend a couple of weeks off with our families and friends back home over the holidays (I am sure you will grant us that?).
"In the new year we are setting up the recording equipment in our 'Dungeon Of Steel' rehearsal studio and start the pre-production of the new album — we are very much looking forward to getting our teeth sunk into this new material...2005 is going to be a good year!!! To end this report I would like to say a BIG thank you to all our fans and friends that have supported us on this tour...!!!"
Nothing unusual here...the band's founder is thankful for the fans' support and has been to some cool places and ran into some friends. Your typical, cut-and-dried tour journal, really.
No,
The Arch Enemy Investigation
won't get interesting until this week. You see, I have the interview rescheduled and plan on having a little fun with it. Nothing obvious, as that's likely to get me nowhere. But I've got this covered...I wanna know exactly how much of their heart is in this or if they think they've found a key to the almighty dollar and threw all else to the wind. We shall see...
On The Road Again
After a lengthy (and shit-filled) News section, the tours are inversely proportional in length and lousy content. In other words, this is gonna be short and sweet.
ˇ First from Blabberlag comes dates from a tour that should be just plain sick – Morbid Angel and Soulfly. Those dates are:
Feb. 05 - San Antonio, TX - Sunset Station
Feb. 06 - Dallas, TX - Tree's
Feb. 08 - Tempe, AZ - Marquee Theatre
Feb. 09 - Las Vegas, NV - House of Blues
Feb. 10 - Los Angeles, CA - Key Club
Feb. 11 - Los Angeles, CA - Key Club
Feb. 12 - Santa Ana, CA - Galaxy Concert Theatre
Feb. 14 - Portland, OR - Bossanova
Feb. 15 - Seattle, WA - Showbox Theatre
Feb. 17 - Denver, CO - Ogden Theatre
Feb. 18 - Lincoln, NE - Royal Grove
Feb. 19 - Minneapolis, MN - Quest Club
Feb. 22 - Chicago, IL - House Of Blues
Feb. 23 - Royal Oak, MI - Royal Oak Theatre
Feb. 24 - Cleveland, OH - House Of Blues
Feb. 25 - Philadelphia, PA - The Trocadero
Feb. 26 - Worcester, MA - The Palladium
Feb. 27 - New York City, NY - BB King's
Feb. 28 - New York City, NY- BB King's
Nothing in Florida yet, damn them. But if there is, I want to go. I'd advise treading lightly in the pit and if you don't like it loud then stay the hell away from the above venues at the above dates.
ˇ And our last bit here is another tour and interview I'm all over – and this one will be here! Courtesy of the Blistering Newsletter, here are the announced dates for King Diamond (!!):
Apr. 14 - Ft. Lauderdale, FL @ Culture Room
Apr. 15 - Lake Buena Vista, FL @ House of Blues
Apr. 16 - Atlanta, GA @ Masquerade
Apr. 18 - Philadelphia, PA @ Trocadero
Apr. 19 - New York, NY @ BB King's Blues Club
Apr. 20 - New York, NY @ BB King's Blues Club
Apr. 22 - West Springfield, VA @ Jaxx
Apr. 23 - Poughkeepsie, NY @ The Chance
Apr. 24 - Worcester, MA @ The Palladium
Apr. 26 - Cleveland, OH @ House of Blues
Apr. 27 - Chicago, IL @ House of Blues
Apr. 28 - Royal Oak, MI @ Royal Oak Music Theatre
Apr. 29 - Sauget, IL @ Pop's
Apr. 30 - Minneapolis, MN @ Quest Club
May 02 - Denver, CO @ Ogden Theatre
May 05 - Seattle, WA @ Fenix Underground
May 06 - Portland, OR @ Roseland Theatre
May 08 - Los Angeles, CA @ House of Blues
May 09 - Anaheim, CA @ House of Blues
May 11 - Tempe, AZ @ Marquee Theatre
May 12 - Albuquerque, NM @ Sunshine Theatre
May 13 - El Paso, TX @ Club Xcape
May 14 - San Antonio, TX @ Sunset Station
Hells yeah – they're here on Tax Day! That gives me plenty of time to get the contacts and tickets for this one. I'd love to talk to him about metal, as there are few better to discuss it with than one of the most important members of the metal community. Definitely more on this as it develops.
Reasons to Rejoice
As is customary by now, the name and visage of Lee Ann Taylor – my fiancée – is on the list of Reasons To Rejoice indefinitely. Aside from that, I have to apologize for being caught with my pants down 2 weeks in a row for this segment. I'll have something in place next week, I promise – right after I find it in the collection. Maybe I should keep all this crap a little more organized...
Happy Trails
And that'll wrap up the Monday Mayhem for this week. Keep it here at
The Fan
for the rest of the gang and some more good stuff and I shall see you in 7.
L8. Thanks for reading.
For more interesting (?) reading, click
here
.