TWF LOW BLOW
BY JOE MERRICK
01/20/06
You may remember, last year, I did a column about how wrestling, in most ways, is better than any other sport on TV (Then promptly made an ass out of myself due to the following RAW's sheer amount of suck, what with the JR firing and the Linda heel turn). Well, I pondered over this idea further, and I thought to myself, what would it be like if the WWE wrestlers tried to emulate other sports….
'BROCK LESNAR FAILS AT NFL'
……Oh. Well that column idea's fucked. You see, that's the problem being a writer. You can't just come up with an idea, you know. When you do, it takes time to develop, and to make it work, you can't just..hey, I got one:
GENERIC NEWS!
Now, normally this is where a columnist gives this week's news and gives his take on it, whether it be serious, sarcastic or satirical. However, this is not the case this time. You see I decided to take it upon myself and give a broken man one last chance, and let him do the dirty work this week. Who is this poor soul? Someone you have been missing from your TV screens as of late, here he is: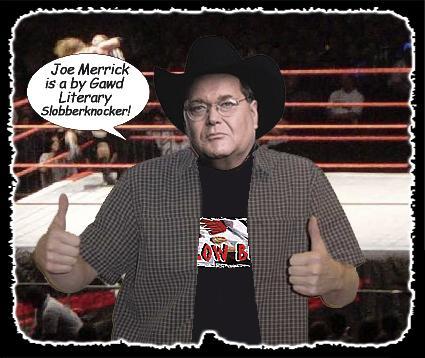 JR!
JR: Welcome everyone, I'm Jim Ross and this is Generic News, LIVE from San Jose! Let's go to the headlines!
Ken Kennedy has returned from his injury:
*Cut to Kennedy in hospital*
Doctor: Well, Mr. Kennedy-
Ken: KEN-NEH-DAAAAAAY
Doctor: ….I have good news. Your surgery was a-
Ken: SURG-ER-RAAAAAAY
Doctor: ...Was a complete success. Although you are not fully recovered-
Ken: RECOV-ER-RAAAAAY
Doctor: I never said that word?
Ken: …um….NEVERSAIDTHATWORD…AY?
Doctor: Can I get 30 cc's of morphine in here please?
Ken: Getting…Diz…zaaaay…..zzzz…..
*Cut back*
This week, The Orton/Taker feud continues, Bah Gawd:
*Cut to*
Cole: Oh my God! They killed Taker!
Tazz: YOU BASTARDS!
*Cut back*
JR: Of course, the last statement there was bleeped as it was aired on UPN…also in the headlines, Vince McMahon has decided to increase the number of tattoo's. Anyone without one is said to be in danger of being released:
*Cut to*
Vince: Alright, let's have a look at yours, Rey
*Rey lifts his shirt to reveal MEXICAN*
Vince: Very good
Lita: Oh hey I have one of those *lifts up hers to reveal the same one only with an S on the end and an arrow pointing downwards*
Vince:….Charming….Oh I love yours, Benjamin! An 'all over body' tattoo! Very nice!
Shelton: …..
Lashley: Hey it's not all bad, dude. He gave me a raise because he thought Lesnar had come back and got one of those all-over tattoos.
*Cut back*
HHH and Stephanie are now expecting to be parents, so one can only assume what this holds for us in the future:
*13 years later*
Coach: My God! We've got a NEW youngest ever World Champion! Who would think he would be able to beat the team of Benoit and Kurt Angle all by himself and not at all using a sledgehammer?!
Lawler: DOGS!
Also, there was a scare during Edge's celebration speech:
*Cut to*
Edge: And I would just like to thank-
*A red dot appears on Edge's head*
Edge: Dammit, dude, what is the matter with you?
Matt: I WILL NOT DIE!
Edge: How can you when you don't have a life anyway?
Undertaker: I have copyright on that, you know. *Gets buried alive by Orton*
Tazz: YOU *BEEP*
*Cut back*
In other news, there has been a hit-and-run on 35th Street, where it was STEEL vs. FLESH AND BONE and GUESS WHO WON THAT EXCHANGE! SONOVABITCH! And now here's Joey Styles with the weather. Joey?
Joey: Well, temperatures will be –14 DEGREES!
JR: That's COLDER than a stepmother's kiss!
Joey: THE RAINS WILL FALL LIKE ANDRE THE GIANT URINATING ON AN ELEPHANT'S CORPSE
JR: BAH GAWD!
Joey: Ohmy..GOD!
JR: Bah GOD!
Joey: Ohmy..GAWD!
JR: GAWD!
Joey: GOD!
*Cut to*
God: AAARGH! Shut UP! I CAN HEAR YOU! Those two are way too loud for their own good….And for my sake, hasn't anyone found Jesus' Grail yet?
Eddie Guerrero: Beats me, Esse. *Keeps hands behind back and sneaks away*
*Cut back*
JR: And now the sports. The Cricket season started off on a rather sombre note this year following the tragic suicide of a player with a lot of heart. It was reported that he could not carry on with the shame of his own name.
*Cut to a tombstone*
HERE LIES FRANK MCTITTYFUCK…..and this joke
*Cut back*
JR: And now with the entertainment, here's Trevor Murdoch with a review of Chronicles of Narnia. Trevor?
Murdoch: I HAVE SEX WITH DEAD SKUNKS. Y'all think about that.
JR: Thanks, Trevor. And now…what are you doing here Linda?
Linda: WELL, JR it seems THAT even after all the HARD WORK AND DEDICATION you have put into this POSITION I'm afraid you have been illogically…FIIIRED *kicks him in the nuts*
JR: GAME OVER! SONOVABITCH GAME OVER!
*Vince arrives with a latex glove on*
I had to cut it off there because of…disturbing activities that followed. Needless to say from now on JR will do a lot more 'standing' in for people.
God I suck this week.
Joe
Joe Merrick is NOT AN ANIMAL. So enough of the Elephant man business, and more about what he is: winner of the 2005 Satire Search, after defeating literally DOZENS of hopefuls to become TWF's top British writer. He also hunts emos for sport.