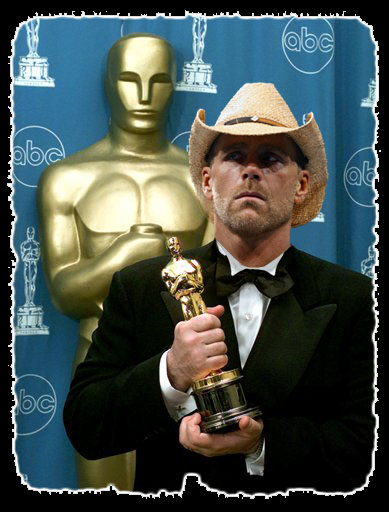 ICON: The Shawn Michaels Story
Let's face it, Hollywood has a boner for "real" stories. In fact, most of the recent Best Actor winners got the award for playing someone who actually existed at one point (all but Philip Seymour Hoffman, who totally made that gay dude up, I'm certain of it.) There is an untapped well of real life drama that is currently being dug into...RASSLIN'! Not since 1973's "The Wrestler" and 2000's Jesse Ventura Story has this subject been taken on...until now.
20th Century Fox and Paramount Pictures and Columbia Tristar and The Weinstein Company and New Line Cinema, in Associtaion with WWE Films and 40 Acres and a Mule and Worldwide Pants and UBU and Bad Robot and One Ho productions prouldy present...a very special first look at "Icon: The Shawn Michaels Story"!
It all started with the audition process. Thousands of actors lined up at the chance to portray the big screen version of the Show Stopper himself!
CASTING DIRECTOR
Christopher Walken screen test, take one...action!
CHRISTOPHER WALKEN
It...waaas...a boyhood dreeeem for ME...to be champion!
CASTING DIRECTOR
Next!
HARRISON FORD
I want my title back! IT BELONGS IN A MUSEUM!!
CASTING DIRECTOR
Next!
HHH
I was never as good as that Hunter guy!
CASTING DIRECTOR
Next!
Ian McKellan
YOU SHALL NOT GO OVER!!!
CASTING DIRECTOR
NEXT!
It was long and tedious, and at times amusing, but the producers finally decided upon Hollywood's hottest leading me, Matt Damon!
MATT DAMON
It's really an honor to be playing Shawn Mitchells in this movie! I prepared for this movie by meeting with Shawn everyday to really get the subtle nuances of his personality down. Like the way everytime I had my back turned to him and turned around I got kicked in the face, I want to work that into my performance.
Next it was time to choose the right director to bring this story to life. Here now are some notes given to the producers from Hollywood's great storytellers on how THEY would tell this soaring and epic tale!
STEVEN SPEILBERG
I really want to capture the reactions to Shawn's behavior. But I don't want Shanw in the shot. I want several thousand shots of people looking at something that the audience can't see. Also, I want it in black and white so it looks arty.
MICHAEL BAY
Everytime Shawn hits the superkick his opponents faces straight-up explode!! Like all BOOM, BLAHH, OHH! Also I want Michael Clarke Duncan as Ahmed Johnson!
WES ANDERSON
I would really like to examine the personal relationship between Shawn and The Klique. No, it won't really be funny, or dramatic, or interesting, but people will say it is so they don't look stupid.
UWE BOLL
Dis film need more Cherman stuff! And videeeoo game referencing.
ANG LEE
Shawn a velly complex a-person. No action, just story of big allogant monster kirring wrestlers!
This was also a very long process, but they decided ultimately to give the reins to Quentin Tarantino.
QUENTIN
Y'see Shawn is like the GOD of wrestling, all right! He's got lots of qualities of Burt Reynolds characters in obscure movies that only I and Robert Rodriguez have ever seen, okaaay!
And now, we present to you, the world premire of the trailer for next fall's Oscar grab by all involved, ICON: The Shawn Michaels Story!
THE FOLLOWING PREVIEW HAS BEEN APPROVED FOR ALL AUDIENCES BY THE MOTION PICTURE ASSOCIATION OF AMERICA.
(The lights come up in Madison Square Garden, the crowd goes wild, chanting "HBK! HBK! HBK!")
(Backstage Shawn is on his knees in his dressing room!)
STAN
Mr. Michaels? It's show time!
SHAWN
It all comes to this, Shawn!
(Logo's of all the companies involved follow, and 2 minutes later we see a young Shawn Michaels on a military base.)
VOICE OVER
He was a military child, who dreamed of being more!
(We cut to Shawn's father)
DAD
You'll never amount to nothing unless you serve, boy! You're a disgrace to the Hickenbottom name, you little punk!
(A tiny foot superkicks Shawn's father and he falls out of frame)
VOICE OVER
A troubled young man, who became a wrestler!
(Cut to Shawn in training, talking to his trainer Jose Lothario, played by George Lopez.)
JOSE
If you really want to impress these Gringos you need to show them how they do it south of da border, el chicano style!
SHAWN
I'm not here to quit, Paco! I'm here to become...an icon!
VOICE OVER
The road was long and hard!
(Cut to backstage at the AWA)
PROMOTER
Shawn, you're gonna be tagging with Marty Jannety! (played by Ozzy Osbourne)
MARTY
Y'know Shawn we have match to do and and and we go out and make things go uh uh and good with the belts around us and and New York someday me and I and you!
SHAWN
What?
VOICE OVER
But he made it to the top...
(Cut to Vince, played by Vince)
VINCE
Welcome to the WW...E!
VOICE OVER
Only to be brought down again!
SHAWN
Go ahead, fire me! You'll see! YOU'LL ALL SEE! One day I will be...an icon!
VOICE OVER
And when he got his second chance, he literally climbed the ladder of success!
(Cut to backstage at WM10, where he talks with Razor Ramon)
SHAWN
Scott, this is going to make or break us! It's now...or never...to become....icons!
RAZOR (played by Sylvester Stallone)
Hey, yo, Shawn, relax here, y'know! We do wha' we got' do, y'know! You seen my beer?
SHAWN
Scott, as your friend, I think you should stop drinking. I'd hate to see you become a horrible charicature of yourself for Ted Turner one day!
VOICE OVER
And he reached the pinnacle of professional wrestling (THWACK) sports entertainment!
(Cut to backstage at WM12, where he talks with Bret Hart.)
SHAWN
Bret, this is my boyhood dream, this night will either make...or break me.
BRET (played by Gilbert Godfrey)
AHHHH CANADA AHH TECHNICAL SKILLS RAHARARAHHHA DUNGEON!
VOICE OVER
But all was not well!
(Hunter bursts into Vince's office.)
HUNTER (played by Hunter)
Shawn got beat up by like 20, no 30, at least 50 marines with clubs and crowbars!
(Cut to Shawn taking pain pills as Hunter watches.)
HUNTER
Shawn, you gotta give up the PILLS! I miss my buddy, man!
SHAWN
Go to hell, Hunter, you don't know how hard it is to be champion. So much pressure, it feels like I'm part of the very fabric of this company and I can't fail, man!!! Like I'm a McMahon or something!!!
HUNTER
Saaaaaay...
VOICE OVER
Followed by controversy!
(Backstage at Montreal)
SHAWN
Bret, I didn't have anything to do with that, I swear!
BRET
AHHHH CANADA BRAH SCROOIN' ME!!
SHAWN
If I did though, I'd say it was right for business, and Vince knows what's right, always! And you didn't listen to what he had to say, but like I said, I had nothing to do with it. Neither did Hunter!
BRET
AAHHHHHH!
VOICE OVER
Then, tragedy struck!
SHAWN
I won't be able to wrestle ever again. EVER AGAIN!!
VINCE
Calm down, Shawn, calm down!
SHAWN
Did I do it, Vince? Did I become an icon?
VINCE
That'll do, Shawn, that'll do!
VOICE OVER
From rock bottom...
(Cut to Shawn at home, high as a kite watching cartoons and giggling.)
VOICE OVER
...to the light of redmemption!
(Cut to Shawn at church)
SHAWN
This just feels so right. Me and Jesus...the meeting of two....ICONS!
VOICE OVER
Icon: The Shawn Michaels Story! Rated R for language, drug use, titties, fake violence, lack of smiles, titties, raspy voices, and titties!