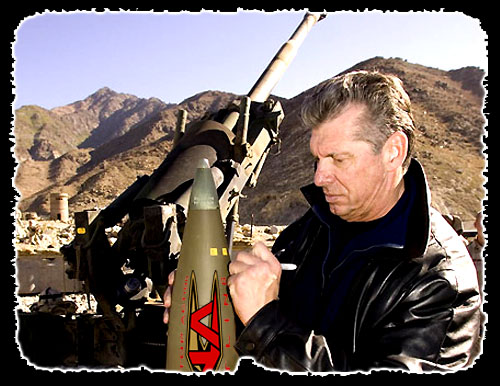 WWE CARES.
The WWE is very well known for their charity work. We know this because they announce it every single chance they get, just like the Bible says to do. Whether giving a "last" "wish" to a dying kid, or going to Iraq to make the troops realize that maybe their problems aren't all that bad, they're there!
But much like their TV shows, not everything always goes as planned. Anything can happen, so they say! And I, Matthew Folger, have uncovered some of the bizarre goings-on in the WWE's charitable giving. How did I do that, you ask? First of all, who the hell are you to question me? Second of all, it's really a funny story.
You see the WWE hired a young woman by the name of Debbie Marzdin to be, what they call, an "on the spot stenographer". In case those pesky Washington fat cats or those pesky media fat cats decide to go on another pro wre...oops, I mean sports entertainment kick, Vince wants everything on record, presumably so he doesn't have to show up (ZING!).
After I slept with her (it's my column, I'll write what I want) I stole the pages upon pages of transcripts and am passing them along to you! Good enough set up for my jokes? Yes? On we go!
St. Jude Medical Center - Nov 8th, 2007
NURSE
Billy? Billy wake up!
BILLY
God?
NURSE
No, Billy, it's Nurse Gotzon.
BILLY
Oh...damn. *cough*
NURSE
Billy, the Make a Wish people have sent over a couple of people to raise your spirits!
BILLY
*cough* John Cena is here!
NURSE
Well...no, uh not John Cena. But they're just as good. Send them in.
(In walks the surprise)
RORY
I'm Rory McCallister! This here's my cousin, Robbie!
ROBBIE
I'M ROBBIE!
RORY
We're The Highlanders!
BILLY
*cough* Who?
RORY
The Highlanders. We work for the WWE!
BILLY
Is this "Punk'd"?
RORY
Nah, nah, we're here to raise your spirits, my cousin and I are!
ROBBIE
I'M ROBBIE!
BILLY
How come I *cough* don't remember you guys?
RORY
Because you're very very sick, mah'boy!
(The Highlanders stand awkwardly for a minute)
BILLY
Well? *cough*
RORY
Well what?
BILLY
Aren't you going to do anything?
RORY
Oh, we weren't given instructions past the intro.
ROBBIE
I'M ROBBIE!
BILLY
*cough* I get it.
RORY
So....what'cha have then?
BILLY
Cancer.
RORY
Aye! You should get some Haggis...because we're Scottish, y'see?
BILLY
Yeah *cough* I figured.
NURSE
Well, your visitors have to go now! Anything you'd like to leave little Billy with?
RORY
Um...I got some Chain Gang wrist bands in my car's ashtray!
BILLY
Just go. *cough*
Tragic, I know. But not nearly as shocking as our next transcript.
Madison Square Garden - October 11th, 2007
(We sat in an empty MSG as young Kyle Mabus was brought in by WWE officials to meet a surprise superstar. Kyle sat next to me eagerly anticipating the arrival of his special surprise. The lights suddenly dimmed in the arena as a loud GONG was heard. Fire began to appear from the stage, as lightning strikes and funeral music were heard. The shadowy figure then walked out from the shadows very slowly, surrounded by smoke. The music continued as the figure made his way towards Kyle with his arm outstretched towards him. The man then removed his robe and his hat as the lights came back on. We then discovered that Kyle had promptly shit his pants and died.)
Un-be-leivable! As is our next incident!
Himachal Pradesh Hospital, India - September 13th, 2005
NURSE
Dalip, Vince McMahon is here to see you.
(Vince walks in)
VINCE
Well, hello there, Dalip! That's a cooky name, huh?
DALIP
Oogafa nih rashda pugras!
VINCE
And a cooky language too, ha ha! Well son, what seems to be the trouble?
DALIP
Aprava neah stenosal shintor!
VINCE
What?
NURSE
Dalip says he is suffering from heightened liver enzymes!
VINCE
Ooh, I see. Well not to worry, Dalip, the WWE is here to make your wish come true! Tell me, what do you want more than anything else in the world?
DALIP
Yugaka pushahna tiskram!
NURSE
He says he wants to be a WWE wrestler!
VINCE
Oh. Uh....sure, why not? Hell, we could use another big fella like you on the roster!
DALIP
Hooblins riad kafkade!
NURSE
Dalip says this will make his giant uncle Gonzalez very happy!
VINCE
...
I have to collect on that bet! But first, here now, is the worst of them all!
Lincoln Communal Hospital - February 26th, 2008
NURSE
Timmy? Timmy I have great news for you!
TIMMY
I can go home?
NURSE
Of course not, dear! No, the WWE is here!
TIMMY
Really? Who?
NURSE
All of them, Timmy! Come on in!
(The entire WWE roster squeezes into Timmy's room.)
VAL VENIS
Helloooo, Timmy!
TIMMY
Oh my god, it's Al Snow!
(Val walks away sad)
VINCE
Timmy, it's good to see you!
TIMMY
WOW! All the WWE wrestlers...
VINCE
Supertars!
TIMMY
O-kay. Wow!
VINCE
Timmy, we're here to give you a very special gift.
TIMMY
Ten minutes alone with Mickie James?
VINCE
Of course not! No, we're here to give you, the FULL WWE experience!
TIMMY
WOW!
VINCE
Yup, now we have a busy day ahead. First, you'll recieve your daily sponge bath from JBL!
JBL
Get ready to pay your dues, boy!
TIMMY
W-what?
VINCE
Then it's off to OVW to learn how to take bumps!
TIMMY
What's a bump?
TAZZ
Da ting dey found in your small intestine, ahahaahahaha!
VINCE
Then your gonna work your first match with Bob Holly!
HOLLY
I'm fuckin' you up, kid!
VINCE
Then you'll go backstage where the real fun begins. First, HBK will witness to you for 2 straight hours!
HBK
You're gonna need it, kid!
VINCE
Then, we'll play "What's that floating in my IV bag?" with Randy Orton!
ORTON
I just ate......some of JR's barbeque....you're in trouble!
JR
It's bah gawd satisfying!
VINCE
Then, Hornswoggle will give you a 10 minute speech on how to deal with all of this!
HORNSWOGGLE
Shoot me!
VINCE
And Triple H will bury you personally to me!
HHH
Dad, this kid will never get over. I think I should take that thing from around his waist!
TIMMY
That's my colostomy bag!
HHH
Mine now!
VINCE
And finally, the day ends with a trip to my daughter Stephanie's office, where she is gonna make you a man!
STEPH
I rubbed it in relish and sprayed it with fart bomb juice, I know what the fans want!
VINCE
Sound good, Timmy?
TIMMY
Well, actually, I only want one thing.
JEFF HARDY
To be W...W...E....CHAMPION!
TIMMY
Of course not! What I want is to see a guy who hasn't already held a world title win the belt. Someone with great in ring ability and charisma. And maybe then after a while he could let another fun guy have the title for a while, and let new guys always win and keep kids like me entertained!
ALL
......
VINCE
Uh...yeah...so, um, we have to plug in our Popcorn machine. Let me just unplug this thing here!
(Beeeeeeeeeeeeeeeeeeeeeeeeeeeep)
VINCE
Oh, geez, look at that, well we wish you well on all future endeavors, Timmy! Oh, and if you see Owen Hart, tell him I know it's him fuckin' with my lights!