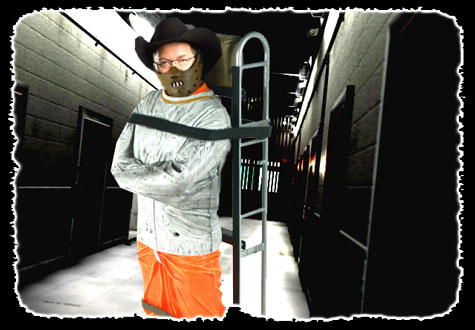 The Plight of the Ringside Commentator.
One of the most important jobs in all of professional entertainmenty sports stuff is that of the color commentator. It's right up there next to "Damage Control" and "Catering". They are an integral part of the wrestling viewing experience...unless of course your watching it live, in which case you just have to pretend that there's someone next to you acting surprised by the same shit that happened last week. Yes, whether trying to convince us all that Molly Holly is fat or trying not to be seen reading the script on camera, they're always there. But the job is much more devistating then you might think. (And you didn't think about it at all, did you, you fuckers?)
The job of calling a wrestling match is a hard one, one that requires lots of knowledge and a keen wit. Not everyone can do it well, or even half-way decently. It takes years and years of honing your verbal skills to finally get it right. Sadly, the payoff is having to act shocked when Cena picks up a fat guy, but it's an accomplishment nonetheless.
Today, I want to focus on a little known syndrome called "Verbal Recollection" which afflicts mainly wreslting commentators. You see, the job is such a demanding one, that the entire structure of one's diction and mannerisms changes, leaving them in the state of calling a match for many years, sometimes for the remainder of their lives. It has also been called "Ventura's Disease", for it was first discovered in 80's mainstay Jesse "The Body" Ventura. Perhaps some of you are still struggling with the concept of this disorder. Take a look at this transcript of one of Jesse's press conferences from 1999, while he was governor of Minnesota.
REPORTER
Mr. Ventura, what are your plans to deal with the increasing economic unrest in the state of Minnesota?
VENTURA
That's a great question, Gorilla...
REPORTER
Stan.
VENTURA
What?
REPORTER
My name is Stan.
VENTURA
Why don't you go tell your sob story to the rest of the Pukesters, Gorilla!?
REPORTER
I-I-I'm not sure what you mean, Governor, I'm just...
VENTURA
You're not a real man, Gorilla! You know who is? The Macho Man, that's someone you idiots should be proud of. Stop worshipping the ground that the Hulk walks on, Gorilla!
Tragic. Truly tragic. Like a prison inmate or a Vietnam veteran, the brain becomes so accustomed to one surrounding that it is difficult to remove yourself from it. For years after leaving the announce table, Vince McMahon reportedly had frequent nightmares which would cause him to wake up in a cold sweat screaming "One, two, and he got him....No, no he didn't!". He had to undergo extensive therapy to get cured.
DOCTOR
Alright, Vince, now I'm going to play this audio tape of an audience cheering. Now, no matter how bad you want to, I want you to fight the urge to yell "Listen to this capacity crowd!", okay?
VINCE
Okay, Doc...Doc...Dok....Dok Hendrix joining me here at ringside ladies and gentleman!!
DOCTOR
Vince, Dok Hendrix is not here, please relax!
VINCE
I thank you for joining me LIVE from the Gund Arena!!
DOCTOR
Vince...
VINCE
OH MY, WHAT A MANUEVER!!!!
DOCTOR
Code blue!! CODE BLUE!!!!
After years of treatment, Vince was finally able to return to normal life. Sadly, others are not so lucky. Everyday the voices of wrestling's past and present struggle to re-enter normal society. Jim Ross drew attention to this affliction when he was fired from the WWE back in 2005. He tried many different jobs. From drive thru operator...
JR
Bah Gawd, King, would you like to try a value meal today! All of our soft drinks are served stone cold! Stone Cold!! STONE COLD!!!
To Police Dispatch...
JR
Bah Gawd, we've got a wrestling match on I-95!
OFFICER
A wrestling match?
JR
There's bodies everywhere, twisted metal and steel!!
OFFICER
You mean a car wreck?
JR
BAH GAWD, it looks like a wrestling match!!
To Charity Spokeman...
JR
The Autism era has officially begun!
Thankfully, Jim Ross returned to active duty and the problem has subsided, for now at least. In some cases, the calling of a match is simply not enough to hold them over, and it still occurs despite having an outlet for it. Don West and Mike Tenay moonlight as commentators, but thanks to low pay, they have day jobs as grocery store clerks.
TENAY
We've got a spill in aisle 9, we've gotta get a janitor out there!
WEST
HURRY MAN, HURRY, GET THE JANITOR OUT THERE NOW!!!
This disease has hit none harder than Tony Schiavone. For years, Tony has been out of work, mostly because of the sickness, but also because he sucks. I sat down with him recently to try and get his thoughts on the situation.
ME
Tony, thank you for sitting down with me.
TONY
Hi, everyone! It's Tony Schiavone, alongside Mark Madden!
ME
Great. Tony, how has life away from wrestling been for you?
TONY
It has been the greatest life away from wrestling in the history of our great sport.
ME
That's the line that has gotten you into a lot of trouble, isn't it? In fact you were fired from an abortion clinic for refering to a fetus as...
TONY
The greatest dead baby in the history of our great sport!
ME
Yeah, that. How do you deal with it, Tony?
TONY
If, in fact, leading a normal life was part of this design, what am I going to do now? Improvise?
ME
I suppose. Any regrets?
TONY
NO!! NO! God has betrayed Tony Schiavone! He's the third man!!
ME
I see. Any parting words for our readers?
TONY
Larry, I've already seen what you can do with your penis, I have to focus on calling the greatest night in the history of our great sport!
ME
I don't remember that one.
TONY
Said it off the air. Sting has betrayed WCW!!!!
ME
Thank you very much, Tony, and I pray you one day are able to lead a normal life.
TONY
I want you to stand next to me, so I look thinner.
ME
Da fuck, what?
TONY
TNA! It says it all right in the name...tits and ass!
ME
You're lucky I have priors!
So you see, wrestling fans, sitting ringside for all the events and calling the action is not as glamorous as you might think. Sure, the disease effects far less people now that there really is only one game in town, but the problem will not be solved until we draw attention to it. That is why I am writing this column. Not because it's an easy way for me to fill an update, but because I CARE! So before another prostitute has to hear the cries of "OH MY GOD!" while sleeping with Joey Styles, please, do your part today.