KNIFE-EDGE POPS: (12/03/07) by Matthew Folger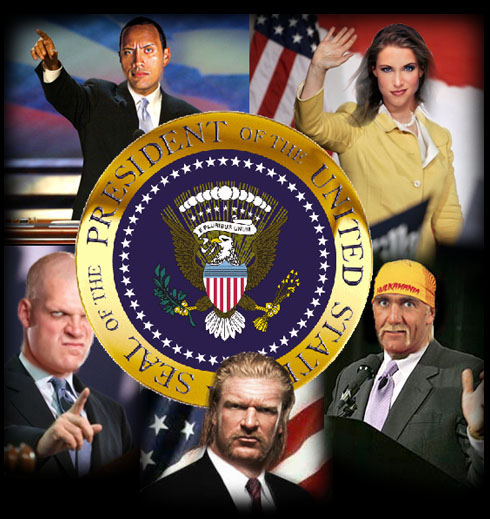 PLAYING POLITICS:

WWE STYLE.



The candidates walk into the hall to rounds of
applause. They all greet one another and shake hands
before taking their places at their respective
podiums. Tonight's moderator, Michael Cole, gets
things started.

COLE
Welcome, ladies and gentleman, to what will no doubt
be the greatest night of presidential debates in the
history of politics!! I am Michael Cole
alongside...what the? Oh my God! Guys....guys,
there's no one beside me. No, I need someone with me.
Oh, we have someone? Well good, bring him in!

(A square headed brown noser with a bad first grader
hair cut sits down next to Cole)

SCHIAVONE
Welcome, ladies and gentleman, to what will no doubt
be the greatest night of...

COLE
I already mentioned that!

SCHIAVONE
Michael Cole, you can go to hell...just...straight to
hell.

COLE
Let's go to Lillian Garcia who will introduce the
candidates.

LILLIAN
Introducing fir-...

(Charlie Haas materializes out of thin air and kicks
Lillian in the back of the head)

LILLIAN
Oowwwwww...oowwwwww

COLE
On second thought I'll just introduce them. First the
Democrats. First off, from Honolulu, Hawaii, BaRock
Obama.

BAROCK
Finally...BaRock..HAS COME BACK...to...

(an aide leans in and whispers into BaRock's ear)

Wisconsin!

COLE
Next, from Chicago, Illinois, weighing in at enough,
Stephanie Rodham Clinton!

STEPH
Michael Cole!! I know what you did to my mother
behind my back, and at Backlash...oops, haha, wrong
script. Ummmm...it's great to be here. Thanks Dad!

COLE
Up next, from Cleveland, Ohio, He is the leader of
pretencious asswhipes who vote sometimes, CM Kucinich.

CM
I'm addicted to competition, that's why I lose every
year!!

COLE
And from Seneca, South Carolina, representing himself,
Shawn Edwards!

SHAWN
Thank you to the Southern base that keeps me up here,
even though I could really care less!

COLE
And now the Republicans!

SCHIAVONE
I want to do the Republicans!

COLE
Did you finish your milk?

SCHIAVONE
(sigh) Yes!

COLE
Okay, go ahead!

SCHIAVONE
First up, from Hope, Arkansas, Mike Hulkabee!

HULKABEE
Let me tell ya' somethin', Schiavone! I made this
debate! I made this business, brother! And tonight,
all the Hulkamaniacs around the world are gonna show
their true colors, Jack!

SCHIAVONE
Up next, from Riverside, California, Duncan
Hunter...Hearst Helmsly!

DUNCAN HHH
If you think, for one second, that I'm going to sell
such a lame introduction, then I've got two words for
ya: probably not!!

SCHIAVONE
Next up, from Long Island, New York, Shelton Keyes!

SHELTON
First off I just want to say...

SCHIAVONE
And finally, born in Panama, John McKane!

(McKane raises his hands slowly, then brings them down
to absolutely no effect.)

MCKANE
Shit!

COLE
All right, the first question is to you, Hulkabee.
What would you do about illegal immigration?

HULKABEE
Let me tell ya' somethin', brother! The Hulk knows
that America is the greatest country on earth,
borther! But we're letting people into this country
whose skin is even less naturally colored than mine,
brother!! What I would do, is gather the power of all
the Hulkamaniacs, take these illegal immigrants, and
lay down a massive leg drop which will cause the
entire US-Mexico border to catch on fire through the
sheer power of Hulkamania, brother! Thank you, I'll
see you next year!

(Real American plays as Hulkabee struts out of the
building)

COLE
Oookaaay! Next question is to BaRock Obama. BaRock,
what would you do about our failing health care
sys-...

(BaRock holds up a hand, telling Cole to shut up)

BAROCK
So let BaRock understand this! You want to know what
I would do about health care? What do you think I
would do?

COLE
No.

BAROCK
What?

COLE
I'm not going to do it. I know what's coming and I'm
not going to indulge you.

SCHIAVONE
Aw, c'mon, it's funny.

COLE
(sigh) Well, BaRock, I...

BAROCK
IT DOESN'T MATTER WHAT YOU THINK!!

SCHIAVONE
HAhahahaHAhaha...I'm so alone!

BAROCK
Now BaRock says, that the health care chrisis has gone
on for far too long. And it's these drug companies
who look like five pounds of monkey crap in a ten
pound bag causing it all! The great one says, that he
would take all of their quarterly earnings reports,
run them through spell check, shine them up real
nice...turn them sum' bitches sideways and stick them
staright up their candy-asses!!

COLE
Duncan, a rebuttal?

DUNCAN HHH
Rock...if you think, for one second, that getting rid
of the drug companies will solve this problem, then
I've got just 74 words for ya': It's the American
publics own doing. We are the fattest nation on the
planet, especially Wisconsin! America needs to learn
how to book themselves correctly. Look at me! I
haven't been sick in years except for when I tore my
quads, and that was only because I'm so damn good that
I'm allowed to be sloppy in the ring! If America
stops selling these diseases, eventually they'll go to
TNA...I mean, go away!

SCHIAVONE
WHAT AN EVENT!! Next question is for Shawn Edwards.
What would you do to improve US-Canada relations?

(Shawn freezes)

SHAWN
Uhhhhh....

COLE
Shawn?

SHAWN
I, uhhhh...ummmm.

(Shawn starts crying)

I just can't do this anymore. I want to apologize, to
all of my supporters out there! To all of the people
who believed in me. But I can't go on like this.
Somewhere along the way I...uh...lost my smile,
yeeeeah that's the ticket! I lost my smile and I need
to go and get it back. So, here's your belt back!

COLE
What belt?

SHAWN
Shut up, I LOST MY SMILE! Goodbye!

(A faint voice starts yelling from the back.)

BRET
You son of a bitch!! This is BULLSHIT!!!

(Shawn walks off the stage.)

SCHIAVONE
All right, CM Kucinich, on to you.

CM
I have something I want to say. I'm sitting up here
with some of the biggest names in politics. Anywhere
we go, my crowd reaction is one of the loudest.
People DO like me, and they agree with a lot of what
I'm doing. And yet I just can't get ahead. And why
is that? Because people like Duncan and BaRock and
Steph don't want to see someone who's better at what
they do then they are get ahead!! And quite frankly,
I'm sick...

(Duncan HHH kicks CM in the stomach, and proceeds to
wrench his arms behind his back.)

COLE
Oh my, no..NO...PEDIGREE!!

(Duncan HHH connects with the Pedigree.)

COLE
Oh my, the THUD right off of the SKULL!! It looked
like he was trying to kill him!!

SCHIAVONE
I think he was just trying to shave CM's beard!

(Everyone freezes and stares at Schiavone.)

COLE
How did you ever get to be a wrestling commentator?

SCHIAVONE
I know where Jane Fonda's aborted fetuses are buried!

COLE
Gross.

DUNCAN HHH
CM Kucinich...if you think, for one second, that you
can talk down to The Game like that, then I've got two
words for ya': Kaiser Soze!

COLE
Anyway, let's move on. Steph, what would you do about
the War in Iraq?

STEPH
First off, Michael Cole, I just want to say how much I
and my family support what the troops are doing over
there once every year or so. It's their sacrifice
that allows us the freedom to crush the dreams of
grapplers weighing less than 250 pounds! It's their
sacrifices that allow us to fill an entire arena with
fans and spend half the time making them watch skits
and interviews on a giant screen. And it's their
sacrifices that allow me to book myself as a sex
symbol despite my grating voice and front-butt! Thank
you to all of our troops...who support what we do!!

COLE
That wasn't an answer. You just rambled on and didn't
give the people what they asked for!

STEPH
Welcome to the business!

COLE
Touche. Alright we're going to switch things up and
take some questions from the crowd. Ummm...yes, you,
in the wool cap.

(A red-eyed man in a wool cap approaches the
microphone, as his long haired foreign friend in MC
Hammer pants stands behind him giggling.)

RVD
Hehe, dude just relax! Okay, so...um..what? What do
you want? Pffff hahaha!! Okay, okay, seriously! What
is your opinion on butt-fors?

SCHIAVONE
What's a butt-for?

RVD
Hahahaha duuuude, you...uh...I forget. Sabu!? Dude,
what's a butt-for?

SABU
Botching table spots!

RVD
Yeah yeah, botching table spots, ahahaha, LOSER!

COLE
Okay next question! Oh, we have a celebrity in the
house! Ladies and gentleman, Ms. Joan RIvers!

CROWD MEMBER
I'm Marc Mero!!

COLE
Oooh...sorry.

MARC MERO
What do you have to say about the 60, no 70...maybe 80
wrestlers who have died before the age of 40? No 50,
60!

BAROCK
Well, I...

MARC MERO
No, I want to talk to a contracted wrestler. I NEED TV
TIME!!

DUNCAN HHH
Didn't you job to me when I was the "Connecticut
Blueblood"?

MARC MERO
Nothing further!

COLE
Okay, next question. Yes, you, the chubby kid with
glasses!

CHUBBY KID
Yes, I just want to thank each and everyone of
y'all...(sniffle)...for all you've done to your
bodies! (crying) IT'S STILL REAL TO ME, DAMN IT!!

COLE
Do you have a question?

CHUBBY KID
Yeah...how did y'all threaten legal action against
internet folks who make fun of y'all?

(Suddenly, the house PA system starts to blare out
thunderous chants of "No chance...no chance in hell"
as the man himself, George W. McMahon walks in.)

GWM
Having the best legal team in the world, that's how!
We're working on having the name "Benoit" be an
official swear word. So if something tastes bad you
can say, "This tastes like Benoit!".

COLE
Ladies and Gentlemen, George W. McMahon!

GWM
So, you all think you have a shot at what I have, huh?

CROWD
What?

GWM
You all think you can do what I do?

CROWD
What?

GWM
Well, I have news for you. You don't have a
chance...IN HELLAH!! To be the leader of the free
world (wrestling entertainment) you have to have that
certain something. The "it" factor, if you will. And
many people don't have it. And looking up on that
stage right now, I don't see any "it". I just see a
whole lot of "Benoit"! So, therefore, I'm going to
officially create a new law that will allow me to
remain the Chairman of the Board until the day I die!


STEPH
What about me?

GWM
Have you given anymore thought to that incest
storyline?

STEPH
NO!

GWM
Then TO HELL with you! You can rot with the rest of
the morons!!

BAROCK
George, do me a favor. Know your role and SHUT YOUR
MOUTH! Duncan, since me and you are the only people
on this stage who can stand up to this roody poo candy
ass, I suggest we band together to take him down.

DUNCAN HHH
Yeah! We can take him down! First we'll get a fat
oily guy to dance for him!

BAROCK
What?

DUNCAN HHH
Then we'll say he loves roosters, but we'll call them
cocks!!

BAROCK
That's not what I...

DUNCAN HHH
And then, and then, we'll hit him with the wooden side
of a sledgehammer! BaRock, how do you feel about
spray paint?

BAROCK
What in the BLUE HELL are you talking about? In fact,
what am I even doing here? What, just because my name
sounds like Barack I NEED to be here? To hell with
this, I'm going to go make The Game Plan 2!!

(BaRock storms off)

COLE
Well, that's about all the time we have.

SCHIAVONE
That was the GREATEST night in the history of our
great industry!! He's got the afro!!

COLE
I'd like to thank Tony Schiavone for making me look
tolerable, and of course all of our candidates who...

SHELTON
Hold up, hold up! I haven't been asked a single
question!

MCKANE
Yeah, me neither! Why did we even come here?

COLE
I'll tell you what, you two can have the last words.

SHELTON
Ahem...My fellow Americans, I...

COLE
And thank you! McKane, why don't you take us out!

(McKane slowly raises his hands and brings them
crashing down, but still to no effect.)

MCKANE
Shit!
Banner & Pics created by Sean Carless.