Hey, Hey there little JAT bitches, glad to see me back in action I hope. Actually I haven't just been sitting around on my pretty little ass this whole time. I've been out there working for my fans damnit and I tell you!.I will never be the fucken same.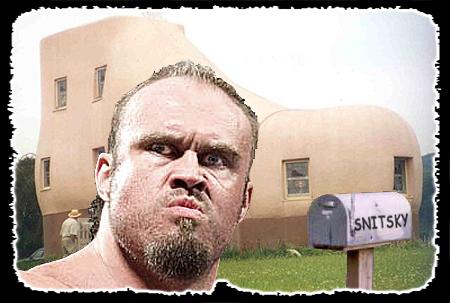 I took a road trip on my hiatus to find out what really makes the wrestling stars tick. And what better source than their own family and friends to get the dirt on some of our favorite WWE talents.
Now being the independent bitch I am, I was gonna go at this alone but I was thinking that I needed some help with things like driving and if I got into trouble I'd need someone to throw to the wolves as I ran away. With that being said I asked around for company but no one really was interested in traveling. However just when I thought all hope was lost……… I found my bitch…….
No, not fucking Bacon.
My buddy Joe was in on this, but let me tell ya, it took a lot to persuade him.
Nay: I'll let you use my Just a Thought catchphrase
Joe: I'll do it!
So, we were ready to interview the families of various WWE Wrestlers. First thing we had to sort out was packing:
Nay: Ok, I got clothes, toothbrush, booze...
Joe: Booze?
Nay: yeah, helps if you want a wrestler to let something slip.
Joe: Ah sneaky. I'm gonna take my autograph book
Nay: We're visiting Snitsky's house first
Joe: Forget THAT then
*On the road!*
Joe: Holy shit this thing is fast! Look at us go!
Nay: I haven't started driving yet
Joe: Well sorry, I'm just excited
Nay: Me too. Its great meeting wrestlers
Joe: Aye, Who you have you met?
Nay: Heidenreich
Joe: Really?
Nay: Yup. Got the restraining order to prove it too.
We enter the town of Nesquehoning, PA
*we approach Snitsky's house*
Joe: What in buttfuck is that !?
Nay: I think...I think it's a giant shoe
Joe: What the hell were they popping when they made that? And what's that thing waving at us?
Nay: that must be Snitky's mother
*An old woman is stood at the door and greets us*
Mother: You must be those writers! Well welcome to my home. May I get you something to eat?
Nay: I'm not hungry thanks, but my friend here is usually quite peckish
Joe:...!
Mother: oh, well follow me into the kitchen *walks off*
Joe: Hate you so much...
*In the kitchen*
Nay: well it was wonderful of you to have us, Mrs. Snitsky
Mother: Oh no problem, we don't get many visitors
Joe: I wonder why....Hey...are those...
Mother: What? Oh those! yes, I see you've spotted my collection!
Joe: they're fucking fetuses in jars!
Mother: yeah, lil Gene is one of the ones that dun got away!
Nay: What do you mean?
Mother: Well I tried to have him aborted as well, but he put up a fight! Kinda proud of him for that. he fell off of the table right on his face!
Nay: that explains a lot
Mother: yeah. Handsome thing ain't he? I'm so proud of him. He collects fetuses for me now.
Joe: You mean...
Mother: Yup. that's why he attacks random pregnant women
Nay: I see...Well, May I ask a personal question?
Joe: Do you shower?
Nay: Shhh! Mrs. Snitsky, why does your son show...well, an interest in women's feet?
Joe: uh, Nay...
Nay: Not now, bitch
Joe: No. Seriously.
*Nay looks and sees another jar with toes in it*
Nay: Ho. Lee. Shit.
Mother: Well, as well as fetuses, I collect toes...and, well, he took a shine to them
Joe: Are all you Americans like this? Seriously?
Nay: OK, we better wrap this up...nice seeing you, Mrs. Snitsky
Mother: take care now! Would you like a jar of pickled genitals for the road?
After that moving experience, me and Joe got back on the road and headed for the good ol south. Cameron, North Carolina in fact, to visit the home of the WWE's biggest pussy, Matt Hardy.
We come up on an old ranch style house with about 16 dogs running loose in the yard and a grimy, lanky character standing on the porch. Dressed in a pair of dirty ripped jeans and cut off Slayer T-shirt, we approached with caution…………
Nay: We're looking for the relatives of WWE star Matt Hardy. We're from TWF and are here to get some insight on our star for our site.
Joe: We were told to speak to a….Jim….Jimin………Jiminy is it?
Jiminy: That there would be me sir, I reckon yous want some inferrmashun bout my brother and that pretty lil red head he's got them feelins ferr.
Joe: Excuse me? Your brother?
Nay: Are you saying your Matt's Brother?
Jiminy: Hell yeah…..uncle too
Joe: This isn't gonna be good…….
Nay: can you tell us about Matt and why he's seems to be so obsessed with Lita even after what she's done to him?
Jiminy: Aw yeah, Matt and Lita. Real shame, too. I mean how could she go from Real men like us rednecks to some damn Cannadanneeann?
Joe: Yeah…… Wait, what do you mean?
Jiminy: oh, ask ah buddies, Hank, Cletus and Billy. They slept with Lita too. Barely surrrvived.
So we go to question them:
Nay: Hey there…uh, Hank is it? Um …your fellow redneck Jiminy directed us to you saying that you wouldn't be too uncomfortable speaking with us in regards to your relationship with Lita. Would that be alright?
Hank: Sure therr pretty lady I ain't uncummferbil bout nuthin. How you think Ah lost mah arm?!
Joe: I...really...really..don't wish to know
Nay: And you too, Mr...?
Cletus: Cletus…… yeah. Well look at ol' Matt. Thinks he's so big..He's the only one round here who has a computer! So ah went and slept with his girlfriend.
Joe: did you get any...impediments?
Cletus: Naw. Well, Maybe some crabs on top of the ones Ah already got.
Nay: Nice!
Cletus: Well at least I didn't end up like Billy. He ended up with severe retarrrdation
Joe: Really?
Cletus: yeah. There he is now.
Billy: I have a very small vocabulary
Joe: Well, what can you say?
Billy:....I have a very small vocabulary.
Nay: Sweet Shit Lita's a natural disaster
Jiminy: That's right. Folks round here call her the K.O.D. Kiss of Death. Man, the injuries just keep getting worse errytime someone beds 'er.
Nay:...have you ever tried...NOT sleeping with her?
*Joe appears with no arms and boils on his skin*
Nay: The hell have YOU been?
Joe: Well, the queue was getting shorter so I just got in line...can't beat those prices, I tell ya!
Nay:...You're sitting in the back of the car from now on
Joe slept for the next day on the road. Fevering and convulsing throughout the night dealing with the side effects of his mistake.
Nay: So, recovered?
Joe: Yeah, most of the itching's gone and luckily I didn't lose my pen-
Nay: Anyway! Hey, you smell something?
Joe: *sniffs*...Smells funny...hey, is that house over there on fire?!
Nay:...No..I think we've just arrived at our next stop. Hey ol' RVD might give us a few samples, eh?
Joe: yeah, like his One of a Kind dvd?
Nay:...uh yeah, yeah...
Joe: I can't wait….I'll knock.
Nay: No wait damnit!...This is RVD's house. He's a bit paranoid…..there's a secret knock so he knows we're not the cops.
*does the secret knock*
RVD: Is that who I think it is?
Joe: Yes it's me!
Nay: Shut up! Yeah man it's Nay, open up!
RVD: Come on in, but hurry up….I think they're watching me.
Joe: Who?
RVD: You know, the……Hey, want a smoothie?
Joe: Who?
RVD: You!
Joe: I'm watching you?
RVD: You are? I KNEW IT!
Joe: Huh?
Nay: Calm down….yes I want a smoothie! By the way Rob….where are your pants?
RVD: I only wear my ring undies cuz I found a bug in my regular pants.
Joe: A bug?
RVD: Yeah, they're listening to everything and if you like iced tea, raspberry is the best!
Joe: What the fuck are you talking about?
RVD: Are you thirsty, I have wicked cotton mouth!
Nay: Yeah well, honestly Rob, we came for some supplies and to wash up and get right back on the road. I'm gonna go in the back and clean up, why don't you tell Joe here about some of your ECW days.
RVD: Dude! It was great, this one time me and Sabu were workin this show in Dallas….do you know that Dallas has some really good weed? Sabu was in the middle of getting a table to bring in the ring. So me and this guy Ed went to go pick up from this guy named Gonzo who we heard had the best shit in town….Anyway….. So I go up on the top rope and he totally missed the spot. The crowd went nuts and I never did make it back to the hotel that night. Gonzo's shit was awesome! I don't remember the rest really, but it was a great show!
Joe: What the fuck just happened?
RVD: You heard it too right?
Joe: Heard what?
RVD: Shhhhh, oh shit they're here!
Joe: What in flaming fuck is in that bong?
Nay: Okay I'm ready, thanks for the hospitality Rob, but we've gotta get back on the road. We're on our way to "Sin City" Las Vegas!
RVD: Holy shit, I got some of the best shit in Las Vegas, one time, me and Sabu….
Joe: Get me out of here.
So once I stole some of RVD's weed, I packed us some food and we got back on the road heading towards Las Vegas. We get to the Trump Plaza were we're scheduled to meet up with Val Venis for an interview.
Joe: It's says he's in room 302, this is it!
The door is slightly ajar so we slowly walk in……
Nay: Oh! Sorry, Mr Venis!
Val: Hellllooooo Ladies!
Joe:....scuse me?
Nay: Uhm...we were just wondering if we could ask a few questions? I'm Nay, and this is Joe from TWF
Val: Anything for a fine woman like yourself...er, May was it?
Nay: Nay..short for Renee, ass...... Anyway, we wanted to know if-
*Vis walks in wearing leopard skin underwear*

Vis: hello handsome!
Nay: What in the motherfucking christ...
Val: uuh..this isnt what it looks like! We're just..practicing...wrestling! I mean, we're on the same tag team right? Practice makes perfect!
Val: Oh yeah, hunni. keep up the act. Only practicing we've been doing is Pinfalls and submission holds if ya get what I mean
Joe: I do and I fucking hate you.
Nay: So, this is why you didn't go out with Lillian?
Vis: Actually no, I was with Coach at that time
Coach pops up from under the bed*
Coach: I TRUSTED YOU!
*Nay snaps a picture*
*So does Vis*
Nay: Wow ! You guys are literally a bunch of bitches!
* Joe sees Vis coming towards him*
Joe: My God it's taking up my air
*looking at Joe lovingly*
Vis: I always wanted to try some Biritish candy!
Joe: Ah, fuck. Nay, can we leave? Please?
Nay: Maybe some other time Vis...
Vis: that's Miss Vis
*Grabs Joe and runs out*
Nearing our last stop, I decide to visit the pharmacy:
Joe: What we doing at a pharmacy?
Nay: I got a headache
Joe: SORRY I DIDNT QUITE CATCH THAT
Nay: bastard
*inside*
Nay: Hey….is that..?
Joe: Holy crap that's Razor Ramon, chico! HEY RAZOR!
Hall: Oh hey, a fan?
Joe: Well, yeah! I was such a Razor fan as a kid! What you doing here?
Hall: Well, I have a prescription from my doctor
*cut to*
Hall: You got any sleeping pills doc?
Doc: Absolutely not. I don't believe in such things. Try a little alcohol, that helps you rest you know.
Hall: I do that already doc
Doc: really?
Hall: Yea, every night I have 3 brandies, 4 martinis, some tequila and 5 vodkas
Doc: ....and you can't sleep?
Hall: No, I'm up all night singing.
*cut back*
Joe: OMG best story in teh EVAR!1!11!1!
Nay: Please excuse my friend. His inner-fanboy can get the better of him. Hey, you mind us asking you some questions?
Hall: Sure, chica
Nay: What the fuck happened?
Hall: hey, it wasn't my fault! I'm taking steps to quit the booze, you know...
Nay: That explains your six-pack
Hall: oh why thank you I have been working out...
Nay: I mean the beer in your bag, dufus.
Joe: RAZOR! How could you?! You have disgraced the Ramon name!
Hall: Kid, my name isn't really...
Joe: Good day, sir!
*Joe marches off*
Nay: One other thing, why the hell did your old theme song begin with a car skidding?
Hall: Well, I'll tell you ONE thing, it certainly was NOT me running over some girl one night when I was DUI!
Nay:...riight...
Kane: THAT WAS YOU?!
.......
Kane: Thanks, man, best lay of my life!
*Nay walks out, tripping over a writhing Nash*
Nay: Oops!
Nash: MORE MEDS! PLEASE!
*in the car*
Joe: .....
Nay: You alright?
Joe: I just found out my childhood favorite stinks like a dead hobo.
Nay: hey, don't feel too bad. We're nearing our final stop now. We're gonna visit ol' SOS.
Joe: Huzzah!!!!! Let the jobbing begin!!!
We arrive at the huge mansion owned by HHH and Steph. There is a statue of a sledgehammer in the garden:
Nay:...How modern.
Joe: Dude, this house is creepy. There's a bloody graveyard next to it.
Nay: Yeah I know. What does that one say?
Joe: ...Chris Jericho? Hey and there's one with RVD's name on it
Nay: Sweet Jesus look at them all! Let's just get this over with.
*Nay rings the doorbell. Suddenly a sledgehammer pops out and clocks Joe. HHH jumps out and pins him for 3*
HHH: I am-uh that-uh damn-uh good-uh!
Joe: You're a fucking TARD-UH.
Nay: um, we're from the wrestling website TWF? We was wondering if we could ask you some questions?
HHH: ...You don't look like fat 12 year olds
Joe:...Thanks?
*Inside, Stephanie greets us as we sit at the table. There's a mountain of fries on her plate*
Steph: So nice to meet you, I'm a big fan of your site!
Joe:..Really?
Steph: Yes! I loved the fact that I was nominated for a Fanny! And I was in a high spot on that Harry Simon's 50 Greatest Wrestler Moments!
Joe: uh, that was actually...
Nay: Well! We're glad you're a fan! First question I would like to ask, is-
*HHH Tries to eat one of Steph's fries but she slaps his hand away*

Steph: No! Bad! Bad Boy! What did we discuss? Now you know you should be punished for that!
Nay:…Did we walk into some weird S&M shit?
Joe: Heh, heh, alllriiight...!!
HHH: No! Anything but that! Please!
Steph: Go to your room Hunter!
Joe: His room?
Steph: Yeah, it's only just a little cage over there
HHH: Not..the HELL-UH in the CELL-UH!!!
Steph: Get in!
*HHH is locked in and inexplicably starts bleeding*
Joe: Shouldn't we at least feed him a few steroids?
Nay: Well, let me ask you something Steph...How is your relationship with your parents, at the moment?
Steph: Are you trying to break us apart?!
Nay:...what?
Steph: You leave my daddy alone!
Nay: What the fuck?
Steph: YOU SAID BAD THINGS ABOUT MY FAMILY!
Nay: Look, you crazy bitch I'm just trying to ask you some questions!
Steph: Oh yeah, probably just trying to get in my husbands pants, or even my brother's. Well tough luck, he's doing adult movies now.
*cut to*
Shane: Here comes the Moneeeeey shot!
Vis: You're so much nicer than that English kid!
*cut back*
Nay: Oh you're calling me a slut? Bitch I'll break your fucken………
*Nay mauls Steph to the ground*
Joe: CAT FIGHT! CAT FIIIIIGHT!
HHH: Some body let me out of here!!
*Joe lets him out*
HHH: I've been dying to do that for years. I really think I love you Nay!
Nay: Glad I could be of some help to ya Super Snacks, what the fuck is wrong with that bitch! Oh and by the way….You have no shot!
HHH: Ahh she's always been jealous of me!
Nay: Really? That's some shit.
*Joe sees a shadow in the hall way*
Joe: Is that…..is that who I think it is?
Lita: Hey baby boy, I missed you.
*Lita walks over to Joe and licks his ear...which suddenly mutates*
Joe: I want my mum!
Nay: Holy VD fuck!!….why the hell is the KOD here?
*Steph gets up from the floor*
* screeching*
Steph: Because she's mine! You people are trying to destroy me and take everything I worked so hard for my daddy to get for me, I want you all out of my house now!!! NOW!!!!!!
*Nay grabs Trips sledgehammer*
Nay: I'm about to fuck everyone up in this place, you people are fucken crazy! C'mon Joe……..Joe.
Joe: She won't let go…..
Lita: I followed you all the way back here to make you mine baby, don't you remember how hot it was between us?
Joe: It still burns, believe me.
Nay: *with sledgehammer in hand* I will knock your ass to fucken Smackdown! if you don't get your hands off him bitch!
*Lita lets go of him*
Lita: *To Joe* Fuckin prudes!
*Nay clubs her with the sledge hammer*
Nay: Bitch! Let's get the fuck out of here!
HHH: Please take me with you!! PLEASE!!!!!!
* Nay and Joe give him the finger as they leave*
So, once back on the road and leaving Connecticut, me and Joe had some time to reflect on our experiences. I felt kinda bad that his first time dealing with wrestlers was so outrageous but, what the fuck, he's a big boy ( Joe's note: heh, heh, allllriiight!), he'll get over it.
As for me, it was an enlightening experience to say the least. Val Venis was as charming as ever. Finding a lost Hardy boy helped explain a lot of what makes Matt tick and Lita gain force in being the total natural disaster she is.
Steph and Trip were of no surprise and Snitsky's mom…. Well, did we really think his home life was much different from what we actually saw? RVD will always be my boy, even if he can't tell a decent story to save his life and Scott Hall….well ….he's gonna die soon I'm sure.
The thought is this…………You never fucken know how fucken sick and twisted people really are until you talk to their families and friends. Seeing the stars in their most vulnerable state hasn't made me understand shit! It's traumatized poor Joe, and confirmed what I've thought all along, that wrestlers come from fucken crazy retards. How else do you explain it? They've been chipped off the ol' insanity block and shipped fresh to us for our viewing pleasure. I guess you 'd have to be though. What "normal" person would put their bodies on the line the way they do. Kinda like getting the slow kid in school to do tricks for you at lunchtime by jumping off the tables and shit for entertainment. (Joe's note: I WAS that kid...) Just a bit more high risk and a lot more lucrative. Either way we're entertained and like them, but really don't want to be seen in public with them. Overall I enjoyed my tour of the wrestling community and look forward to new and fun experiences. I doubt I'll be getting back on the road anytime soon. I need a new companion; Joe enters treatment for his rash on Friday. So I'll be taking applications in the near future. Take this as a learning experience though kids. Not all soft, wet things are touchable. Just a…
Joe: Thought! Ha Bitches!!!!!!! Nay put me over!