---
Thursday March 10, 2005
12:00 AM
Double Impact 03.10.05 The Corporate Angle By: Michael Melchor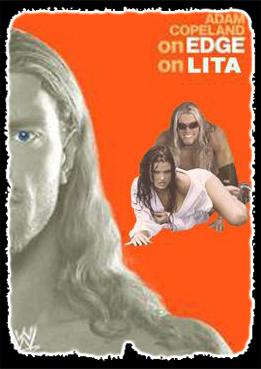 I know it's been quite a while since I've even been here, much less had anything to say about Wrestling. In-between keeping up with 411 Music, going to court soon and getting married even sooner, there hasn't been a lot of time – or, frankly, the inclination.
But then Matt Hardy and Lita happened. Hoho. Now we have a topic and a column that will involve NONE of the principal players of the celebrated love triangle as the main focus.
Confused yet? Just keep reading; it'll all make sense as you go along.
And thanks once again to Sean and the rest of the gang here at the Fan for putting up with my sporadic nature and long disappearances. Any of you are invited to give me a swift kick in the ass in public at our Forums should the mood strike you to do so.
Now then...
The views and opinions expressed herein are those solely of the author and may not necessarily reflect those of the rest of the human race.
It seems every year that, around WrestleMania time, some big story breaks that comes this close to putting egg on WWE's face. Last year it was the celebrated departures of both Brock Lesnar and Bill Goldberg that threatened the show. When the big event rolled around, the crowd at Madison Square Garden infamously booed both men literally out of the building, but the rest of the show went untouched.
This year, Matt Hardy, Lita, and Edge get to test the waters and see if their actions away from the ring do any damage to WrestleMania.
Now, before this goes any further, you already have an idea of what the topic is. However, I'm not about to vilify Lita and Edge or come to Matt Hardy's defense. Quite the contrary; I could give a shit less who's at fault. I could stand here all day and grandstand about the moral rights and wrongs of the situation (as most of the holier-than-God gurus in the IWC have already done), but at the end of the day it's no one's business but that of Matt Hardy, Amy Dumas, Adam Copeland, Mrs. Copeland, and the upper management of World Wrestling Entertainment, Incorporated.
But, how much of WWE's business is it? While everyone is too busy either calling Lita a whore or Hardy a sap for going about his break-up in a public, 10th grade manner, a point that I think may have been missed is exactly how much the company is trying to control the actions and reactions of all involved – and I'm not sure if ANY company has that right.
What started this whole screed was seeing this blurb on 411's Newsboard:
The PWTorch is reporting that the "close friend" at the center of the Matt Hardy/Lita split is in fact Edge. Edge's wife found out about the affair that has been taking place on the road and informed Hardy about it.
Matt Hardy and Edge have a longstanding friendship and as part of the Hardy Boyz and Edge& Christian, revitalized the WWE tag team scene in 1999 with their series of gimmick matches that included the TLC series with the Dudley Boyz.
WWE management is reportably extremely angry at Edge at what they describe as the "height of improper conduct". The feeling backstage is that this will be a politically crippling event for Edge and has the potential to threaten his career.
All parties concerned are part of the RAW roster with Hardy due back on the 19th of March from his leg injury. No word on whether they will be separated or this turned into an angle.
Hold on a fucking minute. A "politically crippling event" that "has the potential to threaten his career"? It isn't like the man went on NBC's Today Show and accused Vince McMahon of having sleepovers with little boys at Titan Towers while making them watch gay nude oil wrestling or anything. The man cheated on his wife, period. Whether or not ANYONE condones the action is immaterial – even World Wrestling Entertainment, Incorporated.
This is a matter that affects Edge's personal life and obviously has no bearing on what he does inside the ring. As far as most of the general viewership of the Raw program knows, Edge cares a LOT less about sex than he does being a whiny bitch who wants the World Title.
Including the "SmarK" crowd, maybe a handful of people know what's going on behind the scenes. This isn't like last year's Lesnar fiasco where he wanted to go to the NFL, causing the major sports outlets to pick up the story and run like Lesnar wished he could have done well enough to qualify for the Vikings. Many more people are concerned with "legitimate" sports than with pro wrestling. That's the sad fact. Because of that, people gravitated to the Lesnar story and had some fun with it last year at WrestleMania XX. Don't make the mistake that that reaction was all "internet" because, let's be honest, how many of those kids that bashed Lesnar and patted themselves on the back for being "in the know" were able to even afford a ticket to last year's show?
People hate the character of Edge. Based on recent book sales, they could probably give a shit less about the man, Adam Copeland. As a result, there's nothing to the Hardy/Dumas/Copeland triangle at all that the mainstream media's going to care enough about to pick up on and report to a wider audience. The mainstream media outlets already know the reaction they're going to get – "who cares?"
In that respect, WWE has absolutely nothing to worry about in all of this. Instead, paranoia has taken hold like scurvy on one of Paris Hilton's old boyfriends and, because they don't want their "corporate" image tarnished in any way, shape, or form, are handling this as a "politically crippling event" that "has the potential to threaten Edge's career". There's absolutely no reason to do so as, while the fear is at least understandable, there's no real concern here. What there is a concern about is a matter that WWE is handling a little better.
Taken again from 411's Newsboard:
It is expected that WWE management is going to take Matt, Lita, and Edge aside and talk to them about not letting this situation overlap with their work. The plan is to also keep them from having to work together in any sort of way.
That may be a good idea due to the environment that everyone's in. Given the fact that these athletes are paid to safely inflict punishment on each others' bodies, what's to stop them from doing it in an unsafe manner once the cameras are on and there's no one else there to stop them? Best not to risk the injury of a performer in the ring over something like this.
HOWEVER, I would hope that talk from management would include words to the effect of, "Remember, you're paid to be a professional. Any shit started here backstage and there WILL be disciplinary action, possibly even termination. We've invested too much time and money into your characters and television personas to watch you all ruin it in some petty fucking playground squabble over a piece of rancid ass."
Whether or not those exact words were used is anyone's guess (and mine would be "not really"). But we do know that SOMEthing was said prior to the first Raw show after this whole soap-opera broke. One last time, we go to 411's Newsboard:
- Matt Hardy was expected to be at RAW last night since he lives near the arena, but was asked not to attend by management. With Lita and Edge both booked for the show, WWE did not want to have an incident backstage. Hardy did not attend.
- Management did sit down with Edge and Lita to talk about how to keep the situation from impacting business. WWE wants the road to WrestleMania to remain smooth.
Now, let's take a look at how that show went:
- Edge was announced as one of the six participants in the "Money In The Bank" ladder match at WrestleMania 21. That night, he faced Jericho (the guy that came up with said ladder match) and beat him. During the match, a couple kids attempt a "You Screwed Matt!" chant – and fail miserably when no one else picks up on it because they don't get it.
- Lita returned as the girl who is training Playboy Playmate Christy Hemme to wrestle and challenge Trish Stratus for the Women's Title at WM 21. Lita is met with her usual decent (but not spectacular) reaction from the crowd.
In hindsight, you see how little the "BIG STORY THAT COULD RUIN WRESTLEMANIA 21" actually mattered. There's a big difference between losing one of your major stars to a failed football career right before the big show and having some of your mid-card stars caught in a love triangle career right before the big show. Which do YOU think had the bigger impact?
WWE would do well to take a lesson from this. Every little negative thing that happens is not going to spell their doom on the Grandest Stage Of Them All. Maybe they could use their "corporate" resources to hire some HR staff that know and understand the difference and solve each problem accordingly instead of trying to dictate the private lives of their employees. The WWE wrestlers already give their bodies to the company; isn't that enough?
L8. Thanks again for reading.
For more interesting (?) reading, click here.
Be sure to visit EdWolf for all of your (non-video) gaming needs, Rehab Radio for some good surfing music, and The Wrestling Fan for a good chuckle or two.