WWE MONOPOLY
Sick of the same old Board Games lying around because it's too boring to play and half the pieces are missing? Tired of the useless whored-out $50 Game Variations (Patented Reverse Inverted Inside-Out Connect Four Game of DOOM~!) cluttering the shelves of your local convenient stores (
Star Wars Monopoly? What the hell?!
)? If so, then close this window, You probably won't want to read this. World Wrestling Entertainment, in conjunction with The Wrestling Fan, (not-so)proudly presents:
WWE MONOPOLY: WHERE YOU CAN OWN IT ALL AND STILL END UP THE LOSER!!!
Everybody's Favorite Board Game, WWE style! Start as a mere unknown 'roided-up body-builder, given a chance to make it big, and 'monopolize' the Industry until your power rivals that of Triple H and Shawn Michaels, or at very least Vince McMahon! It's even more fun when you have a rival and compete with each other to see who can take control of the WWE first and send the other to bankruptcy! But make sure you don't land on the 'You're Fired!' square, or you'll be sent into the black hole that is TNA! Nobody ever expects such a career-threatening thing to happen, but it does...
*
And just when you thought that the Board was more than enough, you can enjoy the fun even more with chances and community chests, to bring the realism of life on the road with the WWE! Including:
Chance
=
Community Chest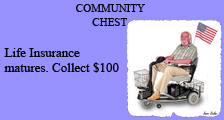 Who needs High-tech Video Games, school and real-life wrestling training, you don't need any of that to be a WWE
Wre
Superstar when you need is right here, in WWE Monopoly! Coming to a store near you!
Also Coming (hopefully not too) Soon:
Jake 'The Snake' Roberts Operation: The game where you get to dissect a very-much-alive 'Snake' and find out for yourself what's in the digestive system of the living corpse that is Jake Roberts!
*You may be wondering why there's no tag division on the board. When asked for approval, Vince stated; "Huh, what titles?... Oh, those... just put them on anybody, I don't care...".
*TWF Logos, and Photoshops appearing on "Chance" cards originally created by Sean Carless