Wrestling Idol
No one does reality television better than the world's best fake sport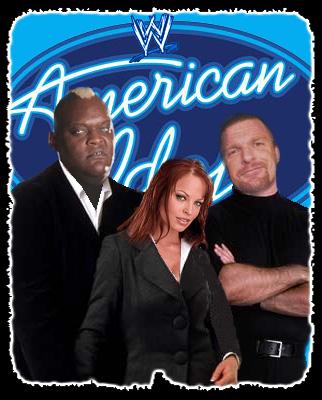 Coming this fall to ABC television....

You've seen them wage war.

You've seen them bleed.

You've seen their victories...

And their defeats....

But what you haven't seen...

Is their true talent.

Presenting the brand new reality show from ABC: WWE's Wrestling Idol. After the successes (in his own mind) of the Diva Search and Tough Enough, Vince McMahon brings his superstars outside of the squared circle and onto the big stage where they will compete in a competition of vocal superiority. With an expert trio of judges lined up to oversee the show, and a top notch host, this is Reality TV like you have never seen it before.

Hosting the show is none other than metrosexual interviewer Todd "Tard" Grisham. Joining him, are the three superstar judges:

Christy Hemme, the obligatory clueless hot chick.
Viscera, the overweight black guy.
Triple H, the insulting asshole who believes everyone onstage is untalented.

The Star power doesn't end there as every contestant is a WWE superstar. Join the ten contestants as they try to win your hearts and those of the judge panel with their favorite songs and their own unique styles (or lack thereof). The ten contestants have been selected and even we can't hold in our enthusiasm.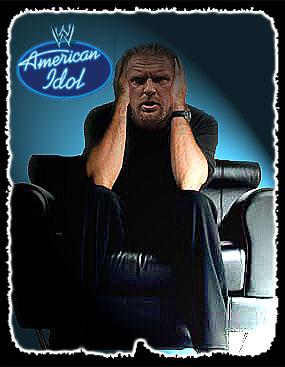 Hulk Hogan
Chris Jericho
Lillian Garcia
Heidenreich
Rey Mysterio
Kurt Angle
Edge
Stephanie McMahon
Sharmell (obligatory black chick...)
Andre the Giant (Special Return from the Grave appearance!)

Be prepared for performances by all your favorite stars as we hear classics like "The National Anthem" by Lillian Garcia (it's the only song she actually knows...) and "Real American" sung by the raving Hulkster himself and new hits like "Shelton Benjamin is a Little Bitch" by Chris Jericho. Don't take our word for it. Take this clip and decide for yourself.

Jericho: "Won't you take me to....FUNKY TOWN! Oh, won't you take me-"

Triple H: "You see? This is what I'm talking about! He sucks! No talent at all. Where's Ric Flair? Now that guy can do a great rendition of Funky Town..."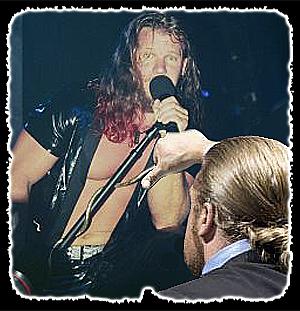 "Christy: "I thought it was great, though I have absolutely no idea what this "Funky Town" thing is. Hehe. What do you think Viscera?"

Viscera: "I think I ain't working until I get my damn donuts. Where's that stagehand?"

Jericho: "Fuuuunky Toooooowwwwn! Thank you!"

Triple H: "That's it." *pulls a sledge hammer from beneath his chair beats Jericho into the ground with it*

Todd Grisham: "You've heard Chris Jericho and if you want to vote for him just dial 1-800-555-2Y2J on your phone.

Triple H: *delivers a pedigree on the stage "HELL IN A CELL! HELL IN A CELL! AAAAAARRRGH!"

That is just a sampling of the drama that awaits in the newest reality series coming to ABC. No one does reality television better than the world's best fake sport. That's WWE's Wrestling Idol showing weekdays at seven after JBL's Survivor: Smackdown Locker Room. Be there.
Cameron Burge is TWF's resident "Mr. Monday Night", penning the "Best Damn Raw Rant, Period" appearing every..umm, Monday night. That's right. Also known as "The REAL Inferno" (not to be confused with all those impostors out there) Cameron was hand picked by Michael Melchor himself to assume any and all RAW responsibilities. A selfless man, Cameron has also dedicated most of his organs to science. (which makes his current day to day life quite uncomfortable.) Read his Raw Reports or die.
FEATURED COLUMN
THE TWF "MENTAL WELLNESS TEST!"
TWF FLASHBACK
November 2006
SATIRE: DISCONTINUED WWE XMAS PRODUCTS!
With Christmas just around the corner, what better way to spend your few remaining dollars (left over after the seemingly infinite line-up of fucking pay-per-views ) then on the following "quality WWE merchandise!" After all, if they don't move this stuff, and fast, stockholders just might get time to figure out what "plummeting domestic buyrates" means!... and well, I don't think they need to tell you what that means! (Seriously. They're not telling you. Everything is fine! Ahem.).