WWE Music Series Presents: The Best of La Resistance!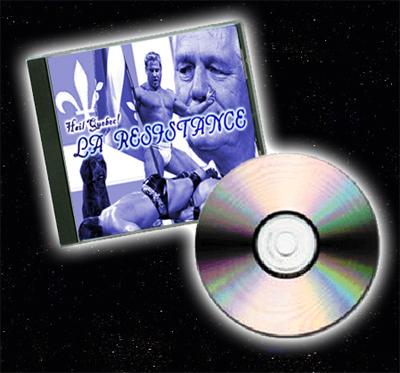 With countless fans clamoring for the newly released John Cena CD, WWE has decided to capitalize on the opportunity and, much like with its new film ventures, announce the launch of a brand CD label. In a TWF exclusive we bring you the first title to be released under this label.

"Hail Quebec!- The Best of La Resistance"

This fall WWE plans to release this CD set to much fanfare and celebration. It consists of ten tracks spread across fifteen CDs for a mind-blowing musical experience. From the heart-warming "Oh Canada" track to the comedic "Patterson is our other 'Flagpole" it is a definite must buy for any wrestling fan. Just listen to what the people involved have to say if you aren't convinced already how great this set is.

"At first I was skeptical when Vince and Pat approached me about the idea earlier this year," says La Resistance member Robert Conway. "But then they reminded me how Renee got his job in the first place and Pat started giving me this creepy smile so I agreed."

"We really kicked up our singing a notch for this," Grenier adds. "We're going to make a huge impression on the stinky, American music market. Viva La Quebec!"

"It was great to work with the guys again while I'm being repackaged [into soilent green hopefully]" was what former La Resistance member, Renee Dupree had to say.

With so much talent how could WWE possibly make this CD set even greater? Easy, special guest performances by current and past superstars! Max your volume to the crooning of Hulk Hogan, "Macho Man" Randy Savage, and even Vince McMahon himself! It's a can't miss opportunity for collectors and casual listeners. Take a look at this impressive track list.

Track 1: "Oh Canada" -Sylvan Grenier and Robert Conway.
Approx. Running Time- 10 seconds before someone else's theme music interrupts.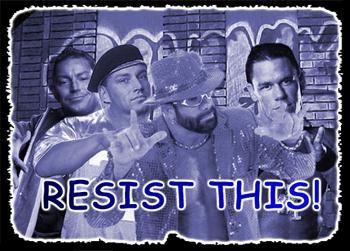 Track 2: "Oh Canada (Classic Mix)" - La Resistance feat. Renee Dupree.
Approx. Running Time- 2 minutes when Dupree's push tanks again.

Track 3: "Oh Canada (Rap Mix)" - La Resistance with John Cena and Randy Savage
Approx. Running Time- 2 days.

Track 4: "Oh Canada (Hulk Rules Mix)" - Hulk Hogan feat. two guys that job to him.
Approx. Running Time- The span of Hulk's Entire Career.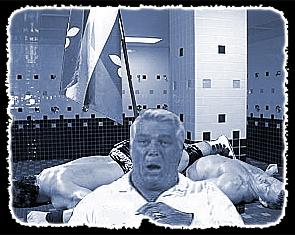 Track 5: "Patterson is our other 'Flagpole'" - La Resistance & Renee Dupree feat. Pat Patterson.
Approx. Running Time- Until Pat "finishes".

Track 6: "We love Triple H" - La Resistance feat. Triple H and MotorHead.
Approx. Running Time- 10 Title Reigns.

Track 7: "We Only get heat in Quebec" - Robert Conway & Sylvan Grenier.
Approx. Running Time- 2:31.

Track 8: "Au Revoir" - Robert Conway & Sylvan Grenier.
Approx. Running Time- Three botched attempts.

Track 9: "Oh Canada (WWE Mix)" - La Resistance feat. Vince McMahon.
Approx. Running Time- Long enough to pimp the next PPV.

Track 10: "Oh Canada Megamix" - La Resistance & Friends.
Approx. running Time- Until they are fired to make room for "Divas".

There you have it. The newest music hit that is coming to a store near you. Be sure to check out the other great titles by WWE Music like: "Gods of Wrestling- JBL Unleashed", "Two Tits, No Brain" by Christy Hemme, and "Can You Dig a Grave for My Career, Sucka?" by Booker T. and Sharmell feat. Kurt Angle.
Cameron Burge is TWF's resident "Mr. Monday Night", penning the "Best Damn Raw Rant, Period" appearing every..umm, Monday night. That's right. Also known as "The REAL Inferno" (not to be confused with all those impostors out there) Cameron was hand picked by Michael Melchor himself to assume any and all RAW responsibilities. A selfless man, Cameron has also dedicated most of his organs to science. (which makes his current day to day life quite uncomfortable.) Read his Raw Reports or die.
FEATURED COLUMN
THE TWF "MENTAL WELLNESS TEST!"
TWF FLASHBACK
November 2006
SATIRE: DISCONTINUED WWE XMAS PRODUCTS!
With Christmas just around the corner, what better way to spend your few remaining dollars (left over after the seemingly infinite line-up of fucking pay-per-views ) then on the following "quality WWE merchandise!" After all, if they don't move this stuff, and fast, stockholders just might get time to figure out what "plummeting domestic buyrates" means!... and well, I don't think they need to tell you what that means! (Seriously. They're not telling you. Everything is fine! Ahem.).