Text by Derek Burgan. Pictures by Sean Carless.
This week's spotlight: NEW T-SHIRTS FROM TNA!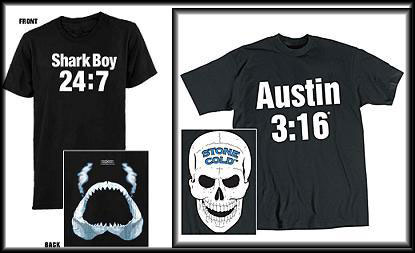 With the success of TNA's new Shark Boy 24:7 shirt, itself a blatant rip-off of the hugely successful Austin 3:16 shirt from WWE, ShopTNA.com has immediately placed into production a whole slew of new t-shirts for their wrestlers based on much more popular WWE wrestlers. Who needs new ideas when you have creative licensing?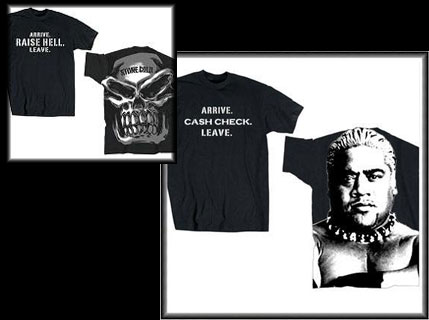 Everyone remembers Steve Austin's Arrive. Raise Hell. Leave. shirt, so who better than to emulate Austin than the man who ran him down in the rental car? That's right, the first - and last -TNA shirt featuring Junior Fatu. Sure, he only had a cup of coffee in TNA (and judging by the last time we saw him, just about everything else on the catering table), but that's what makes this shirt special. Available in many sizes, starting at 5XL, and guaranteed to disappear after the first time you wear it! You probably won't even notice. Or care.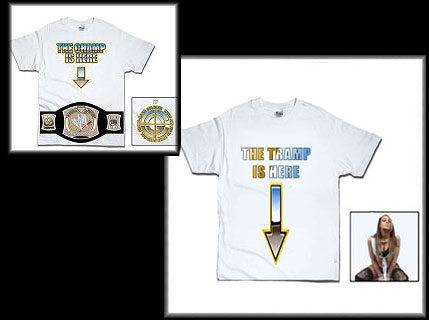 FOR THE LADIES! Let's face it gals, deep down you are all little more than backstabbing sluts who wouldn't think twice about sleeping around if it meant getting ahead in the world. It's time to respect the power of your babymaker by showing the world you support Velvet Sky and the rest of the TNA Knockouts division! A misogynist masterpiece! COMING SOON: Karen Angle crotchless thong! Angelina Love home pregnancy kit! Awesome Kong Swedish-made penis enlarger!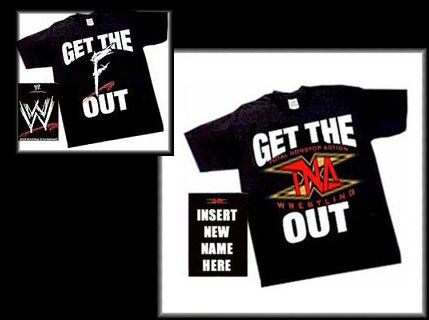 Several years ago one Panda got the WWE to change their name, and now it's time for a whole new Panda - Panda Energy that is - to force another company to change their name. We admit it, TNA is hands down the worst possible name for a wrestling company and immediately turns away any sane person scrolling through their TV channel listing. There's just no way around it, so we are going to GET THE TNA OUT! and come up with a whole new exciting name (to be determined.)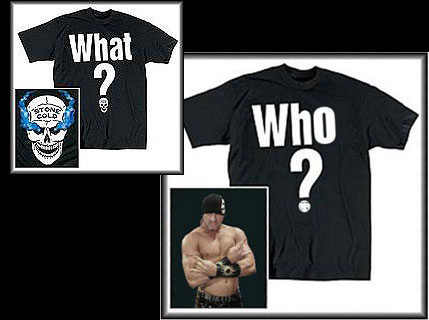 Calling all LANCE HOYT fans! Both of you. Based on the popular Steve Austin "WHAT?" shirts comes the incredible new Lance Hoyt "WHO?" shirt. Pretty self-explanatory, even for IMPACT viewers. We know it takes a real man to admit his mistakes, so this shirt was designed with extra material in the back to cover up that unsightly "tramp stamp" that is usually only seen on 18 year old girls. Get yours today! Or tomorrow. There's really no rush. We still have a lot of them in stock and they aren't going anywhere.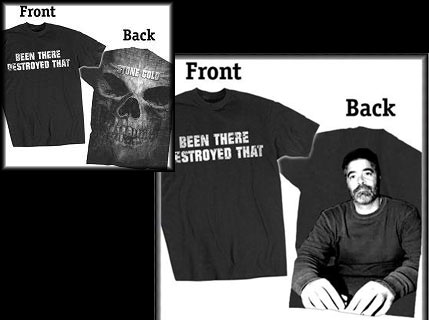 Based on the Stone Cold Steve Austin "Been There Destroyed That" shirt, TNA finally honors another man for whom 1999 truly never ended: VINCE RUSSO! And besides, who knows about destroying things better than Vinnie Ru? So what if Austin stunned a bunch of people ten years ago? How many companies has he helped destroy through terrible writing and nonsensical booking? EXACTLY, bro. Exactly.

Each shirt arrives inside out (because doing things in REVERSE ORDER is just plain more innovative!), and comes with a complimentary POLE, for which it can be hung! Available in 3 sizes: Medium, Large, and GIANT SPALDINGS. Get your Vince Russo T-shirt today! I mean, sure, it's one huge colossal mistake, but you'll have people talking about it! And that's the main thing, right bro?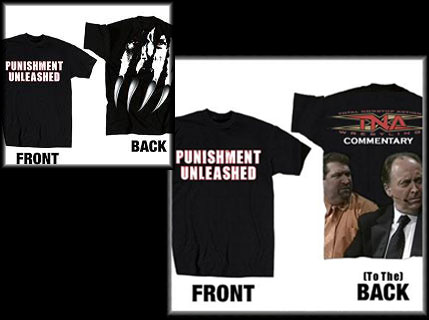 Based on Batista's "Punishment Unleashed" T-shirt, join us in supporting a duo that, unlike Big Dave, ACTUALLY DELIVERS on this boast on a weekly basis: Mike Tenay & Don West, your TNA Broadcast Team! Each shirt is made with 100% RIDICULOUS HYPERBOLE, and is the perfect apparel for whether you're nonsensically segueing to something completely unrelated to what you've last seen - never to return to it again - or perhaps just yelling at the top of your lungs over a move you've seen a million times before, this is clearly the GREATEST T-SHIRT YOU'VE EVER SEEN IN YOUR LIFE IN THE HISTORY, MIKE! We're so not KIIIIIIIIIDDDDDDDDDDING you.

Order now, and place it TO THE BACK of your closet today!
ONLINE EXCLUSIVE! Based on WWEshop.com's exclusive shirt for The Miz is a new wearable item that spotlights the braintrust in TNA. You've seen plenty of stipulation matches to decide stipulations for future matches. You've seen a thousand "comedy" skits in one show. You've been TO THE BACK! You know it's not a good week unless someone does a heel/face turn. You even know that Rellik is Killer spelled backwards. Now show your love for TNA booking to the world. (Each shirt comes with extra large neck opening to fit giant egos through)

DON'T FORGET to head on over to TheWrestlingFan.com and get ready for WrestleMania with Sean Carless, the mad scientist of recapping, revisiting WrestleMania 21 with his unique blend of hilarious writing and top notch photoshops. And you can check out Sean's awesome archives right here!
Derek Burgan can be seen wasting everyone's time with wrestling DVD and comic book reviews over at F4Wonline and Wrestling Observer. He also has an archive with reviews, columns, and past Gimmick Tables over at The Wrestling Fan, so check it out! He even has a MySpace page. Whew! Derek can be reached at: derek@wrestlecrap.com