This week's spotlight: WRESTLING WRITERS GETTING WORK THANKS TO STRIKE
Hollywood, in near chaos thanks to the recent Writer's Guild strike shutting down production on all the top television shows, had to scour the earth for people to replace the writers currently walking the picket line. Searching high and low, and then lower, and then even lower, until they finally found their answer at the bottom of the barrel. Wrestling writers! The only class of writers so low that they aren't even officially recognized as creative entities in the entertainment world. With their new writers in the fold, Hollywood is set to continue on with many of your favorite programs, albeit with a slight twist…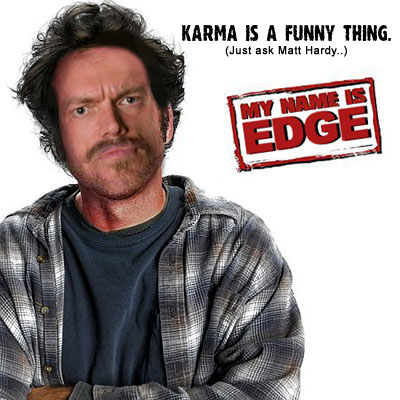 Edge is a long-time mid-carder who "buys" a winning lottery ticket when sleeping with the girlfriend of one of wrestling's hottest acts, only to tear a pec and get sent to the "B" show. He then realizes on SmackDown that his bad luck is the result of karma in which fate punishes him for all the rotten things he's ever done in his life; therefore, he then decides to dedicate his life to making amends to all the people who have jobbed to him in his career. With a colorful cast of characters including Edge's brother (played by Christian Cage), his ex-wife Sympathy (played by Vickie Guererro) and her new husband Crabman (played by token black Ron Killings), this hit comedy shows the bump-filled journey Edge takes to improve his life. Rated "R" for riotous laughter!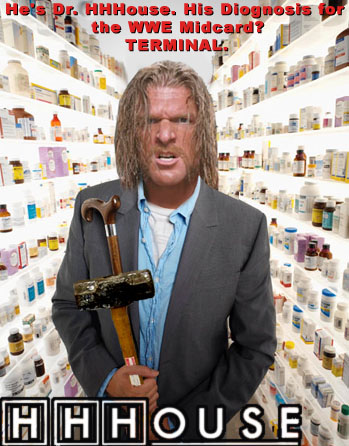 The series follows the life of the oft-injured, homophobic, HGH addict, semi-witty and arrogant medical doctor, Dr. HHHouse, with only half a muscle in his right leg thanks to constant muscle tears due to years of "performance enhancement." HHHouse and his team of medical doctors (including Dr. Heiny, Nurse Slobberknocker, and Issac Yankem, DDS) try to cure WWE Superstars with unorthodox treatments. "This guy is getting WAY too much heat right now. I've never seen someone with such a rocket growing out of his ass. Dr. HHHouse prescribes a lengthy cool down time in ECW followed by an unannounced roster cut. Case closed!"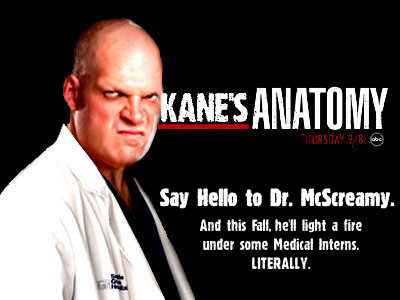 The series revolves around Dr. McScreamy (Kane) who began his career as a Kevin Nash impersonator at the fictional Seattle Grace Improv Theatre. McScreamy and other former impersonators beoame legitimate theatre actors and act out the daily goings on in a hospital. The show features an ensemble cast, including Ric Bogner, Jeff Farmer, Lance Von Erich, and the corpse of Katie Vick, though Kane is presented as the central character, providing voice-over narration at the beginning and end of most episodes. Viewers may "See No Evil" but they will see plenty of drama mixed with a little bit of comedy in this season's critical darling!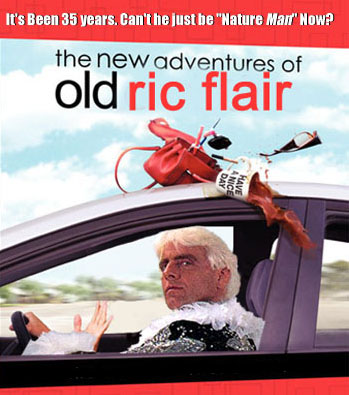 Slammy Award winner The Nature Boy stars in THE NEW ADVENTURES OF OLD RIC FLAIR, a comedy about a newly married 60 year old with a grade-10 hernia masquerading as a hernia and owner of a "financial planning service" even though he squandered almost all of his own fortune on his lavish lifestyle. Flair is the portrait of the new American dad, albeit with some unflinchingly candid points of view, an unabashedly balding head, and a "I heart Huckabee" bumber sticker on his veal-skin seated Bentley.. For him, every day is an adventure, but life is made easier due to the fantastic relationship he shares with his protégé, Triple H. However, everything changes when his boss (Vince McMahon) goes through another mid-life crisis, and instantly complicates Flair's life by making him prove himself once again. WOOOOOOOOO!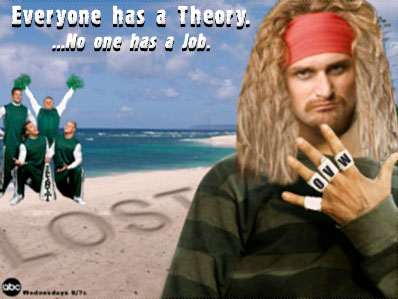 After Oceanic Air flight 815 tore apart in mid-air on its way to Louisville, KY and crashed in Parts Unknown, its survivors were forced to find the inner strength and charisma they never displayed on The Big Show. But they discovered that this mysterious place holds many secrets, including a second Ultimate Warrior, over aged ring rats, a strange French man named Frenchie Martin and another group of residents on second – even more mysterious island - known as "Deep South." The survivors have also found signs of those who came to the island before them, including a 25th century UFO named The Teddy Hart, the remains of Hacksaw Jim Duggan, as well as bunkers belonging to former ROH stars -- a group of scientific wrestlers who dream of one day being seen by more than 100 people.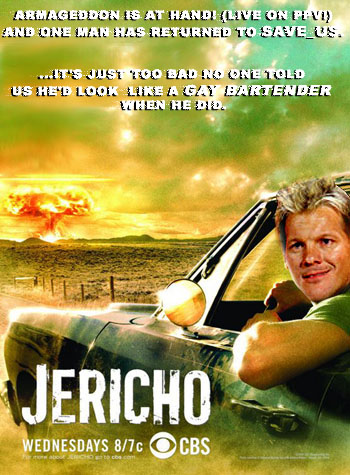 Because of hundreds of e-mailers demand its return! Jericho is back, complete with bleached teeth, hundred dollar hair cuts, and sparkly vests. Just the way you remembered it!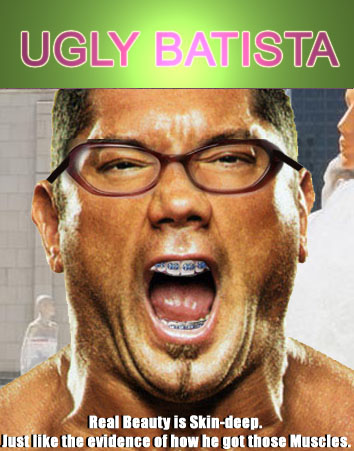 As the series began viewers are introduced to Batista Leviathan, an old, roided up freak, who lands a job as a personal assistant to newly-installed editor-in-chief Daniel Meade at Mode magazine. Batista is good-hearted and brave, but sorely lacking in social skills, workrate, and marital faithfulness. He sports thick-framed eyeglasses and a large and prominent set of trapezius muscles (which have become the most identifiable symbol for both Batista's character and the steroids-in-wrestling controversy itself). His grotesque physical appearance and awkward nature result in his immediately being singled out in the aesthetically-centered world of American pro wrsetling, and he is quickly saddled with the show's eponymous nickname.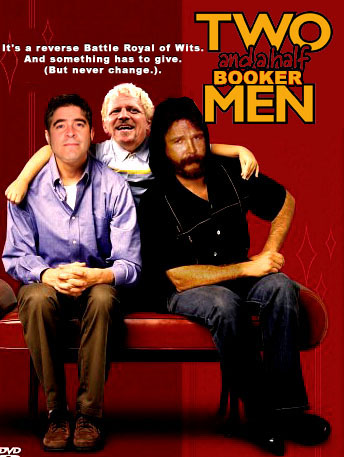 TWO AND A HALF BOOKERMEN is a hilarious sitcom centered around a freewheeling alleged Christian, Vince Russo, whose carefree and shoot-filled lifestyle is interrupted when his newly widowed boss, Jeff Jarrett, moves in, along with Jeff's buddy Dutch Mantell. Russo and Mantell form an "unsuspecting bond" with each other as they book a wrestling show, becoming TV's original odd couple, except they are the opposite of original and instead are just a diluted version of everything you've seen before. The only place on TV where you'll find four hours of content crammed into two hours, with almost ten minutes of wrestling matches!
DON'T FORGET to head on over to The WrestlingFan.com and check out Sean Carless' uproarious look back at 2007 in his BACK LEG FRONT KICK. This year-ender is massive and chok-full of all the photoshop and written genius we all love. Sean covers a ton of stuff in his irreverent style and going back over all the big events, and even the obscure things you'd think no one would bring up. From the Benoit story to Triple H's merchandise ripping off the Affliction shirts. This column has it all and I guaran-damn-tee you will love every bit of it.
ATTENTION THEME PARK FANS: If you're theme park fan like Derek, check out the new ORLANDO ATTRACTIONS MAGAZINE. It covers, Disney, Universal, Sea World, and all the other cool stuff to do down in Florida. The first issue even has some wrestling stuff with theme park aficionado Scotty 2 Hotty. Check out the website for more info: www.AttractionsMagazine.com
Derek Burgan can be seen wasting everyone's time with wrestling DVD and comic book reviews over at F4Wonline and Wrestling Observer. He also has an archive with reviews, columns, and past Gimmick Tables over at The Wrestling Fan, so check it out! He even has a MySpace page. Whew! Derek can be reached at: derek@wrestlecrap.com