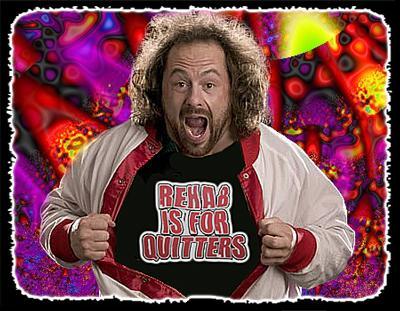 A VERY SPECIAL CLUSTER
SHMAZZ
By now, everyone has heard about how Nick "Eugene" Dinsmore disgraced himself by passing out in a hotel lobby during a WWE tour of England. He should have just claimed that there was an "Absolutely Fabulous" marathon on the telly. But alas, WWE management soon discovered that Eugene had gone into a soma coma after taking too many muscle relaxers. (Or as those in the biz call 'em, Louie chewys.)
Eugene was on top of the world just a few months back at SummerSlam, as fans booed him out of the building in his match against Kurt Angle. Sure, Eugene was actually supposed to be the babyface, but hey, heat is heat. Anyway, Eugene has been sent home and "suspended indefinitely." What is definite, however, is that Eugene's job is now in jeopardy, double jeopardy, and perhaps even final jeopardy.
But fear not, Eugene fans! Like any celebrity, Eugene just needs to repay his debt to society, and everything will quietly go away. You know, just like Eugene's angles with William Regal and Uncle Eric. In a world wide web exclusive, we here at the 'Shmazz have uncovered the details of Eugene's community service. From now until the end of the year, every episode of Raw will end with Eugene teaching safety to the youth in a series of vignettes.
SPOILER WARNING! DON'T READ ANY FURTHER IF YOU DON'T WANT TO KNOW HOW THIS COLUMN ENDS!


WEEK #1

While playing hopscotch, Eugene is approached by a Sleazy Drug Dealer With An Ultimate Warrior Shirt. SDDWAUWS offers Eugene some "vitamins." The curious Eugene reaches for these "vitamins" when we suddenly hear...
.
.
.
.
.
.
.
.
.

"...ATTEN-HUT!!"


Sgt. Slaughter: "EUGENE, PUT THOSE PILLS DOWN! THIS DESTRUCITY-SPEWING MAGGOT IS TRYING TO POISON YOU JUST LIKE THE TIME COBRA COMMANDER SLIPPED PCP INTO GUNG-HO'S K RATIONS!! THAT POOR CAJUN BASTARD NEVER DID FIND HIS SHIRT! SO REMEMBER, EUGENE, JUST SAY NO TO DRUGS AND BUSH'S LAX IMMIGRATION LAWS!!"

Eugene: "Um...N-N-Now I know..."

Sgt. Slaughter: "AND KNOWING IS HALF THE BATTLE!!"
WEEK #2
Eugene is out back catching some rays at a public swimming pool. It's December, but what the hell, he's retarded. A man wearing a Phil Mushnick mask sits down in the lounger next to Eugene and strikes up a conversation.
Eugene seems happy, but Phil soon convinces Eugy that he is actually bored to tears. Phil helpfully suggests that nothing beats boredom quite like a big milkshake made with real ice cream and LSD. Or as wrestlers call 'em, a "Jake shake." Eugene enthusiastically claps his hands as Phil hands him a large styrofoam cup. Suddenly, the water in the swimming pool starts churning. Both Eugene and Phil look up to see...
.
.
.
.
.
.
.
.
.

Aquaman: "Now wait just a minute, sailor! There's something Phil Mushnick didn't tell you! Sure, a Jake shake will cure the boredom blues, but it will spoil your appetite before supper! Also, I think it can kill you! And stuff"
Eugene (excited): "L-L-Look, Mr. Mushnick! A guy with a big sea horsey is in the pool! How did he get there?"
Phil rubs his eyes and looks at the cup in his hand.
Phil: "Man, I have gots to stop taking this shit..."
Eugene: "N-N-Now I know! Phil Mushnick is a big stinky doo-doo head and you can't trust him!"
The lesson learned, Aquaman cheerfully waves goodbye as he and his sea horsey submerge.
Eugene: "Thank you, Sub-Mariner!"
WEEK #3
Eugene is in an office supply store, hunting for bargains. A suspicious-looking employee beckons Eugene over to his aisle. The employee hands Eugene the biggest, shiniest pair of scissors he's ever seen.
The employee then tells Eugene that the scissors are only on sale for the next five minutes, so he'd better hurry up and run to the checkout as fast as he can! Just as Eugene is preparing to sprint, the wall behind him buckles and explodes! When the dust settles, who do we see, but…
.
.
.
.
.
.
.
.
.

Invisible Singing Voice: "HE-MAN! AND THE MASTERS OF THE UNIVERSE!"
Eugene: "It's a guy in underpants and a HHH muscle shirt!"
He-Man (chuckles): "Ha ha ha! Actually, Eugene, this insignia is an iron cross. Before HHH used it, it was a rallying symbol for a man named Adolf Hitler!"
Eugene: "Wow! Learning is fun!"
Battle Cat: "It sure is, Eugene! And today, we'll be learning a very important lesson about the danger of running with scissors!"
He-Man (chuckles): "Ha ha ha! The big pussy is right! But first, let's see who this store employee really is!"
Employee: "I'm sorry, sir. No shirt, no nipples, no service."
Undaunted, He-Man reaches across the counter and rips a rubber mask off of the employee. Eugene gasps and points when the employee's true identity is revealed as…
.
.
.
.
.
.
.
.
.


Eugene: "LA PARKA!!"
Eugene starts doing the Parka strut as the puzzled MOTU look on. The awkward silence is broken when the big yellow doohickey on Man-At-Arms' arm lights up and starts playing a "Lovin' Every Minute Of It" ringtone.
Stratos: "Dammit, Arms! Didn't we tell you to put that thing on 'manners' mode?"
Battle Cat: "Christ, like getting kicked out of 'Divine Secrets Of The Ya-Ya Sisterhood' wasn't humiliating enough."
Oblivious to his poor etiquette, Man-At-Arms loudly answers his arm-phone.
Man-At-Arms (talking to his arm): "Hello? Hi, sweetheart. Uh huh…uh huh… Actually, pumpkin, Daddy's at work right now. Can I call you back? Wait, are you crying? What's wrong? It's okay, honey dumpling. You can tell Daddy. A father's love is uncondi-- YOU'RE WHAT?? AGAIN?! THIS IS THE SECOND TIME THIS YEAR ALONE, YOU FILTHY WHORE!! DO YOU AT LEAST KNOW WHO THE FATHER IS THIS TIME??!!"
He-Man (chuckles): "Ha ha ha! It sounds like Teela has done it again!"
Battle Cat: "That does explain why I saw the Sorceress leaving Castle Grayskull with a coat hanger this morning."
Stratos (placing a comforting hand on Arms' shoulder): "You know, Arms, recent studies show that 99% of all children are now being born with red feathers and gray beards. Apparently, doctors have discovered this recessive gene…"
Eugene: "Um, guys? Yoo hoo? I think I forgot what today's lesson is already."
The MOTU can't hear Eugene over the sounds of their own bickering and chuckling, respectively.
Eugene: "Do you 'member today's lesson, Mr. La Parka?"
Skeletor: "Here's today's lesson, kid: Just because a slut tells you she's on the pill, it doesn't mean that she really is. You just can't trust a bitch these days."
Eugene: "Wow…really?"

Skeletor: "Hey, would Peter Parker lie to you? Now get the lead out! Those scissors are only on sale for another ten seconds!"
WEEK #4
Eugene is pacing outside an arena during a WWE live event. Eugene is nervous, as he stops pacing only to spit-smooth his hair. He is waiting for his friend, Christy Hemme. After months of unspoken sexual tension, tonight is the night that Eugene is going ask Christy out on a date. Failing that, he's going to force himself on her. One way or another, the clock is ticking on The Special One's virginity.
Eugene (beating his chest): "T-T-T-Tonight, I am…a man!"
Voice from the parking lot: "That's not how we roll!"
Eugene spins around, but only sees a parking lot with nobody in sight. The silence is short-lived, however. A "wonk-wonk-wonk-wonk-wonk" noise rings out and the next thing he knows, Eugene is looking up at…
.
.
.
.
.
.
.
.
.

Eugene (gasps): "It's Hippopotamus Prime and the Autobots!"
Prime: "Er…yes. Eugene, we have rolled in from far away to stop you from making an irreversible mistake."
Eugene: "Ohhhhhh…I was wondering why there were racecars at a house show."
Jazz: "Yes, indeedy! We do this all the time. Whenever there's going to be a big event with lots of people, we arrive in the parking lot the night before!"
Eugene: "Ooh! Ooh! In case the Decepticons attack??"
Jazz: "No, to take up all the parking spaces within a reasonable walking distance! We hate humanity. Your fat asses need all the exercise they can get. But that's not why we're here tonight."
Wheeljack: "Prowl is right, Eugene. Every day we fight to save humans like you for a small fee. Today, we're fighting to save you from your own hormones! Do you know what hormones are, Eugene?"
Eugene: "I know! I know! That's the stuff Gene Snitsky collects into bottles and keeps in his bag!"
Wheeljack: "Well, technically, that's correct. But the hormones we're talking about are the filthy organic things in you mammals that fill your heads with thoughts of intercourse, and fill your fluid compartments with other unpleasantness. This year alone, Perceptor has isolated 826 different types of STD from just one of Missy Hyatt's toothbrushes!"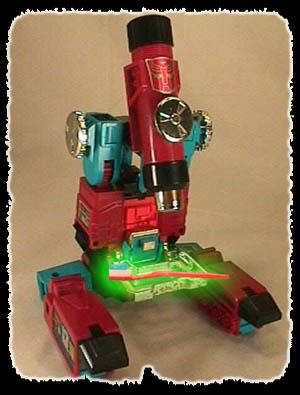 Jazz: "It makes us sick just to think about it! You homo sapiens are all 20 gallons of 'disgusting' in a 10-gallon tank!"
Prime: "That's telling him, Mirage! Eugene, I don't have to remind you how much damage a rampaging Devastator can do to an orphanage! Now, try to imagine millions of little Devastators in your swimsuit area."
Eugene: "Ewwwwwwww! Hey, wait! How do you guys know about this stuff? Y-Y-You guys don't even have any…any…you know."
Prime: "On the contrary, Eugene. All Autobots do indeed have genitalia."
Wheeljack: "Except for Bumblebee."

Prime: "Right."
Jazz: "It's just like I say to the ladies: There's more than meets the eye!"

Jazz puts up his hand, looking for a high-five. The other Autobots leave him hanging.
Jazz (muttering under his breath): "Gasholes."
Prime: "But as we all know, fornication makes Cybertron Pope cry. It is the duty of all Autobots to literally keep their junk in their trunks."
Wheeljack: "Eugene, take it from your buddy Wheeljack: When you think about getting your 'Jack on, remember what we said today, and it'll help you to 'Jack off! Do you have any questions?"
Eugene (raising hand, jumping up and down): "Yuh huh! Um…um…um…Mr. Jazz?"
Jazz (thrilled that someone got his name right): "That's me!! What I can help you with, my main man?"

Eugene: "Won't your husband Rodney Mack get worried if you're out this late without calling home?"
Jazz (to Prime): "Remind me again why the dipshit Dinobots couldn't have handled this one."
Prime: "Can it, Number One Superguy! We've done our part, now it's up to Eugene! Autobots, transform and roll out! And remember, senior citizens are worth 10 points each!"
The Autobots cheese it just as Christy comes a-bouncing out of the arena.
Christy: "Hi, Eugene. Hey, aren't you suspended or something?"
Eugene: "Christy! Christy! You missed it! The Autobots were here! Hippopotamus Prime an' Jazz an' Jack Black! They told me about their robot ding-dongs and then they turned into cars and trucks, like this!"
Eugene begins to contort himself, unsuccessfully attempting to transform into a sports car. As wrestlers file out of the arena, Juventud Guerrera notices the commotion and wanders over.
Juventud: "Hola, Christy."
Christy: "Oh, hey, Juvie."
Juventud (looks at Eugene, then looks to Christy): "Que?"

Christy: "He's either trying to transform into a car or self-fellate. I'm not quite sure. But either way, he's creeping me out."
Juventud: "Oh. So, wanna get fried on X and fuck our brains out?"
Christy: "Sure!"
Juventud and Christy leave together. The camera pans down to Eugene, who has now dislocated both shoulders and a kneecap.
Eugene (singing): "Gooooooooo-Bots…more than meets the eye…"
FINAL WEEK
The events of the last few weeks weigh heavily upon Eugene's simple mind. Eugene turns to the one friend he can trust in times of crisis; Rob Van Dam. Eugene wanders into RVD's Five-Star Comics, hoping that "Mr. Monday Night" can help him make sense of it all.
Eugene: "And then…and then…and then I started singing the 'Go-Bots' song! And then…"
RVD: "Yeah, yeah. Got it. A hippopotamus showed up and had sex with Christy Hemme. Cool. Now, Eugene, did you drink two gallons of water like I asked?"

Eugene: "Yup!"
RVD: "That's my boy! Now, remember what's next?"
Eugene nods, happy to be helpful. RVD hands Eugene a large empty sports bottle.
RVD: "Okay, make it snappy. I've gotta have that like, yesterday. There's no time to bother with the doorknob to the restroom! Just do it here!"
Eugene (sheepishly): "But Roooooob…there are people in here."

RVD: "Who, these kids? Dude, they see worse than that on Nick At Nite these days. Now make with the yellow gold!"
Suddenly, a black SUV crashes into the store through a wall. The familiar "wonk-wonk-wonk-wonk-wonk" noise rings out. The befuddled superstars then find themselves staring eye-to-thigh with…
.
.
.
.
.
.
.
.
.

Trailbreaker: "Howdy, y'all! 'Trailbreaker's' the name, and helping folks out is my game!"
RVD (rubbing his eyes in disbelief): "Dude, that's the last time I buy from Phil Mushnick."
Eugene (clapping his hands): "Yay! You're another one of those Transvestites!"
Trailbreaker: "Uh, that's 'Transformer,' little buddy. Eugene, I know you just wanna help your pardner Rob, but this just ain't the right way to do it! When you're about to drain the dragon, you should ALWAYS wash your hands before and after! Otherwise, it just plum ain't sanitary! Do ya copy, son?"
Eugene (embarrassedly looking down at his shoes): "I'm sorry, Mr. Trailbreaker."
Trailbreaker accepts Eugene's apology, but tactfully declines to shake his hand. During this, one of the kids in the store looks up from the 25-cent bin to notice a two-story robot counseling a retarded professional wrestler. The one kid alerts the other four kids, and suddenly…
.
.
.
.
.
.
.
.
.

Black Dude: "Earth!"

Russian Broad: "Wind!"

Asian Chick: "Water!"

Trailer Trash: "Fire!"

Ma-Ti, the youngest Planeteer: "Heart!"
Trailbreaker: "Now, now, little buddies. Let's all calm down a spell. Y'all can't just go around yelling out words at random! Why, just the other day, I was watching the 'Self Destruction Of The Ultimate Warrior' DVD, and…"
Disembodied voice: "BY YOUR POWERS COMBINED…
.
.
.
.
.
.
.
.
.

Captain Planet: "…I AM CAPTAIN PLANET!"

Eugene (scratches head): "Who?"
Captain Planet (clears throat, cups hands to mouth): "I!! AM!! CAPTAIN!! PLANET!!"
Eugene and RVD both stare blankly at Captain Planet.
Trailbreaker: "Well, I shorely am pleased ta meetcha, Mr. Planet. My handle's 'Trailbreaker' and there ain't nothing I like more than meetin' a new frien—"
Captain Planet: "DIE, EVIL SPORTS-UTILITY VEHICLE!!!"
Using his unparalleled ability to blow (great winds, that is), Captain Planet tears Trailbreaker apart. The friendly Autobot clutches his chest as he dies a slow, painful death.
Trailbreaker: "Cybertron Pope, why hast thou forsaken meeeeeee1011001010101011010101010101101"
Ever the entrepreneur, RVD slaps a price tag on Trail. It reads "Transformer, near mint = $1,995.00."
The Planeteers, in unison: "Hooray for Captain Planet!"
Captain Planet: "Don't worry Eugene! That nasty ol' SUV won't be polluting our atmosphere any more! Now, he's guzzling gas in hell! Okay then, let's 'transform' you into an activist for the environment!"
The Planeteers laugh at Cap's lousy pun. Kiss-asses. By this point, Eugene is on the verge of a complete breakdown. He frantically grabs RVD by the shirt.
Eugene: "See?? You gotta help me Rob!""
RVD: "Hey, I'm hungry. Are you hungry?"
Eugene: "Save me, Rob! I need a hero! I need a superhero!"
Captain Planet (raises hand): "I'm…"
RVD: "…loitering. Yeah, I know. Buy something or hit the bricks, mullet. And are any of your kids in this country legally?"
Black Dude: "He cannot talk to the Captain that way! Why are Americans such, how you say, holes of ass?"
Russian Broad: "Bohze moi! They're getting better, comrade. We now are being here for fifteen minutes and have yet to hear one bad stereotype joke about foreigners."
Asian Chick: "Indeeeeeeeeeed."
RVD (as he picks up a phone book and looks for the number to INS): "I dunno, Euge. I don't think you need a superhero. You'd need a physics professor to figure out this one."
Off-screen voice: "How about BOTH?"
With a "FZAMMM!," who should swoop down into the store, but…
.
.
.
.
.
.
.
.
.



Narrator: "When Ronald Raymond and Professor Martin Stein become one, not only do they sin against nature, but they turn into Firestorm, the Nuclear Man! A superhero with fire for hair, Firestorm possesses many unique superpowers that he will not use in today's story!"
Firestorm: "Firestorm, at your service! And say hello to Professor Stein! He's with me at all times in the form of a giant invisible floating head!"
Professor Stein: "Ronald, what is that boy doing in that sports bottle?"
Firestorm: "The Professor says 'hi!' But there's no time for small talk when faced with a big problem! Guys, you shouldn't judge people just because they come from filthy pissant countries that aren't America! Instead, you should feel sorry for them!"


Eugene (turning to RVD): "I'm scared."
RVD: "You're not so dumb after all."
Firestorm: "In fact, you should accept people of all white races! Take Professor Stein here, for example! As one of the first openly Jewish superheroes, he taught the world that Jewish people are A-okay so long as they're out of sight and they can be summoned at will to do your homework for you!"
Professor Stein: "Oy vey, Ronald!"
Firestorm: "Speak when spoken to, Professor Smartyberg."

RVD: "Hey, weren't you killed off to make way for a new, younger, hipper Firestorm?"

Firestorm: "Hey, weren't you supposed to spend this year in a gym, rehabbing your leg?

RVD: "Touché. Say, can I borrow your head? I'll just need it for a minute."
While Firestorm ponders RVD's request and the Planeteers take turns kicking Trailbreaker's lifeless carcass, nobody seems to notice curious little Eugene becoming mesmerized by Firestorm's blazing head. Like a retarded moth to a flame, Eugene reaches a hand up, inching closer and closer. Disaster seems imminent, when suddenly…
Off-screen voice: "Go, go, gadget arms!"
A pair of bionic arms snatch Eugene and pull him to safety. Said arms are attached to none other than…
.
.
.
.
.
.
.
.
.

Euguene (gasps): "Ronnie Spector!!"
Inspector Gadget: "That's right, Inspector Gadget is always on duty! Playing with fire is a good way to get burned, Eugene!"
Eugene (singing, oblivious to Gadget's words): "T-T-T-Take me home tonight!! I don't wanna let you go 'till I see the light!"
Inspector Gadget: "Furthermore, you should always…"
Gadget is interrupted by a large siren that pops out of his hat and starts wailing like there's no tomorrow.
RVD: "What? Is there a crime in progress?"
Firestorm: "Good question! What's the answer, Shlomo?"
Professor Stein: "Hardly, Ronald. If I'm not mistaken, that's a siren of a different sort! I suspect Mr. Gadget has violated a restraining order by being within 100 yards of the youngest Planeteer, Ma-Ti."
Roller skates pop out of Gadget's shoes. He skates away, head hung low.
Inspector Gadget (muttering under his breath): "Just because I happen to track down a M.A.D. spy disguised as my niece Penny in the shower 37 consecutive times…"
Just then, another wall explodes! Someone else is making an entrance!
Eugene: "What now??"
RVD: "Dude, I officially tap. Now come on, Firestorm. I want to introduce you to my best friend. Her name is Mary Jane."
RVD leads Firestorm into the back room. As the smoke clears, who does Eugene see, but…
.
.
.
.
.
.
.
.
.

Lion-O: "Thundercats, HOOOOOOOOOOOOOO!!"
Panthro: "Hey! She has a name, and it's 'Cheetara!'"
Cheetara: "That gets funnier every time you say it, dick."
Lion-O: "Eugene, we're the Thundercats! And we want to teach you about—"
But suddenly, Lion-O is interrupted in mid-sentence as yet ANOTHER wall gives way to invaders!
.
.
.
.
.
.
.
.
.

Eugene spins around just in time to hear…
Spider-Man: "SPIDER-FRIENDS, GO FOR –"
But before the wall-crawler can even finish his team's catchphrase, up from the ground burrows…
.
.
.
.
.
.
.
.
.

Invisible Singing Voice #2: "TEENAGE MUTANT NINJA TURT—"
ISV2 is drowned out by the sound of every vent in the store popping loose.
Eugene (giggling): "Hee hee hee! Teenage Mutant Ninja Turds!!"
But Eugene's laughter is cut short when he notices that Smurfs and Snorks are now pouring out of the woodwork. Outside, all hell is breaking loose. Voltron slugs it out with Apache Chief. The Ghostbusters are chasing Beetlejuice. The Get Along Gang just pulled switchblades on the Muppet Babies. The street is littered with dead Ewoks, Chipmunks, and Care Bears. Overwhelmed, Eugene shuts his eyes and covers his ears, trying to escape from the chaos.
Eugene: "No! No! No! Make it stop!"
With his eyes closed, Eugene staggers around and accidentally trips over Trailbreaker's lifeless husk. Instinctively, Eugene opens his eyes and looks at Trail. What he sees is a revelation.
Eugene: "HEY EVERYBODY!!!!"
Everybody freezes in place and looks at Eugene.
Eugene: "I know! I know! I learned my lesson!! Mr. Trailbreaker wasn't really killed by Cap'n Placcidl! Not for true, anyway! No, Mr. Trailbreaker was really killed by HIM!!"
Eugene points at Ma-Ti, the youngest Planeteer. Everyone gasps in shock. Well, except for Panthro, who left to take a whiz on the church across the street. He's such a dick. Pan finally zips up and returns just in time to realize he missed the big reveal.
Panthro: "What gives?"


Lion-O: "Eugene just fingered Ma-Ti as the one who killed Trailbreaker!"
Inspector Gadget is now miles away, but his bionic neck shoots his head back into the store.
Inspector Gadget: "Oh, sure. HE can finger Ma-Ti…"
Gadget's head is promptly tackled by the C.O.P.S. and pummeled into oblivion.
Spider-Man: "Are you sure about this, Eugene? Ma-Ti doesn't seem like he's smart enough to kill anyone."

Ma-Ti: "I have a pet monkey!"
Spider-Man: "See?"
Ma-Ti: "No, really! His name is Suchi!"
Panthro: "Cheetara will spank him for ten bucks!"
Spider-Man (to Pantrho): "Dude, you really are a dick. Got change for a $20?"
Eugene (jumping up and down in frustration): "I-I-I can prove it!!"
Using his super-retarded strength, Eugene leaps across the room and grabs Ma-Ti by the arm. With one mighty yank, Eugene tears Ma-Ti's arm clean off. Ma-Ti goes into shock and bleeds to death before he even hits the ground. The assembled heroes are aghast. Eugene slams the arm down on a counter for all to see.
Eugene: "Look at this!"

Eugene points at the dinky little "Power Of Heart" ring on Ma-Ti's finger. Eugene then dives into what's left of Trailbreaker. Rubik The Amazing Cube has already swiped his hubcaps, but Eugene finds what he's looking for and spikes it on the counter, next to Ma-Ti's arm.
Eugene: "Now look at THAT!!"
Lion-O: "Is that what I think it is?"

Spider-Man: "It is if you think it's an enlarged Transformer heart!"
Cheetara: "So someone ordered Ma-Ti to use his power to enlarge Trailbreaker's heart to fatal proportions? And also, every WWE superstar who died from an enlarged heart?"
Eugene nods frantically. Every eye turns to Captain Planet.
Captain Planet (suddenly nervous): "Why, that's the most ridiculous thing I ever heard! You guys aren't honestly thinking that—"

All around the room, weapons are unsheathed and energy blasts are warming up. Realizing that his goose is cooked, Cap does a little powering up of his own.
Captain Planet: "Is that how it's gonna be? Fine! Your measly abilities and accessories are nothing compared to my vaguely-defined arsenal of superpowers! I can wipe out the lot of you with a wave of my hand! Since mankind destroyed the planet, the Planet will now destroy mankind!"
Captain Planet clenches his fists and grits his teeth. This will be a battle the likes of which our mortal minds can barely comprehend! Well, it would have been if not for the fact that it's that exact moment when RVD and Firestorm come out of the back room, laughing like madmen. A large cloud of smoke follows them out and completely engulfs Captain Planet.
Captain Planet (coughing, gagging, choking): "No! Pollution! The only thing I'm vulnerable to! Um, I think. Can't see! Can't breathe! Can't…can't… Hey, I'm hungry. Are you guys hungry?"
Captain Planet slumps to the ground, dead. Cheers erupt and posing ensues. Until…
Eugene: "Wait, wait, wait! There's more! Crapping Planet wasn't behind this! Wait till I show you who was!"
Eugene marches over to Planet and removes his trousers, revealing a curious tattoo on his buttocks.
-CREATED BY TED TURNER.

Thunder crashes and lightning strikes as an evil hillbilly laugh fills the room. At last, the true mastermind behind all death and despair has arrived!
.
.
.
.
.
.
.
.
.

Billionaire Ted: "Wuh-wuh-well played, Eugene! I underestimated yew! Yes, it was me all along! If I can't own the rasslin' industry, then can't no one can! So I started killin' rasslers, one by one! At the rate I'm goin', there won't be enough for a six-man tag match come January! And I woulda gotten away with it if not for yew, ya bunglin' retarded kid! Now, I'm off to lead a KKK meeting, but I shall return!"
Billionaire Ted disappears in a puff of smoke. Not the same way RVD does, though.
Panthro: "Man, that guy's a dick."
RVD: "You did it, Eugene! You saved the wrestling industry!"

Narrator: "And so, thanks to Eugene, Billionaire Ted has been exposed and his heart-enlarging lackeys have been vanquished! The Special One and his new friends can now rejoice in a true happy ending!"
Asian Chick: "Happy ending? Five dollar!!"
Everyone stands around laughing, in true 80s style. The assembled characters lift Eugene up on their shoulders and carry him around the store.
Everybody chanting in unison: "YOO-GENE! YOO-GENE! YOO-GENE!"
Close-up on Eugene's face. He's happier than he has ever been. The scene dissolves into another shot of Eugene's face, still smiling.
Vince McMahon: "Eugene? Eugene? Eugene?"
The camera pulls back to reveal that Eugene is actually in a hospital bed. WWE owner Vince McMahon is keeping a vigil by his bedside. A doctor walks into the room.
Dr. Zahorian: "It's no use, Mr. McMahon. He can't hear you. I've never seen a coma quite like this."
Vince: "Give it to me straight, Doc. When will he wake up?"
Dr. Zahorian: "Mr. McMahon, there is no guarantee that he ever will."
Vince: "No. No, I don't believe you!"
Dr. Z dramatically takes off his glasses and looks Vince in the eye.
Vince: "Okay, I believe you now."
Dr. Zahorian: "I'm truly sorry, Mr. McMahon. Now then, as you know, you legally own the souls of all contracted WWE employees. This is never easy, but a decision must be made."
Vince solemnly nods. Dr. Z exits the room. Vince looks to a shadowy corner of the room.
Vince: "You know what to do."

As Vince leaves the room, a sinister figure emerges from the shadows. Clad in a black robe and hood, he silently walks over to Eugene. Slowly, he lowers his hood to reveal…
.
.
.
.
.
.
.
.
.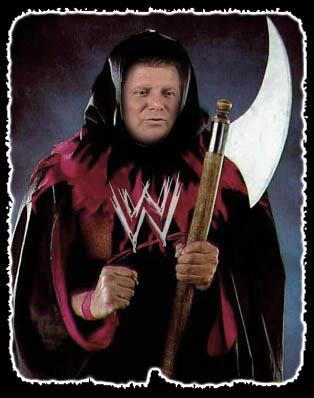 …WWE head of talent relations/hatchet man/Dynamic Dude, Johnny Ace!
Ace reaches into his pocket and pulls out a half-used-up tablet of pink slips. He tears one off, places it on Eugene's chest, shakes Eugene's limp hand, and then heads toward the exit. Ace is halfway out the door when he stops short and turns back. For a moment, it looks like Ace is having second thoughts. Then he steals Eugene's bedpan and runs like hell.
The camera zooms in on Eugene for the parting close-up. Eyes glued shut, Eugene has an ear-to-ear grin on his face.

Eugene: "Yoo-gene…Yoo-gene…Yoo-gene…"
Fade to black.
THE END
-HDS-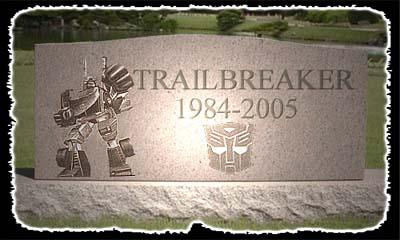 IN LOVING MEMORY OF TRAILBREAKER
1984 – 2005
"An Autobot is as good as the fuel in his tank."

ACKNOWLEDGMENTS: I riped off the basic premise of Sarge and the "G.I. Joe" moral from a comic strip on the old scoopwrestling.com in 1998. And I'd do it again. The original goofed on Kane first babyface turn, with Sarge warning him about taking candy from strangers. Remember all those months where Jim Ross was proclaiming that Kane "didn't know right from wrong"? Well, I do.
Some other guy first made the He-Man/HHH connection (including the iron cross symbol) about two years ago, too.
I swiped your pen, too. You know, the really nice one that you've been looking for. Hey, at least I admit it.