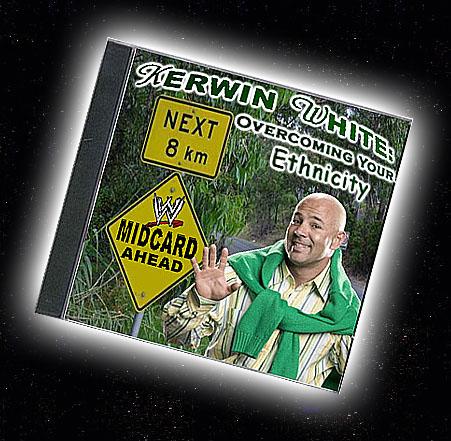 Product Review: Kerwin White's "Overcoming Your Ethnicity" Self-Help Audio CD
So I'm watching TV, and there's an ad on for some show where a redneck is a doctor (I know, fantastic premise, right? Why didn't they come up with it sooner, after all, someone thought Doogie was a good idea, right?). Okay, I never actually watched Doogie, so who am I to piss on it? I'm a dude on the 'net, that's who! Ahem, anyway … so this hillbilly doctor is getting into an elevator and he bumps this chick's coffee, which spills onto her chest. This is where she remarks, and I'm paraphrasing here because I have the memory of an elephant (one that's semi-retarded), "I actually prefer to drink my coffee over wearing it." That is some truly remarkable dialogue there, folks. Such witty banter that is sexy and funny at the same time, kinda like she's saying "you fucking spilled coffee on me you dipshit … but oh how I can't resist your redneckish charms, take me now!" In other words, my point with all of this is … expect to see this writer's work on WWE TV soon!
Alright, well, after that unorthodox intro (which is akin to my idea of foreplay, and likely why I haven't been laid in years), I'm ready to get to the meat (white, of course, but spicier because it's fromMexico) of it. Kerwin White. The name itself is synonymous with white America. It's got "white" in it for God's sake! I mean, if they called him Mr. Black that would be just down right goofy, now wouldn't it? Okay, so that bit could have been funnier. Fuck off.
When I first wrote this, there was a buzz in the air about Kerwin. Then he seemed to fade away a bit. But then he came back! And now he's bigger than ever (occasional appearances on Raw, midcard status, AND his own male valet). What is his secret?
Well, I think the popularity (so far so good anyway) of Kerwin White actually lies in his truthfulness. Yup, you heard me. If phrenology has taught us anything, it's that non-whites are scientifically inferior. You don't want to mess with science, do you? Science will fuck your sister and then break your knees (or fail miserably to even find a cure for the common cold)! Therefore, Kerwin had little choice but to become white (though thankfully not going to such extremes as Michael Jackson … skin condition my ass, which STILL isn't as white as that proud "black" man). Anyway, Kerwin has developed a self-help audio CD so that anyone can follow in his footsteps! What a hell of a guy.
So enjoy (or, like all my ex-girlfriends, fake it, and tell me you enjoyed it anyway … just don't file a restraining order the next day, please).
Chapter 1: We All Start Somewhere
Many people have asked me, Kerwin, how did you do it? Well, I like to remind them that, hey, we all start somewhere! And for me personally, a big part of my inspiration comes from Vincent K. McMahon. You see he showed me that there is no way I can be a success unless I embrace the mainstream white society. If you think I'm wrong just look at Orlando Jordan, or Shelton Benjamin. I'll tell you, just a few weeks in his cotton fields or shoe factory, and you become really motivated! I knew I had to seek out one of WWE's top guys for help: Pat Patterson.
I found myself in the locker room, down on my luck (my knees actually), wondering how I got there (and whether or not Patterson was going to fucking finish any time soon), and I was struck by a moment of inspiration. You might say it just POPPED into my head. "Kerwin," I said to myself, somewhat muffled, "it's time for a change." And then I spit to emphasize my point. And then I threw up … also to emphasize my point …
Chapter 2: Who Needs Baby Steps When You've Got A Golf Cart?
Image is the key to any gimmick. The idea is to try and be as ORIGINAL as you possibly can. How do you do this? Copy a bunch of other gimmicks and mash them together to make something NEW and EXCITING. For example, ride something to the ring. You'll clearly stand out from all those other losers who walk or run! Yes, on Smackdown there are the Mexicools with their lawnmowers, JBL with his limo, and Eddie (up until recently) with his tricked out cars, BUT there is NO ONE doing it on Raw, so it is hard to argue that it is not extremely INNOVATIVE.
Also, breaking some foreign object over your opponent's back is SURE to give you an edge. Especially if used in combination with your bodyguard/man slave!
Lastly, when creating your own "How To" CD or book, remember to type in CAPS to emphasize important WORDS. This IS important TO GET your points across. Good editing is KEY!!!34211!!!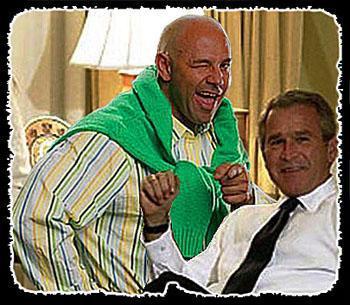 Chapter 7: Alienate Your Old Fan Base
If you had fans as an ethnic, you are going to have to ditch them and start from SCRATCH. No matter how over with fans you were, it does not count unless they're WHITE fans. Whether you're a heel or a face, a connection with the audience is crucial. But when making the transition from heel to face, it's important that you don't just turn against your old fans, but make them so disgusted they actually stop watching. THAT is when you know you're truly over!
Chapter 23: Locker Room Politics
If you want to stay on top of the heap, backstage politicking is crucial. And if anyone knows about being at the TOP, it's me. Such a big time player in the WWE as myself has to constantly protect my spot. Here's an example. Recently it was suggested that I start a program with Danny Basham, where eventually we would end up feuding over which one of us was the baldest. Seems like a good idea, right? Well, I vetoed it immediately. Danny Basham is not ready for the big leagues yet. He's not on my level, and feuding with him is clearly beneath me. I'm just trying to do what's right for the business.
In such situations, it is important to have an alternative suggestion, however. Therefore, I suggested we keep the same premise, but instead of Basham, I'll feud with Kurt Angle. Now, there is someone on my level! At first he will completely dominate and kick my ass. But (and sometimes it's good to get advice from others, like the recently returned Matt Hardy), this will be the FIRST part of a FIVE part story arch, so don't fear, Kerwin fans!
Chapter 354: Enjoying Your Mid-Card Wealth
Want to be a big player? Better spend like one! This is an important thing to maintain when you are making the HUGE money of a mid-card star. You want people to take one look at you, and know that you are better than them. Clothes are one good indicator of social status, and that's why I buy nothing but the finest ($2 from Salvation Army) sweaters. Nothing says "class" like a sweater. It's too hot for them to be practical in Mexico, for one thing, so nothing screams success more than owning one!
Eating is important as well, and when you're as rich as I am, you better eat nothing but the best. Goodbye spam, and hello Kraft Dinner! In fact, I am so incredibly wealthy that I can even afford condiments such as ketchup to put on my Kraft Dinner. Almost seems to good to be true, doesn't it?
My biggest prize though, is my totally awesome $5 Sanyo watch. Having a little bit of bling bling is enormously important nowadays if you want to impress the WWE executives. And hey, it doesn't hurt with the ladies either!
That's it for another Diatribe, folks! As always, much thanks to anyone who has made it far enough through this column to be reading this. Please remember to check out the other TWF writers. We've got a fucking fantastic staff here, and we're literally shitting comedy gold! Well, it might not be gold … I guess it could just be corn, but whatever!! Drop by the forums too, and shoot the shit with us or praise us to the heavens … either or, no pressure. Thanks, as always, goes to Carless for the photoshops, and for allowing me to post (as irregular as it might be). Take care, and as always, I remain,
Remy
Still here? Haven't had enough yet? Well then, here's a snippet of a conversation I recently had with the great James Walker, where we dispense some great advice about … okay, there is no advice to be found here. However, it is mildly amusing (if it's a popular feature, you may just see more of it):
Adam says:
Hey dude.
James: It already started in the city says:
ahoy there
Adam says:
It's Remy, by the way.
James: It already started in the city says:
It took me a second
Adam says:
Thought it might.
Adam says:
Never know.
James: It already started in the city says:
I'm creepy - I looked at your profile, and was all like.. kamloops, eh... hmm... then I saw the adam, and I was all like, bam.
Adam says:
haha
Adam says:
Who did you think it was?
Adam says:
Some hot chick?
James: It already started in the city says:
if only
Adam says:
Sorry to disappoint.
James: It already started in the city says:
... can you pretend?
Adam says:
hahaha
Adam says:
hahahahahaha
Adam says:
...
Adam says:
No.
James: It already started in the city says:
fuck.
Adam says:
Not sure I could be crazy enough to pretend to be a chick.
Adam says:
They're fucking nuts.
James: It already started in the city says:
This is true
James: It already started in the city says:
But so are we... for taking it.
Adam says:
Hey, I'm single.
Adam says:
Intelligence ++
James: It already started in the city says:
Cash ++, too.
Adam says:
Hell yeah
Adam says:
For beer.
James: It already started in the city says:
It's all we need.
James: It already started in the city says:
Honestly - give me beer over shelter.
Adam says:
Exactly
Adam says:
That's why God invented camping.