This week's spotlight: NEW WWE BOARD GAMES!
With the success of WWE's "Scene It" DVD based game, the think tank in Stamford, Connecticut burned the midnight oil in developing more games to take over market. The Gimmick Table was lucky to get an inside look at this Holiday Season's sure to be Must Have gifts!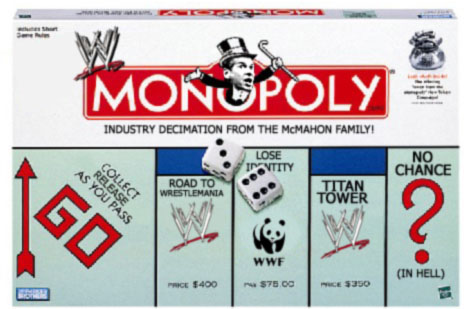 Everybody remembers the Monopoly game - that's why it's still the most popular, most widely played, and best-selling board game in the world! Everybody also knows the WWE, it's the most popular, widely watched, and has more merchandise sales than any wrestling company in the world. What happens when you take two great tastes and put them together? Magic. Across the generations and around the globe, what other game brings back so many memories of Vince McMahon wheeling-and-dealing behind closed doors to ruin all the wrestling territories? No other game has turned so many important historical moments - such as the Mel Phillips ring boy incidents or the debut WBF Pay Per View - into long lasting memories! Whether you're discovering the fun for the first time or reliving the carefree days of youth, get out there and Buy! Sell! Mortgage! Build houses and hotels! You can even build restaurants in Times Square no one will go to! That's what makes Monopoly the great American game, doing whatever you can so that one person ends up with all the money and everyone else loses - just ask Rich Uncle McMahon! For 2 to 8 players. Game includes: game board, title deed cards, play money, No Chance in Hell cards, Diva's Chest cards, 32 houses, 12 hotels and 2 dice. Also included are 10 special new WWE Monopoly tokens such as an XFL game ball, a decapitated panda bear, and a Neurotica CD from SmackDown records!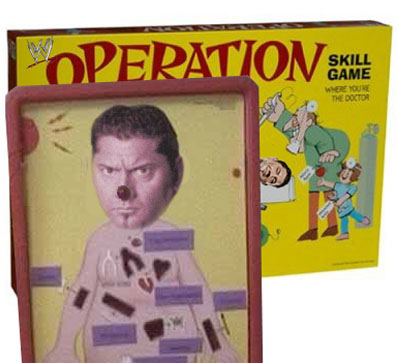 The wildest, wackiest skill game of them all! Players are all "doctors" operating on a patient who always has a whole batch of hilarious ailments. You just can't keep Big Dave Batista out of the OR, no matter how tentative he is in the ring. Gently remove the ailment pieces without setting off the buzzer for a successful "operation" and put The Animal back into the ring for his never ending feud against King Booker!
You'll find it hard to resist this interesting edition of Yahtzee, the all-time favorite dice game! You'll enjoy the gold glitter dice, a flocked dice tray, a leatherette dice cup and giant scoring chips, but you'll wonder why we've included a broomstick, a jar of KY Jelly, and a copy of Mein Kampf! We promise that these new additions will make your game feel lively, upscale and fun... at least to the winners! Become the true locker room leader of your house!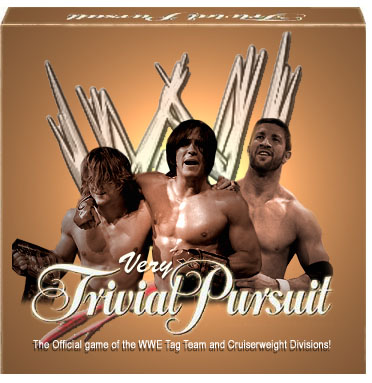 Nothing in the world of wrestling is more trivial than WWE's Cruiserweight and Tag Team division. To pay tribute to that apathy, WWE is producing a game spotlighting all the many men involved in both divisions, many of which we didn't even know worked for the company! For all ages, but mostly internet morons who don't have a clue as to who the Real Stars are.
One repetitive movement is all that is necessary to start Big Vis munching! Each "XL Love Machine" can be activated with one isolated finger or an entire hand. Try to eat the most marbles and win the game.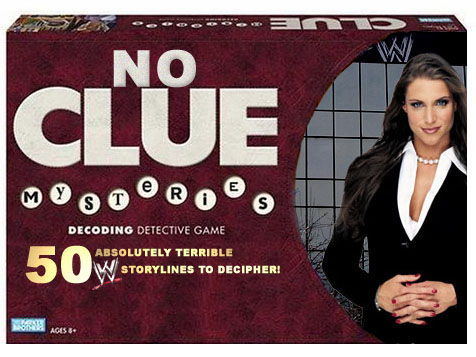 The classic whodunit game! For more than 5 years, this mystery's kept everyone guessing! Poor Cryme Tyme have been given another awful skit! Who could have wrote it? And how? And why? Was it Michael Hayes in the Titan Towers with the bic pen? Or did Dave Lagana commit the crime in the conference room with a copy of MS Word? With many suspects, countless possible scenarios and 15 rooms in the mansion (3 TV shows and 15 PPVs), there are hundreds of possibilities, and plenty of clues to frustratingly investigate! Find out who is booking DX at the expense of every single other act on Raw! Discover who keeps emasculating the SmackDown brand! For 2 to 6 players.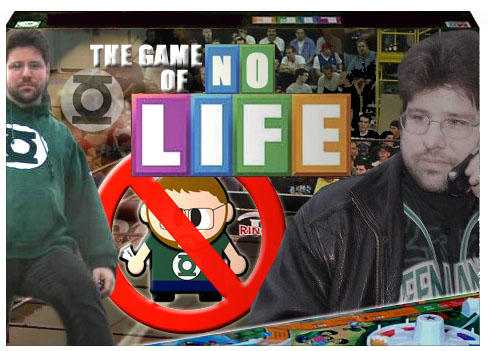 Spin the wheel of fate! A fanboy classic for more than 30 years. Do incredible odd deeds to earn No Life Tiles and more wrestling merchandise down the road! For 2 to 6 players o Don't get a job! o Don't married (or even date)! o Read Comics! Time Wrestling Matches! Whine on internet message boards! o It's all the fun of satisfying the demands of an epic Dungeon & Dragon's campaign in your parent's house with your three very weird friends in a great family board game! o Spin the wheel and live out your lack of a social life in the wonderful new Game of No Life!
---
DON'T FORGET to head on over to The WrestlingFan.com and check out Sean Carless' hilarious look at his WWE Shop Christmas Satire. This is legit one of the most hilarious pieces I have personally ever read and may change your life forever.
Derek Burgan can be seen wasting everyone's time with wrestling DVD and comic book reviews over at F4Wonline and the world famous Wrestling Enjoyment Index at Wrestling Observer.Don't forget about his Opinion Pieces at World Wrestling Insanity or his stuff at The Wrestling Fan. He even has a MySpace page. Whew! Derek can be reached at: derek@wrestlecrap.com