BREAKING NEWZ~!
SUPER-SECRET WWE HALL OF FAME INDUCTIONS!
Last night, we all witnessed one of the most emotional WWE Hall of Fame induction ceremonies ever, with moving testimonials for some of pro wrestling's greatest stars. However, unbeknownst to MOST fans, the night did NOT end after the cameras stopped rolling. No sir. Not by a long shot. You see, WWE went on to present 7 more inductions for the benefit of those in attendance. And the best part? Several VERY DESERVING individuals, many of whom we had bemoaned for being seemingly EXCLUDED from the Hall of Fame, indeed got their due!
First up, was an individual I think no one EVER expected to see again. I think you know who I'm talking about. Yes, that guy. You know, the guy whom we all grew up watching in the late 80's? An individual who was living proof that dressing like it was still the 70's could still get over, even some 20 years later. The person who we all watched with baited breath for years to see if he would finally regain the love of his life. Yes sir. And a person, whom despite his many, many contributions, has seemingly been blackballed from the public eye for YEARS. Yes, my friends, you gotta know I'm talking about Savage!
...
...
...
...
...
...
...
...
...
...
FRED SAVAGE!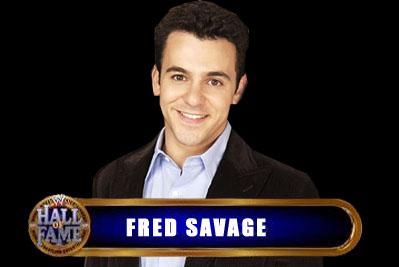 Good God, did I love
the Wonder Years
. What a show. In any event, WWE thanked Savage for his many contributions to their company (he once watched about 15 minutes of Saturday's Night's Main Event in 1990). It was said to be very emotional, as after YEARS of not being acknowledged on TV, Savage had seemingly finally gotten his due. Ohh yeahhhh! Ahem.
Of course, if you're going to honor Savage, then well, I think it's only fair to include Steamboat, as well. Yes, THAT Steamboat. The Steamboat who as we all know carried many of the Industry's top performers over the years, and even more than his share of total loads. Ric Flair in particular put over the many nights he spent going from town to town, often going a full 60 minutes with the Steamer. It was very heartwarming and well deserved. So, with that said, let us now all show our appreciation for the aptly nicknamed "Dragon" who earned that moniker in 1985 after spending some time "honing its craft in the Orient"....
...
...
...
...
...
...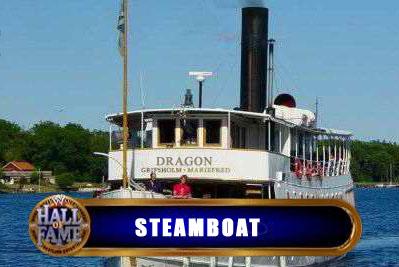 That's right. The truth is out. Without Steamboat, Wrestlemania 3 may have never happened. You see, it was this very Steamboat that carried many of the wrestlers that night across Lake Michigan, and safely to the Silverdome in time for the show. Unfortunately though, for everyone in attendance, "The Dragon" was unable to be there in "person", because its current captain "Bonny" owns all the rights to the fledging ship, and refuses to allow it to be used without proper financial restitution. What a shame.
In perhaps one of the more unusual inductions of the night, the complete ensemble of the Ultimate Warrior was inducted into the Hall of Fame. Jan the Make-up lady went into great emotional detail, describing the humble origins of Warrior's face paint, interspersed with heartwarming testimonials by many of its famous adversaries, like Hulk Hogan, who expressed his grief over rubbing out 90% of it at Wrestlemania 6.
The "acceptance speech" was said to be completely awkward, as the fishing-line attached to the ceiling holding up random tassels , knee pads and boots, broke, and the outfit crashed to the floor. Evening Emcee Todd Grisham, eased the tension though, by joking that it was still more graceful and coordinated than the actual wrestler. Who could argue with that.
In a side note, someone named "Jim Hellwig" kept trying to feverishly gain access to the ceremony all night, but was consistently turned away. But not before motioning to the heavens, making a "pressing gesture" with his arms, then running back off into the night. Strange.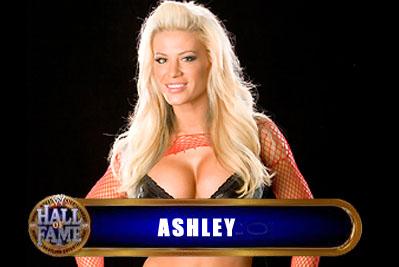 For the 3rd time in WWE History, a woman has been inducted into the Hall of Fame. This year, that honor goes to Ashley Massaro, whose career of "dedication" and "hard work" is FINALLY being rewarded with the RECOGNITION she so richly deserves. After all, she knows how to do an elbow drop from the top rope now! And hey, normally, doing an elbow off the top as a finish is tantamount to being blackballed from the industry forever, but WWE figured they might as well induct Ashley now, before she physically disintegrates completely. That's right. Strike while the iron's hot, as they say. After all, Ashley has already paid the physical price of the industry by gaining 20 years worth of injuries inside 13 months, so why not? Call it the first pre-emptive Hall of Fame induction ever. Hey, maybe in twenty years, someone can collect her dust and we can do the Hall's first ever re-induction? That'd be awesome.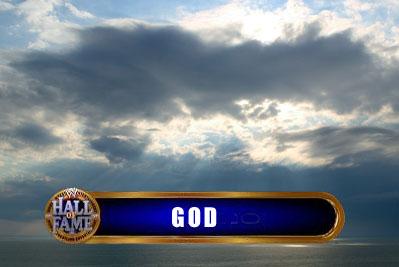 This was a totally unexpected induction, as we all figured that WWE and God would never work together again after last year's Backlash fiasco. How wrong we were. (Don't expect the Lord to appear at Wrestlemania tonight though, as he's said to not be feeling comfortable...)
In any event, God brought the house down, as he did Sodom and Gomorrah, with hilarious stories about his famous ribs (and not just the one he created woman from); including the time he convinced Vince that another global flood was coming, with Vince scrambling to find a corresponding Animal for Batista to be lumped with aboard the Ark. He then went into how his son Jesus, much like HHH, gets a bad rap for being overly pushed, and having blatant favoritism shown to him. And finally, he hilariously ended the evening by turning Great Khali into a pillar of salt. Strangely enough, Khali was heard saying (mumbling?) that he had never felt so mobile. Great, great stuff from the Heavenly Father, here.
This induction was historic, as it marked the year's third posthumous induction, and the first to ever feature an animal (not including George Steele, obviously). In one of the evening's most emotional inductions, the story of Frankie the macaw was told, from his humblest of beginnings as Koko B. Ware's mascot, to his tragic end in a house fire. However, in a completely unscripted, touching moment, God, who was inducted just prior, laid hands on the awkward skeleton, and reanimated Frankie to his earthly form! Frankie, in the highlight of the night, then triumphantly fluttered his reborn wings and flew about the arena, before eventually landing on the shoulder of Kane, who was seated some rows back. Unfortunately though, upon petting the reanimated macaw, Kane accidentally reignited the bird with his supernatural ability to produce fire at will, once again incinerating Frankie completely. It was said to be awkward for everyone.
And finally, in a fitting end to the night's festivities, a special induction was presented to the fan who single-handedly saved last year's Wrestlemania with his priceless post-match shock and disappointment of the Game tapping out to a shitty STF. Yes, I'm talking about the disgruntled HHH Fan. However, before he could be called onto the stage to accept his plaque, the company swerved him, and awarded it to
shocked Cena kid
instead. Disgruntled HHH fan's reaction above in mid celebration will be forever etched into the annals of time.
Well, that's it for this super-secret insider Hall of Fame Report. We'll see you at Wrestlemania!... where perhaps HBK upon victory will get his *very own* custom spinner belt. We can only hope....
Sean Carless is a man of many hats. And he wears those hats to cover an ever-increasing bald spot. Sean's various scribblings have been read at Live Audio Wrestling, 411 Mania, Honky Tonk Man.com, The Toronto Star.com, Wrestlecrap, and Lethal Wrestling. He has also cured AIDS.