Hello all, and welcome to another edition of the column that's a lot like a prostate exam gone awry. It's uncomfortable and somewhat painful, and you just can't wait for it to finally end…
Of course, I'm talking about the Back-Leg Frontkick, the column that is often imitated, never duplicated…and hardly ever updated. Sorry about that last part.
Anyway, thank you all so kind readers for choosing me, Sean Carless as your favorite writer, on this, the planet Earth. Thank you for your consideration. I'd like to tell you that in my brief celebratory absence, I've churned out some forthcoming MASTERPIECES, but the sad truth is, I've spent the better part of 7 weeks just playing X-Box and watching the show the "L-Word" (or as it's known in the Orient The "R -Word") to get a better understanding of the issues and tribulations faced by a nation of sexually confused lesbians and bi-sexual women. Well, that, and wait for the fledgling nudity so I can masturbate to it.
So, ya. That's my victory speech. That's how it done there, Julia Roberts. Live and learn. And wear less clothes.
Anyway onto the Rasslin!
HEADLINES
You know the drill, I take headlines making news and ruin them because I'm a horrible person and stuff ….
Hey Man, Where Are You Going?
* According to the PWTorch.com Newsletter, there was more to WWE's decision to remove Paul Heyman from the writing team than originally reported. Initial reports indicated WWE, based on Stephanie's dislike for Heyman, removed the former ECW head from the writing team due to a clash of opinion. While that information is somewhat true - the clash of opinion was part of the decision to remove Heyman - another instrumental reason was an invasion of privacy. If the rumor is true, Heyman's action undoubtedly broke the trust of the WWE higher-ups.
The incident happened during a conference call with the RAW writers. In the midst of the conversation, a caller disconnected. However, all the writers expected to be in the call were still present, indicating a breach had occurred. WWE later traced the disconnecting number to Paul Heyman.
As a SmackDown! writer, Heyman was only given the right to attend SmackDown! calls. His decision to invade the call without permission infuriated Stephanie, who many believe will never trust him again. The breaking of trust may prevent Heyman from ever getting an instrumental role in the WWE booking process, despite having a great creative mind. Stephanie was opposed to his recent reinstatement and now has a legitimate reason, other than difference of opinion, to oppose a future Heyman return to the writing team.
You'd think Steph would show some loyalty to Paul. After all, look at the GREAT DEAL he gave her on ECW in 2001! Ahem.
Anyway, apparently Paul has had a habit in the past of eavesdropping on other people's phone calls (then no doubt smashing that same phone over someone's head. After all, old habits die hard). Still though, so what if he listened in on Steph's conference call? What's the real crime here? Well, besides willingly overhearing some really shitty booking ideas? The next thing you know, people will start saying hiding with video cameras in neighbor's closets and distributing the tapes is "wrong", too. And that my friends is a world I don't care to live in!
Ok, all my stupid bullshit aside, Heyman has legitimately fucked himself in the ass here (a skill that if possessed by Pat Patterson would have saved a lot of people grief), as not only has Heyman disappeared from WWE TV, but his profile on WWE.com has gone A.W.O.L. as well. OH NO. NOT HIS PROFILE. Now, how will I ever find vital information on WWE's website that kisses Vince's ass incessantly by relaying the fact that Paul went out of business and Vince didn't? Where, I ask you?
What a shame, though. It'd have to be Paul, wouldn't it. Why couldn't Gerwirtz be a peeping tom or Lagana expose his genitals to the Divas? Or Johnny Ace use his skateboard to batter his way into Vince's safe. Anyone but Paul. And besides, let's face it, it's not like Heyman's going to leak any "super secret" information to the net that any retard couldn't predict anyway.
Paul: "Hello, Mr. Meltzer, this is your super-secret source, Paul Heyman. Get this. This week on Raw, HHH looks like he's screwed but ultimately perseveres, Lita cuts a wooden promo, and we mention the war in Iraq.….".
All kidding aside, I truly believe that Heyman's mind should be picked and exploited.. and then frozen in the same cryogenic chamber they keep Randy Savage's body housed in for the day Vince dies and he can be mentioned again. WWE should be using Heyman in any capacity. Except accounting. That might not be the best idea. I'd trust fucking Lester Diamond with my money more than that guy.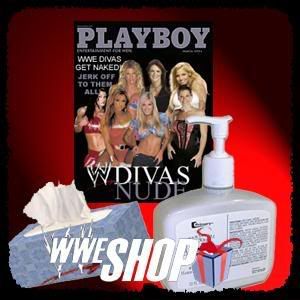 Get Your Kleenex Now…
The following was posted by a photographer who "claims" to have connections with Playboy. This comes from the on the Celebrity Nude Database message board here. Your most reputable place on earth for completely unfounded information and pirated nude images. They're on the up and up. Trust me.

From Dec. 20:

They are negotiating right now with the WWE to do a Women of the WWE issue, so far the only Divas that have agreed is Torrie Wilson, Dawn Marie, Miss Jackie, Victoria, Christy Hemme, Joy, Amy Weber, Michelle McCool, and Lilian Garcia, they are still trying to get Lita, Molly Holly, Stephanie McMahon, Ivory, and one other. Trish Stratus, Stacy Keibler and someone else said no.

On Dec. 26:

I found out this week that Stacy Keibler and Molly Holly have both agreed. But both have stipulations. Molly will only appear topless and nothing else will be shown, however, her hands will be covering her breasts in the photo. Kind of like the old Janet Jackson Rolling Stone Issue. Stacy Keibler will show her legs and butt in the pictorial but nothing else. So most likely it will be shot from behind with her turning towards the camera wearing a shirt. With Playboy okay with these stipulations it is now possible that both Trish Stratus and Stephanie McMahon will appear but with provisions like Stacy and Molly. Stephanie wants to appear but has only agreed to be wearing something sexy or see-through, and Trish said she would agree along the same lines. No word on Ivory, as of this point it looks like she will not pose at all. The pictorial is said to be over at least 10 pages, and will hit newsstands around July, not August like originally planned.

and

Sorry I forgot about Lita. Lita is confirmed and will appear all-nude in the pictorial.

On Dec. 27:

OK here is the info I gathered about the WWE Women:

Victoria -Topless & Full Frontal
Dawn Marie - Topless & Full Frontal
Miss Jackie - Topless Only/Lingerie
Stacy Keibler - Ass and Back only
Stephanie McMahon - See-through Nightie/Lingerie
Michelle McCool - Topless & Full Frontal
Amy Weber - Topless & Full Frontal
Maria - Topless only
Lita - Still Negotiating Poses
Joy Giovanni - Topless & Full Frontal
Christy Hemme - Topless & Ass only
Candace - Topless & Full Frontal
Torrie Wilson - Topless Only/Lingerie
Lilian Garcia - See-Through Nightie/Lingerie
Molly Holly - Topless Only/Lingerie

Please Note, that the Spread is 10 pages, however some of the Divas will only appear once, while others may get one or two pages.

And on Dec. 28, in response to other posters getting on his case about these "rumors":

First of all, I dont care who disrespects me on this site. I am a Photographer for Maxim Magazine with very strong ties to playboy magazine.

let me make some points here, The Women of the WWE issue is not 100% complete. Just because all of the women mentioned would pose, does not secure them actuall appearing in the issue. The women of enron actually had about twenty diffrent Ex-Employees pose, same with the Women of Home depot, but only about six to eight made the cut. the same thing will happen with the women of the WWE. i dont watch wrestling. I honestly cannot stand it. I am giving you information that was given to me by employees of Playboy, including two of my close friends who will be doing the WWE shoot.

As for as Nora aka Molly Holly. Plenty of Christian or Religious Women have posed in playboy before. Tiffany, Christy Swanson, and Robin givens are all Roman Catholic who attend church. But they still posed.

Most of the information i gave you is what is rumored. there may be a chance Molly does not actually do the shoot. I mean Stacey Keibler is also not really into doing the shoot. but she said its fine as long as its just her back/ass/legs in the shot.

I don't mind you coming on this board for information. But do not Slander anyone who is just trying to help out. if you read the topic its says Playboy news and RUMORS....
Well, for those like me who are fans of masturbation (don't knock it, it's sex with someone I love), this would be great news. And don't get all high and mighty on me, and pretend you're high-brow about women's wrestling, because if they weren't supposed to be sex objects, the women who wrestle on Monday night's would still be built like bulk bags of Idaho potatoes, be 60 years old and only use hair-mares instead of running love-box first into each other's faces in the corner. So, please leave your fanboy excuse of "If I wanted watch porn…etc." and go back to taping the 600 hours of puroresu you have crammed on one DVD, pretending Misawa doesn't give you a semi, and allow me to enjoy the combination of my two great passions: Naked women and wrestling, into one gloriously disgusting decadent package. Much like the way George Costanza tried to combine spicy sandwiches, sex, and TV into one disgusting act on Seinfeld.
However, part of me (above the waist anyway) is going to have to call bullshit on this one. Why would WWE forsake SEVERAL lucrative money-making shoots to cram a dozen or so women into one issue? It hardly makes any sense, at least from a financial point of view. Of course, this is a dude (Vince) who once thought people would be as "tremendously excited" as he was to watch and in turn pay 30 dollars a month for huge muslcular dudes to rub themselves down with baby oil then by gawd POSE for 3 hours, so ya, never mind.
That said, though, I have a hard time believing that say, Molly Holly, would all of a sudden drop trough when she hasn't so much as wore one revealing outfit in the 4 years she's been employed. Maybe they just told her it was a baptism? I don't know. So, for those of you waiting to finally see that ghetto booty (well, if there are ghettos in Forrest Lake, Minnesota) I think we'll be seriously disappointed. You, me, and Charles "Little Naitch" Robinson (Her real life beau and virgin-life partner) will have to wait. And just pretend she's not wearing a giant floral-print sarong in the WWE Swimsuit magazine. 'cause, if you squint hard enough, it looks like she's actually naked. And made of giant billowing material.
However, I do hold out hope that the rumor is true because with this type of talent, I'm sure the magazine will do monster business, in addition to causing the simultaneous blood-clot related deaths of an entire nation of men ranging from 18-35. I can't think of a better way to go, myself. Even if Steph's pictorial was a four-page vertical centerfold just to get her full breasts in the shot.
So, ya, I guess we'll find out. There has to be a reason WWE hired all these new random women. I know it wasn't just fore the captivating prospect of being "a special friend" to The Big Show.
Like A Brock.
-Brock Lesnar has been calling Vince McMahon on a weekly basis, but Vince has yet to return any of Brock's messages sources say. Vince may be trying to ice Lesnar and let him know who has the power where these negotiations lie.
Lesnar has a non-compete clause which does not allow him to join any other fighting organization including TNA, MMA, K-1 and others. Basically Lesnar has no bargaining power when it comes to the WWE at this point. If Lesnar is brought back for a return, many believe he will have to re-earn the respect of his cohorts and Vince McMahon, because of the way he left. He would likely have to do the job to the likes of JBL, Batista, Cena and others just to prove himself again.
Many also believe that Vince will eventually sit down with Lesnar and discuss a possible return because of what's "best for the company." Lesnar hopes its sooner rather than later, because his finances are dwindling already.
There are also reports that Lesnar would like to work part-time, to which WWE would probably not agree. Lesnar want's to work part-time because it was the travel that drove him out of WWE in the first place. This could be a large hang-up as far as the two sides reaching an agreement.
And from there:
PuroresuPower.com is reporting that New Japan Pro Wrestling's Antonio Inoki announced former WWE Champion Brock Lesnar will be appearing as a guest at the promotion's January 4 Tokyo Dome event in his first public pro wrestling appearance since Wrestlemania XX. As always, take Inoki's announcements with a grain of salt until they happen.
I think we all knew that Lesnar would return to wrestling eventually, I just didn't think it would be this soon. I guess the prospect of working NFL Europe with guys named Milos wasn't exactly the "football dream" he had in mind. And he thought WWE travel was bad! At least its not driving a Yugo across the Ukraine sometime crammed between four 300 pound dudes named Yuri, carrying live chickens in cages, and playing on a field in Siberia in which you have to set fire to the team mascot and 2/3rds of the cheerleaders just so your hands don't break off when you snap the football. All of a sudden, WWE is looking a lot better.
Anyway, HHH, in many recent interviews has stated that WWE isn't exactly bending over backwards and welcoming Brock back with open, yet inordinately long, ape-like arms. (sorry, it's true, Lesnar is probably the only guy I know who can tie his shoes without bending over). This of course, opens up a slew of new possibilities for the former "Next Big Thing", as he can begin negotiating to wrestle anywhere he wants after his no-compete clause expires in mid-March. I highly doubt TNA could afford his price, as at this point, Jarrett probably has enough problems keeping it afloat and satisfying Dixie Carter, Delta Burke and whichever other Designing Woman is fucking running TNA at the moment. Don't get me wrong, it would be a huge coup, and there's a built in MONEY feud waiting with Johnny B. Badd, on whose life Sable ruined more, but I just can't see it. This of course leaves only Japan as a viable choice, and perhaps if WWE doesn't buckle, this would be the best choice for him. The tours allow him to work significantly less time with two week breaks thrown in, his size and style would GET OVER HUGE over there, He can be the most hung guy in the locker room, and most importantly, he can put over that fiery youngster Antonio Inoki. 'Cause God knows, he needs the rub.
Just don't bail on New Japan too, Brock, or YOU and your PLANE could be in some serious trouble. After all, I don't think I have to tell you what the Japanese used to do with pilots. But hey, then again, slaloming headfirst into the ground from high altitudes isn't exactly old hat (helmet?) for this guy.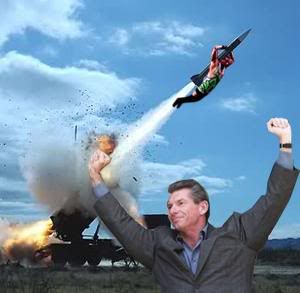 4:20 Reasons To Not Go To Iraq
According to PWInsider.com, Rob Van Dam is reportedly experiencing internal heat from management over his decision to refrain from going on the tour of Iraq. His reason for not attending is not yet known, but it likely involves a combination of not wanting to sacrifice time with family to visit a war zone.
All WWE wrestlers were told the tour was optional, but at the same time, it was implied that Vince was "expecting" them to attend. WWE considers this one of its more important PR efforts and wants to bring as many wrestlers as possible.
Luther Reigns, for instance, did not initially want to go, but after being convinced by management that he would experience heat from McMahon, reconsidered.
In RVD's case, management tried, on several occasions, to convince him to attend. WWE never threatened any financial punishment, but strongly implied its desire for his presence on the tour. RVD, unlike Reigns and some other wrestlers who might not have been too comfortable going, chose not to back down. Management is not at all thrilled with his decision.
Although some feel RVD should not suffer for his decision not to attend, the reality is that Van Dam knew all along that he turned down an 'expectation' of WWE management and Vince McMahon and would not make new friends in the front office with his decision.
Oh no, I sure hope they don't needlessly mire Rob in the midcard!
Anyway….
Got to love them using the term "optional". Optional? Ya, kind of like the way Mike Tyson tells his dates that they have they "option" to have sex with him. But, that aside, I think RVD would be kind of at home over in Iraq. And if you ask me, he's one guy I'd definitely want by my side over there. After all, emerging from a cloud of gaseous smoke is another day at the office for this guy, so what's a little mustard gas? However, I don't blame Luther one bit for not wanting to go over there. After all, his bullet avoiding skills apparently haven't been much help to him in the past. In fact, when I was watching SmackDown in Iraq, I kept waiting for Luther to come off the plane dressed as Robocop, you know, just in case.
But all kidding aside, I have to say that I do admire the WWE for going over there and entertaining the troops…even if that entertainment did include Undertaker Vs. Heidenreich part 2 (why not just lob a grenade into the crowd instead?). But I did appreciate the WWE's effort. Although, would it have been too much trouble to have a diva pop their top for these poor bastards? I know if I was drying out in the desert, my balls probably the size of water melons, with no women in sight, I'd really appreciate it. And if you *insist" on bringing people like Heidnerich over, I'd have them perform in the insurgent camp. You'd have unconditional surrender by morning.
But back to RVD; at this point, why bother? He obviously didn't feel like sacrificing his holidays with his family and part of me can't blame him for that. But, I have a feeling that the real reason he didn't go to Iraq was….. he heard from Brian Lawler just how much of a bitch it is trying to smuggle bud into another country. That HAS to be it...
I Have The (Backstage) Power!
Apparently, according to the website anticoolnews.com, both HHH and The Rock are potentially up for the leading role in the upcoming "He-Man" movie. And you know, I may have to go with Trips on this one, because last time I checked, Estonia wasn't anywhere near fucking American Samoa. But the prospect of He-Man throwing off his metal cuff every time he fought Skeletor might make it that much more tolerable.
That said, clearly, HHH is perfect for the role of He-Man (HHHe-Man?), and I'm sure he'd at least bring the same level of dignity and grace to the role that Dolph Lundrgren did in 1987. Ahem.
But seriously, who else could be He-Man but The Game? (although, I am not looking forward to him pinning supposed friends Man-At-Arms and Teela just because they're not ready for the responsibility of "Gray-skull" yet, and no one would buy them as heroes anyway).
The fact is, the two share an inordinate amount of similarities, so much so, that Hunter HAS to get this role. Those traits? Well, both are blond and have ridiculously helmet-like overly-blow dried bubble hairdos. Both wear Iron cross symbols, both brandish large weapons to smite their foes, both share elaborate, long-winded over-done entrances before they get to actually fighting, and both wouldn't be nearly as successful without riding a giant pussy (Battle-Cat & Steph respectfully). So, ya, he's PERFECT.
And hey, if by chance he does get turned down for the He-Man role, at least there's still other characters he could possibly snare. I mean, I know for a fact he could pull off Man E. Faces. I mean, after all, he already has two....
MORE SHOPZONE BUFFOONERY
A couple of months ago, I was at Shopzone checking out potential material and stumbled onto some terrible merchandise write-ups that just struck me funny for some reason. And yes, WWE does not just limit their horrendously untalented writing to WWE storylines. It was at that point I decided I would make light of it. And why not? How in the world does one move an UNDERTAKER EASTER BASKET (Hey kids, Jesus ain't the only one who can ressucitate himself from death!!) with a straight face? I felt it my duty to do this.
Now, listed below are first WWE's actual product write-ups, followed by my DOCTORED product and according write-up.
WWE Item: (RVD Hidden Dragon T-shirt)
The spectacular and unorthodox Rob Van Dam is no stranger to throwing caution to the wind. Be it off of the top turnbuckle or the ring apron, RVD can strike at a moments notice and grab a victory in the blink of an eye. There's a hidden dragon in all of us, but RVD just happens to know how to channel his into athletic Superstardom in World Wrestling Entertainment!! Black.100% cotton.Imported.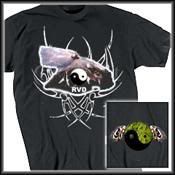 Sean's: RVD Hidden Package T-shirt:
The spectacular and unorthodox Ron Van Dam is no stranger to being two sheets to the wind. Be it in his dressing room, a bathroom stall, or the back of a 1970's Volkswagen van, RVD is able fire one up in a blink of his swollen bloodshot eyes. There's a "hidden dragon" in all of us, but RVD just happens to keep his taped to the bottom of his Camaro. Blacked-out, 100% hemp.
WWE Item: Triple H Book and Towel Package
Known for his Greek God-like figure as much as his in-ring success, Triple H has merged his two claims to fame into one blockbuster book release entitled "Making The Game: Triple H's Approach to a Better Body." This hardcover presentation is a combination autobiography/weight-training advice book where the two topics alternate chapters from start to finish. "The Cerebral Assassin" discusses his personal life, his careers in IWF, WCW and WWE along with detailed commentary on the "McMahon/Helmsley Era" and his relationship with Stephanie McMahon. Learn to train like the World Heavyweight Champion as Triple H offers advice on correct weightlifting technique, proper dieting and the importance of a strong work-ethic. A must-read for any WWE fan that followed the journey of this cornerstone sports-entertainment icon!! Includes free HHH workout towel while supplies last!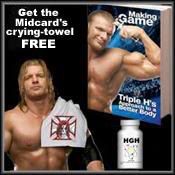 Sean's: Triple H Book and Crying Towel Package;
Known for his God-like control over the WWE locker room as much as his in-ring success, Triple H has merged his two claims to fame into one blockbuster ego fuck entitled: Making The Game: Triple H's approach to carefully cultivating your future through politics, steroids and paranoia. This hardcover presentation is simply one longwinded chapter that lasts for roughly 300 pages (Just like his promos!) with detailed commentary on himself, his days of being pivot man in the kliq, his relationship with Stephanie McMahon and most importantly: how Chris Jericho is too small and can't work main event style. Learn to "train" like the World Heavyweight Champion as Triple H offers advice on correct weightlifting technique, 10 new uses for your toes, proper dieting, and how to distract the athletic commissioner while someone else urinates into a cup on your behalf. A must-read for any WWE fan or superstar (or get used to working "Heat") that followed the journey of this manufactured sports-entertainment icon!! Includes free towel that the midcard use to wipe away their bubblin' tears, while supplies last!
WWE Item: Shawn Michaels "Just Man Rises" T-shirt
Shawn Michaels is the possessor of a strong belief system that is responsible for his return to active competition in World Wrestling Entertainment. He knows in his heart that "the man upstairs" guides his personal and professional destiny, which currently points him into battle on the RAW brand contending for the coveted World Heavyweight Championship. On the reverse side, HBK realizes that there will come a time when the wrestling business must become a closed chapter in his storied life. That's why Shawn hopes all fans will concur that every man falls…but the just man rises. Support the greatest athletic treasure ever in WWE by wearing "The Heartbreak Kid's" new T-shirt. Black. 100% cotton. Imported.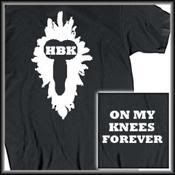 Sean's: Shawn Michaels: "Sometimes You Just Have To Go Down On A Man" T-Shirt.
Shawn Michaels was the possessor of a strong belief system…a belief that doing jobs is the path to eternal damnation. He knows in his heart that the man upstairs (corner office, Titan Tower) guides his professional destiny, so, as a result, he may or may not (depending on whom you ask) have fellated the company chairman to get out of jobbing some half dozen championships…..
After narrowly escaping having to do the "reverse side", HBK now realizes that there will come a time when the wrestling business must become a closed chapter in his storied life. But that doesn't mean he should start doing jobs. That's why Shawn hopes all fans, and bitter Canadians will concur that every man falls, but a smart man gets out of ever conclusively putting anyone over. Support the greatest athletic treasure ever in WWE by wearing HBK's merchandise that pay tribute to the Lord… by placing his own name and likeness over the holiest of symbols. Nothing blasphemous about that. 100% job free. Not available in Canada.
WWE Item: Kurt Angle 'Freedom of Choice' T-shirt: "Tap out or Angle-slam"
It is almost Election Day and Kurt Angle is celebrating the freedom of choice that truly makes America the Land of the Free. Kurt is expressing his patriotism by offering this freedom to all opponents tap-out or face the Angleslam. For you the choice is to buy our newest Kurt Angle T-Shirt that our loyal fans helped design on WWE.com.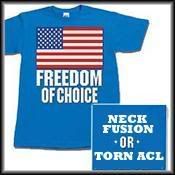 Sean's: Kurt Angle: Freedom of Choice T-Shirt: "Neck Fusion or Torn ACL"
Election day is over, and as completely depressing as that was, Kurt Angle is now celebrating the freedom of choice that truly makes America the land of the Free….well, except when it comes to medical coverage that is. Join Kurt as he expresses his patriotism by undergoing experimental surgery recommended by Scott Hall of all people… as performed by a foreign doctor, who'll offer the freedom to choose to have spinal fusion surgery, or have his knee scoped. Or both! That's Freedom of choice! (except if you're choice is being 100% healthy). For you there is no choice however, as poor Kurt won't stop wrestling until he completely disintegrates! Help pay his medical bills by buying the newest Kurt Angle shirt as designed by one tasteless WWE fan!
BACON BITS!
As most of you already know, we have a writer on the site here named "Canadian Bacon", a proud patriotic man who just happens to probably be the biggest imbecile on Earth. HOWEVER, he's an idiot who draws, baby; and with that in mind, I decided this week to open up the flood gates to Bacon, after he accused me and Harry Simon of cheating him out of the Writer of the Year Award. Bacon sat down and contributed the following. But be warned, grammar and Bacon go together as well as Rosie O'Donnell and willpower.
The Following is paid for by the friends and supporters of Canadian Bacon.
"Hey there Bacon fans (all millions of you), I'm the Bacon and before I gets to my comments and such I thought I'd go over what I said in the forum about getting jobbed outta my golden tenay award!
I was the BIG TIME ROBBED!!!!! I gots gypped in the golden tenay award voting. The people had spoken and that Sean and Henry Simon guy took it upon themselves to steal my life! It's a big conaspiracy just like the jfk assaination only i'm important and wasn't shot in the head but worse, ROBBED!!!!!!!!!!!!!!!!

sean you cheater yous gotta live with yourself for cheating. and the rest of the staff and such can feel free to congradulate me on being the real winner and the best writer of the year and the FOREVER and EVER and eternity even: CANADIAN BACON.
Ok I think that takes care of that. We all know who the real winner was and he's Saskatchewans favourite son: CANADIAN BACON. But I'll rest easy 'cause I actually gots me a real award. I took home the busy beaver award for most pewter statues sold in a single day (2 for the record. It would have been three but my cousin Madison stuck the head in his asshole and the woman wouldn't buy it after that).
Because of my unequaled feat I got me a GIFT CERTIFICATE, and a free lunch at the famed Food & Tackle which is half restaurant and half bait store, where the couteous staff waited on me hand and leg and brought me a giant rubber lurer that was the spiiting image of songstress Celini Dione, in addition to the complimentary sandwich of the house, which was delicious if I recall. When I gots back to the office my co-workers, and even old Jake Po the janitor who got fired for masturbating under the office steps had a piece of cake waiting for me but I left it on the radiator by accident and it got all shmelted. But its the thought that counts and i'm sure the flaming shards of that cake were delicious. But whatever. I still got a REAL award so henry simon, sean carless that dave Gagnon with his sleazy French moustache stealing our women with his slickboy Frenchboy charm and the rest of the so called staff here, stick this in your pole and smoke it!
Anyways, here's my three cents on a few topics (two's just not enough to get my awesomeness over). Thanks to Sean for giving me a voice even if he is a cheater and a faggot prolly .
WWE goes to Iraq: Why wasn't the Sergeant Slaughter there? He lived there with saddam Hussein in 1991 remember? He even gave the wwf belt to sadddam as a token of good wills and saddam in exchange gave him a comfortable pair of pointy mukluks because he prolly knew how harsh the desert climate could be on your feet. Believe me, I know, my friend Julius and I are always going to the beach in summer and Julius got his feet devoured by a sand crab which is actually natures most dangerous aquatic fish well except for Kodiak bears. But anyways why would anyone want to fight in the golf war? And who cares about golf anyway. If it was Lacrosse maybe I'd inlist too. Silliness. And where was the Muhammad Hassan? I think the soldiers woulda loved to see a friendly face like his. It'd bigtime remind them of what they're fighting for over there!
The Tsunami tragedy: I remember that! I hated it when they gave him the WCW belt in 1991. Ric Flair was a way better wrestler than that Tsunami Fujinami ever was. I means who'd he ever beat? Japenese wrestlers don't count because they all look the same. I'm convinced they're all Great Muta (he was only Good Muta back then! He's improved a bunch since!) with wigs and such. Anyways, I was glad when Ric beat him at the first super brawl. But still I wouldn't call it a tragedy, sean. Upsetting sure, but a tragedy? I'll reserve that for important stuff like the hockey strike.
Ring of Honor: I read Christopher freds column and I have to say who cares about that samoa joe feller? So what if he held a belt for two years. I've been wearing the same belt for about 8 years straight and the buckle even fell off but I held it together with a safety pin and some bazooka joe so my dink doesn't fall out. So, samoa joe, I don't know where you come from, but I suspect you might be Eskimo so this is a warning mister don't come up here and open one of your indian casinos.These are good people and I don't want to see them give in to the evil Temptress that is the Gin rummy and Blackjack Mulligan (he invented car playing and the dread IRON CLAW).You've been warned!!!111
First ever WWE PPV in Puerto Rico: (New Year's Revolution) Hey that's where that bruised brody was mudered and killed! And you'd think if he bruised so easy he'd know not to get into that shower with a guy with a knife. I heard through my sources (I'm a BIG TIME insider.) that it was TITO SANTANA who killed Brody in warm blood! And don't think he couldn't do it either! He used to spear bulls all the time, remember? he's matador training would make it bigtime easy. And Brody always wore furry boots, so perhaps there was some confusion as to his humanity? COULD BE!
My source (who I believe because he used to drive a taxi that accidentally ran over Jason the Terrible's foot after one of the old Stampede shows in 1986) said it's so. And I believe him. So to WWF, I say stay out of the Puerto Rico! There's nothing but death there and that dirty Savio Vega who I'm really startin to believe never had real actual ninja training! (although, when your names Kwang THE NINJA, I guess you have choice to get into the family racket! THE NINJA was his last name! It was likely forced on him!
Ok queers that's it for me. I'll be back with a brand spankin new Bringing Home the bacon when I want! Stay tuned or be a faggot!
-CB."
This man brings credibility to everything he touches. Clearly.
Leaves A Worse Taste In My Mouth Than A Date With Your Sister.
WARNING BITTER RANT AHEAD.
People often ask me why I tend to not give TNA nearly as much coverage as WWE. The sad fact is, because of how it's currently presented, (i.e .JEFF JARRETT as main focal-point), I just cannot stomach watching it most times. I mean, how does one possibly see booking NASH VS. JARRETT for a World Title, as a selling point in 2005? IN 2005. Dear god. Does no one ever learn their lesson in this fucking industry? Ever? If the wrestling world was fucking world history, right after the Allies crushed the Germans and Japan in World War 2, some other fucking "dictator" would have popped right up, and tried to take the exact same countries, in the same exact order, with the same exact strategies, while attacking the same exact targets, BECAUSE THIS TIME, IT HAS TO WORK, DAMN IT. That's TNA in a nut-shell to me. But hey, enjoy Nash vs. Jarrett anyway. I think I'll just save my time, and go back in time and watch the dinosaurs stumble into a bog, flail around a bit, then discompose over the next few million years. And the sad thing is, there'd still be more action in this scenario.
So, ya, that's why you don't get tons of TNA coverage from me. And until the day when pro wrestling's Tori Spelling (Blond & manufactured and only gets roles because of Daddy owning the company), Jeff Jarrett, steps away, and people like Nash, DDP, and Scott Hall complete with maternity Elvis suit disappear, I'll just sit back, and laugh at a company still calling itself "Total Nonstop Action" when the majority of its current main eventers show less movement and exert less energy than Christopher Reeve. And he's dead.
So, ya, once the day comes, where, like the original dinosaurs, TNA's current Main Event scene is extinct, I shall return. Then leave again, when someone else wheels out Nash & company's Futurama jar heads in 30 years and then wonder why people still aren't buying their pay-per-views. You know the saying. Those who do not learn from history are doomed to forget ten years ago no one bought Jeff Jarrett vs. Nash either, and they were still in their thirties, and not completely immobile. You know, that old saying...
Even More Headlines:
Same drill as before. Headlines. Butcher. Make light. Bad person.
Stupid Wrestler Tricks
Surprising as it may sound, sometimes wrestlers do really stupid things. Like totally seriously. Things like stripping naked and jumping into giant aquariums. Things like revealing on HBO that you have an uncontrollable addiction to booze and drugs…and that you'll probably DIE soon….all while still being employed by the WWE, then wondering why said company FIRES your ass. Things like forgetting to feed your snake for 3 or four months until it dies. And things like being mistaken for a terrorist in your workplace, when all you *really wanted to do* is huff a little cocaine at lunch time. Hell, you may even find *certain people* who are like the best go-to-guys in the event you need a morbidly obese Samoan bodyslammed, swearing innocence on drug trafficking…despite their Atlanta townhouse being filled without enough steroids to fund the entire German Olympic team. Oh ya, and that they killed their girlfriend too...
Now that we've established this, the following are but a few recent cases….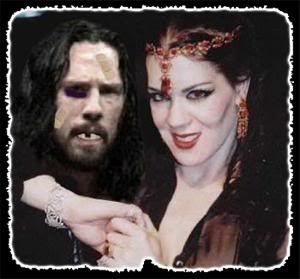 Breaking The Chyna:
"Don't treat me like a woman….Don't treat me like a man…"- Chyna's WWF theme song.
….And after seeing screenshots from that porn of hers, that song now makes A LOT more sense now. *shudder*. I'm not going to say it was scarring, but I think the motherfucker who opened the Ark of the Covenant in Raider's was left in better shape than I was.
Anyway, it's been quite the journey for Joanie and Sean Waltman; Sean has seemingly tried to put his life back together by going to rehab to cure his drug dependency (which makes 100% sense. I mean, it'd be hard to break the drug habit after ingesting the amount of hallucinogenics it'd take to make Chyna seem feminine.) Joanie, on the other hand, has been self-destructing. Often in public, from the Howard Stern show where she was said to be completely wasted, to going to a strip club and jumping up on stage and dropping trough for the horrified Spectators. She's also currently having what's left of her fleeting celebrity sucked dry on the newest season of the "Surreal Life"… which really isn't that different from wrestling if you think about it. You know, with a washed up guy from the 70's, the midgets, the augmented women and brainless jarhead. It's just another day at the office for Joanie. However, nothing struck me more unintentionally hilarious than the following statement direct from Xpac's website:
"Joanie (Laurer) was arrested on 1/1 for domestic battery. She assaulted me, struck me in the head and face countless times after getting back from the Playboy Mansion. There were several witnesses to her behavior, including Jeff Meecham from The Extreme Mayhem Show, and unfortunately, my two children witnessed and heard all of this. She was released today, once again, having to suffer no consequences for her behavior. Show showed no remorse."
HAHAHAHA. Come on, 'Pac. Could it be, that despite Jim Ross's bold claims, X-Pac's feet were never properly educated? Because it doesn't take a PHD in umm, kicking to know that you should NEVER EVER admit that your girlfriend kicked your ass. I mean come on. And besides, you're telling me that he couldn't peel off at least one wheel kick? Or an X-Factor? That shit has to work in real life! Right? It has to! Doesn't it? If not, Vince has been lying to us for years!!! Maybe she just refused to lay still for 30 seconds so he could deliver the WORLD ENDER that was the Bronco Buster. I don't get it. Who'd just let a woman whip their ass? And come on, Sean, as if you couldn't side-step those silly back-flip elbows. It just doesn't make sense. Maybe he's a gentleman? I don't know. Although, for me, chivalry tends to end when your girlfriend has a bigger cock than you. Just saying.
Anyway, after reading the statement, all this proves to me is that Joey Buttafuoco OWNS them both. Clearly, Hunter made the WRONG decision in recruiting for DX. Joey was the right man for the job all along. Hell, he'd fit right in. Like Hunter & X-Pac, he's not exactly known for his taste in girlfriends...
Maybe They Should Settle It With Giant Novelty Boxing Gloves?
Former WWE RAW Diva Search contestant Carmela DeCeasare was on trial for assault stemming from a bar room brawl with boyfriend Jeff Garcia's ex-girlfriend Kristen Hine. According to Hine, she was kicked in the neck, suffered injuries and was later a victim of a number of threatening phone calls.
I wonder if any of the phone calls included the phrase "cum-guzzling gutter slut?". I mean, Carmella had to pick up some choice lines from the Diva Search. But seriously, kicked in the neck? Man. If only she had shown this type of workrate before, she might actually be in the WWE today! …You know, instead of more talented Diva's-search hopefuls like…. Nobody. Who am I kidding? If any charges should have been filed, it should be against Carmella and the gang for boring the shit out of me so badly last Summer. I know, I know, I've said this a thousand times before, and I don't mean to beat a dead horse here (Ok, there was that one time, but I was VERY drunk) but it still bothers me.
But seriously, VIOLENCE IS WRONG. In ANY form. Just because it's two attractive women fighting doesn't change a thing. It's deplorable and it's..umm, WRONG! Ya, that's right! In fact, as far as woman on woman crime goes, I personally don't think justice can EVER be truly served…. until Jell-O is involved. It's the ONLY WAY THEY'LL LEARN! We have to make an example out of them and prove once and for all that CRIME DOES NOT PAY! And the best way we can do that is with a little lubrication, a children's swimming pool and perhaps even a slew of phallic shaped rubber objects. It's the ONLY deterrent! This type of crime HAS to be stopped. I'm willing to do my part, are YOU?
Well, At Least Everyone Else In TNA Is Clean…
Original post:
Hector Solano Segura, 35, who wrestles under the name Hector Garza, was arrested Monday on a charge of possession of a controlled substance. Bail has been set at $1,000. Segura , who is from Monterrey, made his professional debut in 1992. Segura, when teamed with a wrestler known as the Latin Lover, was popular with female fans for his Chippendales-like dancing skills.


Followed by these updates:
TNA star Hector Garza was freed without bail yesterday as the judge presiding over his case ruled that the nine days he had been incarcerated covered the set bail of $1000. Garza's counsel, Thomas Mora, is petitioning to have Garza allowed to travel to Orlando, Florida for the Final Resolution PPV and returning to Houston immediately afterwards. If that isn't allowed by the court, Garza is expected to be deported out of the country on Friday. Should he be deported before the charges are resolved, it is expected that it will be some time before he is allowed to work in the United States again.

Garza was arrested 1/3 in Houston, Texas on charges of possession of a controlled substance, which turned out to be anabolic steroids Primobolan and Deca-Durabolin. Garza was carrying two bottles, containing 28 grams. When asked by immigration agents if he was carrying any medication, Garza indicated that he was and presented the bottles in question. Since he was not carrying a prescription and the medication was not in the original packaging, the call was made to put Garza into custody. Our expert in Mexico, Cesar Cadena noted that in Mexico, medication is supposed to be sold in the original packaging, so someone had to make the effort in changing it over to different bottles.

Garza was pulled from his scheduled TNA PPV match this Sunday at Final Resolution in Orlando, Florida and replace with Jeff Hardy. Should he be deported, he was scheduled to compete in Arena Mexico on 1/21 in Mexico City at a tournament of second generation wrestlers, so he may appear at that event.
"Popular with female fans for his Chippendales-like dancing skills?" And here I thought I was the only one.
But seriously, what's the matter with Garza? He was like THIS close to stardom and he blows it. It's really a shame Brian Lawler wasn't still around TNA to preach to him the dangers of smuggling substances across borders. Could have no doubt saved Hector a lot of grief if he had. Or, at least loaned him a pair of his Grand Masta Sexay balloon pants to make the smuggling a little less detectable (I knew there had to be productive reason why a hillbilly from Memphis would embrace Hip-Hop.). Anyway, I kind of feel sorry for Garza, who is no doubt one of the more talented wrestlers out there, and was in the midst of a push in TNA. Hell, he even earned himself a match with Scott Hall, which is hilarious in of itself. I mean, how bad is it when YOU have to duck out of a PPV match because of drug issues, while Scott Hall and... JEFF HARDY (his drug free replacement?!) show up to work with clear bloodstreams? That's got to sting. Like all the pissing he'll have to do into cups so to get back into TNA. Or something.
Just Say Know To Drugs
Former WWF superstar Jake "The Snake" Roberts was arrested this past week for cocaine possession in Pompano Beach, FL. His girlfriend was stopped by authorities and was found with drugs in her possession, she then told police officers that the drugs were her boyfriend "Jake The Snake" and that he probably had more at his hotel. Upon arrival to Roberts' room, they found a crack pipe with residue but no drugs were found.
Isn't it ironic that there's probably more poisons flowing through Jake then anyone of snakes?…
Anyway, for YEARS people have been spouting that Jake "The Snake" has one foot in the grave, but I'm starting to doubt this with each passing day. For whatever reason, Jake Roberts is harder to kill than a fucking Terminator. Well, a Terminator, that slurs his words, puts on 40 pounds and pisses in a trashcan. Come to think of it, John Connor and the crew'd have smooth sailing if this was the case. So umm, never mind. But seriously (only not really) between him and Rolling Stones band member Keith Richards, I'm starting to seriously believe that despite both having about 1% blood in their "Heroin streams", that they're each actually impervious to death. In fact, I wouldn't be surprised if one day, Jake admits that his *real* last name is Macleod, (and not, "The Snake" Roberts"), and he was born in Scotland in the 16th century, before revealing that the only way to fall him is by severing his head with a samurai sword. "There can be only one!.~BURP~.."
But seriously, when Jake does finally expire, they need to donate him immediately to science, if only to somehow bottle his essence and pass it on to terminal people. Hell, if I had inoperable cancer, I'd give it a shot. Sure, everything I ate for the rest of my life would taste like Beam, but at least, somehow, through osmosis, I might learn the DDT. It'd clearly be worth it. Plus, you know, the whole not dying in 6 months part. But mostly the DDT.
Dying To Be On PPV!
The following appeared on Dave Meltzer's Wrestling Observer:
"On a sad note, apparently Erik Watts either overdosed or tried to kill himself last weekend. On an even sadder note, this apparently influenced the booking of FINAL RESOLUTION and got him a victory over Raven, who once drew the highest buyrate for a TNA PPV in its weekly incarnation."
This story intrigued if only because apparently, attempting suicide can actually lead to a push. Imagine if he had actually killed himself he might be the World Champion today!.... Oh wait.
Our friends over at Lethal Wrestling were actually the first to break this story, after discovering a post by Erik's father "Cowboy" Bill Watts at the midsouth wrestling board here. In the post, Bill reveals EVERY aspect of Erik's apparent overdose…you know, rather than quietly trying to help his son. Anyway, personally, I blame The Cowboy for Erik getting addicted. I mean , the Watts was always yelling "let's hook'em up!"… so, it was only a matter of time before someone misunderstood and, ya.….
Anyway, despite the fact that I'm convinced that Bill really wants to barter with the Reaper a free trade of Erik for JYD, the following still cracked me up:
"Erik feels (justifies) he 'needs the pain pills' in order to wrestle,because of the physical toll on his body."


Saywhatinthefucknow? Oh! You mean that break-neck style Erik employed? I knew all those careless highspots Erik used would catch up with him one day! Perhaps this is the REAL reason the Cowboy banned all those off the top rope moves; Erik just couldn't stop pulling off those 450 splashes! Seriously though, dude, how many injuries can you possibly get when your offense consists of a waist high dropkick? YOU HAVE TO WANT IT.
"That is total delusion----because if you cannot wrestle without drugs, then you need to quit! But, like so many athletes, who feel 'they are in control' and 'can handle it'-------Erik's denial is just that------and it is spoken through the 'filter' of the drugs and alcohol"
Ya, Erik. Learn to approach the business with the dignity and grace that your father did! You know, when he wasn't getting totally shitfaced and pissing out his office window, or calling people Nigger.
From there, there are comments posted by several others meaning to be sympathetic to Erik. Here's my favorite:
"Erik Watts, I know what you're going through, emotionally. God be with you on your traitorous journey. You're in my prayers."
His traitorous journey? ERIK BETRAYED OUR NATION. HE DOESN'T DESERVE OUR PRAYERS! It's America, buster. Love it or leave it! And hey, I know, you kinda tried to just leave it, permanetly, but ya, stop being a communist or something.
OK, I'm an asshole. But seriously though, Erik, don't do it. Now is NOT the time. Besides, you have so much to live for! Don't believe me? Well, your life could still look like THIS. Count yourself blessed! And if you do anyway? Well, make sure you take a few people with you. Start with Sonny Siaki. And hey, can I have your cool letter jacket? No? Well, fuck you then.
A Stab In The Dark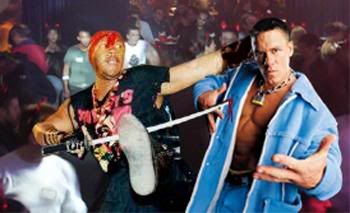 New Jack was backstage at RAW on Monday. Jack was asked to do a five-minute chain-wrestling spot with Val Venis, but he only worked for about a minute. He didn't return to the ring, but was present backstage and was quite friendly with the crew. Sources say that New Jack had pitched an idea to WWE about him being the one who "stabbed" John Cena a few months ago.
No one told New jack he wasn't supposed to use an actual chain. Val Venis was 34.
All kidding aside, I have kind of mixed feelings on this whole alleged angle. First, New Jack is definitely the only guy out there who could add credibility to the whole "stabbing" of John Cena (Jack's done things to white folks that would make OJ Simpson puke), but then again, is New Jack really the guy you want working with your future cash-cow? Seriously, New Jack is a guy you bring in when you really want one of your wrestlers stabbed…legitimately. After all, you're talking about a guy who's basically been threatening the life of the Dudleys and Paul Heyman for 5 years. If Jack had his way, Spike Dudley would be working in WWE under the name "THE Dudley Boy".
So, remember this, WWE, when Jack staples John Cena between the running lights, and then fists him with those giant foam Knux, that maybe hiring him wasn't in your best interests. I'd say ask Eric Khulas (God bless his ridiculous soul) about the "safety record" of Jack…a guy who's renowned blading skills (that make Dr. Giggles look like fucking Patch Adams in comparison) turned "Mass Transit" into a human sprinkler system. However he kinda went ahead and died, so don't bother. NOW THAT'S SELLING! That kid may have a future in this business after all! Or not. He's dead. But hey, that never stopped Undertaker. Get your head in the game, Eric! Just don't let New Jack anywhere near it.
MULLET HALL OF FAME
Last Summer we examined the beloved institution that was the wrestling mustache. An institution last seen when Tom Selleck was tackling criminals into the ocean in Hawaii in the mid-80's and shapeless porn-mesisters were unloading in the faces of starlettes of questionable age.
We soon followed it up by traveling a little north of the head, to the very top in fact, as we celebrated the hair-style most commonly associated with wrestling and its fan-base, the Mullet! Now, as far as I know, we're the only wrestling site who has (or cared ) to institute the WRESTLING MULLET HALL OF FAME. We inducted several superstars who's famed pelts were most celebrated amongst Mullet watchers, but still some cried out that there were perhaps some mullets getting cut-short (on top anyway) of taking their rightful place amongst the Mullet elite. Their voices have never been heard, because they don't exist, but hey, whatever,....UNTIL NOW.
Now, join us as we *finally* induct three such over-looked superstars in Eddie Guerrero, Bryan Adams and WARRIOR into the prestigious MULLET HALL OF FAME!
NEW INDUCTEES.
Eddie Guerrero: Eddie Guerrero's mullet is a mullet of tragedy. While adorning the head of the popular "Latino Heat", Eddie has perpetuated the bulk of his most self-destructive behavior. It's only when sheared, that Eddie seems to suddenly have full control over his life. This fact has led many Mullet historians (educated at the same institution that educated the feet of Rob Van Dam) to speculate that Eddie's mullet is perhaps possessed by some sort of ancient demon; a SYMBIOTE, that attaches itself to the short hairdo of Eddie, and grows in raw power as it gains in length. In fact, once the back of his hair reaches exactly 3/4 the length of the top and sides, the dormant demon gains FULL control of Guerrero, who then loses complete control of his faculties as it overrides Eddie's better sense. There's no fighting it.
Over the course of many years, the mullet was responsible for many random DUI charges and even nearly claimed Eddie's life in 1997 when he crashed his car. Rumor has it that the mullet purposely obstructed Eddie's view of the road by covering his eyes. It was hardly a party in the back that night. This I can assure you.
Eventually, Eddie did away with this evil albatross for good and has since went on to lead a much happier and more productive life in the process. (the mullet however remains dormant. Like his push).
In a side note: one positive aspect to Eddie's Evil Mullet is that by its very aerodynamic nature, he was eventually able to perfect the frog splash.
Bryan "Crush" Adams: Bryan Adams mullet seemed innocent enough, but looks can be deceiving. You see, despite the then-Crush's polite demeanor and moon-faced grin, the mullet secretly harbored a desire to turn to a life of crime. It wasn't too much longer that Crush's natural mullet urges propelled him into the drug trade (We lose so many promising mullets this way,) amongst other crimes (selling automatic weapons.). Soon, Crush's once innocent "Shaka Brah!" handshake become a secret manner in which to pass illegal barbiturates, and it wasn't too long before he turned his back on the U.S., as well! The ultimate crime for which there is no punishment too severe. You see, thanks to the Mullet, and its unruly criminalistic & traitorous nature, Crush soon aligned himself with Mr. Fuji and announced that he had Japanese blood flowing through his veins (although, with the amount of steroids being done in the locker room in those days, it is highly possible...).
Eventually, sometime in 1995, Crush was caught umm, "green handed" and officially charged with distributing marijuana, steroids and guns. His mullet pleaded no-contest, while Crush himself got off with a slap on the wrist...the very wrist used to by god squash the heads of many a jobber on Saturday mornings. The mullet, however, was not so lucky. It was sentenced to death in 1996. The sentence was carried out sometime in the summer of that year, and Crush would carry out the rest of his career with dreadlocks and even a dutchboy. The Mullet was laid to rest in Potter's field in an unmarked grave. Sometimes, you can see Doink the Clown at the proposed sight, mourning, and leaving flowers... and a disembodied arm. It's touching.
The Ultimate Warrior: The mullet of Warrior's is perhaps the most complex in history. A mullet of limited tolerance. A mullet of homophobia. But you see, Warrior's mullet harbored a deep, dark secret. It was sexually abused. It was this abuse that led to a life of complete intolerance to the gay community at large. Warrior's mullet wasn't always this way. In fact, in the mid 80's, like many at the time, Warrior's mullet viewed the world with a bright eyed, err, haired innocence. Heck, Warrior's mullet once had an open-minded view. Some of his best friends were Mexican mullets. Warrior's mullet dreamt of a country where mullets of all shapes, sizes, colors and creeds would be welcomed into the country with open arms. Arms that would hold hair brushes. Hair brushes that would style said mullets. It was inspirational and beautiful. Hell, Warrior's mullet even voted for Dukakis is 1988. But one cold evening in April of 1990, that all changed. Warrior's mullet was VIOLATED. It's innocence shattered forever. Turns out, Jim Hellwig accidentally used Pat Patterson's comb, that was eventually discovered to be used on the nether-regions of a fledgling ring boy with stars in his eyes. Warrior's mullet was SHATTERED. It was BROKEN. It's sprit CRUSHED. It tried to put on a brave face, but people who knew it best, knew that it had changed. And not just by scooping it up into an impossibly ridiculous height. Not even.
Over the next two years, Warrior's mullet became increasingly paranoid, and eventually went insane. It's life was ultimately (HIYO) ended when it succumbed in a motor cycle accident. It was then silently and suddenly replaced by an impostor mullet in 1992. That Warrior mullet has always claimed to be the original, but we all knew the truth. We all knew.
PREVIOUS INDUCTEES
Scott Steiner; Before he was "Big Poppa Pump", Scott Steiner was an All-American from Michigan university, throwing suplexes with reckless abandon…all while sporting a hairstyle that looked to be the famed cap of Davy Crockett surgically attached to his scalp.
What is not known, however, is much like the Biblical Sampson of Old Testament lore, Scotty too would lose his powers when he decided to lose his blessed mane. That, and his ability to coherently string together a sentence.
Today Scott is but a shell of his former self, broken and bitter, unable to reclaim past glories, as his TRUE legacy lies in the bottom of the dust pan of some nameless Bay-city Barber. What a waste.
The Undertaker; Before he was the "Deadman" we all remember, Undertaker debuted in the WWF sporting a hairstyle that looked less like someone who'd guide your soul safely across the River Styx, and more like someone holding up a lighter at a Styx concert….
Decked out like an 1800's old-west mortician (despite black spandex being a rarity in the 19th century…) Taker proceeded to destroy all those who stood in his way; his bright red pelt acting as a reminder that this was one guy whom you didn't want to mess with (either that, or someone whom you could score some quality weed from the back of his bitching airbrushed van).
Soon though, Taker began to grow his hair out, and ironically enough, it was the Mullet of The Undertaker who soon itself "Resting in peace"
Mike Awesome; Mike Awesome was one of the pioneers of the (failed) mullet comeback of the late 90's.
Mike Awesome's mullet is unique as its arguably the only hairstyle in history to possess a savage blood-lust, only quenched when one of Awesome's opponents would be smashed through a table.
However, for all its cruel instincts, Awesome's mullet possessed a strange symbiotic link to that of Billy Ray Cyrus, that at times, blinded Mike's mission of pain with thoughts of snug fitting acid-wash jeans and romantic country ballads. It was said that as a result, Masato Tanaka (and many others) soon refused to work with him, after the former "Gladiator" began serenading him to "Achy-breaky heart" in mid-rest-hold. From there Mike left ECW, and ventured to WCW where he shed his trademark "do" for his true calling: FUCKING MORBIDLY OBESE WOMEN.
Ricky Morton; Morton is wrestling's most celebrated and revered mullet, adorning the head of one half of the Rock N' Roll Express for almost twenty years!
The R & R Express had a following like few others, mostly due to Ricky's mullet that had the unique ability to derive unmitigated sympathy from all those in an arena… but more so than that, of the hairstyling community as a whole, who were said to "feel his pain" but for a completely unrelated reason….
Unfortunately, Ricky's mullet wouldn't stand the test of time, as the duo once beloved by thousands of teenage girls, aged terribly, with Morton giving birth to a paunch, while his partner, Robert Gibson strangely metamorphosed into SCTV personality & actor, Joe Flaherty. Some have speculated that like the picture of Dorian Gray, somewhere, there's a portrait of Ricky with a buzz-cut and still looking twenty. Maybe.
However, regardless, Ricky's impact can still be felt to this day, a top the heads of countless low-income mothers across the country. So ,next time you see a welfare mom, cigarette dangling from her mouth, pushing a stroller, sixteen grocery bags hanging off the handles, don't be afraid to give her a high-five and yell "Rock and Roll Forever!"... then dropkick her right in her mottled face, preferably with a friend simultaneously. This one's for you, Ricky!
That's it for this month's inductions. Feel free to contact me with potential inductees and I'll mullet over. Or maybe I just wanted to say that.
Ok, that's it for this month. I'll be back in February with all new shit. Ok, maybe it won't all be new. But I stand by the shit part. You have my personal guarantee there. I'd give you written legal word, but Warrior has taught me in all matters legal or otherwise, all you have to do is insist it's true. It's that simple. So, there you go.
Until next month.
I'm Sean.