You know the drill; I print the wrestling headlines, then make light of people because I'm all mean and stuff.
DIVA SEARCH RANDOMNESS: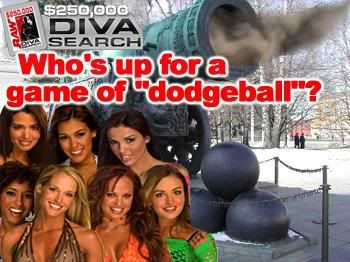 WWE Divas Search Angers Wrestlers
Feel they are being left out.....

Many wrestlers were upset at the announcement of the Divas Dodgeball match for SummerSlam on RAW last night. Many question how girls who aren't even on the WWE roster yet can get on one of the biggest PPVs of the year before established wrestlers.
Hey, I'm all for a game of dodgeball with the Diva-hopefuls…so long as the balls they're dodging are made of iron-ore and being launched from a civil-war era cannon. But hey, it is building good practice for them. In order to maintain employment once hired, they're going to have to really learn how to avoid being hit with balls. Of course, there'll be hairy, and be attached to John Laurinaitis, but whatever. Tell me I'm wrong.
Anyway, I can't really blame the actual WRESTLERS for being angry, but I guess WWE has a quarter of a million dollars invested in this thing, so they're going to milk it for all it's worth. Unlike these women, whose breasts, thanks to extreme augmentation, can no longer accomplish that feat.
The thing that really strikes me funny though, is the fact that somehow, WWE has managed to fuck up one of the easiest sells in history. That being attractive women bouncing around. How one makes women, half-naked, bouncing and dancing seem like THE WORST FUCKING IDEA EVER, AND A COMPLETE TIME-WASTER is a testament to how ridiculous they are.
The first mistake they made was when they decided to have them actually speak and attempt to "seduce" through a series of lame skits, that even dragged the good and completely real name of Kamala through the mud, or bog or whatever it is Hippos graze in in Mississippi err I mean UGANDA. However, I did find it funny that the only one with real breasts in that entire skit was the "Ugandan Giant" himself. You know, after that terrible display, if this was the late 70's, right about now some B-level celebrity would be hitting a huge gong. I'd then ask if they could pass that mallet along so I could use it on my skull and end my misery. "ARE YOU FROM HAWAII?" Dear god.
But still, WWE carries on (and on, and on) with this abortion regardless of the audible groan heard from the live audience when the apropos song "walk idiot walk" plays. And the saddest thing of all is that these 12 (now 7) women were the cream of the crop! Of course, leading to the question, how brain damaged did the others who didn't make it have to be? Holy shit.
With that said, rumors are swirling that this thing is fixed (Cue the Shawn Michaels Tell me a Lie song, stat!) and that there's a good chance Carmella will be walking out of the contest a quarter of a million dollars richer as a result. Well, that, and about one pound heavier thanks to the McMahon DNA floating in her stomach from the bosses casting couch.
Vince: "Just pretend it's a flute and you're about to play some play some beautiful music!"
Carmella: "Umm, what about the spit valve?"
Vince: "No, you swallow that. "
The irony though of the whole situation is that Carmella, the favorite, is the least deserving, as she once again, as displayed this past Monday when she "seduced" us to buy ice cream after saying "look at the sprinkles". And I don't know about you, but I was like totally fucking sprung after that display of "sensuality". Holy shit. It might as well have been your morbidly obese German lunch-lady smokin' a fucking cigarette that ashes into your mashed potatoes for the level of appeal she put into this fucking display.
So, I for one am kind of looking forward to divas dodgeball game (and as Dave Gagnon said to me the other day: "How does one even work a dodgeball game?") if only to see people like Nidia and Jazz whipping speeding balls at annoying sorta-models who'll bag more money just for doing a cartwheel in a bathing suit than they'll both make in one year combined. I guess all we can really hope for is that this one is contested under "Hardcore" rules. (not to be confused with the films 2/3rds of these women will make after their umm… "fifteen minutes" are up.).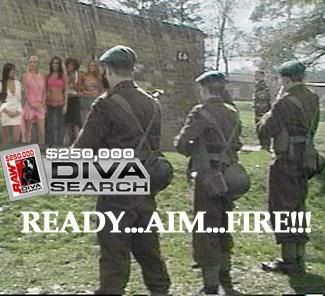 Divas Rock The House
For an angle I sincerely hate with all my heart and soul, I sure do write about it a lot. Oh my God, Vince is a GENIUS! I guess any publicity is good publicity, so excuse me while I finish this plate of crow. Then pass it along to the the regular Divas because they haven't ate in two weeks so to to compete with these stunned cunts.
Anyway, this past week, they brought back The Rock for a rare Raw appearance…and sadly, not even the awesome, star-making power of the Rock (or should I say "The Dwayne"..he really hasn't been The Rock in two years) could not breath life into this skit. Nor could the entire NYFD, EMTs, the coast guard or Jesus Christ himself. He'd just say, "Some miracles ARE NOT possible", and turn Hunter's bottle of Evian into 300 bottles of wine, and everyone would get hammered to the point where this segment would be ENTERTAINING.
The one thing that did become extremely evident was that if this thing wasn't fixed before, it definitely is now. I mean, as attractive as Carmella is, what imbecile would vote for her now? (or before for that matter, just because WWE is acknowledging her lack of effort now, doesn't mean you shouldn't have noticed it before).
If the answer to this question is "you", please take you hand off your penis for two seconds, get up, go outside and bang your head against the brick wall until you draw blood. You'll know you're done when someone who calls himself St. Peter checks his list to see if your name is on it. Thank you.
Anyway, The Rock tried desperately to make lemonade out of saline pouches, but to no avail. The not (ever) ready for primetime players still managed to take a segment with The Rock and drag it down to levels of monotony never before seen. And THIS IS A MAN WHO MADE US CARE ABOUT JONATHAN COACHMAN.
And how bout that pie-eating contest, huh? It was hilarious to watch the "diva hopefuls" eyes bug out like the way Superman looks at Kryptointe or Rosie O'Donnell looks at cock when they found out that they actually had to EAT the pie…and you know, not have time to regurgitate it in the Arrowhead Pond's restroom toilet either, apply some more pancake, and pop a mint so no one *really* knows that the only nourishment their bodies are receiving is their stomach acid digesting their own internal organs.
The funny thing to me was that apparently none of these women have any concept on how to seduce a man (except Amy, who performed fellatio on hers). I think a blow-up doll puts in more effort than these ladies. And is made of more natural parts. Carmella for example opted to just simply smear hers all over her arms, which of course is a turn on…if you're attracted to women with extreme mental retardation. I once saw a mongoloid take an ice cream cone and smush it into their forhead, and I was so aroused I just had to take my dick out like right then and there. And poor Christy (Shit! How do I know these names?), instead of eating her pie, of course decided to announce that her "ass is hungry" (the same line heard uttered by Pat Patterson before shooting Sylvan a playful wink) and SAT in hers. Just a word of warning, if you ever see Christy working at Baskin-Robbins, JUST WALK AWAY. It can only end badly for you.
My god what an abortion.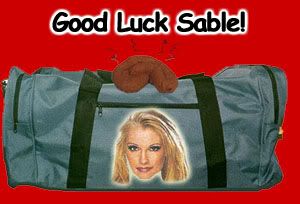 Hey, Don't Forget Your Gym-Bag!....
WWE Releases Reno Mero (Sable) Once Again
WWE.com posted the following on their website this evening:
WWE and Rena Mero, p.k.a. Sable, have parted ways. More to follow.
Here are some further details on Sable being released by the WWE. First, Sable was held off House Show's over the weekend causing some to believe that this may be brewing. She was let go over apparent comments which appeared in a recent interview she conducted with FortWayne.com. Here are some tidbits from that interview:
"The men in this business are able to have families because they have wives who stay home." said Mero. "The women have to choose. There are more difficulties as a woman. There are more sacrifices we make." .
Yes, some do have wives at home….until certain women old enough to be their mothers play homewrecker and drive the dumb lug into the NFL…..
"Men aren't hired on looks," said Mero. "Some of the most talented women are not blonde-haired, blue-eyed women."
Sure, and guys like Grenier and Mark Jindrak are just hired on their unbridled charisma.
"The most gifted female wrestlers get passed over because they lack a certain Californiafinish."
I can agree with this to a certain extent (although both Victoria and Molly Holly had LONG reigns as Women's champion in the last two years), but this is not just prevalent in wrestling. It is also a staple of Hollywood and even the music industry. It's also the sole reason why Pamela Anderson isn't turning tricks right now in Downtown Vancouver. And besides, what color's your hair again, Sable?
Anyway, the sad fact is, whether you want to admit it or not, men (probably at least 90% of the demographic) watch women "wrestle" because of the sexual factor. Ladies like Trish have tried in vain to erase this through self improvement and good work-ethic, but it's still there, and always will be. Just go to "Jello wrestling night" at your local campus bar and take note of how many guys are critiquing the "grappling" skills, and not hoping a titty comes flopping out of their bathing suit. "She had great tits, sure, but she totally botched that gogoplata!..."
It's the same amongst most of the mouth breathers in the crowds at these shows. The problem lies in the fact the division pretty much doesn't mean anything, because for the most part, the reigning champion just usually wrestles a revolving door of Divas, while you seldom ever see just two Divas going at it (without the champion involved), and NEVER see them wrestle on pay-per-view unless "bras and panties" or "lingerie" is involved. Hey, kind of like my love life. This might be why I'm single.
However, this is the problem on RAW. Smackdown has no such excuse. The fact is, regardless of what Sable says, SmackDown's "Divas" are exactly where they should be. Sitting nude on Johnny Ace's penis telling him he wasn't too old or unhip to hold a skateboard but never use it. Err, I mean, that being glorified strippers with the collective wrestling ability of a drunken Giant Gonzalez with MS. At least the Raw competitors have grasped basic wrestling and made an effort to improve. Watching the women on Smackdown attempt to wrestle is like watching two dudes with Spinal Bifida try and line-dance.
Mero had signed a three year deal with the WWE in 2003 after returning to the company in which she had legal run-in's beforehand.
For those of you who don't know, those "legal run-ins" were sexual harassment allegations leveled at the then-WWF at its most vulnerable point (They were also being sued by Martha Hart in a wrongful death law-suit for husband Owen). It's just a shame they didn't create a harness for Sable, too. Ah, I kid. But mostly because thanks to the deadheat in the zeppelin race going on on her chest, she would have just sprung back onto her feet like one of those weighted clown punching bags.
Anyway, in the actual law-suit, Rena Mero basically sued for one hundred million dollars (seriously) before returning to her secret underground lair to feed Vince to sharks with frickin' laser-beams on their heads. GOLDENCANS! (not seriously.). There was also apparently complaints that the "boys" had drilled a hole through her dressing room wall and that *someone* had shit in her duffle bag.
But seriously, about the hole in the wall . Come on."Oh, boo-hoo, they saw my tits!". Didn't they know they could just go out and buy an issue of Playboy and see her stuff like millions of other heroes who basically reduced the spread into two giant pages, if you know what I mean?Sorry, but I just don't get this "shyness" all of a sudden when she basically went out topless on TV several times anyway. And as for the "boys", the only other alternative in the dressing room at that time was the hanging saggy ass of the hardcore Icon Terry Funk, so could you really blame them for seeking other avenues of entertainment? Maybe they should have just had one of the camera men just film her changing and saved themselves the trouble. But then again, there's that whole matter of them not existing...
Ah, I kid. But you'll have to excuse me if I don't think Sable's opinions hold any silicone err, water. The fact is, I have no respect for Sable as a human being, and find it kind of difficult to hear her preach about the "wrong doings" of the WWE when she basically is as guilty as anyone in benefiting from the WWE machine. Not to be confused with the one they use to clone people in OVW. Ahem.
But seriously, if more talented non-blond people not getting opportunity was *really* such an issue with her, then ask her why SHE didn't relinquish HER spot to the "non-blond", "more talented" Jacqueline in 1998...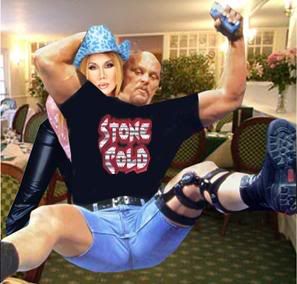 Maybe She Should Learn The Piledriver?

"Steve Austin and ex-girlfriend Tess Broussard were involved in yet another physical confrontation earlier this month, this time at Beverly Hills, California restaurant Il Fornaio's, ending up with a trip to the emergency room, an arrest, and a lawsuit filed. This time, however, the former WWE champion isn't staying silent.
According to an article in the paid subscription area of The Los Angeles Times today, Austin and his business manager George Vrabeck had brought Broussard to California to present her with a $1.5 million check in exchange for Broussard moving on and out of Austin's life and agreeing not to pursue legal ramifications over different incidents involving the couple over the last year.
"I'm not a rocket scientist," Austin told The Times "But I knew I had to get out of this relationship....The plan was to go out, have a nice steak, hand [Broussard] a check and get on with my life."
After having dinner with Broussard at Mastro's Steakhouse, the two went to meet Vrabeck, who was eating at Il Fornaio nearby, waiting with the check and a security guard stationed in a parked car. Once they arrived, however, Austin said that things changed, " All of a sudden Tess said, 'Honey, we're not breaking up. We just had a wonderful night.' She started getting really irate, saying, 'You can't do this — you just can't break up with me now.'"
Austin told The Times that Broussard, "...went up over the top of the table with a steak knife and she was trying to stab me." Vrabeck got involved and everyone went down in a scuffle. Austin's security guard handcuffed Broussard to a chair. Vrabeck ended up with a deep cut to his left arm while Austin banged his head on the sidewalk.
Broussard, who works an actress in softcore films, claimed in a lawsuit that was filed last week that Austin and Vrabeck lured her to the restaurant to stage a fabricated assault. The lawsuit asks for $10 million in damages and brings up a Texas incident from several months ago where Austin allegedly caused her permanent injury while driving drunk and hitting a tree with her as passenger. It's noted in the article that Austin claimed to be sober during the accident and that police reports of the incident back Austin's claim.
Broussard's series of events in Beverly Hills were, as expected, completely different from Austin's. She told the Times that Vrabeck, "grabbed me and shoved me down in my chair. When I tried to get up, out of nowhere some guy came up from behind me and knocked me down, yelling, 'Get down!' as if gunshots were going to be fired. The next thing I know, he's on top of me and I'm handcuffed. And there's George dumping over the table. Then I see him bend down and it looks like he's stabbing himself. All of a sudden, he says, 'I'm bleeding,' and the bodyguard says, 'I saw you stab him!' "Obviously I'd been set up. Steve had threatened me, in no uncertain terms, that I'd get screwed over if I didn't drop [a proposed] personal injury suit."
Broussard was arrested and charged with assault with a deadly weapon, which carries a maximum penalty of a $10,000 fine and four years in prison. She is due in court on 9/1 and is currently out on $30,000 bail.
The article noted that Austin's manager, Barry Bloom, has hired Sitrick & Co., a crisis-management public relations firm that has represented the likes of Rush Limbaugh, R. Kelly and Paula Poundstone in the past. The firm's Michael Mayer told the Times that he instructed Austin to come forth first. "Steve is a celebrity with millions of fans," said Mayer. "If he's involved in anything that smacks of something lurid or sensational, it's going to affect him. If you don't tell your own story, someone is going to tell it for you, and chances are you won't like the way it comes out."
Broussard alleged in the article that while things were good early in the relationship, Austin, "turned into another character — mean, horrible, violent and emotionally abusive. He drank every night, beginning at 6 p.m. until he would pass out around 1 a.m." When it was noted that Austin claimed she had a problem with medication, she responded, "He got me started on pills. He'd open my mouth like an animal and stick the pills in my mouth. He said, if I'm taking them, you're taking them too." Austin denied the charge while admitting he takes a variety of prescription drugs, prescribed for insomnia and "neurological issues," stemming from his neck issues after the Owen Hart tombstone at Summerslam '97.
The article notes that both admit a March incident in Austin's San Antonio home (he's since moved to Los Angeles and is staying with Diamond Dallas Page). Broussard claimed that Austin, "stomped on my broken foot where I have permanent physical damage from the car accident." Austin claims that when he tried to leave the home, Broussard grabbed a gold necklace around his neck (the one given to him by the late Brian Pillman) and jumped on his back, forcing him to physically remove her. Broussard claimed that she didn't file charges as she planned, saying, "I played everything down. I got scared. He said he'd screw me over if I filed charges." Austin denied that charge as well.
The article also features comments from Henry Garza, lead guitarist of Texas rock band Los Lonely Boys, who claimed that he saw Broussard once pull a gun on Austin. "She put it right up to Steve's head, like she was trying to get him to do something," he says. "Then she pointed it at me, which was when I really got scared." Broussard claimed that she recalled "playing" with a gun but never pointed it ay anyone and "I didn't pick it up in anger."
Asked why they would still continue to see each other despite all the problems in the past, Broussard claimed, "I was naive. He'd apologize and say he'd change and go to counseling, but he never did. He told me I was his soul mate, so I kept going back and really believed in the relationship. But it was a lot of empty promises."
Austin's response? "I kept seeing her because, as kooky as she was, I still loved her. I feel like I've been a pawn on the chessboard. I was too trusting and too nice, and that's what I'll have to live with."
Austin, the biggest drawing star in American professional wrestling history, left World Wrestling Entertainment several months ago after failing to come to contractual terms. He's currently working on the new Adam Sandler film, "The Longest Yard."
Clearly, Miss Broussard's insane, which is surprising to me considering how normal and level -headed those in the sex industry usually are…..
And as for her claims that the whole Restaurant scene was "staged" by Austin and company, let me say this: A manager who'll STAB HIMSELF for a client, is a manager I want on my side! Wow! Talk about your dedication right there. Imagine what he'd do to get you a movie role. Motherfucker would draw and quarter himself and plunk his hot insteines on the table before the fucking breadsticks even showed up.
Anyway, the fact that Austin offered her 1 and a half million (or one week's beer ration) to GET RID of her should tell you something. Especially when the STUNNER always seemed to work so much better for him. Ahem.
Seriously (umm, kind of) though, I am surprised however that Austin would go to that sort of length (the 1.5 million bribe) to rid her from his life, especially when he's never been shy about getting his piston-like right hands dirty himself, so to speak (see the ring shaped backwards smoking skull in Debra's forehead).
Honestly, I think I lean more towards Austin in this one, although the sick side of me can see Austin jumping on alleged Tess's broken foot. HE's DONE IT BEFORE.…You know, after positioning it under a steel chair and leaping from the roof of his pick up truck. If it's good enough for Brian Pillman, than by god, it's good enough for this tart. Because, let's face it, she's NO BRIAN PILLMAN. Although, after all the porn she's done she'd easily work under the moniker LOOSE CANYON.
In any event, it'll be interesting to see where this goes, and hopefully this situation won't reach O.J. levels. But hey, that'd work for me, too. If only to see Austin shrug his shoulders when a big gigantic orthopedic knee brace doesn't fit during the trial...